DisneyToon Studios (2009), Walt Disney Home Entertainment (October 27, 2009), 2 discs, 80 mins plus supplements, 16:9 ratio, DTS Master Audio, Not Rated, Retail: $39.99
Storyboard:
Tinker Bell is given the opportunity and honor of designing the Fall Sceptre for Pixie Hollow. When things go wrong, she makes the mistake of blaming one friend and not confiding in others. In a journey to set things right, she not only succeeds in her quest, but also learns much about friendship and responsibility.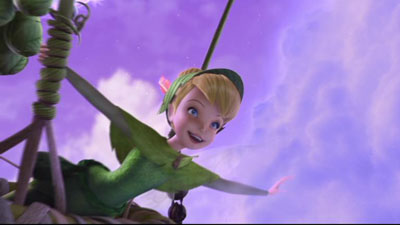 The Sweatbox Review:
If you are reading this review to see a straight, adult male trash the latest Disney direct-to-video offering for little girls, you've come to the wrong place. This movie is seriously good.
Last year's Tinker Bell movie had its share of bad press, largely based on its prolonged production history. When it was finally released, it turned out to be better than one might expect, and very appealing to little girls everywhere. So long as you could accept that this Tinker Bell was not entirely consistent with the one from Disney's version of Peter Pan, the movie held certain artistic rewards. This time around, there is no drama to report, no stories of bungled product launches or extensive re-writes. This time, everything apparently must have gone relatively smoothly. And it shows. The resulting film has a simple but tight story, terrific animation, and most important to any animated film it has its heart securely in the right place. Cynical types may rant that the themes are old, but not so for little boys and girls. The producers of this movie get it. There's no reason to make a kids' film cynical or overly hip. Kids aren't so different from when I was little, or from when my parents were little, for that matter. They still need to learn life lessons, and movies with positive values can help us parents out.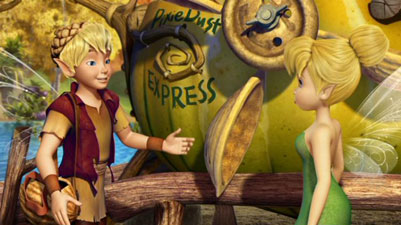 In a story inspired in part by the book Tinker Bell, North Of Neverland, Tinker Bell has now settled into her life as the most promising "tinker fairy" in Pixie hollow. While her friends go to the "Mainland," to help guide the world into autumn, Tinker Bell busies herself with inventing and building contraptions that will assist all fairies in their work. Her ingenuity and the quality of her work get her noticed, and Queen Clarion asks Tinker Bell to construct the fall Sceptre, which will hold a precious Moonstone meant to capture the light of the blue harvest moon and reinvigorate the pixie dust tree. The Minister Of Autumn has his concerns about Tinker Bell's reputation for a temper that leads her astray, but Tink's supervisor Fairy Mary and the Queen express their faith in her.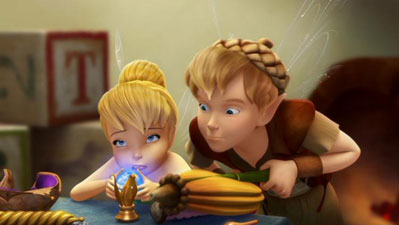 Tink gets right to work, and initially is glad to have the help of her friend Terrence. Unfortunately, Terrence's "help" is sometimes annoying, as his eagerness unintentionally comes off as pushy or condescending. Tinker Bell keeps her temper in check for a time, but with her deadline looming, an accident occurs that they each play a role in— an accident that results in the destruction of the sceptre. Tink finally lashes out at Terrence, and after he leaves she continues to rant, leading to an even more serious accident. Rather than seeking help, she tries to hide the tragic problem and plans to solve it herself. She gets an idea when she hears of a legend of a wish-granting magic mirror, and embarks alone on a quest to use the mirror's last remaining wish. Even when she needs help preparing for her trip, she declines to confide honestly in anyone, including her best friend Terrence.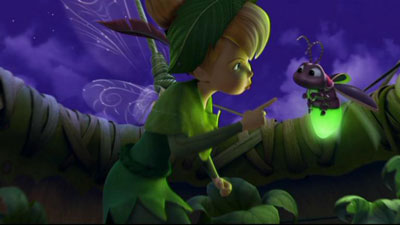 Her journey takes her out of Pixie Hollow, embarking across Neverland (passing by the skull cave), and despite her desire to go it alone she ends up with a new sidekick, a firefly named Blaze. She almost destroys that new friendship with her temper as well, but Blaze's persistence in being a friend makes her realize the futility of her recent actions. Even a pair of trolls demonstrate the importance of being able to say you're sorry. If she is to be successful, she needs to take responsibility for her own mistakes, and embrace the friendships she has. Once she has decided this, her better traits take over and her brilliance at being a tinker fairy brings her acclaim, and we get our happy ending.
Nearing the end of the movie, I felt a little stunned at just how good it was, particularly from the perspective of a parent. Though we only really get a single plotline, the movie does not feel like it lacks complexity. Instead, it feels nicely focused. We do see some of Tinker Bell's other friends who were introduced in the last movie, but the focus is on Tinker Bell and Terrence. The themes in the story are also clear, and would make any parent happy. The moral of the story, focusing on responsibility and friendship, may be eternal, but cannot be told often enough to our children. And, in a nice twist, the true ending to the story managed to surprise me, yet was totally organic to the plot.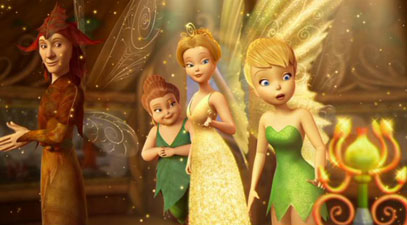 The animation borders on superb. Doubters will still want to see problems with the CGI animation, but DisneyToon Studios have to be commended to taking a direct-to-video product and making it worthy of a theatrical release. Certainly, CGI has its issues of requiring too many time-consuming adjustments for things like faces and hands, resulting in lapses of realism, but even at this level Disney seems to be ahead of other studios. The characters are surprisingly expressive, and a talented cast of voice actors makes up for any deficiencies in the animation. This time there also better animation of hair, a pet peeve of mine in the last Tinker Bell movie. Characters don't simply stand around and look like photos of dolls; they shuffle around, make faces at one another, and the wings of the fairies move subtly, all helping to create a vivid world. Tink's new costume in the movie has gotten some publicity, and though it is certainly secondary to the movie's other virtues I have to admit it is very nicely designed.
If your little girl (or boy, even) is forcing you to watch Tinker Bell And The Lost Treasure, don't be afraid. Embrace the movie's old-fashioned charms and positive messages. Even if you've already learned the lessons being taught, you will still be treated to an exciting adventure story devoid of any crassness or unnecessary pop culture references (though you may spot a Mickey head or two if you look!).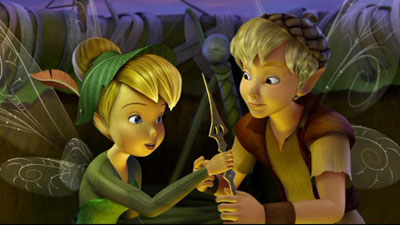 Is This Thing Loaded?
Note that the standard DVD included in the Blu-ray package has the same special features on it as the Blu-ray. The DVD utilizes Disney Fast Play. The main difference with the Blu-ray is that it is BD-Live enabled, though the Disney BD-Live portal was offline when I checked.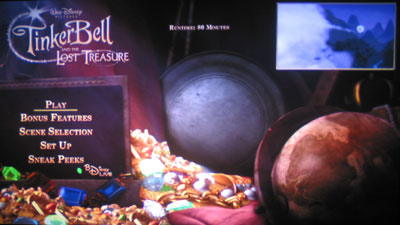 On loading, Previews play for Dumbo, The Princess And The Frog, and Tinker Bell And The Great Fairy Rescue. More Sneak Peeks available from the menu include those for On Blu-ray Disc, Disney Movie Rewards, Santa Buddies, Ponyo, G-Force, Beauty And The Beast: Diamond Edition, PixieHollow.com, and Disney On Ice. The disc also has a promo regarding DisneyFile Digital Copies.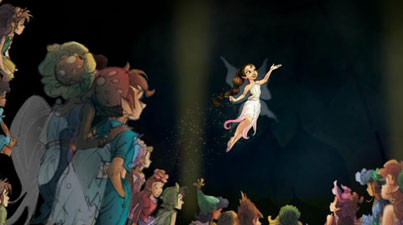 The menu describes Magical Guide To Pixie Hollow (4:48) as a "Bonus Short," but don't get too excited. It's a lightly animated travelogue of the fairy world, narrated by Tinker Bell and Terrence. The hand-drawn scenes are enhanced with CGI effects, making for a pretty presentation, though not really meaty enough for grown-ups.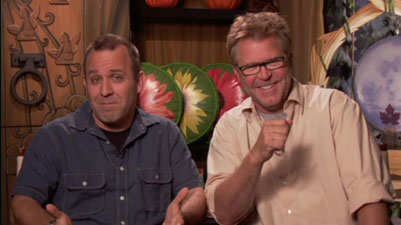 Under "Outtakes And Bloopers," Scenes You Never Saw (4:00) are the fairly amusing bloopers. There are also seven Deleted Scenes with both general and specific introductions by filmmakers Klay Hall (director) and Sean Lurie (producer), running a total of 16:10 and featuring animatics. Hall and Lurie do a nice job of explaining the reasons for the deletions, though some of these scenes are nice on their own.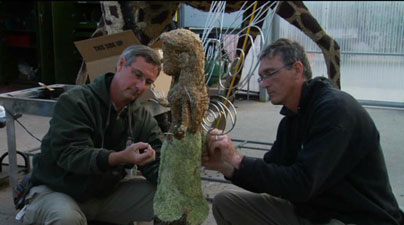 "Backstage Disney" has Pixie Hollow Comes To Walt Disney World (8:17), again with Hall and Lurie. They look at the addition of Pixie Hollow elements at both U.S. parks, but particularly EPCOT's topiary-based Pixie Hollow garden. When I used to live in Orlando and frequently visited Walt Disney World, I used to marvel at the topiaries, so I actually enjoyed learning more about how they are done.
The Gift Of A Friend Music Video With Demi Lovato (3:23) closes out the bonus features.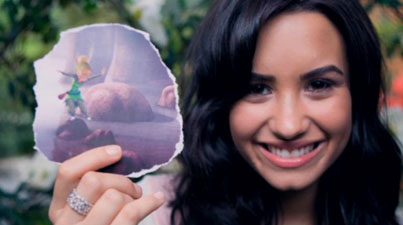 Case Study:
The standard Blu-ray keepcase has a disc held in either side when opened; the DVD version is on the left, the Blu-ray on the right. Also included is a Disney Movie rewards insert and a Disney advertising booklet. All this comes in a textured, sparkling o-sleeve.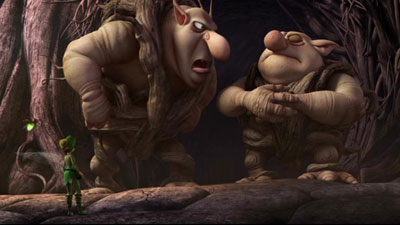 Ink And Paint:
The lushness of the production design is wonderfully captured on Blu-ray. Just look around and see the inventiveness of the artists in creating a world filled with constructs made from natural things. The effects work, whether it includes pixie dust or rays of moonlight, are spectacular to behold. If your grown-up self (sadly) fails to embrace the movie, at least the home electronics geek in you will have to be impressed.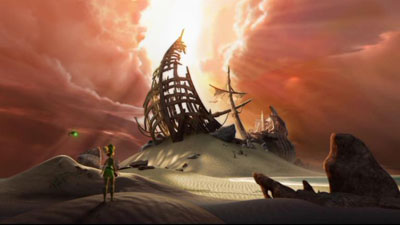 Scratch Tracks:
That Disney used DTS Master Audio for this release isn't just a gimmick designed to impress dads out there. This soundtrack is vibrant and exciting, and comes out in crystal clarity. All speakers are utilized to nearly their fullest, enveloping the viewer in Disney magic. The audio becomes the match of the impressive visuals, making for a frankly awesome viewing experience.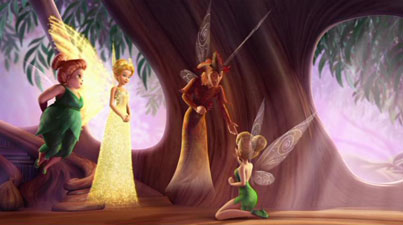 There are also French and Spanish Dolby Digital 5.1 tracks, and subtitles for English, French, and Spanish.
Final Cut:
Screenplay writer Evan Spiliotopoulos and director Klay Hall (both also credited for the story) are commended for creating a wonderful addition to the Disney library of family films. They and the team of artists have made a film that surpasses the first one. This one will surprise many who see it with an open mind, and raises the bar for direct-to-video movies. The quality of the Blu-ray makes it the version to buy for sure, and with an additional DVD of the film included, there's no big reason to do otherwise.
Animated Classic or Back To The Drawing Board?