It is said at the Walt Disney Studios that John Lasseter has a soft side for Tinkerbell and that he's being nurturing Disney's Tinkerbell series with great care, taking particular attention to the quality of the products of the franchise. Certainly, his choice of Ellen Jin Over as the Art Director of Tink's second movie follows the same approach
Born in Seoul Korea, Emmy-award winning art director Ellen Jin Over was first exposed to the world of Disney through books. As early as age five, Ellen was inspired to draw by the beautiful art from such classic Disney books as Walt Disney's Cinderella and Walt Disney's Sleeping Beauty. She never dreamed she would someday move to America and work for Disney.
Ellen's career began at the world famous Otis College of Art and Design in Los Angeles. During her senior year, she had already begun working as a layout artist at Rainbow Animation and her talent caught the eye of Pixibox Studio (The Prince of Atlantis) where she became one of the earliest digital background painters in the United States. Overseas studios began to take notice of her advanced digital painting skills and Ellen was recruited by Hong Ying (Sonic the Hedgehog) in China and S.O.B. Animation Group in New Zealand to train their background painting departments.
After a highly successful stint creating and training the digital background painting departments, she returned to the states to join Mike Young Productions on Clifford the Big Red Dog. Soon thereafter, she became art director on He-Man and the Masters of the Universe. Her following project at Mike Young was the computer generated animated series Jakers! The Adventures of Piggley Winks where she received a 2004 Emmy in the Special Achievement Category. This led to her feature length work on Doctor Strange and Iron Man for Marvel-Lionsgate.
But in 2006, her dreams were realized when she went to work for Disney Animation as she was brought in as Art Director on Tinkerbell and the Lost Treasure, the follow-up to the 2008 worldwide hit Tinkerbell.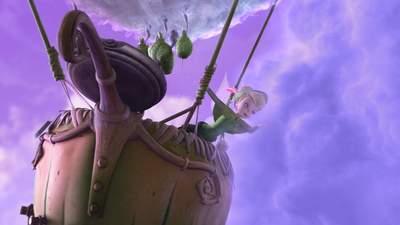 ---
Animated Views: You've worked for different studios along your career. How is it to work with Disney now?
Ellen Jin Over: It is absolutely a dream come true! I've always admired the classic Disney films. I never dreamed working in such a company and it is truly the highlight of my life!
AV: How would you characterize the art direction of Tinkerbell and the Lost Treasure?
EJO: The art direction of Tinkerbell and the Lost Treasure is based on her adventure and the places she goes. We designed it so that it feels adventurous, it feels like she's traveling away from Pixie Hollow to some other all-new places that we have never gone to before.
AV: Did you resume elements from the original 1953 movie by Walt Disney?
EJO: The film begins at Pixie Hollow where we discover a pretty new environment for the fairies. Then, when we move out of Pixie Hollow, we tried to incorporate some of the elements that we're familiar with from the original movie. For example, when Tinkerbell flies to a certain part of Neverland, you will see part of the vegetation like jungle with trees that we took from the original movie. And I'm sure you'll recognize other locations from the original movie!
AV: How did you translate 2D elements into 3D?
EJO: You know, we looked at a lot of references from the original movie. We took many different things to get the texture we used in 3D. We got rock textures, vegetation textures. We used pictures of the leaves and of the ground. They were screen-grabbed and studied carefully. Then we tried to apply the texture onto 3D model sets. And we tried to design the 3D model sets so that they resemble the 2D style of the original movie which is not too realistic. It's very stylized and we tried to keep this style going in our movie as well.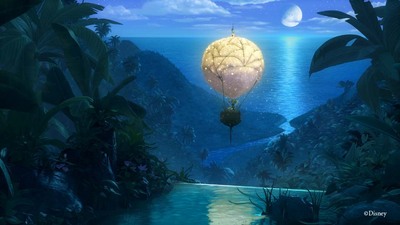 AV: How did you work regarding the first Tinkerbell movie?
EJO: Our movie and their movie were sort of developing together. Because this is one franchise with different movies, we wanted to keep the style very similar. For places like Pixie Hollow which we are going to see in every movie of the franchise, we kept precisely the same style. It's a very feminine design, with a lot of curves and a lot of colors. The first film traveled to London and the original movie had London scenes. So, I think they tried to resemble the London as it was in the original movie. In our second film, we have Pixie Hollow, that is a common area, that is exactly the same. Of course, for the new locations in Pixie Hollow, we tried to resemble what they did in the first movie. But when we have an adventure outside of Pixie Hollow, in Neverland, we tried to come up with something that is slightly different from the first film, a little bit more adventurous. So, you feel like you traveled some place else that is not known to audience.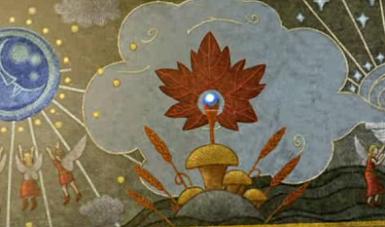 AV: There's a lot of references to Art Nouveau in your movie. Can you tell me about that?
EJO: They talked about Art Nouveau in the very beginning of the development of the fairies environment. Fairies deal a lot with nature, flower patterns and leaves patterns, and art nouveau style is very much inspired by natural shapes and all those beautiful patterns that you can find in the nature. So, I think it came rather very naturally because fairies live in nature, a kind of a stylized nature.
AV: Fairies live in nature, but they use nature, too.
EJO: It's really interesting. As you see in the movie, in place called the Pixie Dust Distribution Depot where fairies get their Pixie Dust, there's an integration of natural objects that occur in real nature into a department. That's how we designed it. We tried to start from real nature to make objects. There were some really inventive and innovative ideas that came along and which made this environment really interesting.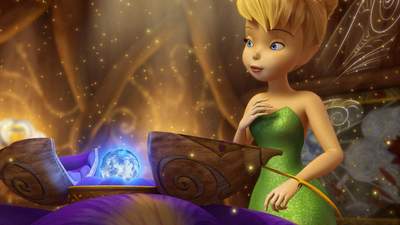 AV: How many people did you manage in your art department?
EJO: We had three pencil layout designers, three painters, 3D artists designing environments and a character designer.
AV: Were you involved in the art direction of Disneyland's Pixie Hollow meet-and-greet?
EJO: I designed the tea pot for the movie and the Disneyland designers got inspired very early by it.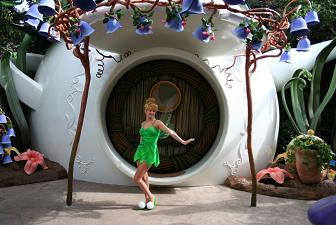 AV: What are your other projects with the Disney studios?
EJO: I'm currently working on the fourth Tinkerbell movie. It's about winter and we're at the development stage at this moment.
---
---
All our thanks and regards to Mindy Johnson!