DisneyToon Studios (2014), Walt Disney Studios Home Entertainment (March 3, 2015), 1 Blu-ray + 1 DVD, 76 mins plus supplements, 16:9 ratio, DTS-HD Master Audio 7.1, Rated G, Retail: $36.99
Storyboard:
Tinker Bell's friends are unsure what to think when Fawn, an Animal Fairy, befriends a potentially threatening creature— a creature that some in Neverland believe will cause their destruction.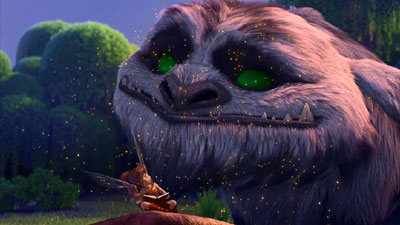 The Sweatbox Review:
Fawn is known for allowing her love of animals dictate her decisions. Having taken in a variety of little and not-so-little beasties, she has continually made Pixie Hollow a less safe place. Though her heart is always in the right place, her actions tend to put her fellow fairies at risk. After being responsible for a hawk attack on Pixie Hollow, Fawn promises to make better choices.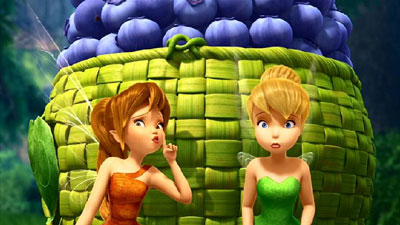 However, not even a single day passes before she is tempted once again, this time by an animal that she has never seen before. Fawn comes across a huge and furry creature with a thorn in its paw (perhaps younger viewers may not recognize this as a hoary cliché), and decides to help it. Fawn thus earns herself a pet, or at least a companion, but chooses to not tell anyone in Pixie Hollow, lest the Scout Fairies determine that the newly christened Gruff is a threat. Scout leader Nyx in particular has been extremely wary of Fawn's predisposition to harbouring dangerous animals.
Naturally, Fawn's attempts at subterfuge go awry, and Nyx catches a glimpse of the scary-looking creature out in the forest, which leads her to researching what form of animal Gruff is. After much research, Nyx gets the answer from a fairy historian. Gruff is a Neverbeast, a creature who awakens about every 1000 years, timed with the passing of a comet, and is then involved with the destruction of the entire area. Nyx becomes more determined than ever to thwart Fawn, believing that Gruff must be isolated and subdued.
Of course, if you think it is as simple as that, then you maybe have never seen a Disney movie before. There is more to the story than first appears, though probably not more than you could reasonably guess. And if the end of the movie maybe doesn't surprise adult viewers, it does at least succeed in the other places it needs to: affirming friendships, showing cooperation even among rivals, and providing a happy albeit bittersweet ending. Yes, the Disney brand has upheld all of its obligations in a satisfying way.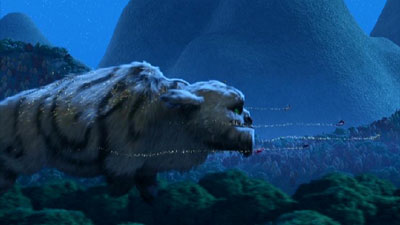 If this sixth Tinker Bell feature is truly the final film in the series, no one can say it limped its way to the end, although I would have thought that the previous film, The Pirate Fairy— which was a true prequel to Peter Pan— would have made a much more appropriate final film. As things stand, the final film in the series does seem a little inauspicious, as decent as it is. The fact that it has little of Tinker Bell and no real association with Peter Pan also makes it seem a little removed from the rest of the series.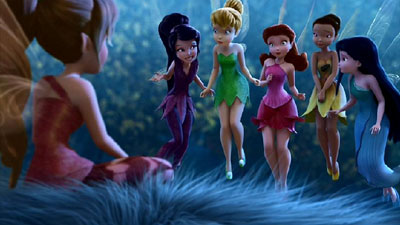 Declining sales have been cited as a reason for the cancellation of seventh and eighth Tinker Bell movies, even though The Pirate Fairy still managed to bring in close to 100 million dollars, thanks largely to its foreign theatrical release; and the film just before that, Secret Of The Wings, was actually the highest selling on home video in the series. Perhaps if Neverbeast is a success, more films may yet come. Personally, though, I think Tink has had a great run, and I'd look forward more to, say, Big Hero 6 sequels instead.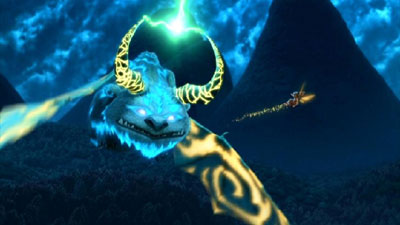 Is This Thing Loaded?
Before offering a handful of value-enhancing featurettes, the disc starts out with skippable ads for Disney Movies Anywhere, Pixar's Inside Out, and at long last the Aladdin Diamond Edition.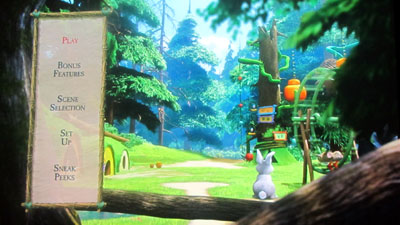 5 Essential Ingredients To Getting Gruff (5:11) features director Steve Loter and his crew discussing formulating the film's story, look, and sounds. It's very, very concise for a "Making of" featurette, but it's as much as a movie like this really needs. My Dad's Movie: The True Story Of The Neverbeast (5:14) expands on the director's mention of how his daughter helped to inspire the depiction of Fawn in the film.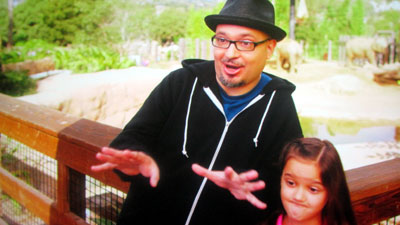 Tink'n About Animals (1:51) is a surprisingly delightful short, mixing CGI and traditional drawn animation, with Fawn teaching her friends what groups of animals are called. With its catchy tune and high energy, it's the most fun part of the disc.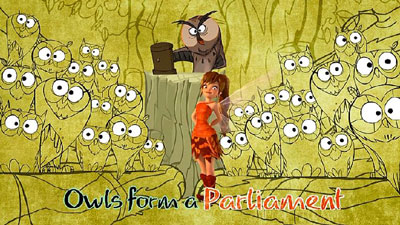 On the other end of the scale is Gruff Love (1:32), which is little more than a clip-enhanced music video. Better again is Jeff Corwin's Guide To Real-World Neverbeasts (3:30), which introduces viewers to several weirdo animals from the real world.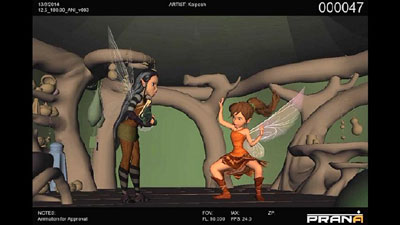 Deleted Scenes With Director Intros (11:07) include a cute but less dramatic beginning to the movie, and three others scenes with the fairies that ultimately got cut.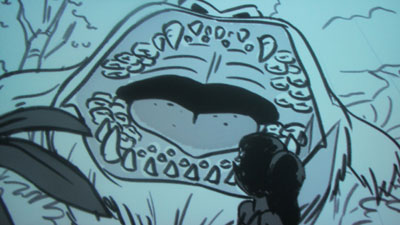 Case Study:
The Blu-ray case holds one disc on each side. Inserts include those for Disney Movie Rewards and the Disney Movie Club. The nearly identical cover slip (with minor re-arranging of back cover images) is embossed—the paw prints around the border are a clever touch— and even a little sparkly.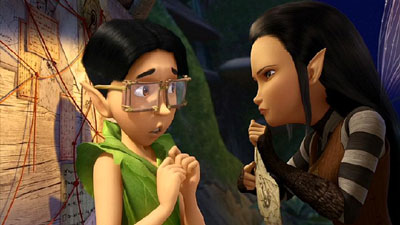 Ink And Paint:
It really is amazing just how great these DisneyToon films look. Some may nitpick that they aren't feature quality, but I cannot think of too many big-time studios that wouldn't be jealous of the design and animation quality in the Tinker Bell movies. Produced at a fraction of the cost of many theatrical releases, the Tinker Bell films do still boast healthy budgets and come off looking pretty fantastic. They save money by perhaps having fewer environments to build, and many of the background textures are not as well realized as in a theatrical film, but "less" can mean "more" too. The films are built with the financial limitations in mind, and the directors and artists make wise decisions regarding how to maximize the budget, use designs that actually work with the budget, and have it all looking great.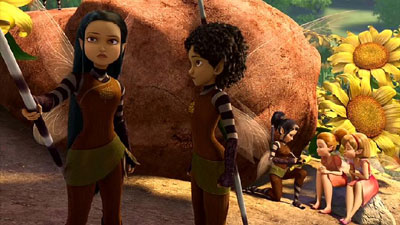 And, with the film's digital file basically going directly onto the Blu-ray or DVD, the result in naturally perfect. Every pixel is accounted for, and the fluidity of the animation takes a back seat to no theatrical feature. It may seem funny to say that a direct to video disc is "reference quality," but this would only be a very small exaggeration. This film really looks sharp.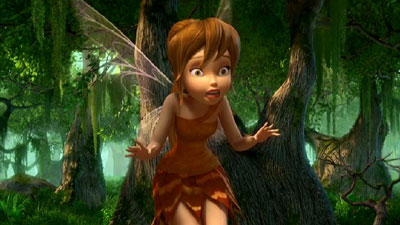 Scratch Tracks:
The DTS-HD Master Audio sound, offered in 7.1 channels, is just as crisp and delightful as you would hope, which is particularly gratifying in terms of enjoying what is a strong musical score. French and Spanish listeners get soundtracks too, but only in 5.1 Dolby Digital. Subtitles are available in English (plus English captions), French, and Spanish.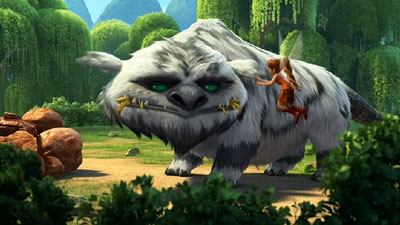 The DVD has Dolby Digital 5.1 soundtracks for English, French, and Spanish. The subtitle options are in the same languages, plus English captions for the hearing impaired.
Final Cut:
While I won't necessarily be sad to see this series end, it has been a strong run that saw at least four or five pretty good films produced out of the six features. Disney got better mileage out of this series than I would have anticipated, and even if I am too old and male to be considered the target audience, the DisneyToon people have got my respect. I have never felt bad watching these with my kids, and I have been consistently impressed with the animation quality (and in most cases with the stories too).
Legend Of The Neverbeast falls into the middle of the pack, being not truly great but also no where near bad. The story is a mite predictable, but that will hardly matter to younger, less sophisticated viewers, who will benefit from the themes of friendship and avoiding prejudice. The beautiful aspects of the animation really won me over, nudging my score up a bit. I do find it a wee shame that they didn't simply wrap things up with the suitably enjoyable Pirate Fairy, but this trifle of a film does nothing to damage the brand. On the other hand…
I should make mention that many Amazon reviewers with very young or sensitive children found this film too dark and scary. Personally, I fail to see the fuss, given the strong content in many other Disney films (haven't parents learned from Bambi yet?), but apparently the Tinker Bell films are held to a different standard by some parents. So, parental guidance is suggested. This is darker and a little more violent than the other Tinker Bell films, and some scenes could be considered sad or scary. The ending in particular may be very sad to some kids, especially if they are not old enough to understand what is happening.
Animated Classic or Back To The Drawing Board?