In 2008 audiences around the globe re-discovered and fell in love with one of the world's most iconic characters all over again, as Walt Disney Pictures launched the origin story of a beloved character in Tinker Bell, the debut film in the new Disney Fairies movie series. The delightful tale thrilled audiences of all ages, soaring to reach the year's number one spot as the biggest direct-to-DVD release of 2008.
Produced by DisneyToon Studios, Tinker Bell and the Lost Treasure is the highly anticipated second film in the continuing Disney Fairies franchise. In this all-new movie, Tinker Bell's adventure takes place in Autumn, as the fairies are on the mainland changing the colors of the leaves, tending to pumpkin patches, and helping geese fly south for the winter. The rare Blue Moon will rise, and when its light passes through the magical Fall Scepter that Tinker Bell has been summoned to create, Pixie Hollow's supply of pixie dust will be restored. But when Tinker Bell accidentally puts all of Pixie Hollow in jeopardy, she must venture out across the sea on a secret quest to set things right.
In order to go deeper into the magic of Pixie Hollow, Animated Views was kindly invited by Walt Disney Studios Home Entertainment to take part in a roundtable discussion with no less than the Director and the Producer of the movie, Klay Hall and Sean Lurie.
---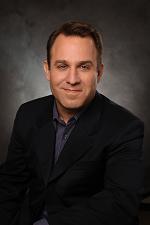 Roundtable Interviewer: Mr. Lurie, you've been working in two different animation studios as a producer. What is your experience with Disney like?
Sean Lurie: I have been fortunate to have such great filmmaking experiences in my career. One of the great things about being at Disney is the broad support of the studio. It's amazing how many people across the world can interact with the Disney magic in so many ways. Our focus as filmmakers is on telling great stories knowing that Disney will support those stories across the company. Disney Animation is also very filmmaker driven under the leadership of John Lasseter and Ed Catmull. They give us the opportunity to create great stories and solve story problems. They empower the team and are very supportive in this process.
RI: And what about yours, Mr. Hall?
Klay Hall: It is always been a lifelong dream of mine to work for Walt Disney Studios. As a young boy, growing up in Southern California in the shadow of Disneyland, it was where I hoped I would work someday. It has always been the leader in quality family films, and I wanted to be a part of that Disney tradition. I went to the Disney School of Animation at Cal Arts and was influence by the classic Disney animators. Today I feel very honored to live my dream.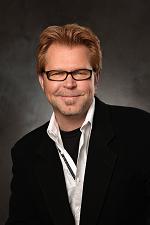 RI: Mr. Hall, you're known as TV animator, did you have special training for working as full-length film director or was it a natural step?
KH: While at Cal Arts, I trained in classical feature animation. Then early in my television career, I started as an assistant animator eventually moving up to a supervising director. This took many years and lots of dedication. During this process, I learned to work with many different types of personalities, which helped me understand how people work. I also had to learn how to work with high-level executives from the networks and other studios. At one point in my career, I was overseeing seven episodes at once with a crew of about 115 people. These experiences, among many others, prepped me to become a skilled full-length film director. So in conclusion, it did feel like a natural step.
RI: You are no stranger to the great Disney tradition, as one of your mentors was Tinker Bell's legendary animator Marc Davis. What are you memories of him?
KH: My memories of Marc are inspirational. He was a living legend when I met him and corresponded with him. He was generous with his time and encouraging about animation as an art form. We did speak of Tinker Bell and Peter Pan and how fun it was for him to create such an iconic character. Some of Marc's inspirations for the character were Peggy Lee, Marilyn Monroe and Betty Kimble, Ward Kimble's wife. I did appeal to the memories that inspired me from Marc, but also did a lot of research on Marc's work. I pulled Marc's original model sheets, looked at pencil tests and interviews, and tried to capture Marc's influence. In fact we used all these materials when we began to build and lay out Tinker Bell in CG.
RI: You also met Ward Kimball and Milt Kahl, who also worked on the original Peter Pan.
KH: It was an honor to meet Ward Kimball, which I had the pleasure on several occasions. I spoke with him while a student at Cal Arts and then was able to correspond with him in the later years about animation and technique. He was a warm, friendly guy who had me out to his house and even invited me to his last steam-up at Grizzly Flats Railroad. Unfortunately, I never met Milt personally, but was also able to correspond with him through the mail. He was very friendly and encouraging in his advice about acting for animation and being sure to do your research before you begin to draw. I still look back and read the letters from these guys, watch the scenes they worked on and I'm truly inspired to this day.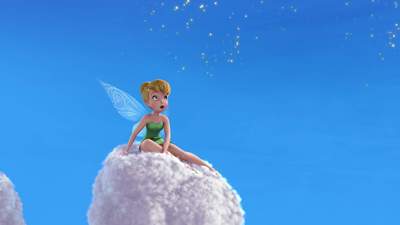 RI: Why do you think it is important to bring the character of Tinker Bell to the forefront after many decades from the original?
KH: She is such a great iconic character that hadn't been tapped to her full potential. It seemed like it was a good time to showcase her to a new generation, yet still embrace the classic Tinker Bell. I want to say, once again, how real she is with all her little flaws and feistiness, yet she is relatable to every generation.
RI: How did you manage the evolution of Tinker Bell as a character regarding the original personality she had in the 1953 movie?
KH: It was a challenge and an honor to work with this iconic character, Tinker Bell. She actually originated in the early 1940s and was inspired by the Blue Fairy in Pinocchio. Over the course of the next 13 years, Walt and his team went through many variations of Tinker Bell, finally landing on the Marc Davis design. So in that 1953 movie, they had her design but they were still working out her personality and character. She was feisty. She was hot tempered. She was jealous. And she made mistakes. This is what I loved about her character and wanted to embrace because it made her feel real and relatable. It's okay to get upset and to make mistakes. It's also great to realize those flaws or those mistakes and to be able to apologize for them.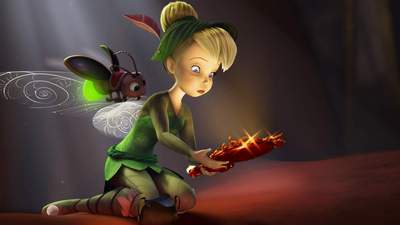 RI: What are the differences you can see comparing the new Tinker Bell and the older one, as a co-star of Peter Pan?
SL: The biggest difference has to be that she can talk in these movies. Even though she couldn't talk in the Peter Pan movie she was very expressive. You always knew what she was trying to communicate. We tried to keep her very expressive, and maintain her key personality traits. Translating her from 2D drawings to a fully three dimensional character is also a visual difference. We tried to be as accurate in her appearance as possible. It was important that people recognize and accept her as the Tink they know and love.
RI: Tink has come a long way since her first incarnation as a spot of light on stage and since her voiceless sidekick role in Peter Pan. What is the source of her enduring appeal and what essential parts of her remain unchanged?
SL: I think it's because Tink is very relatable. She has emotions like we do, and is very expressive. She has a temper, she gets jealous in the Peter Pan movie. She's very feisty. We have tried to maintain these personality traits in Tink, and think that part of what people love about her.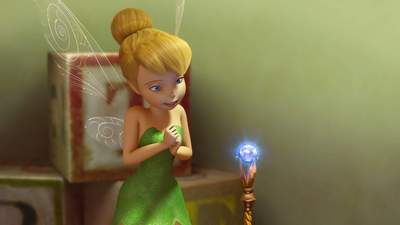 RI: Different crews have been working on five different Tinker Bell movies. How do you manage to keep her consistency along all those adventures?
SL: Yes, this is a challenge. We have a story trust composed of the directors, writers, producers, and selected others who review and offer help to each other and their projects. A lot of consistency issues are resolved in these meetings.
RI: How hard has been the process of working on three different Tinker Bell titles almost simultaneously?
SL: Surprisingly, not as hard as one might think. The reason for this is the great and talented teams of people working on these films. There is a great collaboration among the teams. We have a story trust that is made up of the filmmakers from each of the films. This group has exposure to what each is doing. This helps with consistency. That said, animation is always very complicated. With the right people and attitude it can be a very fun process.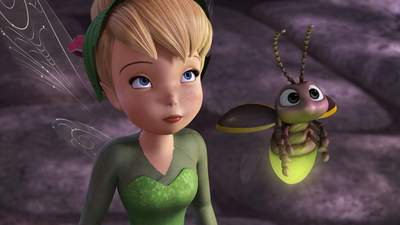 RI: Mr. Hall, you have directed and produced several animated series. What made you want to direct this particular film?
KH: The opportunity to work with such an iconic character, such as Tinker Bell, was inspiring. I was up for the creative challenge of working with the classic Tinker Bell, but yet giving her a bit of a fresh look. Also, the opportunity to work with John Lasseter in such close proximity was a dream come true.
RI: So what was John Lasseter's involvement like on this film? At what levels?
KH: It was awesome! Working with John was a dream come true. He is so invested in these Tinker Bell films and very hands on. John is very much a collaborator and helpful at every level. He was involved practically at all levels. From working with us on the original story pitch, costume design, character design to sequence approval, animation, music and the final sounds effects mix.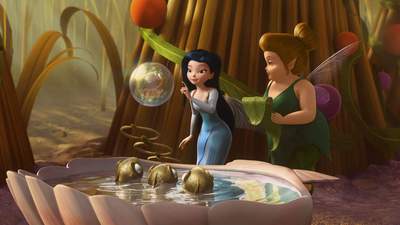 RI: How was your work like as a director of Tinker Bell and the Lost Treasure?
KH: First is creating a good story and finding a writer that shares the same point of view. Next would be locating a talented crew of artists. I need to have a clear vision and be able to articulate that vision to the entire production staff. Then I need to basically oversee every step of production as it moves forward to the finished product. For example, script, storyboard and animation, CG backgrounds, color design and layout, voice casting, music, effects and editorial.
RI: So, let's get started with the story. How did you come up with ideas for this enchanting new one?
SL: The story is loosely inspired by a Disney chapter book called Tinker Bell North of Neverland. There was an idea about friendship in that story that inspired us to make that the heart of the story. We also wanted to make an adventure where Tink has to go on a journey. These were the initial ideas that developed from there.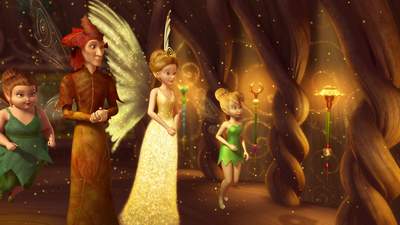 RI: Was there a challenging scene or an unexpected development that occurred while working on the movie?
SL: There's an interesting scene in the movie where Tink blames Terence for breaking the scepter. Our initial instinct on this was to have Terence feel bad/sad. Early in the process he cowered away, and our hope was that we would feel sorry and sympathetic for him. We were reviewing this scene with John Lasseter and he said, "he should fight back, and stand up to Tink". John felt that it wasn't believable to have him mope off like that. That it wasn't a natural reaction. This change in attitude with Terence helped inform a few other sequences in ways that improved the story. It's a good lesson to always check the believability of the characters.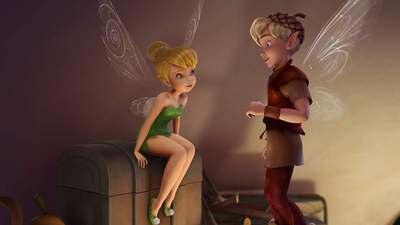 RI: Do you have a scene from the film you are most proud of?
KH: That is a hard one, but I absolutely love the sequence with the trolls. I am proud of this sequence because we are able to see a full range of emotions from anger to compassion. The models on these guys, although unique, are a bit scary and unappealing. However, what the scene delivers is believability, charm and a sense of warmth that Tinker Bell sees and the audience can embrace.
RI: Is there a deleted scene that you wish had made the final cut?
SL: There was a very funny scene where Blaze gets eaten by a frog that got cut out. It caught everybody by surprise and made people laugh out loud. We couldn't find a way to make it work in the revised sequence of events in the story.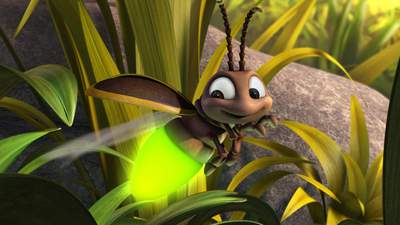 RI: What is the most important lesson children can learn from Tinker Bell?
KH: We all can learn so much from Tinker Bell and her adventures. Tink herself learns a valuable lesson in the film – friendship is one of the greatest treasures of all; she learns that it's okay to make mistakes and to forgive.
RI: How long did the production for the movie take overall?
SL: It took about two and a half years.
RI: Once the story is set, what is the process like?
SL: We start with "flat" designs and storyboards drawn with a stylist in the computer (they resemble pencil drawings). We then construct those characters, environments and props as models in a 3D digital environment. Even though the shots are computer generated there are many talented animators animating each shot and character.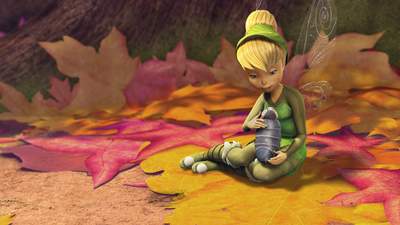 RI: What are the advantages of treating the fairies' world in CG? And what are the difficulties that implies, too?
SL: We felt that CG was a great medium for these films because it allows us to create a truly magical world. The richness, color and depth is fantastic. We also felt that CG would help create an environment that we could easily return to in subsequent films. Our biggest challenge with CG was to create a faithful rendition of Tinker Bell. We spent a lot of time on this because we know that this is a beloved character.
RI: Can you talk a little bit about the look of this film and what inspired it?
KH: Certainly the inspiration comes from the original 1953 Peter Pan movie. The colors and the richness of the backgrounds from the original film were embraced. What was great about this time is we were able to give it a fresh look and able to incorporate CG. We were able to enhance the textures and the hues to really give it the richness we felt it deserved.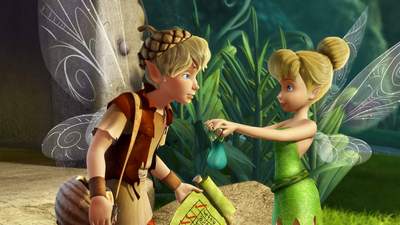 RI: Can you describe Tinker Bell's new costume and how you arrived at its design?
KH: Tinker Bell and the Lost Treasure is set in the autumn. So it seemed proper to update Tinker Bell's outfit. In the earlier films, she wears her iconic little green dress. However, it being fall and there being crispness in the air, in addition to this being an adventure movie, her dress just wouldn't work. So I, John Lasseter, Ellen Jin, the Art Director, and the costume designers from the parks all weighed in on an approach to a new design. We landed on her wearing leggings, a long-sleeve shirt, a shawl, a hat and high boots with her iconic pom-poms still attached. The costume also had to feel as if a fairy made it, so all the materials, textures and elements are organic and easily found in nature.
RI: What is the benefit of Blu-ray for a film such as this?
SL: We produced the film in High Definition. Watching it on Blu-ray is, by far, the best way to see this. It's visually stunning and we don't want you to miss the incredible visual details.
RI: Mr. Hall, do you coordinate the performances of the voice talents with the visual artists?
KH: Yes, I do coordinate all the voice talents with the visual artists; however, we do record the voices first, so the animators have an acting track to work from. If I don't have an actor recorded at the time I am handing out a scene, we do what is called a "scratch track", where I or an animator will speak the words and we will record them, so we have something to work from. When I go into final record with acting talent, I bring character design, color art and sometimes a pencil test scene that will help inform the actor of what I'll be looking for.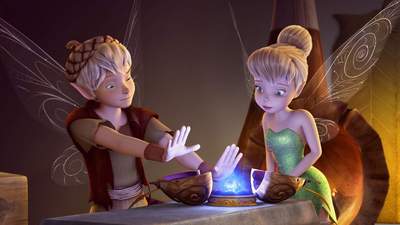 RI: The production of the score by Joel McNeely was very special. Can you tell us about it?
KH: I worked very closely with Joel McNeely from early on. We talked about how we wanted to capture authenticity of the Celtic world and have it sound organic. Joel is a very accomplished musician on several instruments and he had creative ideas on how to create this new sound. As part of our production process, we were able to travel to Ireland and meet with David Downes, several musicians and singers, including some of the Celtic Women. When we first heard the Celtic choir, it was in the Abbey's residence, a 400-year-old building next to St. Patrick's Cathedral in Dublin. Talk about inspiring and moving. It was truly amazing, an incredible experience and we felt like we were really on to something.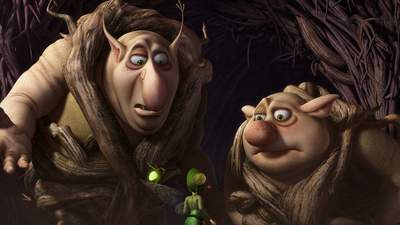 RI: Now, speaking about the future: is there any chance the trolls will show up in their own animated feature?
KH: I hope so. I find those guys very funny.
RI: Do you anticipate any of the other Peter Pan characters making appearances in the Tinker Bell films?
KH: You never know! It would be great…
---
---
Our thanks go to Klay Hall and Sean Lurie, and to Kevin McGuiness at Disney, and Dre and Mac at Click!