DisneyToon Studios (2014), Beuna Vista Home Entertainment (April 1, 2014), 1 Blu-ray + 1 DVD, 78 mins, 16:9 ratio, 7.1 DTS-HD Master Audio, Rated G, Retail: $36.99
Storyboard:
Tinker Bell and her friends go after a rogue fairy who has stolen the blue pixie dust that brings life to the pixie dust tree. The traitorous fairy has allied herself with pirates, in a misguided attempt to find a family. The pixie dust is important, but it it's not the only thing that the fairies wish to save.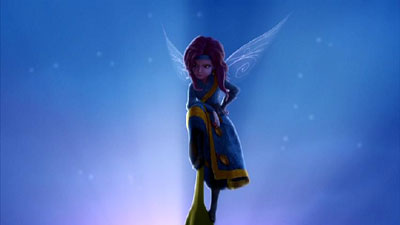 The Sweatbox Review:
Even before the previous Tinker Bell feature, Secret Of The Wings, was released in late 2012, a fall 2013 release date was announced for its follow-up, Quest For The Queen. But, just as Secret Of The Wings was originally titled Tinker Bell And The Mysterious Winter Woods, Quest For The Queen would also get a title change. It was renamed The Pirate Fairy, and also got its release moved back to spring 2014, in order to make way for another DisneyToon entry, Planes, in late 2013. I understand the change in release date, but there seems to have also been some story tampering done on the newest fairy film, as the once-titular Queen barely appears in the final product. Early promotion focused on the fairies switching powers, and that is still in the film; but instead of concerning itself with a royal quest, the movie instead brings in pirates, those foul scallywags who also showed up in the original Peter Pan story.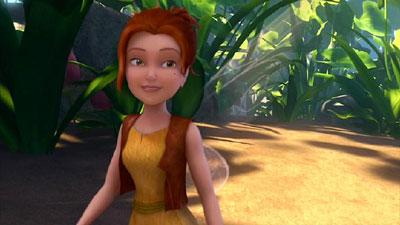 With a telling nod to the original tale, the movie begins in fog-enshrouded London, with the virtual camera sweeping up into the sky towards two shining stars, proceeding to NeverLand. A scene occurs that demonstrates all the talents of the fairies (Tinker Bell's friends in particular), and we meet an oddball fairy, Zarina, who prefers to walk rather than fly, ostensibly because she forgets to keep up her supply of pixie dust. This is ironic, since she is a pixie dust fairy, one of the chosen ones who maintain and nurture the pixie dust tree. At work, we see that Zarina is well known to the other pixie dust fairies, having made a name for herself as unusually inquisitive and apt to challenge the way things are done. While assisting Fairy Gary with acquiring blue pixie dust, a sort of pixie dust fertilizer, she asks him why they can't have pixie dust of other colors. Fairy Gary does not like this line of questioning, and advises her to drop the subject.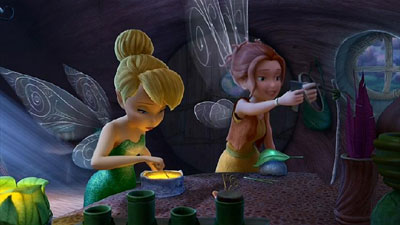 However, later on Zarina experiments in private with blue pixie dust, and then coerces Tinker Bell to assist her in her experiments. Naturally, as with any "mad" scientist who dares to mess with nature, Zarina finds her experiments lead to no good, and the destructive result sees her lose her position before she disappears from Pixie Hollow entirely.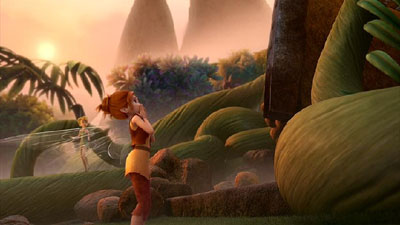 A year later, Pixie Hollow is celebrating the Four Seasons Festival, to be attended by all fairies, including those from the Winter Woods. Zarina returns to Pixie Hollow at this time, using the gathering to attack the fairies all in one place. Zarina has now experimented enough with pixie dust to have created numerous colors of the stuff, which she can use to mimic the various fairy talents. Once she has used giant poppies to put everyone to sleep (apparently having read about it not from Barrie, but Baum), she goes to steal the entire supply of blue pixie dust. The only fairies who managed to escape the poppies are Tinker Bell and her friends, so the lady fairies go after Zarina, leaving Clank behind to keep the sleeping fairies safe.
The chase leads the fairies to discover that Zarina has joined a band of pirates, and in fact she appears to be leading them. The girls are shocked.
They waste no time, however, in trying to steal back the blue pixie dust, but are defeated by Zarina when she uses her own concoction to attack the fairies. After the fairies revive, they find that they have all switched talents, with Vidia especially indignant that she has become a tinker fairy. Switching "super powers" is a time-honored comic book cliché, but still comes off reasonably fresh in this context. The girls will have to figure out their new abilities fast if they are going to be able to subdue the pirates and take back the blue pixie dust. There is also the matter of somehow reclaiming Zarina.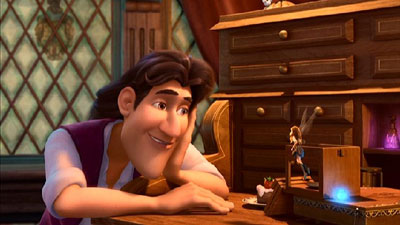 Zarina has in particular developed a rapport with the cabin boy, James, a strong-chinned fellow who bears a resemblance to a certain adversary of Peter Pan. James can understand Zarina, whereas the other pirates only hear a bell when Zarina speaks. James appears loyal to his captain, but one cannot escape the sense that there is something more sinister beneath the surface. The second half of the movie bears this out, with several chases, imprisonment, changed loyalties, and maybe even redemption. Along the way, there are a few surprises for Peter Pan fans, too.
This fifth film in the fairies franchise upholds the strong tradition of the series. While grown-up fans may still feel better about watching this with their kids, the truth is that the story is exciting, though perhaps understandably predictable, and the character of Zarina is a fascinating addition to the Pixie Hollow world, particularly with the role she is given at the end of the film. Also, as a prequel in many ways to Disney's Peter Pan, long-time fans will enjoy the numerous "Easter eggs," both subtle and obvious— though a few may think they've gone a little too far.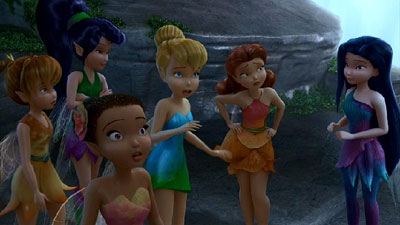 The animation is first-rate, only a notch below theatrical quality, at a level that would undoubtedly surprise many who have never watched one of these movies before. The production design is as beautiful and inventive as ever, and unlike some of the previous entries, this one utilizes Tinker Bell's friends much more, and gives each character a chance to shine in ways that they haven't before, except perhaps in books based on the movie series. Fans may still wish that more was done with Tinker Bell's sister Periwinkle, or Tink's friend Terrence, but this isn't their film.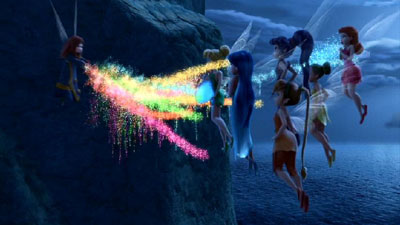 If you are already a fan of this series, you can feel good about continuing with it. Those that have been curious but were reluctant to give it a shot should at least enjoy the Peter Pan elements here, stronger here than in any previous Fairy movie. And anyone else can appreciate that this is a great alternative to the largely male-directed superhero films that are all the rage today. Though Disney would never market it as such, this is really a superhero movie for little girls, but with enough excitement and danger present for the boys to enjoy it too.
Is This Thing Loaded?
The disc begins with a Trailer for the next Disney Fairies movie (looks like they've lost the Tinker Bell branding for good), Legend Of The NeverBeast, though that title is likely subject to change, considering recent history; then Trailers for the Sleeping Beauty: Diamond Edition Blu-ray and the tie-in film Maleficent.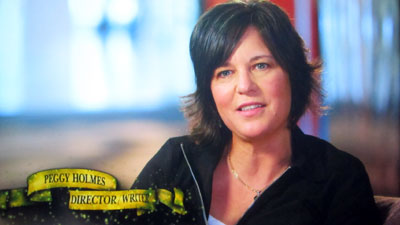 Proper extras start with Second Star To The Right: The Legacy Of Never Land (4:45), essentially a short "Making of" piece, with discussion from the director and others close to the production. Next is a Croc-u-mentary (4:45), a short nature piece that discusses Captain Hook's favorite predator.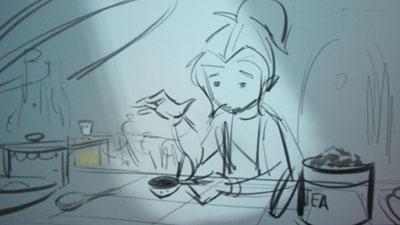 There are four Deleted Scenes totalling about seven minutes, including introductions by the director and producer. These scenes each would have added to the film, but were ultimately found to be redundant early on, and never made it past storyboard animatics.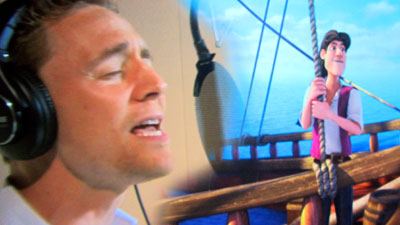 The Making Of "The Frigate That Flies (4:21) focuses on Tom Hiddleston's wonderful turn as James. It turns out that one of today's brightest young stars (see The War Horse and Thor) is also a great singer! (Too bad he doesn't sound much like Hans Conried.)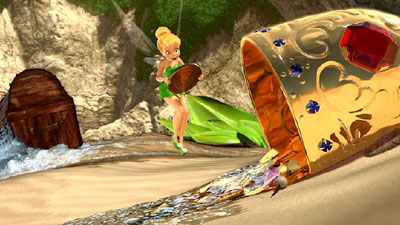 There are also two Fairies Animated Shorts, each running less than two minutes: Aaarrgh! and Treasure Chest. The final extra is one for two Sing Along Songs.
Selecting Sneak Peeks gives you ads for Disney Movie Rewards, Disney Junior's Sofia The First, the Disney Infinity game, and Adventures By Disney (focusing on a Norway trip inspired by Frozen).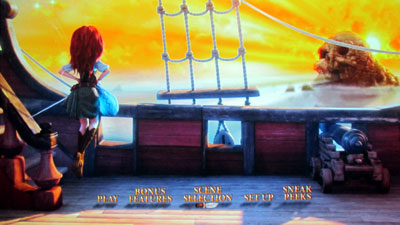 The included DVD has the same opening trailers and sneak peeks, the Croc-u-mentary, and the animated shorts.
Case Study:
The Blu-ray case contains a DVD on the left, and a Blu-ray on the right. There are two inserts, for Disney Movie Rewards and other Disney surprises. The embossed cover slip has a neat shine that emanates from the meeting of the swords of Tinker Bell and Zarina. A Digital Copy is also included with purchase of this set, to be unlocked with an online code.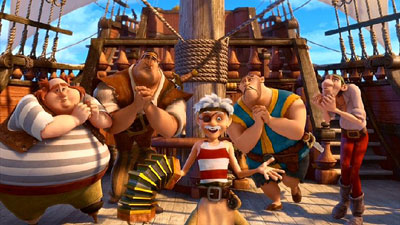 Ink And Paint:
The 16:9 picture is perfectly lovely. The film has plenty of both dark and light scenes, and there is plenty of detail and color in both. I could not find any banding, and even the swift movement of the fast-flying fairies could not set a challenge too great for this transfer. Sadly, though this film got theatrical release in 3D in some territories, and the previous Fairies film got a 3D Blu-ray, that is not the case here. Only the 2D version is present. The 3D is missed a bit, as a few shots were clearly designed to show off 3D effects.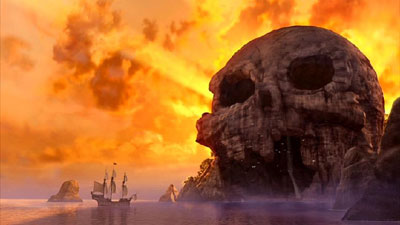 Scratch Tracks:
The English 7.1 DTS-HD Master Audio soundtrack had lots of potential, but ultimately it is pretty front-centered and merely adequate. While there is nothing wrong with it, I've watched TV shows with more dynamic range. The songs are great, though. There are also French and Spanish 5.1 Dolby Digital tracks. English, French and Spanish subtitles, plus English captions for the hearing impaired are likewise included.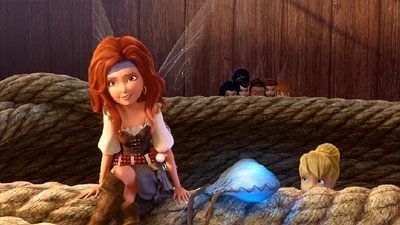 The DVD has 5.1 Dolby Digital tracks for English, French, and Spanish; and the same options for subtitles.
Final Cut:
This Disney Fairies entry gets another enthusiastic thumb's up from me. I never thought I'd still be enjoying these, a few years past the first one coming out. Out of the five made so far, only the middle entry was fairly weak, with the rest all being quite enjoyable (though naturally not as epic as some of Disney's theatricals). This one utilizes its cast well, and introduces a great new character, while also paying homage to the play/book/film that inspired it all. Beautiful visuals and a nice set of supplements further help to make this release a winner.
Animated Classic or Back To The Drawing Board?