Warner Bros. Pictures (1940-2004), Warner Home Video (October 12 2010), 2 discs, 155 mins plus supplements, 1.33:1 original full frame ratio, Dolby Digital, Not Rated, Retail: $26.98
Storyboard:
Though the criteria for their selection is never mentioned, this "essential" collection pulls together twelve classic cartoons, a movie cameo sequence, four television specials, three modern shorts and a pretty lame bonus featurette to illustrate Bugs Bunny's 70-year career.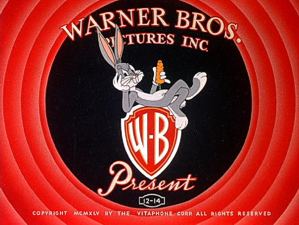 The Sweatbox Review:
With the lamentable demise of the excellent Looney Tunes Golden Collection sets, it seems the best hopes for fans of many of Warner Bros' controlled titles now rest with the Studio's Archive Collection line of manufactured on demand discs. Already, in only the past couple of months, those followers of the Hanna-Barbera Classic Collection have been able to lap up their fix of television animation with a run of five or six titles that might have otherwise never seen the light of a red laser, and there have been rumors that the so-called "Censored 11", those wartime era shorts that remain a hot potato for stereotyped humor in today's PC world, might find their way to discs via the line.
Certainly fans of that Archive series have reason to cheer, but back at the main Warner Home Video label, things have been much less rosy of late, especially in terms of the Studio's releases featuring their stable of classic Looney Tunes characters. A quartet of releases sprinkled throughout the year, featuring headliners Bugs Bunny, Daffy Duck, Foghorn Leghorn, and Tweety & Sylvester, were designed to fill some sort of gap, but the ridiculous amount of double dipping in the long lists of shorts that collectors already had vastly outweighed the fresh to DVD offerings and, worse still, the cartoons were cropped to create a widescreen framing.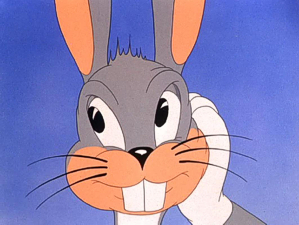 Now, it's true that some of the Warner shorts of the 1950s and 60s were designed to be matted, but their standard ratio has always been the original 1.33:1 negative aspect on home video, and the results were less than pleasing, cropping character heads off and basically turning those sets from possibly adequate collections for the casual fan to fairly useless discs that might otherwise be best used as coasters. Along the same lines, a "Deluxe Anniversary" collection of Tom & Jerry cartoons earlier this year proved to be a decidedly mixed bag, again with many of the selections previously released, some framing screw-ups of a different kind, and a bunch of fresh to disc material that on the whole just wasn't very good.
Apparently celebrating 70 Years of the wascally wabbit (though not mentioned on the packaging), The Essential Bugs Bunny strives to make up some of that lost ground, though whether it is successful as a compilation will be done to personal preference or collector's discretion on where to draw the line on how much Looney Tunes they need. Like the Tom & Jerry set, which featured the cat and mouse's debut appearance and following Oscar winners, the onus of Disc One is on Bugs' early milestones, standout shorts and his sole Academy Award winner, which leads to a rather predictable selection even if it does provide a fitting and fairly all-encompassing portrait of the wabbit.
For instance: even before he was Bugs, an unnamed prototype bunny had featured in a handful of Warners cartoons, starting as far back as the black and white Porky's Hare Hunt of 1938 (not included here), but it was by Chuck Jones' wonderfully animated Elmer's Candid Camera two years later that the character had almost reached the end of his initial development, via a somewhat Groucho Marx evolution. Also featuring the debut of Elmer Fudd, Camera appropriately begins this collection as well as the decades-long battle of wits between the rabbit and the hunter, Elmer himself still somewhat recovering from his quasi-transformation from the earlier character Egghead.
It's interesting to note that Bugs isn't quite himself here: Mel Blanc's vocal is more Daffy than Bunny, with a laugh that easily recalls his trademark chuckle for Woody Woodpecker. But with the wabbit firmly established as a potential star, it was director Tex Avery who gave him his personality, in the same year's Oscar-nominated A Wild Hare, widely acknowledged and accepted as the first true Bugs Bunny cartoon even if his actual name wouldn't be seen on screen until his next outing.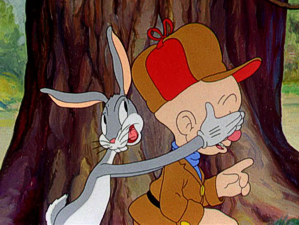 A Wild Hare is awarded this distinction because of Bugs' (and Elmer's) now clear visual definition (the flesh-colored mouth of earlier is gone and now resembles the Bugs we recognise) as well as career defining opening lines for Elmer ("Be vewy, vewy quiet, I'm hunting wabbits") and the bunny (of course, the incomparable "Eh, what's up, doc?", patterned on a phrase Avery used to hear bandied around in high school), both sporting the final voices that Blanc would perform until Who Framed Roger Rabbit in 1988.
Leaping forward to 1944 (missing out such titles as Tortoise Beats Hare, All This And Rabbit Stew, The Wabbit Who Came To Supper, Bugs Bunny Gets The Boid, Super-Rabbit and Falling Hare, among countless others), The Old Grey Hare has fun with Bugs and Elmer, portraying them as young and older versions of themselves, reminiscing about when they were baby enemies and flashing forward to the future of 2000 AD, when the chase between the two now amusingly elderly characters ("What's up, prune-face?") is still on.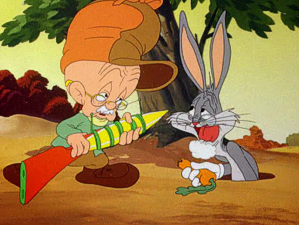 After this, the collection resorts to a random picking of highlights: 1946's Baseball Bugs is a fun outing, though perhaps more fun for the jokey billboards seen in the backgrounds, and although Hare-Raising Hare is a genuine 24-carrot classic, with Bugs outwitting the hairy orange monster Gossamer, it's only just also been released as an extra on the individual Bugs Bunny's Howl-Oween Special disc. As such, there's another jump of two years, to 1948, for the next cartoon, again missing out more worthy titles as Racketeer Rabbit, never released in the Golden Collections, Rhapsody Rabbit, Friz Freleng's much better take on a performance of Listz than Tom & Jerry's Cat Concerto Oscar-winner, Rabbit Punch and Buccaneer Bunny).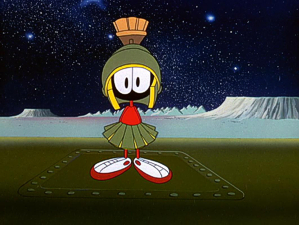 However, since the next cartoon is Haredevil Hare (wrongly spelled on the disc's menu), we can at least breathe a sign of relief that Marvin The Martian's debut hasn't gone overlooked. Again directed by Jones, Bugs is at his best here, with fine animation and future-retro designs for Marvin's Martian base, and another interesting factoid for the geeks is that this was the last Warners cartoon that made up the Associated Artists Productions package that would later be referred to as the public domain/pre-1948 series. Another two-year jump means titles such as High Diving Hare, Long-Haired Hare, Big House Bunny and What's Up, Doc? are omitted in favor of 1950's 8 Ball Bunny, a short that continues to turn up as an extra on various discs even though I've never found it – a Humphrey Bogart gag aside – to be particularly funny.
The hysterical Hillbilly Hare doesn't make the cut, but the remainder of the disc picks some real goodies, the next one being The Rabbit Of Seville, also of 1950, and a major milestone cartoon that provided director Jones with a way to tie classical music into his films, leading to the all-time high of What's Opera, Doc? some years later. As such, the success of the cartoon's timing is as much down to composer Carl Stalling's adaptations of Rossini's Barber Of Seville overture as it is to Blanc's brilliantly amusing opening lines, sung to the music, and Jones' whip-fast staging to the score's beats.
Representing the so-called "Hunting Trilogy", the first of those cartoons, Rabbit Fire is next, classically introducing Daffy Duck to the Bugs/Elmer dynamic, and also creating an ongoing antagonism between the wabbit and duck that would form the basis of their relationship in later cartoons. If ever there was an "essential" Bugs cartoon, this would be up there, with the "rabbit season/duck season" dialogue becoming a staple reference in the Looney Tunes canon, and the ways Daffy is abused are ingenious to say the least. It's something of a shame that the two sequels, Rabbit Seasoning and Duck! Rabbit! Duck! don't also make the cut, alongside other also-rans of the time, Ballot Box Bunny, Bully For Bugs, Bugs And Thugs, Devil May Hare, Bewitched Bunny, Beanstalk Bunny, Wideo Wabbit and Ali Baba Bunny.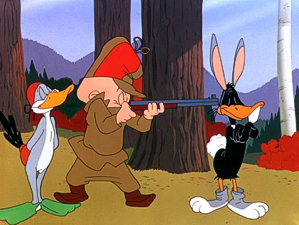 Swapping around the chronology somewhat to presumably end with a real gem, topping all of the above mentioned titles to be featured as the next offering is Show Biz Bugs from 1957, again a perfectly fine outing for Bugs and Daffy as competing stage stars, but not a particularly notable cartoon other than the fact its basic plot and core material were adapted for later compilation links for The Bugs Bunny Show and The Looney, Looney, Looney Bugs Bunny Movie. 1958's Knighty Knight Bugs, another short that's perhaps more noted than it deserves to be, is included here as the rabbit's unbelievable one and only Academy Award win (after only three other nominations).
This means we flip back to 1957 for the final offering on the first disc, which of course has to be Chuck Jones' zenith of the Looney Tunes animated short, What's Opera, Doc?, which famously and hilariously pits Bugs and Elmer against each other in a comical take on musical themes from Wagner's Ring Cycle. Although ending the disc with this selection means a couple of really good later cartoons (The Abominable Snow Rabbit, The Unmentionables, Transylvania 6-5000) also go missing, it does somehow feel right in closing out this selection with one of the wabbit – and Jones' – best ever shorts, indeed often voted the greatest cartoon of all time.
Again as with the deluxe Tom & Jerry collection, Disc Two's job is to present some additional material of sorts, and with the majority of the cartoons from the first disc no doubt somewhere in your collections already, it's the second platter that is possibly going to be the tipping point for long time collectors to get (mildly) excited about. In these instances, we're presented with the animation/live-action musical sequence from the 1949 Doris Day vehicle My Dream Is Yours, a now not particularly memorable picture and only noted today for this moment, in which Bugs (and Tweety) join Doris and co-star Jack Carson in a song based on that old cartoon standby, Listz's Hungarian Rhapsody No. 2. Though not a principally technical marvel in the way Gene Kelly dancing with Jerry Mouse was, it's a fun little sequence, shown intact here.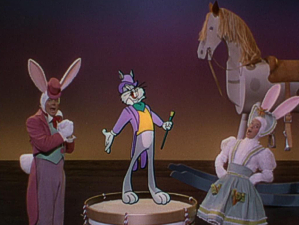 Jumping post-Bugs' theatrical career, a popular trend in the 1970s was the recutting of classic material and introducing new linking footage for framing purposes, to create "new" half hour specials. The Warners characters had been used in this way since The Bugs Bunny Show in the 1960s, but the popularity of programs that were produced more in the style of the feature compilations such as The Bugs Bunny/Road Runner Movie eventually led to orders for completely newly created shows (see below in the bonus features). Several of these specials have turned up on the Golden Collections in the past, as well as a current trend of issuing them individually, such as the recent Howl-Oween disc.
In many ways, I remain fond of these shows: it is, after all, how I originally came across the Looney Tunes shorts as a child, and if there's one that I've been waiting to see again it happens to be How Bugs Bunny Won The West, hosted by Uncle Jesse himself, The Dukes Of Hazzard's Denver Pyle, and new to DVD in this collection.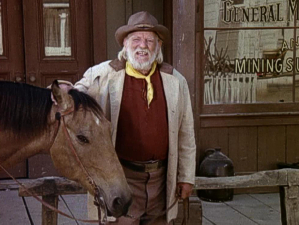 Blending sequences from shorts including Drip Along Daffy, Wild And Woolly Hare and Bonanza Bunny, this is one of the better such half-hour shows, with jovial linking material from Pyle that links the cartoons together well. Less successful, from a decade later, is the sub-Animalympics-lite Bugs Bunny's Wild World Of Sports, which throws together numerous cartoon clips with noticeably newer animation (and Blanc's final farewell wabbit vocal).
In the 1990s, Warners announced a new series of Looney Tunes, to be supervised by Greg Ford, who had overseen the then-recent run of direct to video feature compilations and television specials. My favorite of these were Box Office Bunny and (Blooper) Bunny, an ingenious 1991 parody that beat animated outtakes from Pixar by over five years, but it's the 1995 Casablanca spoof Carrotblanca that makes the cut here.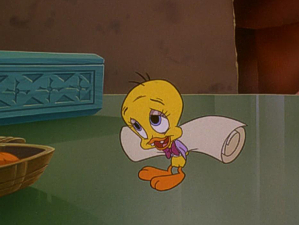 You'd think that with Bugs in the Bogey role, Daffy playing it again as Sam and Pepe Le Pew as Captain Renault, the writers would have a field day, but it's a strangely subdued cartoon, even coming from the Animaniacs team, that has its best moments in a Peter Lorre-channeling Tweety and the name of General Pandemonium, and fans of the film it parodies will no doubt have seen it included on its own DVD or high-def disc edition.
Finally, the most recent of Bugs' theatrically-intended outings, Hare And Loathing In Las Vegas, concludes the official line-up from the main menu. Though it wasn't eventually released to theaters, the letterboxed opening titles clearly show it was produced with such an issue in mind, and I believe it did turn up as a companion to Joe Dante's Back In Action feature film in Australia. As in that feature, Yosemite Sam plays a casino owner who builds his latest gambling joint right on top of Bugs' rabbit hole, causing the bunny to try his odds at outwitting Sam, which naturally ends as expected. Closer in tone to the older cartoons, I enjoyed this 2004 short, which continues the battle between Bugs and his nemesis Sam, who is otherwise woefully under-represented in this volume.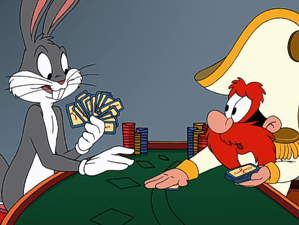 Ultimately, The Essential Bugs Bunny is as much about the cartoons that haven't been included as much as the ones that have made the cut. Trying to come up with a definitive list of just a few was never going to be an enviable job, but there are simply plenty of funnier, more memorable shorts that have been overlooked to bring us a sometimes random pick of titles, some of which are only so-so outings, and all of which most Looney Tunes fans will already own. Of course, the set may be more attractive to casual fans or those that just want a varied selection, but even so it's not always packed with the "essentials" and the addition of some new to DVD titles will frustrate those who do have to pick the set up in order to collect those, including some further inclusions that have been set aside as bonus features…
Is This Thing Loaded?
The box packaging indicates "20 Classics On 2 Discs", but so far we've only seen 17, and that's including the Doris Day sequence and the two TV specials. However, tucked away in the Special Features options is a trio of extra portions, though perhaps nothing to get wildly enthused about. As mentioned above, the compilation specials of the 1970s proved popular enough for Warners to order up completely brand new half-hour shows, two of which appear here as examples of Bugs' output of the era. Produced by Chuck Jones himself, Bugs And Daffy's Carnival Of The Animals from 1976 should be pure fun…a comical Fantasia take on Saint-Saens' ever popular music, which seems perfect for an animated spin (just as Eric Goldberg later did with one segment for Fantasia 2000).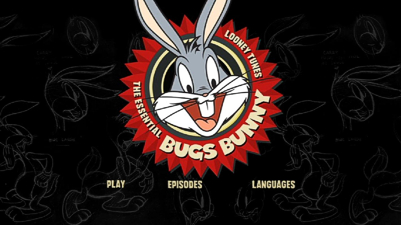 However, after the typically Looney Tunes animated introduction there's too much of an onus on Michael Tilson Thomas' live-action conductor and orchestra, whatever spark Bugs and Daffy once had is resorted to little more than barbed wit, and even Mel Blanc's exuberance seems blanketed under lower-pitched impersonations of the classic characters (this from the period where his Daffy and Sylvester were virtually indistinguishable). Indeed, it seems Bugs and Daffy's participation might have been just to entice viewers to watch, with Jones, wearing his arty hat, more interested in the pure music than in any "Kill the wabbit!" musings, and what unique but limited animation there is comes too sporadically and is fatefully uneventful.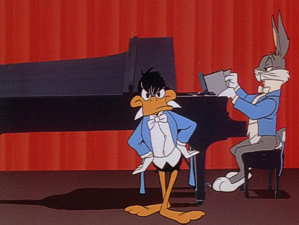 Also lacklustre is Bugs Bunny's Bustin' Out All Over, a 1980 celebration of spring/summer, that again finds itself struggling to capture the old magic. It's no less well animated than any other Warners' cartoons and well above the average television output of the time but just lacks the haphazard nature of the originals even if it does feature some nice ideas that recall Looney Tunes of old: Bugs and Elmer as kids, the return of Marvin The Martian and the Abominable Snowman, now named Hugo, and, this being a Jones-produced featurette, another extended Road Runner/Coyote sequence, where the poor "Nemesis Rediculii" eventually catches the "Ultra-Sonicus Ad Infinitum" beeping bird, but finds himself unable to do anything with him! But, even if the characters aren't as sprightly as we remember them, these shows are particularly valid examples of the Looney Tunes legacy, and though the zip may now have been replaced with an older, slower moving mindset, these are among the last projects produced by one of the series' original creators.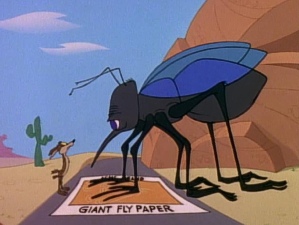 Bringing things a little more up to date is Greg Ford's Invasion Of The Bunny Snatchers, a frankly weird and bizarro cartoon from 1992 that I'm still not sure is either genius or just completely so wrong! It's certainly different to the Looney Tunes of old, being originally produced as a television segment and only later completed for release on its own, though it then remained on a shelf until it was picked as an extra for a DVD edition of Space Jam. Those who enjoyed the cartoon there will be either pleased or frustrated to find that this version here is the original uncut print, complete with Yosemite Sam restored, although I'm not sure if the short is a real keeper, with its strangely animated (intentionally badly, spoofing cheap rip-off cartoons) Daffy, Elmer and Sam hilarious for a second or two, but then deeply unnerving after that and, though the cartoon has a typically Looney fake ending and should feel funnier than it is, it remains somewhat unsatisfactory, for some reason.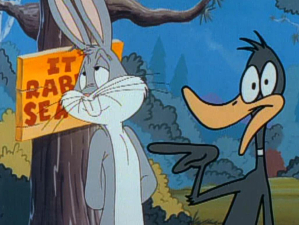 At least one of the high spots on the deluxe Tom & Jerry collection was a short but very strong retrospective documentary, that description certainly can't be awarded to the abysmally bad career profile Bugs Bunny: Ain't He A Stinker?, a 16 minute look back at the wabbit on screen. The first problem from the off is the joke-condescending narrator's tone that, we quickly realize, is not actually a joke at all, and we're stuck with him for the duration. The second problem is that this isn't a serious retrospective at all, slavishly going down the oh-so tried and tested route of suggesting Bugs is a real personality who achieved everything he did for real ("Did you know he did his own stunts?").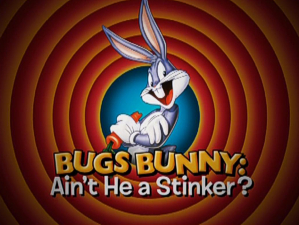 Yes, Chuck Jones is referenced in interview footage for a scant few seconds, but the onus is on Bugs becoming a star, Bugs joining the army, Bugs winning an Oscar, etc, instead of providing some serious historical context that would please aficionados and "edutain" casual fans, and when Blanc's 1961 car crash is mentioned, the lightweight tone doesn't suggest any real concern. As such, any chance of anything new or enlightening on Jones, Freleng, Avery or any of the other directors and artists or soundtrack contributors like Blanc and Stalling – even just a decent potted history on the shenanigans at Termite Terrace – is a redundant hope, glossed over for a shiny trawl through the decades while still not mentioning his 70th birthday. It certainly is not a reason for anyone to pick up this set, and in fact it has to be said that Bugs isn't the stinker here: it's this misjudged featurette that's the stinker!
Case Study:
Although not particularly aimed at the long-time Looney collector, perhaps since so much material has been made available before to that audience, The Essential Bugs Bunny still sports a pretty classy cover treatment, with a big and bold starburst promoting Bugs on the front against a black background that suggest a more serious approach than usual, even if it fails to make any mention that 2010 is Bugs' 70th anniversary year. This is topped off by a sleeve replicating slipcover and, in keeping with the theme, a black keepcase…and here is where we find the ball has been dropped. All over the package I was searching for the titles of the "20 Classics" indicated on the front to no avail, until the recycled plastic cut-outs in the case itself provided a clue: the sleeve is reversibly printed with the disc contents of both platters on their half of each facing side of the insert.
While burying the contents of a compilation isn't a great idea to begin with (unless you read a review like this, how are you going to know if there's something worthwhile in the set for you?), it's still not a perfect solution to hide them behind the discs themselves, as the titles are when the discs are in place. It's an even poorer idea to place the contents of a set on the back of a sleeve, inside the case and under the discs, when the keepcase is a standard non-transparent black plastic type (and, no, being able to peek at some of them through the environmentally green recycling logo cut-outs isn't the right answer). Perhaps transparent cases will have shipped on this title as well, but it shows a lack of thought, even if the disc art is quite snazzy.
Ink And Paint:
As is expected for cartoons of such a varied age, running the gamut from 1940 to 2004 and from multiple sources including older television masters, restored DVD editions and digitally produced originals, the quality jumps around from title to title, although there's nothing here that Warners should be embarrassed about or that viewers will particularly notice or care about, apart from the soft use of DVNR on some instances, though even this is lighter than usual.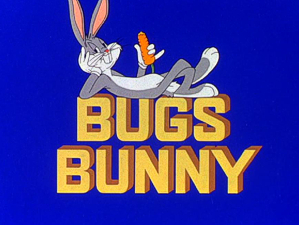 Most importantly, the widescreen frame cropping that besieged the recent Superstars releases is absent here, mainly because the material on the first disc is all mostly sourced from the same transfers as used for the Golden Collection sets, though Bunny Snatchers is a noticeable interlaced composite video master. Only Hare And Loathing In Las Vegas is under wabbit fire here, for cropping an obviously widescreen cartoon whose title and end card are letterboxed, though to be fair the resulting framing is only occasionally tight on the left and right.
Scratch Tracks:
Just as pleasing as the Golden Collection transfers are visually, the same can be said about the soundtracks. Naturally the 1970s television material isn't quite as top drawer as the restored earlier shorts or later cartoons in image or sound, but it's likely the best we can expect to see and hear them given the nature of their productions. It's no surprise that the stereo surround 1990s titles sound good, and credit goes to those who produced the soundtracks to match the old style shorts, all of which have been sweetened so as to remain as dynamic as they should be without sounding shrill, distorted or thin as we may have once experienced them on the small screen. Elmer's often firing gun is especially potent!
Final Cut:
A wide-reaching selection of classic cartoons, a random pick of television specials, and a handful of more recent shorts make up a fairly rounded potpourri of Bugs' carrot crunching career, though much of what makes up the discs has been seen before in other collections, most notably the Golden sets. But there are still a couple of nuggets worth considering, though you'd have to be a pretty big Looney Tunes nut to go the whole hog just to own the wild west special or the newer cartoons, which just aren't that rewatchable, to be honest. On the other hand, those without those Golden collections will find a lot of goodness here: not, so much, from the only okay selection of original shorts themselves but from the added specials, none of which have been made available individually before.
Animated Classic or Back To The Drawing Board?