MGM/UA Home Video (1975), CLV, 2 sides, 91 mins, 1.33:1 original full frame ratio, Analog Mono, Rated G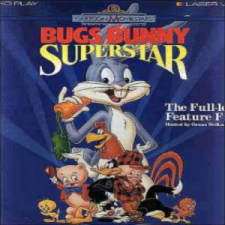 The perfect companion to the recent influx of classic Warner Brothers shorts on DVD, especially such behind-the-scenes documentaries as Chuck Jones: Extremes And Inbetweens, is the early MGM/UA issue of Bugs Bunny Superstar. A rarely seen, but excellent hybrid of animation, documentary and archive footage, Superstar is a rather serious minded (but fantastically entertaining) look at life during the 1930s at the Leon Schlesinger animation building on the Warner Brothers lot. This was the home to Chuck, and to his co-directors and creators Tex Avery, Friz Freleng, Robert McKimson, and Bob Clampett, as well as a number of termites that helped give the place its affectionate nickname: Termite Terrace.
The 91-minute feature length film, created in 1975 and narrated by Orson Welles, traces the origin of Bugs Bunny and the famous Warner Bros characters, and their design transitions throughout several decades. Highlighting the changes in direction, as well as bringing some lesser characters to the fore, is a series of nine cartoon shorts, complete with front and end title cards, and presented un-cut in their entirety. Intercut between home-movie footage of the animators in action (and playing a few pranks along the way), the cartoons featured are: What's Cookin', Doc? A Wild Hare, I Taw A Putty Tat, Rhapsody Rabbit, Corny Concerto (a typical WB response to Disney's Fantasia), Walky Talky Hawky, The Old Grey Hare, My Favorite Duck and Clampett's hysterical Hare-Raising Hare.
The archive footage looks fairly clean for its age and format, and there's a lot of fun to be had in seeing the artists fooling around and looking so young! The origins of the characters are covered well, and there are contemporary interviews with Clampett, Avery and Freleng as they were in 1975. Clampett takes over as an on-screen host, revealing the influences the cartoonists had being in the middle of a full working movie studio, and there are sequences covering Carl Stalling's music work and Mel Blanc's vocals. An added bonus is a look at some of the animators' studio sketches, joke drawings and caricatures, as well as original cels and model sheets. Apparently, so the story goes, Clampett's views "gloss over" the fact that Chuck Jones brought much to Bugs' development, which is why, in Jones' later compilation The Bugs Bunny/Road Runner Movie, Bugs runs off a list of his several "fathers", with Clampett a conspicuous exclusion…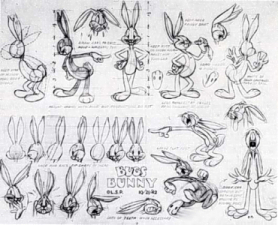 Bugs Bunny Superstar's disc itself, being an older release, doesn't come equipped with digital sound, but its analog presentation is just fine. This isn't an aggressive mix, being mainly a combination of talking heads, narration and the original mono of the cartoon soundtracks. Due to the fade in-fade out nature of the film, the side break works fine, and although there is no chapter indexing it's quite nice to sit down and actually watch this as a whole. Picture quality is fair, bearing in mind the age of the cartoons and the age of the feature. My guess is that the shorts were re-printed into a new negative for this film's initial theatrical release, so some minor wear and tear has effectively been picked up "twice". They do vary in condition – digital restoration wasn't what one could call "to hand" back in the early 70s – but since they come from alternative prints than the Warners releases they exhibit their own unique nuances. Overall, the archive/documentary nature of the film gets away with it, and makes for fascinating viewing.
December 2006 UPDATE: Though I would normally recommend that fans hunt down an LD copy of Bugs Bunny Superstar if you're a laser collector and don't already have it, it has recently been issued in two parts as one of the extras in the Looney Tunes Golden Collection #4 DVD set.