Warner Bros. Animation / Hare Raising Films / United Artists (July 9 1975), Warner Archive Collection (November 8 2012), single disc, 91 mins plus supplements, 1.33:1 original Academy ratio, Dolby Digital Mono, Not Rated, Retail: $18.95 from the Warner Archive
Storyboard:
In the first documentary of its kind, legendary animation director Bob Clampett takes us on a tour of vintage Termite Terrace, home to the Looney Tunes cartoons, peppering the journey with classic, full-length examples of those classic shorts along the way.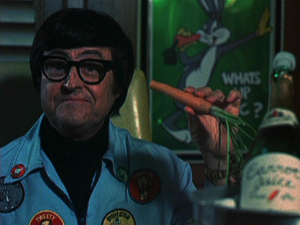 The Sweatbox Review:
The perfect companion to the concurrent release of the Looney Tunes Platinum Collection: Volume Two on Blu-ray, it's something of a shame that Larry Jackson and Bob Clampett's documentary-and-cartoon compilation isn't included in that assemblage of material, but understandable for space reasons. Still, it's better than how we saw it last time, split in to two parts on a previous Golden Collection set, or how LaserDisc viewers may remember: Bugs Bunny Superstar on LD dates back so far that it was an analog disc before digital audio came along!
Originally released as – if you can believe it – a limited arthouse title, this 1975 documentary can largely be traced as the reason the Looney Tunes and even cartoons from the golden age of animation from other studios are so much in the public eye nowadays. With the coming of television in the 1950s and especially color sets in the early '60s, many studios closed their theatrical animated shorts units down, reasoning that they could recycle the previous 20-30 years' worth of cartoons already produced for theatrical reissue or television distribution.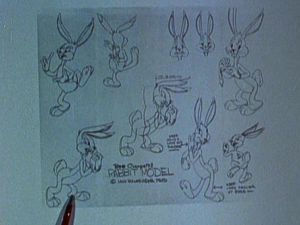 The Disney Studio mostly bypassed these events: Walt's factory had grown from being just a cartoon outfit with ambitious expansion in the 1950s, including a move into live-action and television itself. Walt could afford to keep his animators on the payroll: not only was the company built on their talents but the feature animation market was pretty much sewn up by the Studio and so the staff were always assigned to one particular production or another, or could be switched to producing a one-off theatrical featurette "special" or a segment for one of Walt's weekly TV episodes.
Across town, Disney's biggest competitors didn't fare as well. Perhaps the most fortunate were MGM's team of Bill Hanna and Joe Barbera, creators of the long-running Tom & Jerry series who, like Walt, embraced the "threat" of television and quickly made a name for themselves producing a hugely popular number of now classic programs. In New York, Max and Dave Fleischer's studio had closed after the unfair box-office failure of Mr Bug Goes To Town, merging into Paramount Pictures' own animation unit that also quickly became a hive of television production, creating adequate but none too special cartoons for the small screen.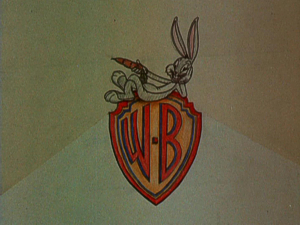 The most prolific unit to close was perhaps Warner Bros. Cartoons, once the small corner of the huge Warners lot known as Termite Terrace. From the late 1920s onwards, producer Leon Schlesinger had let the likes of Chuck Jones, Tex Avery, Bob Clampett, Friz Freleng and Bob McKimson run free with wild and wacky characters such as Bugs Bunny, Daffy Duck, Porky Pig, Tweety and Sylvester. Schlesinger had sold his interest to WB outright some years before, meaning that the front office could call the shots, and call 'em they did, shuttering Termite Terrace after an attempt to break into features (with Gay Purr-ee and The Incredible Mr Limpet) didn't exactly hit the bullseye.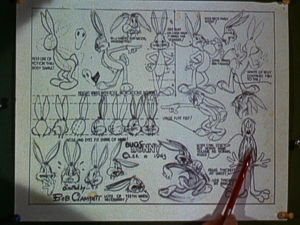 Ironically, some of these Studios had to then outsource their cartoon requirements when they found theatrical distributors balked at then paying rental money on "old" cartoon product, with the likes of Jones and Freleng especially staying on under the auspices of their own companies to create new Looney Tunes and Tom & Jerry shorts, Freleng particularly having major success with The Pink Panther series in the mid-to-late 1960s. However, these films were sadly (but honestly) faded copies of the originals, filling in a cinema program's spot but being nowhere as entertaining as the films from the 1930s, '40s and '50s.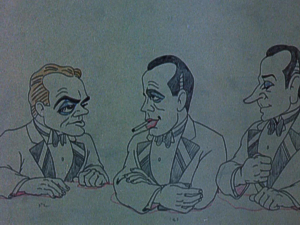 Soon, even these cartoons disappeared from movie theaters, marking the first major cultural shift in how animation was perceived. Until this point, cartoons had not been thought of as specifically a children's medium, being a popular, usually satirical – especially from Warners – highlight of a night out at the movies. But with the rise of television animation and a growing appetite for more, the golden age classics got relegated to nothing more than filler status, usually repackaged as half-hour shows that cut and chopped the shorts' title cards and, more disturbingly, content from the originals.
By the early 1970s, cartoons were strictly kids fare, with little to no interest in the medium from anyone who wasn't a parent – and even then it was only because they would take their children to see the latest Disney feature, at this time themselves stuck in a rut after the passing of Walt in 1966. Animation became fractured, the likes of Ralph Bakshi attempting to take ownership of the medium with a series of coarse and roughly made films. But there were still glimmers of hope: those that saw those golden age 'toons were now grown ups themselves, wanting to save their reputation from the heck of television reruns and obscurity.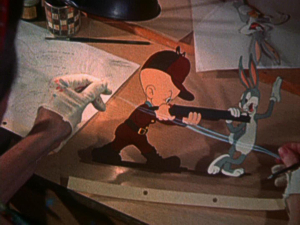 Jackson had been programming theatrical presentations of these classic shorts for one-off event screenings, which he found were hugely popular. The reason? Well, the cartoons from Termite Terrace were never made for kids, they were made for the other artists in the building: if they made them laugh then they were onto something! Adults that saw many of these films as children could now see them again with new eyes, taking in and understanding any number of risqué jokes, wry humor and suggestive gags that flew waaay over their heads years before.
An idea was formed to put together such a program that could reach a bigger audience, either by way of being an edited film that could be rented around, or as a proper, full-length compilation release geared to bring new interest to these classic cartoons. Jackson found the answer was a little of both, teaming up with Clampett, who himself had always been pleased to promote his work in the Looney Tunes canon, to host the proposed movie. Even better, Clampett had hours of home movie footage shot in Termite Terrace and around the Warners lot: the project had become a chance to be something much more than a simple compilation, and turned out very special indeed…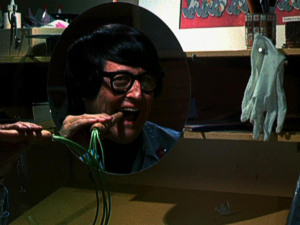 Although the selection of cartoons that eventually wound up in Bugs Bunny Superstar may not all be as fresh as when we first saw them – mostly and ironically because of them being played over and over as a result of this film – it's the archival footage that really makes thing special – really very special. Extremely rarely seen, these snippets of life at Termite Terrace during its late 1930s and early 1940s heyday are pure gold, allowing us to see alarmingly young artists such as Jones, Avery, Freleng and Clampett himself clowning around, hard at work, and hard at play on sporting breaks between inbetweens.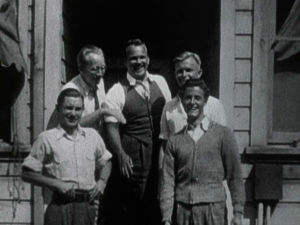 Even more uniquely, Bugs Bunny Superstar isn't a flippant sound-bite popdoc, inadvertently laying the foundations for a couple of decades' worth of follow up documentaries on the subject of the Looney Tunes cartoons as well as showing there was an audience for these films, leading to Warners to instigate their own series of "new" Looney Tunes compilations for television and theatrical release. These were essentially themed repackagings of the older cartoons with new interlinking material created by original directors Jones and Freleng, each of whom all sought to put their name at the forefront of the cartoons original popularity.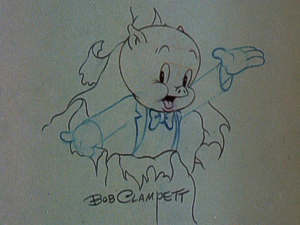 Bugs Bunny Superstar doesn't have any of that kind of squabbling: although Clampett is our jovial host and does his fair share of promoting himself, he's also quick to point out work done by Avery (although one would assume he was Tex's equal when he first started at Warners when Avery was in fact his mentor) and others, and Jackson is careful not to just pepper the amazing behind-the-scenes footage simply with Clampett cartoons. Working with the infamous "pre-1948" library that eventually became public domain, Jackson created the film independently of original copyright owners Warners, who dictated he could only reference films from the then United Artists-owned library.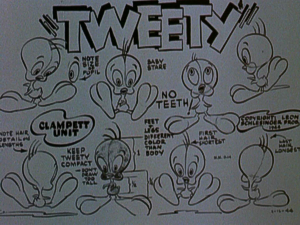 With Clampett's hosting and never-before-seen film offering a real look at how the cartoons were put together, from initial story sketches to recording the music and vocals, Bugs Bunny Superstar becomes a rather serious minded – but fantastically entertaining – retrospective, not only appealing to casual fans mildly interested in how their favorite cartoons were made but especially fascinating for the hard-core aficionados eager to pick up all the stories and see all the rare footage they can. This scholarly approach is sealed by none other than Hollywood legend Orson Welles – Orson Welles! – narrating this tracing the origin of the famous WB characters and their design transitions throughout several decades.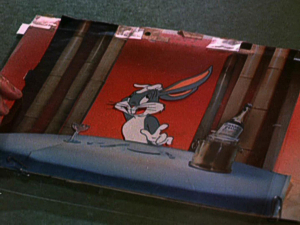 Highlighting the changes in direction, as well as bringing some lesser characters to the fore, is a series of nine cartoon shorts, complete with front and end title cards, and presented in their entirety. Intercut between the home-movie footage of the animators in action (and playing a few pranks along the way), the cartoons featured are: What's Cookin' Doc?, A Wild Hare, Corny Concerto (Termite Terrace's typical response to Disney's Fantasia), I Taw A Putty Tat, Rhapsody Rabbit, Walky Talky Hawky, My Favorite Duck, Hair-Raising Hare and Clampett's own hysterical The Old Grey Hare.
Perhaps these aren't all the best examples of each character's career, but there are still several significant shorts in the mix, including Avery's first "official" Bugs cartoon A Wild Hare and debuts for other characters, and their origins are covered well, coupled with contemporary interviews with Clampett, Avery and Freleng as they were in 1975. As our on-screen host, Clampett reveals the influences the cartoonists had being in the middle of a full working movie studio as large and full of Hollywood celebrities, and especially nice are the brief sequences covering Carl Stalling's music work and Mel Blanc's vocals.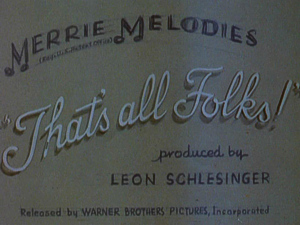 In essence a supplemental extra to the earliest Looney Tunes classics, an added bonus is a look at some of the animators' studio sketches, joke drawings and caricatures, as well as original cels and model sheets, all of which salvaged by Clampett himself. Apparently, so the story goes, Clampett's views "gloss over" the fact that Jones brought much to Bugs' development, which is why, in Jones' later compilation The Bugs Bunny/Road Runner Movie, Bugs runs off a list of his several "fathers", with Clampett a conspicuous exclusion… However, he does deserve the kudos for preserving this material when so much of it would have been junked: without it we wouldn't have had such a uniquely special account of Looney Tunes production as Bugs Bunny Superstar.
Is This Thing Loaded?
It's a little bit of a shame that Jackson and Clampett's film has only been made available via the Warner Archive when its extraordinary nature really deserves a more durable DVD or even an inclusion in the Platinum Collection, but then this isn't just any Warner Archive disc! Usually bare-bones and lacking anything but the occasional theatrical trailer offering, the Archive discs do what they say on the package: simply present vintage titles from the WB vaults without any frills or fanfare.
But…here we're treated to not one but two great little supplements, beginning with an Audio Commentary with director Larry Jackson! Totally unexpected, this turns out to be a crucial track that gives us oodles and oodles of background context and information on Jackson himself, his fondness for the Looney Tunes cartoons and association with Clampett, the initial stages of putting this project together and its eventual struggle for release, its reception and overlooked legacy of inspiring the foundations of today's classic cartoon fascination, especially of those from the golden age of animation.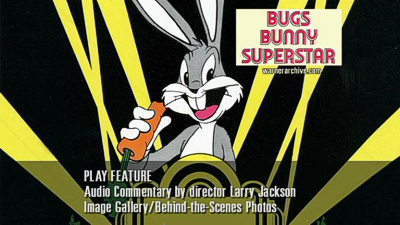 Less a scene-by-scene assemblage of remarks – which would be pretty redundant anyway, seeing as Welles narrates the home-movie footage and Clampett is on-camera to host the newer footage and interviews – this is more of an audio essay from Jackson himself, exploring the whys, ways and means Bugs Bunny Superstar came together. I already knew that the film itself was something special, but his commentary provides an entirely new angle. I was fascinated, entertained and totally captivated, and if you love this kind of stuff as much as I do then I know you will be too!
As if a commentary wasn't enough of an exception to the WB Archive rule, then how about the addition of a Image Gallery of Behind The Scenes Photos, the kind of feature that isn't usually even seen on Warners' bigger commercial releases, let alone an Archive release! Although only numbering nineteen stills, they're all great, especially a chance to see the film's original poster (a trailer would be nice in seeing how something like this could even be sold, but I doubt one actually exists), Jones' portrait of Avery, the boys of Termite Terrace and production shots including Mel Blanc attending what I assume is the premiere screening…magic!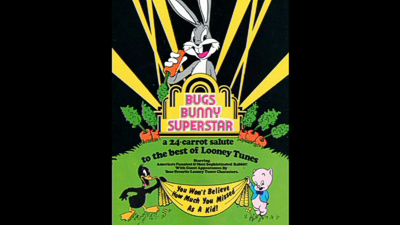 While not "missing" per se, I think it could have been convenient for collectors if Warners had duplicated the Schlesinger Christmas Party reels here as well, since they share the same timeframe and participants, although those have just turned up again on the new Platinum Collection edition. In that set, it might have been nice, or still might be one day, to see this original home-movie footage turn up without the animated shorts, or in a future Platinum set, but the timing of this release makes perfect sense seeing in how that concurrent Volume 2 shines the light more on Clampett and Avery than the previous volume's focus on Jones.
However, with Jackson's welcome commentary and the thoughtful handful of stills, this makes for a rare non-vanilla Warner Archive release (although in other respects it's a basic as they come, without even a Warner Home Video logo at the front), making it easy for those with the documentary spread across two discs of the Golden Collection Volume 4 to find an enticement to pick it up again, which is wholly recommended.
Case Study:
A very basic Warner Archive Collection sleeve covers the basics and not much more, but at least the front cover image is appropriate and clean, and the color disc art is more than some bigger studio releases get these days. A rough synopsis, list of the cartoons (not in sequence order) and confirmation of the special features makes up a perfectly adequate cover treatment.
Ink And Paint:
The term "rarely seen" is bounced around all too often, it seems, but here it really is justified: unless you've come across Bugs Bunny Superstar in the past, you've never seen some of the stuff contained here. As such, any qualms about quality can't be justified: these were home movies never designed to be seen by a wider audience and we should be pleased just to be able to catch a glimpse of this kind of behind the scenes material. So with this in mind the 16mm archive footage, presented here in correct 1.33:1, looks fairly clean for its age and format and, overall, the archive/documentary nature of the film is far more important and makes for fascinating viewing, with a lot of fun to be had in seeing the artists fooling around and looking so young!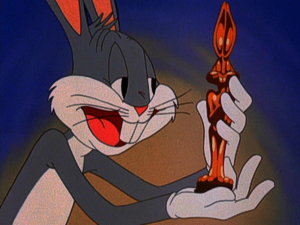 My guess is that the cartoon shorts themselves were re-printed into a new negative for this film's initial theatrical release (all the footage was Academy aspect to start with, Jackson's commentary reveals the fights he had to get theaters to show it in ratio), so some minor wear and tear has effectively been picked up "twice". The shorts do vary in condition (digital restoration wasn't exactly what one could call "to hand" back in the early 70s!), but a bonus for this new disc is that several of the cartoons subsequently remastered in HD have been replaced with these newer transfers, and the indexing of each interview, home-movie clip and at least three for each cartoon means there no less than 41 chapter stops for easy reference – nice!
Scratch Tracks:
The monoaural soundtrack for Bugs Bunny Superstar isn't going to set your audio set-up on fire, and many may be frustrated with the mix of Welles' narration (again, Jackson's comments shed some light on this) with the background small band music, but it's still a step up from the LaserDisc's analog presentation! Again, the archival nature outweighs any grumbling and one must remember the low-no-budget and slightly under the radar production of the film. By no means an aggressive mix anyway, the important thing is that the cartoons sound fine, with enough life to them to convey their original energy.
Final Cut:
Some of the cartoons not all being premium golden Looney Tunes knocks a point off Bugs Bunny Superstar making the top score, but in many ways the cartoons sort of don't really matter by now: the film did such a superb job of bringing the films to adult audiences, who realized what they had been missing, that it opened the vaults so that we could see more, especially of the arguably even better 1950s efforts. The interest kickstarted here also set documentarians off throughout the 1970s and '80s to further profile other significant names from the golden age animation before they left us.
As the last survivor of this original bunch, Jones managed to draw most of the attention, but Bugs Bunny Superstar reminds us again that the original Looney Tunes cartoons were the "perfect storm" result of an exceptional group of artists being thrown together in a unique location. A more suitable tribute – from those that were there – you will not find: for anyone who has ever watched a Looney Tunes or Merrie Melodies cartoon, this is a fascinating watch; for those that have collected the cartoons on disc, Bugs Bunny Superstar is indispensable.
Animated Classic or Back To The Drawing Board?