Walt Disney Pictures/Allied Filmmakers (April 12 1996), Walt Disney Home Entertainment (August 3 2010), single Blu-ray Disc plus DVD, 79 mins plus supplements, 1080p high-definition 1.66:1 widescreen, DTS-HD 5.1 Master Audio and Dolby Digital 5.1, Rated G, Retail: $39.99
Storyboard:
Poor orphan James, who dreams of escaping the beady eyes of his pushy, slobby adoptive aunts, finds his way into a magic peach, which grows and grows until, too big to hold up under its own weight, snaps from its branch and whisks James and a motley crew of his insect friends off on a great adventure.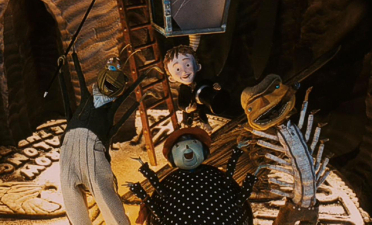 The Sweatbox Review:
Before the internet age, it was with great excitement that news of Tim Burton and Henry Selick's next project came to be known. Selick's directorial adaptation of Burton's poem The Nightmare Before Christmas, a project the ex-Disney animator had developed while at the Studio in the early 1980s before it was revived by a medium-expansion hunting Jeffrey Katzenberg, had been a surprise hit in the winter of 1993, further glowing critical praise and success around the world during its international release the following year. By the time of its 15th anniversary, Nightmare (or NB4X for the savvy kids) had become a bona fide cult hit, with Jack Skellington merchandise flying off the shelves.
Naturally a follow-up was expected, and indeed begun development upon before Nightmare had made it to theaters. The first many heard of it was in the exhaustive LaserDisc supplements for the original release of Nightmare, when Selick, in his closing comments, announced plans and showed a brief montage of selected concept images for a stop-motion feature version of Roald Dahl's James And The Giant Peach, one of the author's most beloved books, right up there with Charlie And The Chocolate Factory and George's Marvellous Medicine. The designs were a perfect match of Burton-meets-Dahl, drawing but not being a slave to Quentin Blake's somewhat iconic drawings.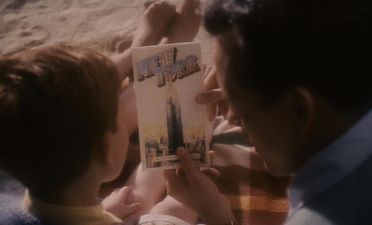 The resulting film, emerging some three years later, captures Dahl on film as well as any other screen adaptation, perhaps more so given the animated approach. Added to this are live-action bookends that provide a super fairytale feel to the opening and closing of the film, especially old Pete Postlethwaite as the mysterious purveyor of magic crocodile tongues, which transform a single peach in James' haggard old aunts' backyard into a huge variation that draws in spectators from far and wide. James, unhappy living with the pair of slave-drivers, dreams of living in the big city where his parents had spoken of taking him, before being eaten up by a rhino – hey, this is Dahl we're talking about, remember!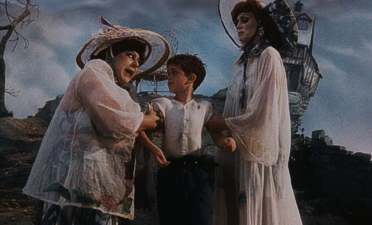 The green crocodile tongues have a magical effect on James, too, and before long, he's found his way up into the inside of the peach, where he makes friends with a varied bunch of insects that launch the peach free and off on a wild adventure that takes in all manner of dangers both real and imagined, including a brief encounter with a ship of sunken pirates that feature in-joke cameos for Jack Skellington and Donald Duck among them! It's all rather good fun, from Joanna Lumley and Miriam Margolyes' non-age defying sister aunts, who never fail to bicker, to the various vocalists providing the insects' tones, chief among them Simon Callow as the violin playing Grasshopper.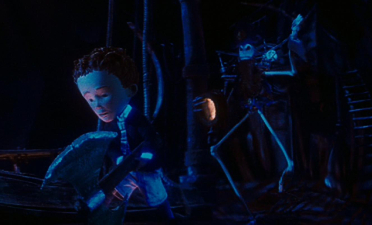 The center of it all is Paul Terry – no, not the chief of the vintage cartoon studio, but a talented young British boy who keeps the English Dahl nature inherent in a film that does wander into different tonal territories at times. For instance, a brash and very American Richard Dreyfuss makes a fuss as a showman centipede, but like Randy Newman's score, it still works seamlessly. If anything, Newman's score should be the big element sticking out like a sore thumb, but it doesn't in the least, with the result that Giant Peach is one of my most favorite collection of cues from the great musician, sweet and lyrical, dark and adventurous at the same time, and breaking away from the Americana he is often noted for, save for a slight failing at the final hurdle when a preachy, gospel flavored song that doesn't really connect with the plot plays over the end credits.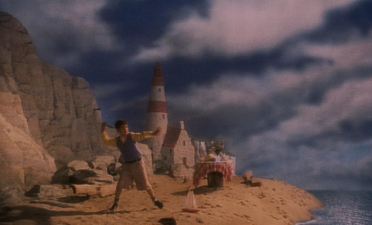 What's also nice is that this is the first time, as I recall, that Dahl's original words have been used as song lyrics, and Newman's way with them amongst his other tunes feels very British Music Hall or Vaudevillian in style, keeping the old-fashioned, old-school feel intact even as the state of the art stop-motion visuals play out. Much of the other success comes from Karey Kirkpatrick's script, before he went on to other Brit-tinged projects as Chicken Run. Here his words mesh perfectly with the voice cast (also featuring Susan Sarandon, Jane Leeves, and David Thewlis, now best known for the Harry Potter series), producing terrific moments as, when one character jumps from the peach to save the others, the memorable line, "He's committed pesticide!"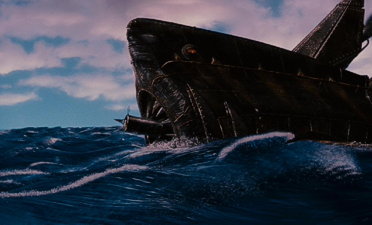 All of this is supported by some absolutely wonderful stop-motion animation, augmented by some CGI, but as invisible as to practically not be there (CG was used mostly for extremely difficult to achieve scale shots). This gives James And The Giant Peach a nice and large scope and an often epic feel, with the compact running time compressing the book in nicely without a need for overly packed padding (a song or two and the undersea diversion being momentary distractions, but also a point where a bit of action doesn't go amiss). Unfortunately the film isn't as cherished as others in the Disney line-up, and a lack of box-office success meant the end of the Burton/Selick features until more recent success from the pair's individual films Corpse Bride and Coraline, but James And The Giant Peach is easily just as good, and a valid entry in the small but perfectly formed group of such animated features.
Is This Thing Loaded?
Although James And The Giant Peach is, as far as I can remember, the first non-mainstream animated feature release to be pulled from Disney's catalogue and "spruced up" (see below) for high-definition treatment, there aren't any major bells and whistles added to what was an already pretty meagre package from when the title debuted on DVD almost a decade ago. But, rather than pack in that same disc to make up a Blu-ray/DVD Combo Pack release that, like with Pixar's Cars and Monsters, Inc. releases used left over stock, the movie has also been remastered for standard definition, swapping the old's letterboxed transfer for a new anamorphic version.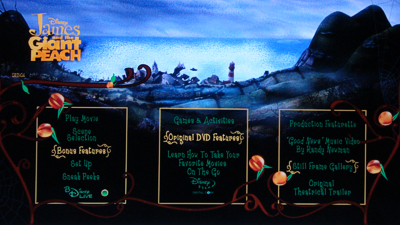 But don't get too excited – in trading in the original's bright and whispy image (faithful to the theatrical and original LaserDisc releases), fans will find a murky and strangely dark image here, with little other than the supposed upgrade to BD's hi-def format to make up for it. More on that below, and otherwise the extras are pretty much as before, mixing some shared extras and splitting others.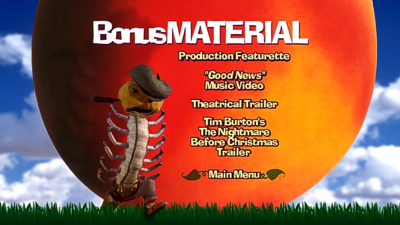 The standard definition DVD begins with updated previews, with the Tangled teaser sharing room alongside Tinker Bell And The Great Fairy Rescue, Beauty And The Beast: Diamond Edition, a 1.33:1 Black Cauldron: 25th Anniversary Edition spot, Prince Of Persia: The Sands Of Time, Disneynature: Oceans, Disneynature: The Crimson Wing, Zemeckis' A Christmas Carol, an Alice In Wonderland: 60th Anniversary Edition Blu-ray release and, most interestingly, the Fantasia: 2 Movie Collection, which looks to have replaced the Diamond Edition set with Fantasia World and will only feature Destino as a bonus instead of the "never before seen shorts" promised on previously seen promos. Strangely, none of these are accessible from the usual Sneak Peek menus, playing as a (very long) loop when selected.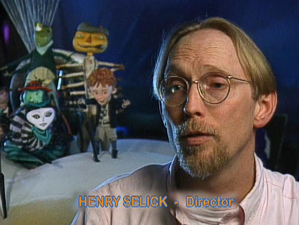 A four and a half minute Production Featurette covers only the very basic basics, being what was shown on television movie magazine programs when the film was originally released. As EPK material, it's quite well done, though the constant use of James Horner's Rocketeer theme in the background and the severely short length doesn't add anything that wasn't seen in the same extra on the original DVD. Also from before is Randy Newman's Good News music video, showing the singer in the studio interspersed with movie clips, now in 16:9, but still short at two and a half minutes.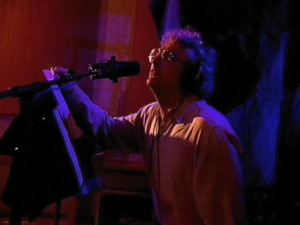 Finally (yes, finally), a 90-second original Theatrical Trailer splashes the Rocketeer score, and a bit of Nightmare's What's This?, over the action again, and there's an original Touchstone trailer for Nightmare itself, only demonstrating how much better that film looks on disc as opposed to James' new showing. The Nightmare trailer is oddly missing from the high-definition Blu-ray Disc, but that does at least include the Production Featurette, Good News music clip and the Giant Peach trailer – though all only in standard def, natch!
New to the BD – though again basically ported over from the old DVD – is a Still Frame Gallery of nearly 70 stills, comprising Concept Art (nine images), Puppets (nine images), Behind The Scenes (32 photos) and Live-Action (18 stills, basically publicity shots). What's really bizarre is that, although technically these are shown in HD, they're all just the standard definition 16:9 frames dropped into an HD backdrop. Since the native HD format prides itself on being at least four times larger than the standard frame, the result are images within their original 16:9, which is then itself retained within the HD border, at the standard definition's native resolution, meaning that each image takes up less than a quarter of the screen area.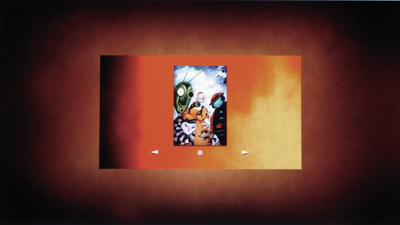 Someone just wasn't paying attention, or actually believed this was acceptable…either way, they should be fired for passing such a crude and pointless attempt – just present the images in fullscreen standard definition next time, if need be, and even that's not really a happy compromise for BD owners that are being asked to shell out again for movies they likely already have! Poor, poor, poor.
Which leaves the lone new addition to the set: the Spike The Aunts game, which has been derived from a short bonus scene after the end credits of the original movie. Basically, a mechanical rhino comes in screen right and one has to hit the enter key repeatedly to get it to bash James' nasty aunts as they revolve around a target…and that's it. There's some talk about waiting for the rhino charge to reach its maximum strength before hitting enter, but it doesn't work in practice and simply whacking enter as fast as one can gets the same high-scoring results. But there's simply nothing more to the game than that and, without wanting to whack the heck out of my enter key, I doubt I'll ever bother again.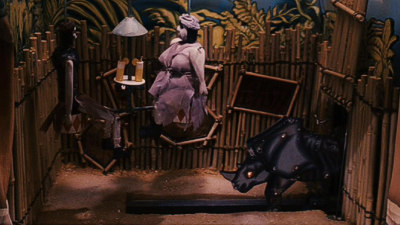 Which, all in all, adds up to a sad and lonely disc that feels almost as neglected as poor James is himself in the movie. Nothing of note has been added (how about XTC's Andy Partridge's four pre-Newman song demos?) and, worse still, the original feature hasn't been treated to a proper new shine job, with different exposure and color grading that we can't be sure has been approved by Selick or DPs Pete Kozachik and Hiro Narita because neither of them has been tapped for a sure to be insightful commentary track – this despite Selick recently returning to the Disney Studio to focus on developing a new slate of stop-motion features. Not only a missed opportunity, but too obviously a shameless attempt to nab some sales from those semi-interested from Burton's other Disney franchises.
Case Study:
Following Disney's usual BD+DVD Combo strategy, the James set comes housed in an embossed slipcover that makes the release seem much more special than it is. The glossy front prominently displays the film comes from "the creators of Tim Burton's The Nightmare Before Christmas" and "the acclaimed director of Alice In Wonderland", causing all kinds of confusion: Henry Selick didn't direct Alice anyway, did he? And which Alice are they talking about? Naturally those in the know will pick up on Selick and producer Denise Di Novi as being "the creators", while co-producer Burton is the director name, but it's all rather convoluted to get two franchises titled for recognition.
The sleeve is nice, but overcrowded…the original, simple theatrical art replaced with a Photoshopped montage of the characters surrounded by prickly, Burton-esque trees and, on the back, extremely small text. The slimline case carries both discs on each side of the case's interior, while disc art is relegated to gray print for the DVD and regular Disney Blu-ray half-and-half approach for the BD. It's nice to look at, but nothing special, unlike the movie itself, which is something special, but not very nice to look at!
Ink And Paint:
Some comments about the new transfer's issues have already been made, but let's reiterate them: on both the Blu-ray and the remastered DVD here, James And The Giant Peach looks like it's been shot through a pair of thick tights. Seriously, I think a pirate with a camcorder in a movie theater would probably pick out better detail than the usually top-drawer folks at the Mouse House have achieved here. Whether the Blu-ray is any better or worse is up for debate: sure, it looks sharper (some of the magic is gone when you can see the intended hidden strings), but who really wants to see such a drab and boringly graded image with more (and so less?) clarity? Put it this way: even with James' soft-focused live-action, the BD looks about what I was expecting for the DVD, meaning that the DVD doesn't fare much better than a VHS tape!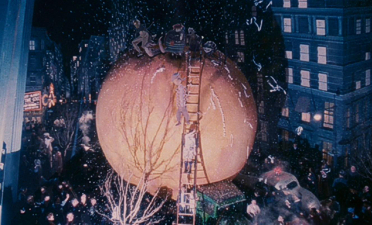 Presented on LaserDisc and initial DVD in letterboxed 1.66:1, the same ratio is preserved here, though I believe many may be sticking to their original discs in order to benefit from the more stable image quality. Despite being shot on digital SLR cameras (as with Nightmare and Coraline), this new transfer has been derived from a not totally speckle-free film print. Grain absolutely abounds – and it's thick, runny grain that doesn't even appear pin sharp, providing an unwanted layer of mist over many shots that goes on to cause the film stock some major issues in flickering exposures between frames. It's a really poor job, especially considering how juicy the film has looked in the past, and even in the initial Blu-ray promos.
From the blue Disney castle logo right at the start, you'll know something's up (especially when the left side of the screen is almost black), and things don't really ever smooth out from there. The disc has been encoded for A, B and C regions, though its rights are held by different companies around the world (the result of a co-pro deal with Jake Eberts' Allied Filmmakers). Let's just hope that the likes of Pathé (in the UK) get around to putting their own versions out in HD – and that they look a heck of a lot better than this, possibly already the winner of the worst-looking and most disappointing BD of the year.
Scratch Tracks:
Throwing the original DVD's thumping DTS track off the new standard definition disc, all that platter gets now is the adequate Dolby Digital 5.1 mix in English, French and Spanish (with subtitles also available in all those languages). Luckily…phew…that great DTS mix has been retained for the Blu-ray option in this set, now in lossless Master Audio format. If there's a way to sync up the old DVD's image to this new audio, that's sadly the best way to watch James And The Giant Peach, though the dynamics and width of this soundtrack is pretty impressive given the lower budget nature of the movie.
Final Cut:
The gospel influenced Good News song apart, James And The Giant Peach is a delicious serving of animated magic, and a delightful pairing of Disney and Dahl some 50-odd years after Walt and Roald were due to join forces on the wartime adventure The Gremlins. It may not have been a tremendous success in the theaters, but James And The Giant Peach is well regarded and loved by those that have bothered to track it down over the years, though not – it seems – by Disney itself, who seem to have dragged the print through the mud before putting it on an HD disc and asking an exaggerated suggested retail cost of almost $40 for your trouble!
Those without this on their shelves would be best to either rent, wait for a dramatic price drop, or see if another international distributor puts out a cleaner edition, but the movie is well worth catching: not only does it translate Dahl well on screen, but in many ways kick-started the current screen fascination with the author that resulted in last year's equally quirky Fantastic Mr Fox, another stop-motion feature. Perhaps animation really is the choice screen medium for Dahl's work to be translated to the screen? I'd still love for the new team at Disney's to announce The Gremlins as a genuine World War II adventure, that's for sure. And, whatever this particular outing looks like and however poorly it has been treated on this disc, it's still a peach of a movie!
Animated Classic or Back To The Drawing Board?