In the fourth part of our exclusive dive under the sea and behind the scenes for our Little Mermaid interview series, Jeremie Noyer speaks with the musical minds behind the songs and score of Ariel's Beginning, songwriter Jeanine Tesori and composer James Dooley!
---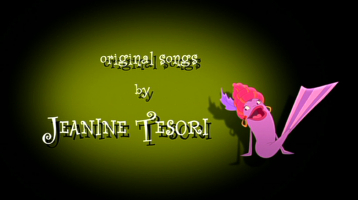 Being the first animated feature that deliberately drew upon the appeal of a Broadway songwriting team, 1989's The Little Mermaid initiated a series of most successful and exciting movies based on a strong and natural connection between music and animation. So, it's just as natural that DisneyToon Studios resumed that part of the process within their own movies, especially when they're derived from one of those earlier successes.
If the original Little Mermaid featured one of the most talented Broadway songwriting teams ever – Howard Ashman & Alan Menken – it was natural for The Little Mermaid: Ariel's Beginning's team to appeal to another huge Broadway figure, Thoroughly Modern Millie and Caroline, or Change's Jeanine Tesori, to compose their songs. All the more since Jeanine is no newcomer at DisneyToon Studios, having already charmed our ears with her songs for Mulan II and Kronk's New Groove.
Alternating between the stage and the screen, it's during the production of DreamWorks' Shrek: the Musical in Seattle that we meet her, before she goes back to Disney animation with Glen Keane's most anticipated Rapunzel.
---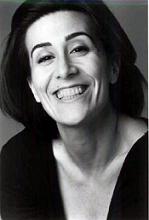 Animated Views: What led you to being part of The Little Mermaid: Ariel's Beginning?
Jeanine Tesori: I came on the project because of my work that I had done with the Disney people beforehand. I wanted to work with Peggy Holmes as well. It was the first time that I had done all of the songs with the lyrics. So, it just seemed like a good challenge to further that way. And I love the character. I think it's a wonderful, iconic character and I wanted to be on board!
AV: What was the first song you wrote for the movie?
JT: I Remember was the first one.
AV: Can you tell me about it?
JT: I think that, probably, it has more notes than I would usually use in a song for a movie like that, and probably that is because she's so excited at having discovered something. So, she jumps around with language as well as melody. I think it's a pretty typical theater song style.
AV: That song – and the whole movie itself – is about the connection between love and music. How did you translate that into your song?
JT: Music is used as a metaphor. It doesn't exist within her life at the moment that she sings but she feel a bit of music and she then translates that into the power of remembering what her mother used to sing to her, and the feeling of being sung, too. She remembers her presence while she's absent. That's what I tried to do with that song: to link those two, to get one allow the other to be felt.
AV: Was it difficult to begin on a production with a song that is so much at the core of the subject of the film?
JT: It was pretty easy because it was clear to me. Writing is hard when it's not clear what needs to happen. Because of the setup with the story of the mother, I knew what I wanted it to be. That really wasn't the challenge. The challenge is that they don't really have a lot of songs. So, it's hard to choose which one you're going to do. It's not like like a musical, where you have 20 songs. Here, you only have three or four.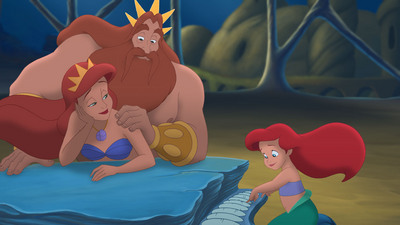 AV: Even if she appears on screen for the first time, we don't learn very much about Ariel's mother Athena. Most of it is actually said through her song. So, how did you create that feeling?
JT: There is this beautiful book, The Tuning of the World by R. Murray Schafer that tells about the fact that every child has an ability to do an interval, the third. Everyone is born with that, for some reason. It's part of who we are. You're born with the ability to create that sound. So, what I tried to do with that lullaby was do something simply as folk music is. A lot of folk music doesn't have all these melodic shifts. It's simple in the way that it's achievable to be sung. Everyone has the ability to sing a lot of folk music, you know. So, I just wanted something that reflected that, a little simplistic thing, the way a mother would sing to a child.
AV: At the opposite end of the scale, Marina Del Rey's song is very complex and very theatrical. How did you imagine it?
JT: It all came from the fact that she's looking through her wardrobe and she imagines herself being in all of these places. That's where the complexity came from, with just her wanting to be something more than what she has. When I saw the drawings and all of the fashions that she was wearing, I just though that we could go pretty far. You're right, it's a pretty theatrical song, also because it happens in her head. So, it's a fantasy number. It's internal.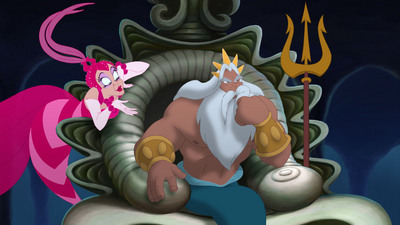 AV: Were you involved some way or another in the Harry Belafonte/Catfish Club songs?
JT: No. That was actually before I came on. Peggy had already decided that.
AV: How did you approach the conclusive song, I Will Sing?
JT: We talked about the first movie, with Ariel loosing her voice, and about the idea that music is forbidden. She's defying her father and rebelling like a teenager. At the end of the story, she gets the freedom to do that, so it's a celebratory song.
AV: What was your attitude regarding the original movie?
JT: We very much all wanted to be in the spirit and the style of the original movie. There was no reason to re-invent it because it was done so beautifully the first time. To me, I didn't want to re-define any style of singing. It's more just continuing that tradition.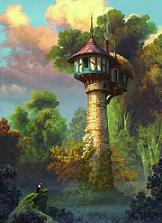 AV: Are there songs that you wrote and that didn't make it in the final cut?
JT: There usually are. I think there was another Marina Del Rey song that we didn't use.
AV: And now, how is Rapunzel [right] going?
JT: Actually, they went back and are re-working it. Initially, it worked somehow like Enchanted did. There were similarities between the live/animation and the going back in time, going from a fairytale time into contemporary that I know that Glen Keane really wanted to re-examine. So, he's back to pre-production. Glen is a director I love and can't wait to work with again. He's a very musical man, too. Not every director is. But for right now, that part of the process in on hold. I hope that we can get back in there soon. That director is a real inspiration to me!
AV: You're presently in Seattle, working on Shrek, the Musical. What can you tell us about it?
JT: It opens in November on Broadway. We're still in the process. I think it has a lot of heart, a lot of intelligence and really honors the spirit of the movie and of William Steig, the author. So, hopefully, it will do really well. I'm very proud of it.
AV: With an opening number like Big Bright Beautiful World featuring Shrek's parents casting their son into a world that rejects creatures like him, I think it brings an unexpected depth to the character.
JT: Yes. In the Steig book, his parents appear and it was in some of the early reels that they put up when they were first developing the project. So, it's not really a new idea. David Lindsday-Abaire, the lyricist and book writer and I just decided to start there, explaining how he ended up alone.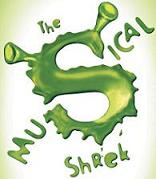 AV: What kind of musical style did you envision for that production?
JT: It really has a variety of style because of the characters, because of the kingdom, the slump, the tower. It has quite a palette, which I really like. I like wide palettes, with a lot of color. It's got a lot of pop-rock, which I grew up with, so it's something I'm really comfortable writing. You know, it's as varied as the characters themselves, I think.
AV: Now, as a conclusion to this interview, and going back to Ariel's Beginning, what will you keep from your experience on that movie?
JT: I think I'll keep the first time that I played I Remember for the team. It's something I will never forget. I wrote it in the morning. They came in and it was just a wonderful moment because that's rare that it happens so quickly. That's definitely a memory that I'll keep for a long, long time.
---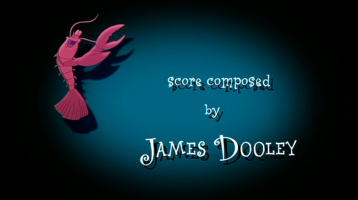 At first sight, it could have sounded a bit surprising to find composer Jim Dooley [below right, along with Jodi Benson and director Peggy Holmes at the premiere of Ariel's Beginning in Catilina Island] at hand on a Little Mermaid production. Indeed, he's primarily well-known for his collaborations with Hans Zimmer at his Remote Control studio (former Media Ventures) since 1999, where he successfully took part in such notable productions as The Da Vinci Code, Pirates of the Caribbean, The Ring, Tears of the Sun, King Arthur, and Ridley Scott's Hannibal and Black Hawk Down as an additional composer, arranger and orchestrator.
But dig deeper into his background and you'll realize that the impressively well-trained composer (he studied the art of film composing with such scoring legends as Christopher Young, Elmer Bernstein and Leonard Rosenman after he majored in Music Composition at New York University) is a very versatile artist, who's just been nominated at the Emmies for his remarkable score for the Pushing Daisies series and who is no stranger to animation, from Madagascarand its upcoming sequel, to the delicate Urmel franchise.
Neglecting Triton's law forbidding music in Atlantica, he provided the most refined and colorful score to The Little Mermaid: Ariel's Beginning.
---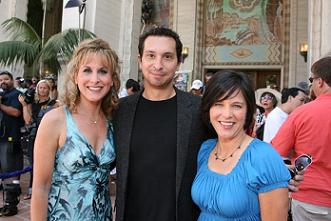 Animated Views: Your arrival on The Little Mermaid: Ariel's Beginning was quite usual, wasn't it?
James Dooley: It's not normal that composers get a job based on their demo reel, specifically in Hollywood. It's more who you know and relationships you build over time. But the people who were creating Ariel's Beginning, from the DisneyToon Studios, wanted to take a leap with somebody new to kind of give the Little Mermaid franchise a kind of a fresh beginning. So, they appealed to people who didn't have as much experience doing feature-length animation. They kind of did a blind "Pepsi/Coke" challenge in a way where they called different people and did a kind of a blind test based on composers' demos. And the production team told me that everybody came back with my reel and they were all like: "Oh, we all have the same CD. This is the guy!"
So, I came in. They're really great people and I really got friendly with them. And then, right on that, I just started right in doing the hardest part of the movie! Ordinarily, I like to start with something easy so I can have my themes done, but in this case, they needed to finish animation with the big end song, I Will Sing, that Jeanine Tesori wrote. They asked me: "Can you do this arrangement?" I said: "Ok". It was the most complicated part of the score because we had to do it with full orchestra, big band, choir and Latin percussions. That means four sets of sessions, just for that one piece.
AV: What was your position regarding Alan Menken's original score?
JD: The Menken score has such a brilliance about it, obviously, and I wanted to keep the tradition of the Menken/Ashman world but turning it from a little girl's perspective, Ariel as a child.
AV: Hence the different quotations of Part of Your World.
JD: We quoted it a couple of times. Some of them are harder to find. The first one is at the very beginning. The original is in C. I had to put it in D major because I already had a cue which already had the vocals on it, so I had to make the transition easier in putting the main title up a step. So, that's just a little bit different, but it works very well, I think. Also, when you first see Ariel, in bed, we did a little Part of Your World there. And, for Marina Del Rey, when she does the Ariel pushing up the stone with the water behind like in the first one, we did a little bit of a jazz version of the song.
AV: After participating in Pirates of the Caribbean: At World's End, you got another pirate scene at the beginning of this movie. Had your experience on that Remote Control production any influence on this new one?
JD: It's funny! It's really not! The music that's in there is from the original Mermaid movie, like Fathoms Below. We were going for that original pirate feel. And the typical swashbuckling thing was around way before.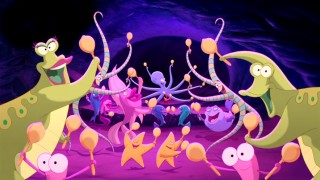 AV: The original movie was more Calypso-oriented. And your seems to be more Samba-oriented. How's that?
JD: When I was brought in, they said that instead of going to Under the Sea and re-doing all these things, they started to license some Belafonte: Man Smart (Woman Smarter) and Jump in the Line. This is why the style shifted a bit, because they wanted more Harry Belafonte. It's great storytelling: Man Smart (Woman Smarter) when Ariel's sisters try to meet men in the Catfish Club. It created a true musical vocabulary for the film.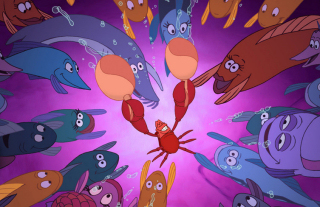 AV: There's a beautiful cue when Ariel gets back home after her friends from the Catfish Club got arrested, just played at the piano. It's very unusual in animation music and really efficient. Can you tell me about it?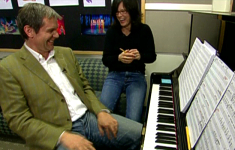 JD: It's a very funny story, actually! I did not do that piece. It did the orchestral arrangement but the piano part as it was was done by Matt Walker, who is the DisneyToon music executive [right, with director Holmes]. He's a really brilliant piano player and musician. We talked very easily. Actually, they needed to animate to that. So, he had done a version at the piano about six months before I was brought on board and that piece was there when I came on. They showed it to me for our first meeting. The theme was there and it was really written to picture. I originally wanted to do it for full orchestra and take the piano out but we didn't kind of fall in love with it by that time. So, we tried to make it this very intimate, reflective piece, instead of going with all the orchestral colors that we had in the rest of the film.
AV: There's dance and there are also many moments with very little dialog. How did you deal with that?
JD: It was a really tricky score, one of the trickiest things I've ever had to do because you want to accentuate with the action but you don't want it to be too cartoonish and you need to tell an emotional story at the same time. One of the hardest cues I did at the beginning was when Marine Del Rey comes in to wake up the kids. She's a villain but she's not as malicious as like Cruella or some of the other Disney villains. So I want a different theme where you could play with her movements, very elegant dance movements, which are enhanced with her arms and her fins and her eyes. So, I kind of did the Habanera dance from Carmen, just for her attitude. I used that for all her movements when she came into the room and she would be talking to Ariel or pointing a finger so I could accentuate her with those moment, and then I would get back to Ariel and her sisters and play them more feminine. It's choosing the material from the beginning that, I think, helped solve that problem: how to be on the nose with animation and make sure you hit all the emotional beats at the same time.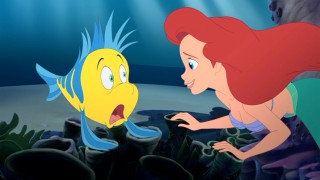 AV: In what measure were you inspired by the beautiful environments created by Tony Pulham to create the musical colors of the undersea kingdom?
JD: You should know this: when I'm not writing music, I'm scuba diving. I'm a huge underwater fan. I love the ocean and the ocean life. I spend all my vacations underwater. When I need to take a break, I go to the aquarium! So, this is nothing new to me, and I was very happy to do this film. The ocean is so colorfully depicted. They spent ton of time making this film look beautiful. Art director Tony Pulham really went in and gave the ocean such depth and attention to detail. One day, I went with Jeanine Tesori to visit the production and we watched the scene that Tony was working on. We went to a room and there was no sound allowed in the room! So, it was funny: me and Jeanine, we were like music people and there was no sound allowed in the room because when you're doing the art color, you mustn't be affected by any sound. There is just the image. But to see him work was very inspiring, to see how much caring and love was brought into the film.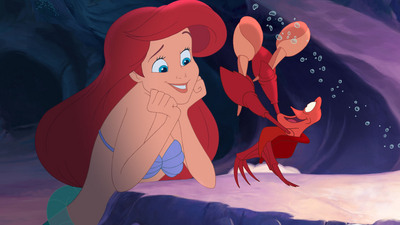 AV: How did you work with Peggy Holmes as far as choreography is concerned?
JD: We both have a lot of theater background. From the very beginning, it was about a rhythm kind of match. I would see things in her choreography, things that made sense to me. I could see it from a musician point of view where there are these ones and threes, all these kind of accents you have to deal with and that are natural to dancers. And sometimes, I would go into something and she said: "ok, that's much better than what we originally planned". So, she just re-timed. For example, when we first go back, after the music box has been sent away by Triton, there's this English horn as we go back into Atlantic, and all the corals start blooming. And I had written that cue, then she re-timed it so that the coral blooms were on one-three, one-three. That's how she thinks. Everything was tied up very well. Because she would dance these things in front of me!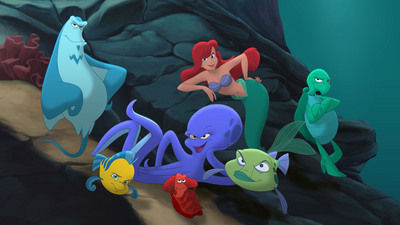 AV: How did you approach a movie based on the love for music, in which music itself is love?
JD: It's a very interesting idea. First, I should say that, for a movie in which, for most of it, music is banned from the kingdom, it's not silent musically! I think there's like ten seconds of silence and they go back into orchestra! But music is such an important part of my life, I had no trouble relating to that. There's this music box thing and all kinds of elements that I interpreted on an emotional level. Jeanine's song tells all that story just better than anything else. When Ariel sings "I remember love and I remember music", they made that very clear, that's when you do that association, like "this is the moment!"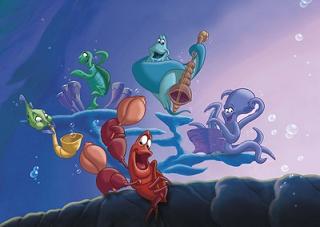 AV: Hopefully your own moment will come at the Emmies, where you're nominated for Pushing Daisies…
JD: Thank you very much, I appreciate that!
---
---
With all our gratitude and admiration to Jeanine Tesori and Jim Dooley, who found the time to talk with us despite the tightest of schedules, and all our thanks to Jim's wonderful team, Charley Walters and Janell Fletcher. All material ©Disney.