Warner Bros. Animation (1937-2005), Warner Home Video (November 1 2011), 2 discs, 169 mins plus supplements, 1.33:1 original full frame ratio, Dolby Digital, Not Rated (some cartoons rated G, but a disclaimer announces this collection is "Intended for the Adult Collector and may not be suitable for children"), Retail: $26.98
Storyboard:
The criteria for their selection is never mentioned, but this "essential" collection of the funny fowl's screen career covers all kinds of firsts and special appearances, from his earliest black and white "woo-hoos!" to revivalist shorts and television specials.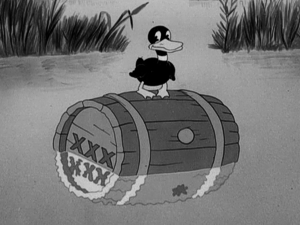 The Sweatbox Review:
With the almost concurrent debut for the Looney Tunes Platinum Collection on Blu-ray, I'm sure many must be wondering what Warner Home Video's thinking is behind their latest selection of Looney Tunes-mined offerings to come to DVD when fans will have already collected much of this same material or will be looking forward to it in high definition (indeed, some of the cartoons here appear in that other set). It's not the first time WB have put out such an offering, of course: just last year the Tom And Jerry: Deluxe Anniversary Collection gathered what was basically a scrapbook of their most notable appearances, from their first cartoon, through their several Oscar wins, to later television shows and a couple of movie cameos, although declined to actually mention any specific anniversary itself!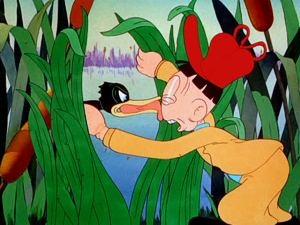 Months later, an Essential gathering of Bugs Bunny's "greatest" was also lacking the great and came over as another rather random selection of cartoons, again with much of what made up the set being seen before in other collections, most notably the Golden Collection sets. With the lamentable demise of those excellent collections, WB don't quite seem to know what to do with their most famous stable of animated lunatics, although the Blu-ray debut is most welcome, which only makes this volume stand out as something rather strange. It's not quite a full-blown collectors' set, but it doesn't sink to the "filler" level of some other recent Looney Tunes collections, either.
Essentially, this gathering of Daffy Duck goodness follows the same path as those Tom, Jerry and Bugs discs, offering some much seen career highlights assorted in with some rather randomly picked more recent outings and – probably the primary reason for collector interest in this set – a pairing of television specials that, if you've been collecting Looney Tunes on disc for a while now, should see your collection made up to being almost complete. Again as with the cat, mouse and bunny sets, Disc One's onus is on Daffy's early milestones, with the second disc making up a collection of more recent outings.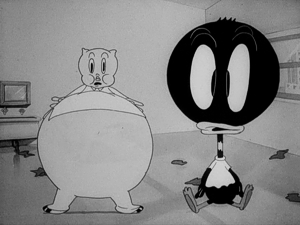 For such a continually popular cartoon character, Daffy came relatively late to the Looney Tunes party, not making his debut until 1937. In fact, Porky's Duck Hunt – as far as I can make out unbelievably never before available on DVD – doesn't name the duck (as is almost cartoon lore, the most popular characters were never intended for stardom, being one-shot supporting players who became breakout stars) and is ostensibly a Porky Pig short. At the time, Porky was the oldest and most established of the Looney characters, and eventually went on to feature in over 160 shorts, a number almost matched by the series' later mascot Bugs Bunny.
Daffy is well up there in terms of the number of cartoons he appeared in (over 130 original Looney Tunes and Merrie Melodies), and at only 15 classic selections, the set struggles hard to include every highlight so as with so many of these collections it relies on playing up the important or significant shorts as opposed to some of the best. Porky's Duck Hunt is, historically, important for the unnamed duck's first appearance, and even if he doesn't yet have the later selfish character traits we associate with him (here he's just a complete loon), the jet-black feathers and white collar make him instantly recognisable.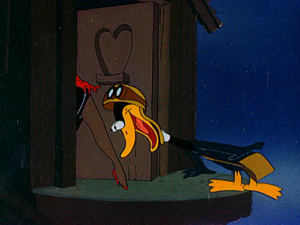 Directed by Tex Avery and animated by Bob Clampett, who better than they to bring a screamingly mad new creation into the animated universe? The short may otherwise be a routine hunting picture, but Porky had never come up against such a lunatic opponent. It was clear the Duck could be expanded, and by the time of Daffy Duck And Egghead, he was almost fully formed, more caricatured and less of a "real" duck. Egghead, an earlier sort-of-prototype for Elmer Fudd (with whom Daffy would be later teamed with relentlessly) again isn't the most interesting of characters, and he doesn't really get anything much to do other than get bounced off by Daffy.
Again directed by Avery, it's nothing much more than a refined remake of the previous cartoon, made in the same year but released in 1938, featuring Daffy named for the first time and in full color too. The intent to introduce him is clear: although this is basically a reworking of Porky's Duck Hunt, there's an elaborate song and dance number set to the Looney Tunes theme The Merry-Go-Round Broke Down that really gives Daffy a chance to shine and establish himself. There are some great gags too: this uncut edition offers up some more classic Avery breaking of the fourth wall, playing with the moviegoing conventions of the time.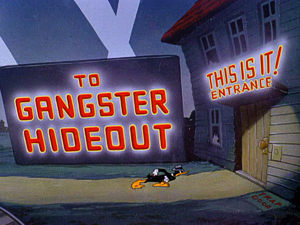 Clampett finally got his hands on Daffy and directed him in his next short, The Daffy Doc, also from 1938 and Daffy's fifth screen appearance. I'm not sure why it's been selected: yes it's an absolutely bonkers and at times surreal short that perhaps shows just how looney the early Daffy could get, but the main reason might be because it's often edited on TV and is here presented uncut, but then it was on a previous Looney Tunes Golden Collection volume too. It's not even Clampett's first director's credit on a Duck cartoon, but maybe the fact it was Daffy's last black and white short (the edited TV showings used a colorized version) has something to do with it. Still, it's a pretty random choice.
As if Daffy Duck In Hollywood, To Duck Or Not To Duck (his first pairing with Elmer), or Duck Soup To Nuts had never been made – along with several more from this period – we leap over five years to 1944's Plane Daffy, admittedly a terrific example of the kind of wartime humor that kept up morale, and not very often seen nowadays due to those references, but this Frank Tashlin short features some all-time great lines and risqué scenes. A couple of years later, The Great Piggy Bank Robbery (1946) is Clampett's swan song from the Daffy series, an absolutely manic send-up of Chester Gould's Dick Tracy that's just choc-full of classic incident and a wonderful rogue's gallery of inspired villains!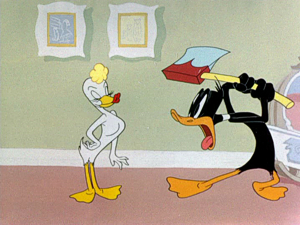 The next short actually comes from the year before (1945's Nasty Quacks), a decidedly dark outing from an uncredited Tash, and the director's last at Warners. Perhaps reflecting his subconscious state of mind, there's a lot of, shall we say, out of the ordinary thinking in this one, but again it's a little bit of an odd choice when other such titles as Ain't That Ducky and Birth Of A Notion are not to be found. The same might be said of the next short, Book Revue (1946), which is only a Daffy cartoon by coincidence really, although it's a pun-tastic and very funny picture that spoofs some of the earlier, more gentle Leon Schlesinger productions, especially in its deceptively sweet and quiet opening, before the lunacy erupts.
Throughout the 1940s to the early 1950s, Daffy's design became a little more pointed and somewhat awkward, which was Robert McKimson's visual answer to Chuck Jones' taking the character and making him more of the "anti-Bugs" but able to match the wabbit's wits. He was often teamed with Porky, who became the straight-man of the double act, though you wouldn't know that from this collection, which astonishingly leaps seven years and misses out the likes of What Makes Daffy Duck? (with Elmer), Daffy Duck Slept Here and all three of Jones' "Hunting Trilogy" shorts in which Daffy was pitted against Bugs Bunny and their relationship crystallized.
Thankfully, then, WB haven't elected to also miss Duck Amuck from 1953, possibly Daffy's signature Jones effort. In the mid 1950s to the 1960s, Daffy became less of a screwball character and more self-centered, the "dethpicable duck" that we really still know today. Here he became a foil for Bugs, or maybe Bugs was a continuing foil for Daffy, their relationship reaching a peak in the Hunting films. Jones liked to play less with screwball Daffy and instead brought out the kind of greed and arrogance that would cloud his every judgment, leading him into more and more ridiculous situations, and Duck Amuck remains a masterclass in everything that makes Daffy Duck.
In fact, Jones was the one that really took control of the character in his better later shorts, a fact we somewhat have to believe based on the lack of evidence included in this set from his contemporaries at the studio of the time (Freleng, McKimson), who have been somewhat overlooked here. As such, any attempt to balance out the second half of this disc is discarded to include the obvious cartoon selections and, as if to make the point devastatingly clear, right on cue it's Duck Dodgers In The 24½th Century, also directed by Jones in 1953.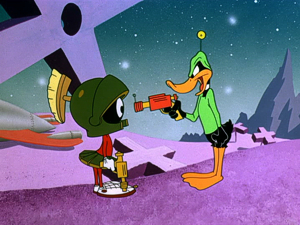 Perhaps the quintessential Daffy short, with Porky as second fiddle and a showcase for the previously introduced but as yet underused Marvin The Martian, Dodgers' success is the sum of its parts, from the perfect characterization of Mike Maltese's scenario to Carl Stalling's pitch-perfect sci-fi parody score, Maurice Noble's broad, angular layouts and Mel Blanc's always wonderful vocals. Arguably one of the great breakouts of the entire Looney Tunes canon, the Dodgers character would return in later specials, including a further short that's also included here.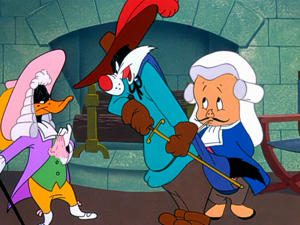 Back to what has made the Essential cut here, and for some reason we skip back a few years for 1950's The Scarlet Pumpernickel, an epic among animated shorts not least for its all-star cast. Lampooning the lavish costume dramas of 1930s and 40s Warner Bros, here you'll find Daffy as the eponymous anti-hero, starring alongside Porky, Sylvester the cat, Elmer Fudd and Henery Hawk among others, as well as head studio honcho "J. L.", referring to Jack Warner. Extremely well designed (Daffy is brilliantly an amalgamation of various stock heroes, from Errol Flynn's Robin Hood to Zorro), Pumpernickel fully deserves its spot here for all the right reasons.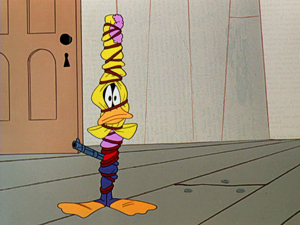 We're back to 1954 for another Jones short, and this collection really wouldn't have been taken seriously without one of Daffy's Western parodies. My Little Duckaroo is it, a virtual sequel/remake of Jones' 1951 Drip-Along Daffy, which I actually find funnier and smarter, but at least there's one of these shorts represented here. Freleng's This Is A Life? and McKimson's Stupor Duck (with Daffy as alter-ego Cluck Trent) are passed over for A Star Is Bored (1956), finally demonstrating what Freleng can do with the character.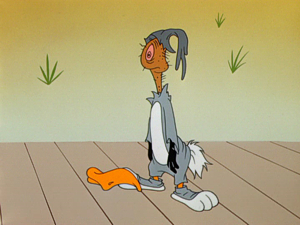 This basically expands upon the dynamic of the Hunting Trilogy relationship between Daffy and Bugs, while adding a little Duck Amuck into the mix, and although the elements might not have been fully original, the unique result is still very funny, as Daffy doubles Bugs in his most dangerous, signature-esque scenes. Often cut for its insane gun violence, the inspired original is here in all its double-barrelled glory. There's more Pumpernickel spoofery from Jones in the 1956 Deduce, You Say, in which Dorlock Homes and Dr Watkins' names provide the clues to who the targets are this time around.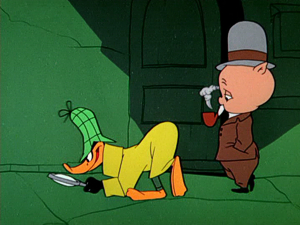 The next cartoon is a genuine classic teaming with Bugs: Ali Baba Bunny (Jones again, from 1957), but I guess my argument would be that this collection could include any number of Daffy shorts and the end result would be the same. The choices seem at times as lazy as they are specific, and although this can be a great selection of cartoons, this first disc can feel prone to resorting to the same-old/same-old in its depiction of the evolution of the character. As if to prove the point, and again missing out several perhaps more notable titles, the final classic cartoon is Jones' Robin Hood Daffy (1958) – a brilliant pastiche and wonderful example of personality animation, but do fans really need it on disc again?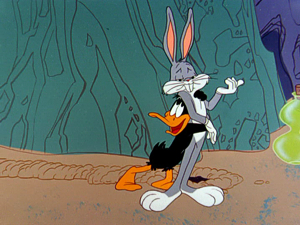 Disc Two brings things up to date in the modern era, bypassing an almost thirty-year gap. It must be admitted that the 1960s Looney Tunes cartoons, largely produced out of the WB Studio at DePatie-Freleng Films, were certainly not among the best in the series, although Daffy did become an ongoing partner to Speedy Gonzales throughout the decade and any authentic "essential" collection should have at least included their first pairing, It's Nice To Have A Mouse In The House (1965), which predates the series becoming one-note and basically the same cartoon every time.
I can understand rights issues prevent the 1972 special Daffy Duck And Porky Pig Meet The Groovie Goolies from appearing in any form, but the remainder of Daffy's career is fairly well handled. The 1970s saw him appearing in a variety of compilation TV specials, two of which are included as bonuses here, and from which several segments were later issued as "new" television shorts. But Daffy's next truly significant appearance (after the compilation feature Fantastic Island in the 1980s) was in one of the first theatrical Looney Tunes shorts to have been created in almost 20 years, the now 22-year old short The Duxorcist (1987).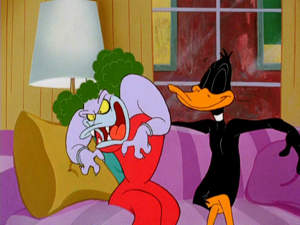 Produced as part of a series of new cartoons intended to kick-start the ideas of cartoon films playing on the front of family features again, it's not actually a spoof of William Friedkin's horror classic but more along the lines of the Bill Murray/Sigourney Weaver relationship in GhostBusters (it's no coincidence that the short and others of the time were incorporated into another compilation feature, the fondly remembered QuackBusters). Creators Greg Ford, Terry Lennon and Steven Greene don't quite capture the magic of the classics, but this is one of the best of these later cartoons.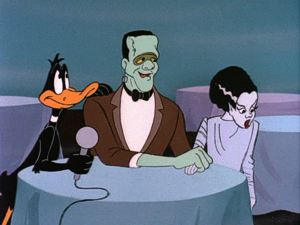 Another is Night Of The Living Duck, another misleading title which doesn't mean we're in for a bit of zombie fun. Instead, this is the opening to the QuackBusters feature, where Daffy, awakening to find he can sing like Mel Tormé (also poignantly, this was Blanc's last performance as the Duck), entertains the monster clientele of a snazzy nightclub, leading to some fun, typically 1930s Looney Tunes animation caricatures of such famous monsters of filmland as Frankenstein's creature and his mate and later creations as The Blob, The Fly, Godzilla and even Leatherface! Predating a similar idea in the later ChubbChubbs short, this 1988 effort captures the style if not the frantic nature of the originals.
Stretching for material or attempting to be all-encompassing? You decide as the next selection, an episode of Tiny Toon Adventures: Duck Dodgers Jr, plays from the early 1990s program (with a nice note of credit for Noble's designs). Co-produced by Steven Spielberg, Tiny Toons moved away from depicting the original Looney Tunes as kids and instead had the old-timers as mentors to a new group of looney characters, many of them younger counterparts to them, at the Acme University. So we have Plucky Duck as a Daffy wannabe, voiced by Joe Alaskey who would go on to become the current Daffy himself.
Here, Daffy dons his Dodgers disguise (for the third time, chronologically in his career) for a typically fun outing that, as one segment in a three-story show, lasts around the same time as a classic animated short and feels all the more authentic for it. Tiny Toon Adventures had a higher frame count than most TV animation of the time, and this helps the continuation, the "short" presented with its title card and TV credits for the episode intact and no doubt doing its own part for sewing the seeds of the later Duck Dodgers series that was to come. Most of the Ford/Lennon/Greene cartoons have been made available on other releases, which leaves only the 1996 Superior Duck, a quasi-sequel to some of Daffy's most popular cartoons, as a more recent stand-alone short to be included here.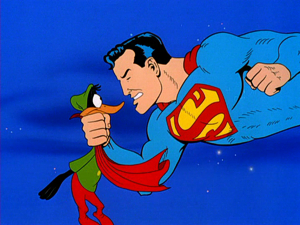 The set-up trades on the Duck Dodgers persona (Daffy wears that series' costume) but here the character also has authentic superpowers which, while the short is amusingly entertaining, I couldn't help but think mixed up the influences. The obvious one is Daffy's Superman pastiche (the big blue boy scout even turns up for a short cameo), but the outfit says Dodgers. Still, it's an important one for finding director Jones back helming his last Daffy short, and it's always a bizzarro trivia fact to know Daffy is voiced by 1960s Batman Riddler Frank Gorshin (Daffy's green shirt even sports an exclamation point instead of Riddler's usual question mark)!
Following the release of the second film in George Lucas' new Star Wars prequel trilogy, Daffy was back as his most famous alter-ego for Duck Dodgers In Attack Of The Drones (2003), originally part of a new series of theatrical Looney Tunes shorts that were eventually shelved after the unfortunate failure of the Back In Action feature. Although rarely seen, but good fun, it does feel like the pilot idea for a television series and although this was not the intent, the sci-fi adventure genre must have seemed a ripe genre for the animators at Warner Bros. to take a shot at, and the Dodgers character an ideal personality with which to take aim in this day and age of straight comic book styled heroics on television and at the movies.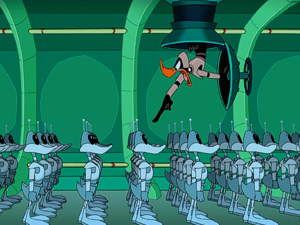 Daffy found himself starring in his own weekly program based on the 24½th Century concept, and between 2003 and 2005, Duck Dodgers played for three seasons of mostly short-form (two stories per episode) shows. Perhaps included because it was one of the few full-length half-hour episodes or maybe just for WB synergy to shove some more Green Lantern down our throats, but the show selected here, The Green Loontern is a good enough example of the format while not being anything too special and perfectly illustrating why Dodgers should stick to seven minute outings (just from the series' episode titles, this seems like the least inspired show), though the 60s-styled retro-theme, belted out by a knowing Tom Jones, is big fun.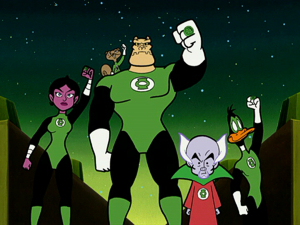 Although this set does get a little too heavily focused on the Dodgers character, there's no doubting Daffy's continuing popularity, or his position in the Looney Tunes stable. In 1997, Chuck Jones elaborated on his enduring battle against Bugs in a children's book that explained the foundations of the American government and, after his passing in 2002, it was adapted as part of the theatrical Looney Tunes program in 2004. Although never released, and presented here for some reason as a Bonus Cartoon, it has to be said that there's not much to get excited about over the just four-minute Daffy Duck For President.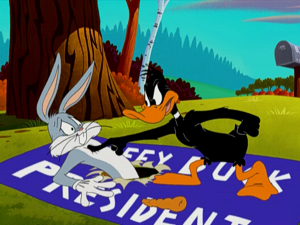 It aspires to expand upon the Hunting Trilogy but never really amounts to much more than Bugs and Daffy bickering about how Daffy's plan to run for President and sanction Rabbit Hunting 365 days of the year is doomed to fail. It is, ultimately, a one shot view, having more of a leisurely pace to it rather than the expected explosive sight gags, and falling in with Jones' later, more gentler output. It's unfortunate that the last cartoon in this set has none of the zip and spark in the characters, even if the vocal delivery and certainly the look of the short is very authentic against the "real deal", but then that's a recurring motif here: while some are essential and some are not, this is not really what makes Daffy Duck.
Is This Thing Loaded?
Where these Essential… sets do seem to score is in providing a nifty platform for some other, perhaps more obscure content to materialize. Since featuring one or two in the excellent Looney Tunes Golden Collections, I've been very pleased to be able to keep picking up the Warner Bros. animated compilation specials of the 1970s and 80s. The Warners characters had appeared on television previously, with the classic cartoons being spliced up and intercut with new linking material to produce The Bugs Bunny Show and others. By the 1970s, the trend had developed into creating "new" half-hour specials along a theme, produced more in the style of style of the eventual feature compilations such as The Bugs Bunny/Road Runner Movie and Daffy's own Fantastic Island and QuackBusters.
Their popularity inspired Warners to commission brand new, fully original half-hour shows, several of which (Bugs And Daffy's Carnival Of The Animals, Bugs Bunny's Looney Christmas Tales) have turned up in previous box sets and as individual discs, and since these started appearing the two I've continually mentioned I'd like to see are the very same two vintage TV specials included here: Daffy Duck's Easter Special (1980, originally Daffy Duck's Easter Egg-citement) and Daffy Duck's Thanks-for-giving Special (also 1980), offering comparisons between the work of Chuck Jones and Friz Freleng in the same year.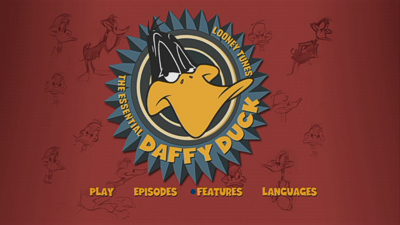 Although these programs are certainly of the late-period, deeper voiced Mel Blanc era, where the switch between the newly animated framing material could sometime jar with the classic segments both visually (DePatie-Freleng's animation quality could be decidedly lower than theatrical fluidity) and audibly (Blanc's vocals were never higher-pitched as they were in the golden age), these two seem to have had a little care put into them, and represent the two differing approaches to serving up Looney Tunes material for television at this time. In many ways I remain fond of these shows: they are, after all, how I originally came across the Looney Tunes characters as a child, and I'm pleased to be able to add them to my DVD collection via this set.
Freleng's Easter Special (24:25) goes for the totally new, original material angle, with a trio of what are ostensibly three new shorts making up a fun half-hour that's actually pretty good value. The shadow of Jones' Duck Amuck looms large in some of Freleng's later work with the Duck, and it's a clear influence on Daffy's continued problems with getting the animators around him to create satisfactory settings and whatnot here. The animation is surprisingly better than I remember (in the short segments themselves, otherwise it is pretty labored in the flat-colored interstitials), with some nice character touches added in that didn't have to be there but produce a feeling that almost reaches classic status, even if the pacing is nowhere as manic as before.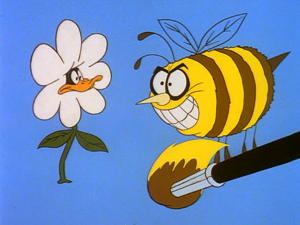 But where the classic feel isn't achieved is in the scoring, the Mickey Mousing of the legendary Carl Stalling not matched by the jolly but measured music here that's all too obvious and kills some jokes flat instead of lifting them higher. However, Blanc's vocals sound spot-on, especially his reading of some of the lines, which could have come right out of the 1950s, and it's also great to see some co-starring characters – Foghorn Leghorn, Sylvester, Speedy – being pretty faithful to their old selves. By comparison, Jones' Thanks-for-giving show (23:30) is more a straight-forward celebration of Daffy than anything else, created in the older-styled format of linking classic WB cartoons with newly animated scenes.
The opening scenes from The Scarlet Pumpernickel are recycled here, this time with Daffy proposing the idea of a Duck Dodgers sequel to the original 1953 short. "J. L." still refuses to hear the Duck's ideas, prompting Daffy to remind him of the great pictures he's made for the Studio over the years. Yes, there's some repetition to be found in the clip from Robin Hood Daffy, but there are also moments from Drip-Along Daffy and an extended cut-down of Freleng's His Bitter Half, and it's actually interesting to see how they've been repurposed and matched in some cases with the new animation, which again doesn't quote reach the heights of the classics but still looks good.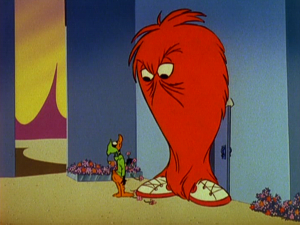 As mentioned above this is also the original place that Jones was able to bring back Daffy's sci-fi spoof persona, for the eventual Duck Dodgers And The Return Of The 24½th Century segment. Later released as a short film (and on the QuackBusters DVD), that edition was trimmed slightly of some material to fit the required length, so here is the full-length cut (by coinkidink, the theatrical short version of Return is featured in the Platinum Edition Blu-ray also out now). Both TV specials are in good enough shape for their age, though the Jones program suffers somewhat from some interlacing issues that may or may not plaque your screens, depending on your display.
As well as including rarely seen TV specials, one thing these collectors compilation sets like to include are documentary retrospectives on the characters, which I'm never too sure are going to be worthwhile or frankly awful. I question, for starters, the need to include origin and career recaps on sets geared towards the kind of people who no doubt know all this stuff anyway, and often wonder who they're exactly aimed at. They're certainly hit and miss: at least one of the high spots on the deluxe Tom & Jerry collection was a short but very strong retrospective documentary, though that description certainly couldn't be awarded to the abysmally bad profile produced for the Essential Bugs Bunny set.
So how does the awkwardly titled new career profile Daffy Duck: Ridicule Is The Burden Of Genius fare? Well, this follow-up featurette's first problem is that it sticks to that same Bugs approach, and we soon realize we're stuck again with a joke-condescending narrator that's actually no joke at all. Also as before, this isn't a serious retrospective at all, boorishly going down the old, old road of suggesting Daffy is a real personality who achieved everything he did for real ("Trained in Vaudeville, his lisping speech impediment never stalled his success"). Really? They put this kind of thing on a collectors' set!?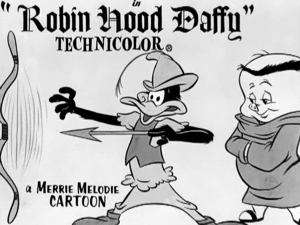 Yes, the shots have been matched to the lame voiceover cleverly, and the classic gags are always still funny to see again, but there's just too much clowning around and too little historical worth to please aficionados or "edutain" casual fans. I also found it pretty unfair – even in this "fictional" appraisal of Daffy's career – to jump all over the 1960s Looney Tunes in which he was paired with Speedy Gonzales. Okay, so they weren't the best the series had to offer, but to really downplay them here as "B movies with low budgets" seems overly derogatory and misjudged to me. As such, this was a huge waste of almost 25 minutes – yes, almost a half hour! – and is certainly not a reason for anyone to pick up this set.
It should be pointed out that the Daffy Duck For President short is also accessible here as an extra, but I have elected to cover its inclusion in the chronological run of the cartoons in the above descriptions as per the back of the DVD's sleeve listing. As always, WB includes some previews for other animated product, and here there's a push for the Looney Tunes Platinum Collection Volume One on Blu-ray, and a DVD issue for The Looney Tunes Show Volume One.
Case Study:
Following previous "deluxe" and "essential"-type releases, this two-disc DVD release features a slipcover that doesn't do much other than replicate the retro-style sleeve underneath, but comes welcome nonetheless as a way of making the set feel a bit more special than it is. I'm not a fan of the Robin Hood Daffy pose on the back, an image that obscures the Duck with a poorly placed bow and arrow, and the hyperbole text lamely tries to big up the set's contents with a slew of desperate lines (the final "Woo-Hoo!" is pretty embarrassing). What's most important is that it lists its contents on the back, so one can make an informed decision before plucking for a purchase.
Ink And Paint:
Although many of these cartoons have undoubtedly been cleaned up for future HD presentations, I guess WB are just trying to milk the last few dollars from their previous standard definition masters, going by the so-so offerings here. They're perfectly fine transfers – as good as any recent animation collection – but it might have been nice for them to have been derived from the digitally cleaner elements, especially the black and white material that has a lot of brightness variation. The newer stuff obviously looks better, especially the very recent digital offerings (except for Daffy Duck For President in an interlaced transfer), but the classic color material (especially the 1950s toons) doesn't suffer too much as a consequence, even if it's not "HD-ready"!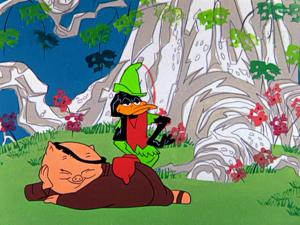 Most – if not all – of this material was originally created in the 1.37:1 ratio, which the 4:3 video image reproduces pretty faithfully. Even the more recent cartoons were produced in the open matte format so that they could be cropped in theaters and shown on the non-widescreen televisions of their time, so there's not anything to be said about incorrect aspect ratios here, except for Attack Of The Drones, which should have been shown at least letterboxed as its title cards suggest. I would also perhaps question the Duck Dodgers TV episode's credentials, too, but I know that WB Animation has often produced widescreen material that has been intentionally framed for cropping on television (for some reason), and there's no real harm done if there are any slivers missing from the sides.
Scratch Tracks:
There's not too much that HD remastering can do for vintage audio tracks that can't be appreciated on regular DVD anyway, and so you're unlikely to experience much of a difference on the pretty vibrant mixes found here. The Warners cartoons were always the most frantic in Hollywood, and this set does a grand job of presenting their just as packed soundtracks in a mixture of original mono, stereo and surround flavors, depending on the vintage. What's important is that all the tracks are clean and audible, the much more recent mixes obviously sounding punchy against the likes of the earliest black and white toons, not that they don't sound dynamic for their time too. Spanish dubs are included, with English, Spanish and French subtitles optional.
Final Cut:
The big attraction here is the fact that the cartoons are presented full and uncut, and as opposed to the multiple "filler" compilations that Warners issue on an almost bi-monthly basis, there is some worth to some of the selection even if some material has been previously available (and in some cases is already again in HD). But it's great to have Daffy's debut on disc, and personally I'm thrilled to have two of the Looney Tunes specials I remember from my childhood also included, even if they're not of the greatest vintage. It might have been nice not to focus so heavily again on Duck Dodgers and Chuck Jones' output: yes, he was a genius director, often handled the characters better than anyone and shaped them as how we know them today, but fans have this stuff and we'd like to see more Freleng and, especially, the underrated McKimson cartoons too.
Animated Classic or Back To The Drawing Board?