Warner Bros. Television (November 21 2000), Warner Home Video (October 22 2002), single disc, 85 mins plus supplements, 1.78:1 letterboxed widescreen, Dolby Digital 2.0 Stereo, Not Rated, Retail: $14.98
Storyboard:
A testament to the life, work and vigor of legendary cartoon director Chuck Jones', from animation's pioneering days to some of the last footage of Jones' before his passing. He offers up his insights into the characters he helped make famous, and there are contributions and tributes from an all-star line up of colleagues, competitors and fans who have found inspiration in Chuck's early Warner Brothers shorts. As a bonus we even get two cartoons looking as pristine as they come!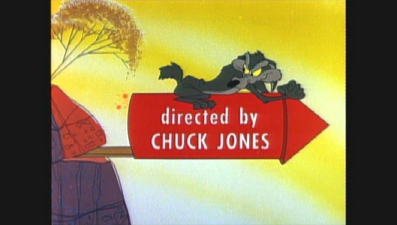 The Sweatbox Review:
"The two most important people in animation are Winsor McCay and Walt Disney", once said Chuck Jones. I'll spare his modesty and add him to that list (he was also one of these three that were recently the first inductees into the Animation Hall Of Fame), as if there is one other person who made as much impact on animation as those two other fine fellows, then it is Jones, who along with Tex Avery steered animation in a whole new direction. McCay brought life, Disney gave character and music, but Jones and his team at Warners made animated CARTOONS, and even their trade mark steel guitar-accompanied logo is now synonymous with what a cartoon actually is (and referenced as recently as in the Roger Rabbit "Maroon Cartoons").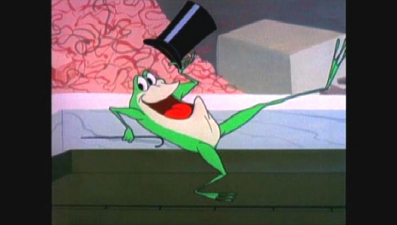 The documentary starts with a montage of frantic and zany Chuck moments, during which a top cast of filmmakers, friends and fans pay tribute. Joining the likes of Ron Howard (who directed the live-action version of Jones' The Grinch) and Robin Williams are Whoopi Goldberg, Joe Dante, Steven Spielberg (who considers One Froggy Evening the "Citizen Kane of animated shorts"), John Lasseter and Simpsons creator Matt Groening.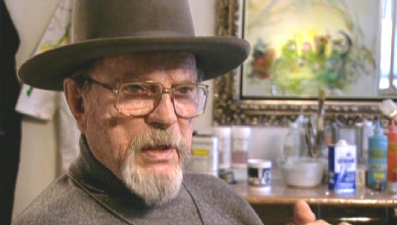 The film follows Chuck's life in chronological order, starting with The Early Years, as Jones reveals his first influences, such as McCay's Gertie The Dinosaur and Chaplin's comic silent movies. Working his way up from cell washer to animator, Jones worked for directors such as Friz Freleng, Bob Clampett and Tex Avery in the Leon Schlesinger animation building, nicknamed Termite Terrace after their non-animator companions. Here Chuck would develop his own personal style, directing early shorts such as The Draft Horse and The Dover Boys while making his mark on established characters Bugs Bunny, Daffy Duck, Porky Pig and Elmer Fudd.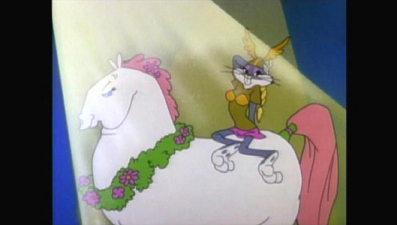 Over the years Chuck would direct some of the best and most fondly remembered Warners cartoons: Super Rabbit (a great pastiche of the Fleischer Superman shorts), Rabbit Fire, Dripalong Daffy, Robin Hood Daffy and the simply brilliant Duck Amuck. Extremes And Inbetweens also pauses occasionally to analyse particular shorts, such as the previously mentioned Duck Amuck, as well as Rocket Squad, The Rabbit of Seville, What's Opera, Doc? and the Academy Award winning The Dot And The Line.
There's also a look at Jones-created characters Pepe Le Pew, Marvin the Martian, Hubie and Bertie, Michigan J. Frog, the Three Bears and, of course, Wile E Coyote and the Road Runner. The documentary also covers some of the vocal latent behind the drawings (though no real mention of Mel Blanc), the use of music in the WB cartoons, and that classic exaggerated-line WB style. But the story does not end when Jones finally left the Warners lot, following his post-Bugs-and-co. achievements with The Grinch, his rather less successful re-invention of Tom and Jerry, and triumph at the 68th annual Oscars when he won a lifetime achievement award.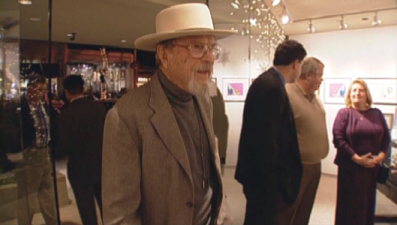 Chuck Jones: Extremes And Inbetweens, A Life In Animation is a very rewarding watch, as in depth as some other histories of the Warners Studio (1975's Bugs Bunny Superstar springs to mind). For over an hour, it's wonderful to be in the company of a man who learnt his profession from the bottom up, and a man whose intelligent views on human behavior were reflected in his films, from which we in turn can all learn a great deal. Mr Jones, you are sorely missed.
Is This Thing Loaded?
Hop down to the Special Features and there's even more to enjoy and enlighten. A Chuck Jones Tutorial: Tricks Of The Cartoon Trade is a fantastic follow on to the main program. Featuring extra interviews with the main participants, this is a 14-minute look (presented, as with the feature, in non-anamorphic widescreen) at Jones' actual cartoon technique, featuring subjects such as Zip Outs, Anticipation, Exaggeration and Anthropomorphism, and comments from new generation artists Glen Keane, Eric Goldberg and Rob Minkoff. It's a very nice addition, and is entertaining enough for casual film fans as it is for animation artists and buffs, even if it does end rather abruptly.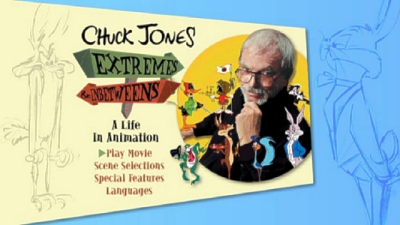 A couple of pencil tests follow, the first for the classic Ken Harris-animated dance sequence in Mississippi Hare. This short clip has been given an appropriate "projector" audio track that suits the material well. Much more substantial is an almost seven-minute look at a work-in-progress version of the Jones-directed The Grinch. Much of the animation is completed, although some music and dialog is missing. The clip condenses the first half of the story down adequately for the purposes here and when the film does revert to the pencil animation stage it is fascinating stuff! Both of these early animation production clips are presented in their original full-frame ratios.
Chuck Jones Career Highlights isn't a clip montage retrospective but a few pages of background text, which touch on important moments in Jones' work. Of better use (but probably too long, which is most certainly why it is not included here) would have been a complete filmography. The Highlights give no dates to any of the events, so unless you are a real fan, this will come across as a once only "oh-that's-what-he-did" read.
A couple of much better extras are the invaluable inclusions of two classic Charles M Jones shorts from the Warner Bros archives. Feed The Kitty is an often talked about, but pretty routine cartoon, and the historical reason or importance of its addition is not really explained too deeply, apart from the fact that it seems to be very popular with a few celebrity fans. Next up is the absolutely brilliant Duck Dodgers In The 24th ½ Century, Chuck's take on the space serials popular at the time. Although this is an obvious one to put in with a Chuck Jones retrospective, one can't but help imagine if this has not actually been included to drum up early buzz on Warners' up-coming Duck Dodgers television series.
However, both cartoons look amazing, having obviously gone through some kind of extensive restoration. The main program does cover other, more influential, Jones cartoons and it would have been nice to see a few of the real classics (What's Opera, Doc? The Dot And The Line, High Note and One Froggy Evening for starters), but both Feed The Kitty and Duck Dodgers are most welcome and provide a great teaser – hopefully all the WB shorts will look as good as this on disc when those Looney Tunes collections start filtering through!
No added DVD-ROM material has been included, but for more on Chuck (including the full filmography missing here) visit his website, ChuckJones.com.
Case Study:
Warners' custom snapcase strikes again, offset by some bright and colorful cover art that emphasizes Chuck's cartoon creation. The inside foldout lists the index marks throughout the program and a pencil line drawing of a late-era Bugs Bunny.
Ink And Paint:
Rather surprisingly, but most welcome, is the fact that Extremes And Inbetweens is presented in widescreen, preserving the 1.78:1 aspect ratio of the new interview segments. On the other hand, and rather annoyingly, the program has not been encoded to take advantage of anamorphic 16×9 enhancement, but although this does seem odd, it's rather a moot point, as the presentation is more than adequate, and the image will still look fine if blown up on widescreen displays to fill the screen. Within this letterboxed frame, the 1.33:1 cartoon sequences themselves have been windowboxed and squeezed down in size in order for them to be shown in their original aspect ratios. The makers of the documentary should be commended for this, as it means that everything, from the interviews to classic clips, can be seen as originally intended. The lack of 16×9 encoding is a small criticism, but overall this is a fine looking disc and the cartoons look very clean.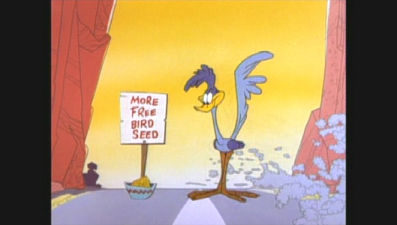 Scratch Tracks:
The packaging states this as a two-track, left-and-right, stereo release, but apart from the applause during the Academy Awards clip, this seemed to be pretty much locked to the mono center channel for most of the show. However, when you're talking about a basic interview set-up, with cartoon clips (which were originally mono anyway) I found no reason to complain. The dialog comes through crisp and clear, the music in the animated sequences has a nice "roundness" to it, while not losing any depth, and everything is easy to understand. Additional subtitles are provided in French and Spanish.
Final Cut:
If you are at all interested in the techniques or history of animation production I would urge you to pick up Extremes And Inbetweens. Simultaneously portraying a man and his philosophy, as well as a genuine look behind-the-scenes at the processes that come together to produce such classic animation, this is not some PR fluff dressed up as a documentary, but a truly genuine look at a man who brought a great deal to the animation table, changing the way cartoons actually thought, as well as the general filmmaking process while he was at it. Although this does not cover everything (the features Gay Purr-ee and The Phantom Tollbooth are conspicuous absences), as a taster for the cartoons to follow on DVD, this a good starting point, and a wonderful tribute to a wonderful human being.
Animated Classic or Back To The Drawing Board?