Warner Bros. Theatrical Animation (August 10 2001), Warner Home Video (November 13 2001), single disc, 95 mins plus supplements, 2.35:1 anamorphic widescreen, Dolby Digital 5.1 Surround, Rated PG, Retail: $14.98
Storyboard:
Osmosis Jones, a white blood-cell "cop" in the City Of Frank (human being Bill Murray), a guy who is so not in touch with his hygienic instincts that it keeps Osmosis and his team busy fending off viruses, bugs and other illness-inducing invaders. Like Disney's Tron (where the action takes place within a computer) the concept is that inside all of us there are hundreds of little guys going about their business; each one helping us out in their own little way. Osmosis, like Martin Riggs, "Popeye" Doyle and Dirty Harry before him, gets the job done even if it means going against the grain and using some unorthodox methods. When Frank abuses his body once too often, the dangerous virus Thrax (Laurence Fishburne) is unleashed inside his body, causing chaos in downtown Franksville and disrupting the Mayor's (William Shatner) attempts at re-election (against a familiar sounding voice better known on screen as a young Mr Cunningham). Into Frank's body comes Drix, a pain-relief pill (David Hyde Pierce) who takes charge and attempts to help Osmosis track down Thrax and restore peace and order to Frank before Drix's 24-hour relief lifespan (and Frank's immune system) runs out!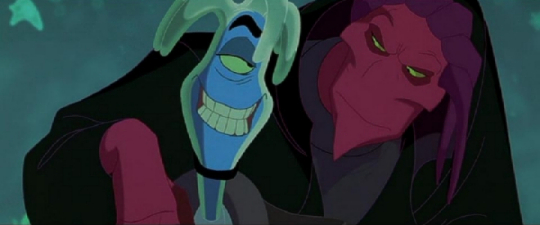 The Sweatbox Review:
After the success of There's Something About Mary, the Farrelly Brothers, Peter and Bobby, apparently could do no wrong. A slew of projects began pouring from their production company, including this hybrid kids/gross-out movie, for which they directed the live-action segments, in-between Mary and the Jim Carrey-starrer Me, Myself And Irene. Whereas fully-animated movies The Quest For Camelot and The Iron Giant had failed commercially, Warners looked to the success of Space Jam and decided on a mix of animation and live-action, with comedic overtones, for Osmosis Jones (both films also co-star Bill Murray, coincidentally).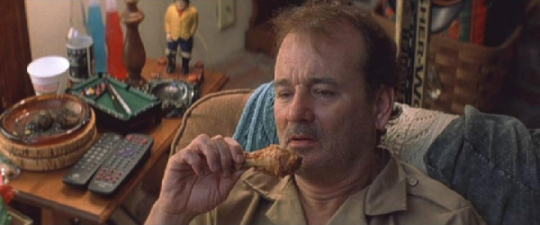 Unlike many combination movies (such as Who Framed Roger Rabbit, Song Of The South, or even the aforementioned Space Jam), Osmosis Jones does not really feature any "interaction shots", at least not until near the film's climax. This could account for why the film did not end Warner's run of bad box-office when it was released to theaters, since there's no sense of a "wow factor" at play, although the poor way it was marketed could also have something to do with the way it was perceived by audiences.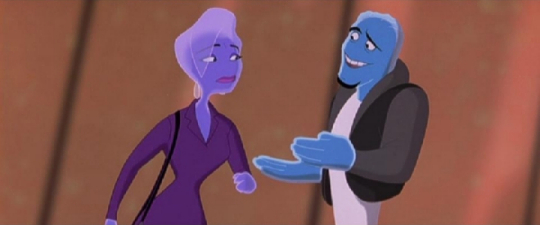 Originally to have starred Will Smith in the Osmosis role, script problems and clashing schedules meant that he had to drop out. Chris Rock (still trying to find a hit solo project) stepped in and, despite his annoying squeaky voice, makes the character his own, providing Osmosis with just the right sense of experience and "go getter" attitude. The movie itself is a fun concoction, and the animation, if not up to some studios' best, has its moments and retains a certain Warner Bros. look and feel to it throughout. Particularly impressive is Drix, who has been created in 3D-CGI and painted and shaded to look like a 2D character. Like the title character in The Iron Giant, WB animation seems to have perfected this style, as there are no give-away signs during the film that any trickery like this is going on and if you didn't know, the uninitiated wouldn't guess.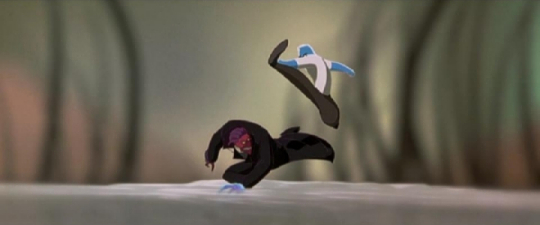 The whole film is more animation than live-action (approximately two-thirds inside Frank's cartoon innards), but when those real-world inserts come it is hallmark Farrelly humor. Murray makes for the perfect Frank and brings his impeccable comedy presence to the project. Frank is a slob personified and Murray really does have fun in the role, playing well off his co-stars Chris Elliott, Elena Franklin and especially Molly Shannon, who features in the movie most alarming gross-out moment, and one that is sure to become a classic of this level of humor. If you've seen it, you'll know what I'm talking about, but if you haven't and you decide to, then you'll certainly remember it forever!
A diverting romp that doesn't outstay its welcome but also doesn't lodge itself memorably in the brain, Osmosis Jones has its moments of hilarity while providing an otherwise competently average movie experience. Warners had big hopes for the character, launching a franchise around the idea including a tamer animated series. It's there that Ozzie and Drix picked up the majority of their fans, which led them back to the original movie on DVD. It's no classic, but contains enough inventiveness to pass away a couple of hours of, um, "unique" entertainment.
Is This Thing Loaded?
For a non-SE specific title, Warners should for once be applauded for providing Osmosis Jones with a fair few bonus materials, especially in regards to its lacklustre box-office performance. The main menu takes us to Frank's insides, where the names of traditional special features have been given decidedly "bodily function"-influenced names! "Bowel Movie" kick-starts the film, but what else is in store?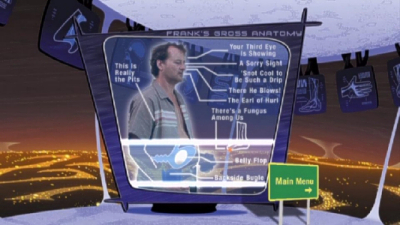 "Frank's Gross Anatomy" allows a novel way of choosing "a foul scene" from the movie by way of a menu linked to parts of Frank's body. When chosen, you'll see various alternate names for each part, or be taken to the scene in question. A more traditional scene selection feature is labelled "Spleen Cellection", and the optional languages hidden the title "Lunguages", so you get the idea! There's some added fun to be had if you select "more" from that Lunguages page: hover over Drix's head for a little montage (in 1.85:1 letterboxed widescreen) of Osmosis moments.
Under "Smelly Feetures", you'll find the bonus material. Voices Inside Frank's Head sits animation directors Piet Kroon and Tom Sito, writer Marc Hyman and producer Zak Penn down for an audio commentary, which is one of the funniest (for a commentary, anyway) I've heard, with a lot of fooling around on top of the decent info-sharing. The guys gradually (and jokingly) coming to realise that the whole movie was in fact the work of one man, 2D effects artist Michel Gagné, which continues to play as a running gag for the duration.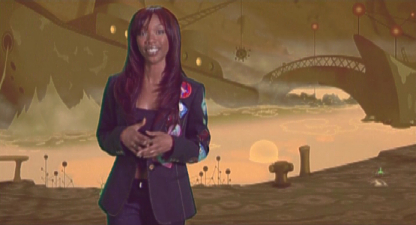 Under The Microscope is a standard HBO First Look special (running 14 minutes) hosted by co-star Brandy Norwood that offers the usual on-set interviews and clips. There's a little on the film's production, but nothing too substantial, and the animation process isn't really gone into as in depth on comparable featurettes. Investigating The Vocal Chords (five minutes) does a better job, with footage of the cast in action behind the microphones.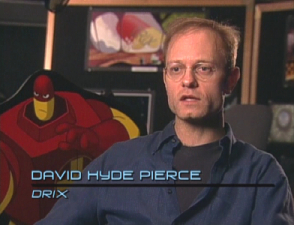 Deleted Spleens features a number of scenes cut from the final film. Running six-minutes worth, there really are some great things in here. Presented as one stream of clips, the quality isn't outstanding in the least, but many of the shots are completed (storyboards fill in some small blanks) and contain some wonderful visual gags and more extensive interaction with the "real world". Rounding things out is Frank's Highlight Film, the very fun Lethal Weapon-inspired theatrical trailer (in anamorphic widescreen). There's also another little gag to be found in this menu if you aim towards the Gas Exit (you can guess the rest)!
The only possible thing to nark anyone with this edition of Osmosis Jones is the skimpy number of chapter indexes throughout the film. Generally I never use them, but in this case a couple of the names give away a joke or two (for instance, Pushing The Fart Button leaves nothing to the imagination). A decent collection though, for a title that would perhaps normally go without, and fun navigation! Unlike some recent Warners' family movies, there's nothing Osmosis-specific in the disc's DVD-ROM section, except for links to the "original theatrical website" which does features some games and extra fun.
Case Study:
Warners' snapcases strike again, meaning there are no extra print goodies apart from the sleeve and the chapter indexes on the inside flap.
Ink And Paint:
One of the many new generation of animated movies that goes for the "epic" nature of the wider widescreen frame, Osmosis Jones was created for exhibition in 2.35:1. Amazingly, given Warner's spotty track record on some family releases and the lack of success of the film at the box-office, the disc preserves this correct aspect ratio and provides a very rich and pleasing visual experience indeed. Looking like a digital-to-digital transfer, everything in Osmosis Jones looks sharp, with only the flesh tones in the live-action sequences being a tiny bit suspect, which is the same as I thought when I originally saw Osmosis Jones in a digital theater in Times Square. Thanks to only one version of the film (no pan-and-scan waste of space here), the bit rate remains fairly high and there are no compression artefacts. In fact, for an animation title that contains its fair share of contrasting images and dimly-lit scenes, Osmosis Jones is perhaps as good as it gets.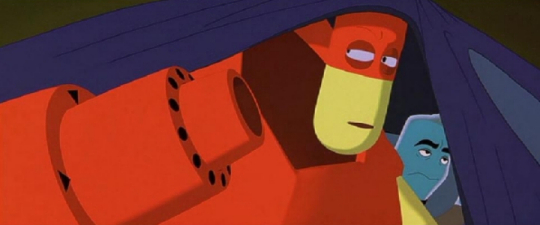 Scratch Tracks:
Presented in Dolby Digital 5.1 surround (with optional 2.0 French and Spanish dubs), Osmosis has been given a top-notch Hollywood action movie soundtrack. Randy Edelman's music score flips between big orchestral stabs, soft strings and hip-hop beats effectively and the disc pushes all this to the fore without forsaking the important things like sound effects and understandable dialogue. Not quite demo material, but a high-impact track that pushes all the right buttons and envelopes the viewer. The film is peppered with contemporary R'n'B tracks, which don't actually sound any better than from a standard audio CD, and even a little flat, but for ambiance, the street scenes are the best, with cars and vehicles coming past you from all directions. French subtitles have been included.
Final Cut:
It may not have the gob-smacking animation of a Disney effort, or the CGI-heavy look of a DreamWorks presentation, but Osmosis Jones actually features both these styles seamlessly while retaining a more traditional "cartoony" look (there are even a few timely nods to The Matrix, before they got overtired, further enhanced by having Fishburne as one of the voice talents). Plot-wise, it's no-brainer, summer movie eye-candy fare, but with enough laughs, one-liners and excitement to fill a couple of hours with bright and breezy entertainment. As with Warners' Space Jam, the animation does have a slightly "superimposed" look about it in the live-action sequences, as opposed to the "wow – they're actually there!" effect of Roger Rabbit, but Osmosis Jones does not deserve to be written off as just another bomb that failed to challenge Disney's dominance in the field. Warners certainly don't think so: as mentioned, the animated series Ozzy And Drix stems from this movie – so if you've enjoyed that, check out their first adventure right here and, like The Iron Giant, discover that not all animated features have to be commercial behemoths in order for you to have a good time. In fact, how could you possibly not go for a movie that got its PG rating, quite literally, for "bodily humor"!?
Animated Classic or Back To The Drawing Board?