Melendez/Mendelson Productions (1975-1979), Warner Home Video (June 1, 2010), 2 discs, 150 mins plus supplements, 1.33:1 ratio, Dolby Digital 1.0 Mono, Not Rated, Retail: $29.98
Storyboard:
Charlie Brown falls in love, Snoopy races his bike, trees get planted on the infield, and we see why the Peanuts specials continued to be a highlight of television programming in the latter half of the disco decade.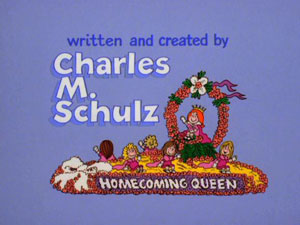 The Sweatbox Review:
With most of the really, really classic specials out of the way, we now enter into the latter half of the 1970s. Anyone who grew up in that era, however, will still have fond memories of at least some of these shows, even if they're not quite as iconic as the Christmas or Great Pumpkin specials.
Be My Valentine, Charlie Brown (1975) is a fairly episodic affair, though I've always felt that such specials were quite in tune with the comic strip origins of Charlie and the gang. Two main plots do emerge, with Charlie Brown hoping for a Valentine at school, and Linus experiencing puppy love for his teacher, Miss Othmar. Mixed in are vignettes at Schroeder's piano, and at Snoopy's "paw-pet" show. The looks at the joys and sorrows of childhood when applied to love are typically poignant and nostalgic. This special previously has had two prior DVD releases. (See our review of Be My Valentine, Charlie Brown: Remastered Deluxe Edition.)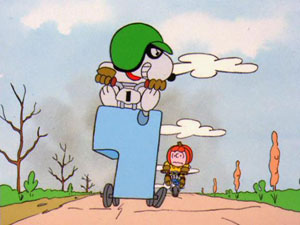 You're A Good Sport, Charlie Brown (1975) see Charlie Brown and Snoopy each deciding to compete in the motocross race that Peppermint Patty is organizing. Snoopy competes as The Masked Marvel, while Charlie Brown is saddled with a pretty pathetic bike. Seeing Snoopy in his mask, or Charlie Brown with a pumpkin on his head, are guaranteed images to be burned into any child's subconscious. The ending really makes the show, and it won this special an Emmy award. This special previously had its own DVD release. (See our review of You're A Good Sport, Charlie Brown: Remastered Deluxe Edition.)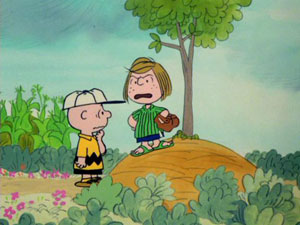 It's Arbor Day, Charlie Brown (1976) may feature a relatively minor holiday, but it continues to be one of my favorites. It's a pretty cohesive story of what happens when Sally goes on a tree-planting binge and how it affects the gang's baseball games. The plot is well realized, with many twists and interesting and humorous segments. Incidentally, this was sadly the final special to have new music written for it by the wonderfully talented Vince Guaraldi. This special previously saw two DVD releases, on both Paramount's and Warner's It's The Easter Beagle, Charlie Brown discs. (See our review of It's The Easter Beagle, Charlie Brown : Remastered Deluxe Edition.)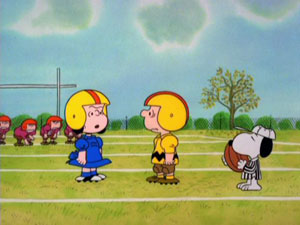 It's Your First Kiss, Charlie Brown (1977) is one of those specials that comes off as very odd. Enjoyable, but odd. Charlie Brown is playing in a big football game, and later has to escort the Little Red-Haired Girl to the homecoming dance. The whole set-up is too bizarre, and the repeated failures of Charlie Brown to kick the football during the game (because Lucy keeps pulling it away from him, of course) gets very frustrating, particularly since Charlie Brown gets all of the blame. The special also breaks Schulz's cardinal rule and actually shows us The Little Red-Haired Girl. I could scarcely believe that Schulz wrote this one, but he did. The ending is kept vague, seeming like a "dream story"— except that Linus insists that it all really happened. Personally, I found it a bit of a nightmare, which is ironic, considering the next special to air… This special also appeared on the earlier Be My Valentine DVDs.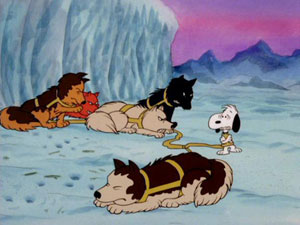 What A Nightmare, Charlie Brown (1978) is the only special on this set that has not seen a previous DVD release. It's also one I really had no memory of, so I suppose that it never got rerun as much as some of the others. One can see why it is more obscure, as it focuses almost exclusively on Snoopy, who has a nightmare after over-indulging at suppertime. This was after Charlie Brown (the only other regular to appear in this special) bemoaned Snoopy's "over-civilization" while trying to get him to play "sled dog." Snoopy's dream about being a sled dog in the Arctic sees him isolated, cold, and frightened— just the wake-up call he needed; but the lesson is short-lived. The dream sequence has some nice artistry to it, as well as some good gags, particularly when Snoopy finds himself in a saloon. Done mostly in pantomime, this special is unique and one I'm glad to now have in my collection.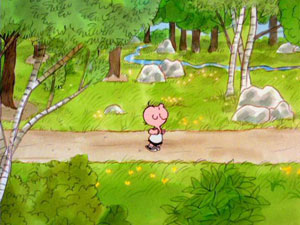 You're The Greatest, Charlie Brown (1979) finishes things in fine style. Charlie Brown is asked to represent his school at the Junior Olympics. The gang rethinks things once they realize what they've done, and both Marcy and the Masked Marvel become competitors. The ending has a twist worthy of the bigger classics, and it's all darn entertaining. This special was last seen on the You're A Good Sport, Charlie Brown : Remastered Deluxe Edition DVD.
This latest Peanuts collection from Warner Home Video continues on the path previously set by the 1960s volume and the first 1970s volume. Warner's initial promise of "exciting multi-disc sets" apparently meant six specials spread over two discs, so that's what we get once again. While they typically mine their own catalog of shows using two-disc sets with about thirteen episodes each for under $25 retail, Peanuts fans get less than half as much while being expected to spend more. Those licensing fees must be pretty high, I guess. I wouldn't even mind so much if only they would use a single disc, as the second one is just unnecessary, serving only to make the set appear to be a better value than it is.
Nevertheless, one cannot argue with the greatness of these specials (well, except for the surreal It's Your First Kiss, Charlie Brown). Peanuts collectors can't stop purchasing these sets now, not if they've found any of the prior DVDs worth having. With doomed romance, The Masked Marvel, sports follies and more, this group of specials is tough to beat.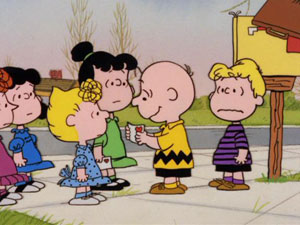 Is This Thing Loaded?
Eschewing any of the featurettes seen on prior DVD releases, this set instead brings us You're Groovy, Charlie Brown: A Look At Peanuts In The 70's (18:25). The featurette does look a little at Peanuts the 1970s, but it spends more time looking at Charles Schulz's studio and discussing what materials he used to create the strip. As an amateur artist myself, I didn't mind! In terms of the 1970s, though, Schulz's widow Jean, his son Craig, and more do talk about how the strip matured and grew in the 1970s, largely by expanding the cast and adding in Snoopy's fantasy life.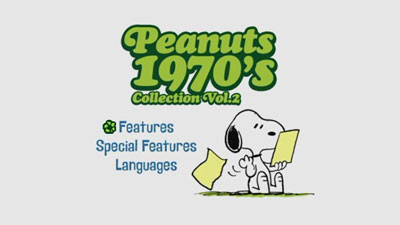 Disc One opens with promos for the first 1970s Peanuts volume, as well as the second volumes of the 1960s and 1970s Saturday Morning Cartoons DVD collections. Disc 2 also has a Trailer for Free Willy 4.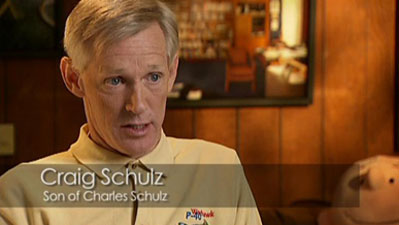 Case Study:
Ah, those wacky home video companies. They do like to keep us reviewers on our toes. One might think that with just three releases in this chronological series to date, that we might see some consistency in the packaging. But no. It's not a big deal, but…. The obsessive-compulsive in me finds it weird. The package design is similar to what has come before (a simple image on a white background), but the slipcase is no longer embossed. The keepcase inside has discs on each side, rather than holding a tray for one of them. And there's no insert this time. As before, though, the disc contents are described in greater detail on the reverse of the front cover, readable through the inside of the clear keepcase— so long as the discs are not in place, that is.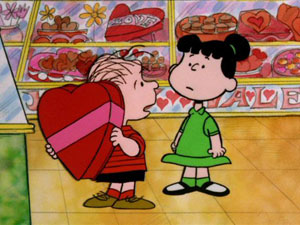 Ink And Paint:
These specials look pretty darn fine, and what's more— some of them look even better than they did on their previous releases! I had been noting that the specials used as bonus material on the single disc Warner releases did not look as remastered as the eponymous shows. The remastering jobs on the main shows had been pretty sparkling, but It's Your First Kiss looked less distinct, You're The Greatest looked pink and washed out, and Arbor Day also had problems with skin tones and did not seem as sharp as the main feature.
But check these out. In each case, a screen capture from the previous DVD is shown first, followed by the corresponding image from the new set.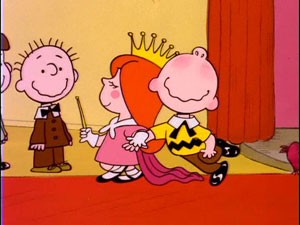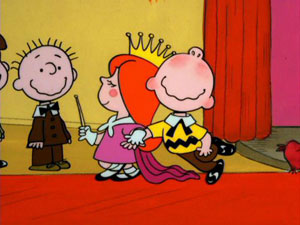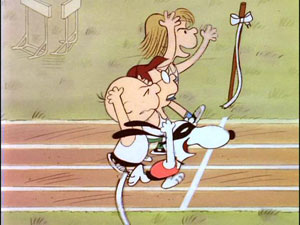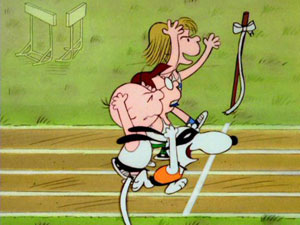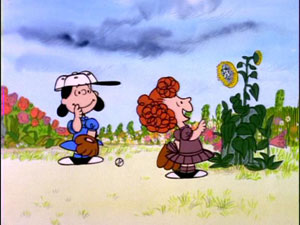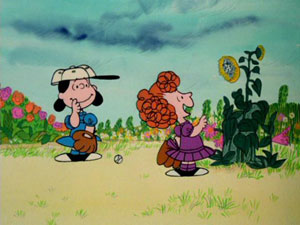 This time, all of the previous second features look like they have been truly remastered, boasting much more consistent and pleasing video. Images are sharper, there is less bleeding, and skin tones tend to stay the same throughout an episode. The colors have also generally become brighter and/or more solid. In some instances, the changes are merely "different" and not necessarily "better," but overall this is a great improvement. Clearly, when one revisits these in the future, one is best off defaulting to the chronological sets rather than digging out the single-disc releases.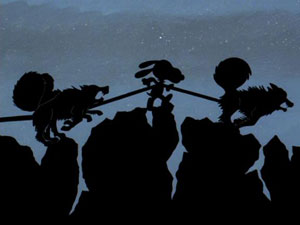 Scratch Tracks:
The mono tracks sound just fine, whether listening to them in English, Spanish, Portuguese, or Japanese. They compare to any previous Peanuts soundtracks, being of minimal range but consistently good. And I always love to hear Vince Guaraldi's music; too bad this is the last set to contain any original pieces from him. There are subtitles in the same languages, plus French.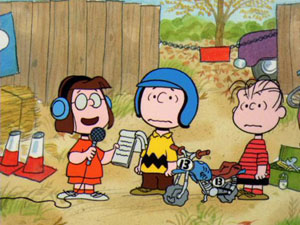 Final Cut:
As we bid farewell to the 1970s, there aren't really any of the big classics left, though there are still plenty of good ones to see. One could understand, though, if sales began to drop off at this point. Hopefully, the buying public will still see the worth in at least this volume, as there are some great stories here, including a new-to-DVD Nightmare and one that has simply got to be a bad dream. Those that have all the previously released specials may find it hard to justify picking this set up just for What A Nightmare (and the nice but largely inconsequential featurette), but for those that waited for the chronological sets, I'd say to pick at least this one up before you quit. Fans will also want to keep in mind the improved video quality on this set for the former "bonus feature" shows.
Coming up in the 1980s are some lesser-known specials, but that means they also haven't been covered as thoroughly on DVD, so that one may still be worth checking out. With 14 specials produced in the 1980s, and some of them running an hour, we may even see a little more than what we've been getting per set so far. As an aside though, before totally leaving the 1970s, one hopes that we'll start seeing the feature films getting released as well.
Animated Classic or Back To The Drawing Board?