Melendez/Mendelson Productions (1980-1985), Warner Home Video (October 18, 2011), 1 disc, 46 mins plus supplements, 1.33:1 original full frame ratio, Dolby Digital 1.0 Mono, Not Rated, Retail: $14.98
Storyboard:
An episode of The Charlie Brown And Snoopy Show provides three short tales that vaguely fit the "snow" theme, and Peppermint Patty becomes an unlikely ice princess in She's A Good Skate, Charlie Brown.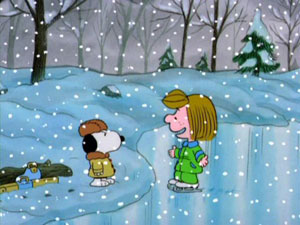 The Sweatbox Review:
You know what "happiness" would be? Happiness would be Warner fulfilling their promise of releasing multi-disc sets to finish off the Peanuts catalog on DVD. Sadly, their decade compilations stalled out at the end of the 1970s, and we are left with a new line of bargain-priced DVDs offering less than an hour of material each (though at least lower priced than the previous "Remastered" line of single-disc releases). This latest release does offer material fully new to DVD, so it does deserve at least some consideration.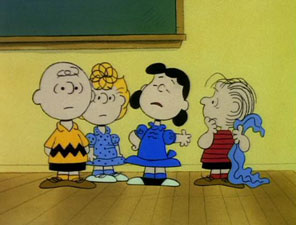 First up is the eighteenth episode from the 1985 Saturday morning TV seriesThe Charlie Brown And Snoopy Show, which has three stories. The Play recalls A Charlie Brown Christmas, except this time it is Lucy who tries her hand at directing the Christmas play. Aside from an unnecessary framing sequence of Charlie Brown writing about the event, this is a decent story that shows just why Lucy should never be in charge of anything, and how Charlie Brown will always get the short end of the stick. Linus is forced to sing, Peppermint Patty is forced to play a ridiculous sheep, and Sally cannot remember her one line (and gets confused about Harold Angel)— and they all blame poor ol' Charlie Brown.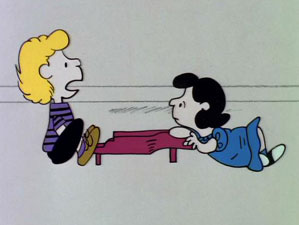 Next in the show, Sweet Babboo examines the place of Valentine cards in the Peanuts universe, with Sally lamenting the fact that Linus sent her none, and Charlie Brown lamenting the fact that no one got him one at all. It's a mildly amusing short, made difficult to watch due to the atrociously poor drawing throughout, as the artists go way too off-model, and not in a whimsical way. Lastly, Snoopy's Story offers up slightly better drawing in a tale of Peppermint Patty writing about Snoopy as her favorite animal. The normally poor student receives praise for her essay, but her moment in the sun takes on a decidedly "Charlie Brown" twist. All in all, it's a pleasant enough collection of stories, with some shaky drawing.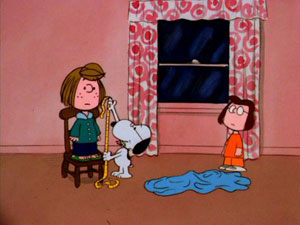 She's A Good Skate, Charlie Brown— a 1980 TV special— looks a little more polished, but suffers from a weak script. It is just plain odd to see Peppermint Patty playing the role of "promising young ice skater." She just doesn't seem girly enough, and I would have thought Sally or Lucy would have been better choices for that role. There's very little meat to the story either, with Patty training under Snoopy for a skating competition. The skating animation is actually quite nice, but not stunning enough to carry the story or maintain interest. Marcy plays a strong supporting role, as always, but the rest of the gang only rate cameos as they cheer Patty on at the skate meet. When something goes wrong just prior to Patty's performance, Woodstock must come to the rescue.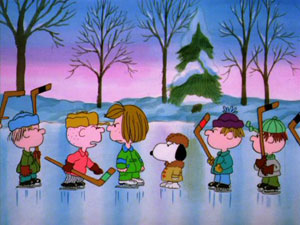 I recall when this special first came out, and there was much hullabaloo about Woodstock whistling in the show, as this was the first time we actually heard much from him. For me, though, the bigger news is that the adults, while still not shown, do TALK! That's right, no "mwa-mwa-mwa" of a musical instrument here… the grown-ups have normal, intelligible voices. This alone makes a strong argument for this special marking when the Peanuts series jumped the shark. Maybe this is why we still haven't seen the first 1980s DVD volume yet.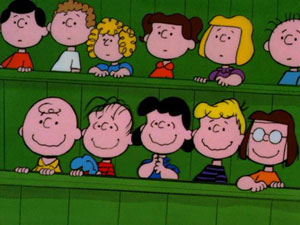 As a bargain bin purchase, this disc might satisfy. Otherwise, it's hard to recommend to anyone other than the most devoted Peanuts devotees.
Is This Thing Loaded?
Bargain DVD = no extras. After the disc loads, you can watch ads for Happy Feet Two: The Videogame and the upcoming Happiness Is… Peanuts – Friends Forever DVD. If you want to see more ads, follow the menus to see those for the Peanuts Holiday Collection and the Santa's Magical Stories Christmas special compilation DVD (which, by the way, has far fewer cartoons than a similar collection put out a year or two ago by Warner).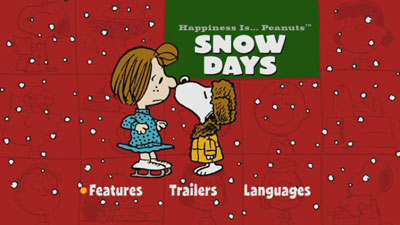 Case Study:
The eco keepcase comes with no slipcover. There are two inserts, offering coupons for peanut butter and pretzels.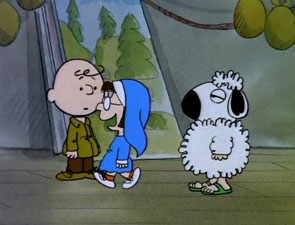 Ink And Paint:
The second-class nature of this DVD extends to the video, which offers a reasonably clean but inconsistent presentation. Flesh tones in particular are all over the place, ranging from yellow to pink to even light purple, even from shot to shot. The prints are not particularly dirty, but they are a tad faded and murky. Even Warner's usually good compression work falters, resulting in some aliasing.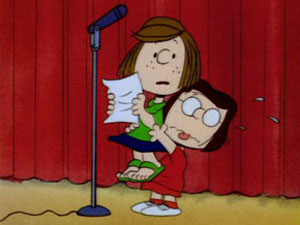 Scratch Tracks:
The mono soundtrack won't win any awards, but I can't really be harsh on it. It's just as plain as the rest of the disc, a fact made worse when you consider that these shows have no Vince Guaraldi music in them to liven them up.
Other language options include Japanese, Portuguese, Spanish, and Thai. Subtitles are available in English, French, Japanese, Portuguese, Spanish, and Thai.
Final Cut:
Sigh. These Peanuts releases from Warner used to be somewhat exciting, but now they're just fodder for the big box store bins. With only a single episode of the TV series, and a special known only for Woodstock's whistling and the disconcerting addition of adult voices, this is a hard DVD to really get behind. With no obvious remastering having been done, the video especially fails to impress. No extras appear, either, making one wonder just what the notion is behind the Happiness is… Peanuts collections. Obviously, these DVDs aren't for collectors, though the biggest Schulz fans will undoubtedly want to keep their collections going for the sake of completeness.
Animated Classic or Back To The Drawing Board?