Melendez/Mendelson Productions (1983-1985), Warner Home Video (June 14, 2011), 1 disc, 46 mins plus supplements, 1.33:1 original full frame ratio, Dolby Digital 1.0 Mono, Not Rated, Retail: $14.98
Storyboard:
In the 14th episode from the Saturday morning cartoon, three short stories see Snoopy get traded to Peppermint Patty's ball club and take on a giant; and Rerun gets the spotlight as well. Then, in the 28th animated Peanuts special, Snoopy falls in love with a poodle and asks Spike to be his Best Beagle in a wedding anticipated in varying degrees by Charlie Brown and his friends.
The Sweatbox Review:
Having used up all the most popular specials, and having apparently stalled out on their decade collections as of the end of the 1970s, Warner Home Video's latest trick is to now package episodes of The Charlie Brown And Snoopy Show alongside lesser-known specials, in bargain-priced DVDs. This line shall apparently be known by the moniker Happiness Is… Peanuts, with the initial offering spotlighting Snoopy.
Finally seeing some representation of The Charlie Brown And Snoopy Show on DVD is good to see, even if it's just a single episode so far. The one presented here, fourteenth in the 1983-86 Saturday morning series, has two Snoopy stories and one featuring Rerun, the youngest of the Van Pelt children. The first story, Snoopy's Foot, is probably the best of the bunch. Snoopy breaks his foot while clowning around, just prior to an important baseball game. Charlie Brown needs a substitute fast, and is lucky to get an offer from rival manager Peppermint Patty, who is desperate to trade her worst player, Marcy. While Charlie tries to be honest about Snoopy's condition, Patty won't listen, and the result is seeing how Snoopy can be a hero even with a broken foot. It's typical Peanuts humor, and fits alongside the bets of the specials.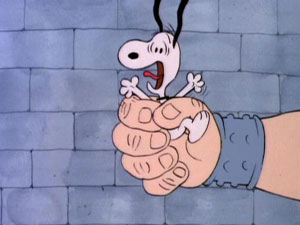 Next is the mildly amusing Giant, which begins with some farming gags before becoming a Jack And The Beanstalk riff. Lastly, Rerun has Linus and Lucy's little brother encountering a little girl repeatedly while out with his mother, as he gets an early look at how frustrating it can be to deal with a member of the opposite gender. Altogether, it's a pretty pleasing episode.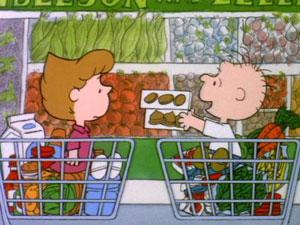 The second show on this DVD is the 1985 TV special Snoopy's Getting Married, Charlie Brown, making its DVD debut. While not one of the all-time greats, it is nevertheless a very entertaining show, which sees Snoopy falling in love while he is supposed to be guarding Peppermint Patty's home. He becomes incredibly smitten with a certain French poodle named Genevieve, and their whirlwind romance leads them to a quick engagement.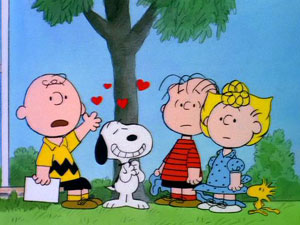 Charlie Brown can hardly believe it, but finds himself assisting Snoopy in corresponding with his brother Spike (the skinny desert-dweller), setting up Spike to become Snoopy's Best Beagle. There are a number of fairly hilarious scenes in here, with Charlie Brown also taking a turn as a watchdog, Snoopy getting predictably jittery about the impending nuptials, Spike trying to earn his way to Snoopy's home in time for the wedding, Schroeder's frightening pre-marriage speech at Snoopy's bachelor party, and Spike flirting with Genevieve.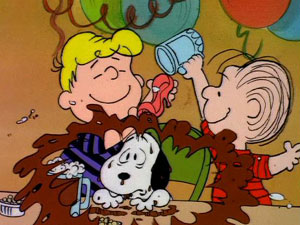 Given the nature of this release, it's a pretty strong showing. There are probably not many yet-to-be-released-on-DVD TV episodes or specials much better than what we see here, and in fact what we get is pretty darn entertaining. There's lots of charm and snappy writing on display, making this an easy recommend for those into collecting Peanuts cartoons.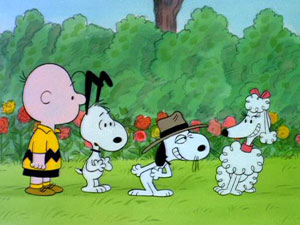 Is This Thing Loaded?
There's not much here for bonus features. The disc opens with two ads, one for Happiness Is A Warm Blanket, Charlie Brown and one for Tom And Jerry Meet Sherlock Holmes. Aside from that, Trailers are selectable form the menu system, including those for DVDs of Scooby Doo! Mystery Incorporated and The Looney Tunes Show. That's all, folks.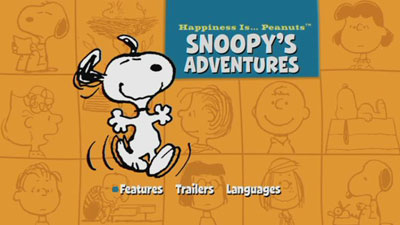 Case Study:
This disc comes in an eco keepcase, with a peanut butter coupon included inside. (Yes, you read that right.) There is no slipcover with this release.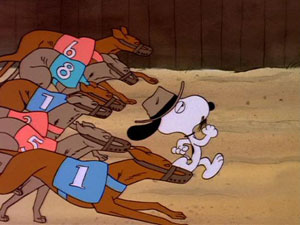 Ink And Paint:
These shows have not been remastered, and while they are not horrible looking, they aren't too great either. A thin film of grain exists, with some video noise noticeable on larger screens. Skin tones are occasionally inconsistent, some fading is noted, and dirt is not uncommon.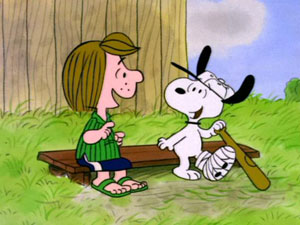 Scratch Tracks:
The original mono track demonstrates little dynamic range, but is quite satisfactory. The only other tidbit I can offer here is that Fergie from the Black-Eyed Peas did the voice for Sally in the special, as well as the TV series, when she was a wee little actress. So, that's kind of neat to know. Optional audio tracks include Japanese, Portuguese, Spanish, and Thai (I don't think Fergie participated in those ones, though).
Subtitles include English, French, Japanese, Portuguese, Spanish, and Thai.
Final Cut:
Naturally, many of us would like to see more of the decade compilations, or a complete series release of The Charlie Brown And Snoopy Show. I have little doubt that those will come eventually, but for now this bargain-priced disc is a great way to sample the TV show, as well as to view a little-seen special that holds plenty of fun. As a budget release, we see no benefit of any remastering or bonus features, but you get what you pay for. I suppose releases like these help to finance eventual remasterings down the road. If that what it takes, then it's not a bad idea to support a DVD such as this.
Animated Classic or Back To The Drawing Board?