Melendez/Mendelson Productions (1965-1969), Warner Home Video (July 7, 2009), 2 discs, 150 mins plus supplements, 1.33:1 original full frame ratio, Dolby Digital 1.0 Mono, Not Rated, Retail: $29.98
Storyboard:
Charlie Brown, Snoopy and the rest of the gang star in their first six television specials.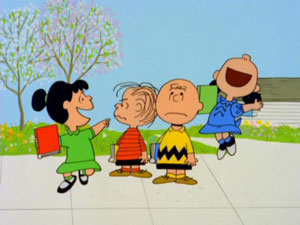 The Sweatbox Review:
We've been pretty thorough covering the Peanuts releases to date, so I shall skip past the history section. To learn more about the evolution of Charles Schulz's characters in animation, please see our reviews of the A Boy Named Charlie Brown documentary, and for Warner's DVD of A Charlie Brown Christmas: Remastered Deluxe Edition.
Cutting to the chase, then, the subject of our current review is a two-disc set which covers the six specials that aired on CBS television in the 1960s. The first four have appeared on disc previously from Paramount, and the two holiday specials have already also received special editions from Warner, with another one appearing as a special feature on discs from each studio. This set carries over none of the special features or bonus episodes from the other discs, so only the specials themselves are double (or triple)-dipped. With only two of these shows new to DVD, are they enough to justify a purchase?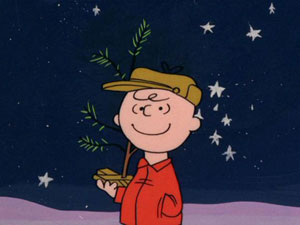 Disc One
A Charlie Brown Christmas (December, 1965) – The first and arguably best of the specials sees Charlie Brown feeling lost amidst the holiday revelry of others. The modern day celebration of Christmas seems so empty to him, and he wonders what he's missing. Lucy tries to buoy him by asking him to direct the Christmas play, but it is the wisdom and example of his pal Linus, and a simple little tree, that brings home the true meaning of Christmas to Charlie and his friends. The special was a surprise smash critically and ratings-wise. No one was more shocked than Charles Schulz and the producers, who failed to realize that the huge appeal of Schulz's characters (and a superb script) could more than overcome simplistic animation. If you don't love this one, it would be hard to see you liking any of the others.
Charlie Brown's All-Stars (June, 1966) – This one is not as well known, but it's really one of my favorites, having discovered it on Paramount's DVD of Lucy Must Be Traded, Charlie Brown. It has the proper group dynamics for a Peanuts special, with Charlie Brown the bane of his team's existence. He cannot do anything right, and the gang blames him for their many losses. The team quits and moves onto other summertime activities, until Linus informs Charlie Brown that hardware storeowner Mr. Hennessy has offered to buy the team uniforms. This news is enough to get the team back together, but there is a catch to the uniform offer that would exclude some of the players: the new league they would play in does not allow dogs or girls. The ending to this one is typical Peanuts, sweet and uplifting but still tinged with defeat. It is the essence of childhood's toughest lessons. This is a classic.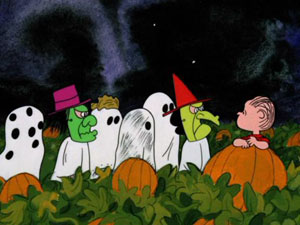 It's the Great Pumpkin, Charlie Brown (October, 1966) – This in obviously another great one, with Linus fully embracing the excitement of the coming of The Great Pumpkin, a Halloween figure that only he seems to know about. His night with Sally in the pumpkin patch is the stuff of cartoon legend, and the special also veers into surreal territory with a sequence that sees Snoopy, as a world War I flying ace, being shot down from his doghouse over enemy territory. Plenty of great gags add to the mix in this wonderful cartoon.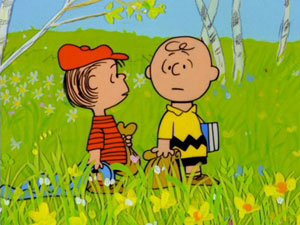 Disc Two
You're In Love, Charlie Brown (June, 1967) – Both Warner and Paramount previously put this out on their DVDs of Be My Valentine, Charlie Brown. Unfortunately, that doesn't mean it's one of the stronger specials. Little of note happens in this story that focuses on Charlie Brown's crush on the Little Red-Haired Girl, though there are some cute bits.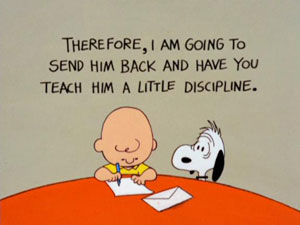 He's Your Dog, Charlie Brown (February, 1968) – These last two specials make their first appearance on DVD, and they're both pretty good. In this one, Snoopy is being rambunctious and annoying, earning him the disapproval of the group, who insist that Charlie Brown do something about his rascally dog. Charlie decides to try sending Snoopy back to the Daisy Hill Puppy Farm for obedience training, but Snoopy decides to make a prolonged pit stop at Peppermint Patty's house, where he soon wears out his welcome. In the end, the kids learn that they love Snoopy, despite his naughty behaviour, and Snoopy learns to appreciate Charlie Brown a little more too. This is one of the more tightly-plotted specials, and in fact is nearly perfect in every way. As funny and heart-warming as this special is, it's hard to believe that it hasn't been released on DVD sooner.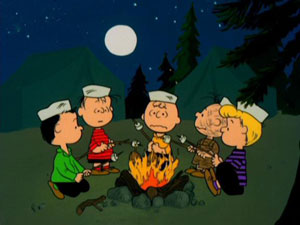 It Was A Short Summer, Charlie Brown (September, 1969) – This is another little-seen winner. I seem to remember the finale in this one, though it must be an awful long time since I've seen it on television. After the kids receive an assignment to write about their summers, they reminiscence on a summer spent at camp— where the girls repeatedly humiliated the boys. Snoopy must come to the boys' rescue as The Masked Marvel, in order to reclaim their lost pride.
Is This Thing Loaded?
Disc One has promos for Scooby-Doo: The Mystery Begins, and the Saturday Morning Cartoons collections. Then there are also Trailers listed for Woodstock and The Jetsons.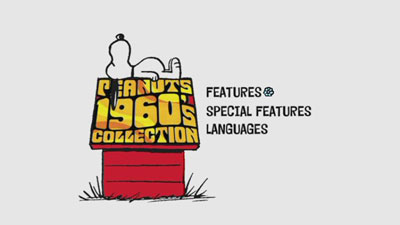 On Disc Two, we get promos for the second DVD sets for Tiny Toon Adventures and Freakazoid (though they are basically recycled from the initial sets' promo), and a separate one for Snoopy's Reunion. A Trailer for the Warner Bros. Documentary You Must Remember This (2:54) is also available from the Bonus Features menu on Disc Two.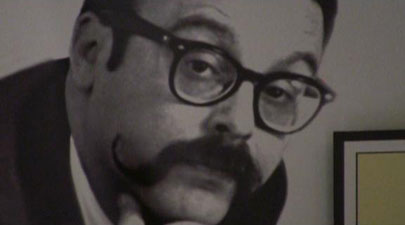 This is also where they finally give us the one worthwhile extra on this set. Vince Guaraldi: The Maestro of Menlo Park (36:54) is a long-overdue portrait of the musical talent behind the Peanuts specials. Mr. Guaraldi is remembered via interviews with his band mates, his son, his contemporaries, Peanuts producer Lee Mendelson, and his successor on the specials, David Benoit. This lengthy bio alone makes the purchase of this set worthwhile. Guaraldi was a singular talent, and this featurette makes you appreciate him all the more. It also serves a secondary purpose in giving a little information on how the Peanuts specials came to be.
Case Study:
Warner packaged this set a little differently than their previous, single-disc Peanuts releases. Instead of a foil o-sleeve, this set has a slipcase-style sleeve that fits over the standard keepcase, which has essentially identical graphics. The keepcase has a tray for one of the discs, with disc listings on both the back cover and inside of the clear case. Unfortunately, the packaging mistakenly lists the fourth special as appearing on the first disc, when in fact it's on the second disc, and this mistake is stated in both places.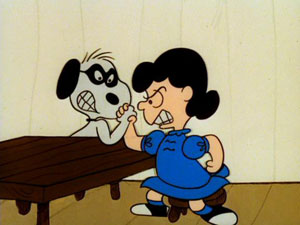 I do question why this was made into a two-disc set. It is apparent that it was purely for marketing purposes. Warner routinely has 6-7 episodes of a TV show, plus bonuses, in their animation sets, and goodness knows that the Peanuts specials wouldn't provide much of a problem with video compression. This is really a slight set considering the use of two discs.
Ink And Paint:
The remastering job done on these specials is fantastic. Colors really pop, and they don't bleed. There certainly are physical artifacts present from the original negatives, but the compression job couldn't be better, giving a clean, stable image. These specials have likely never looked so good.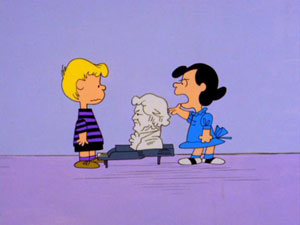 Scratch Tracks:
Low expectations serve to make the audio tracks impressive. The mono sound is mostly undistorted, and serves the dialog and Guaraldi's music well. English, Japanese, and Portuguese tracks are available, as well as subtitles in English, French, Japanese, Portuguese, and Thai.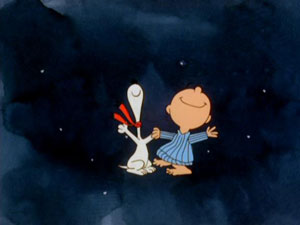 Final Cut:
In terms of this being Warner's idea of a deluxe set of specials, I'm disappointed. I had high hopes for their promised multi-disc packages, but spreading six specials over two discs seems somewhat chintzy. The fact that four of them have been previously released makes this set almost insulting. Plans for their next set don't look any more promising. However, if you're a Peanuts fan, and particularly if you've been waiting for a more comprehensive set of specials, I'd say to go ahead and pick this set up. At least five of the six specials are gold, and the splendid profile of Vince Guaraldi alone makes this almost an essential purchase. It may not be the comprehensive, deluxe package we'd been hoping for, but it's still a nice set nonetheless.
Animated Classic or Back To The Drawing Board?