Melendez/Mendelson Productions (1972), Warner Home Video (October 7, 2008), 1 disc, 25 mins plus supplements, 1.33:1 original full frame ratio, Dolby Digital 1.0 Mono, Not Rated, Retail: $19.98
Storyboard:
Linus runs a popular campaign before threatening to sabotage himself with an unpopular speech.
The Sweatbox Review:
Ah, the holidays. As that special time of years comes close, we see a fine selection of themed DVDs appearing, particularly those featuring good ol' Charlie Brown. And thus we are treated to new editions of specials about Halloween, Thanksgiving, Christmas… and Election Day?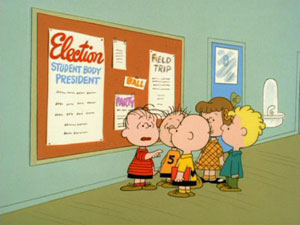 Yes, we'll get to those holiday classics in due time, but today we are here to revisit You're Not Elected, Charlie Brown, hovering as we are (at the time of this writing) the week before the big U.S. election. Up until now, Warner Home Video has simply been reissuing Charlie Brown specials that were already released by Paramount, while I for one was lamenting the lack of new-to-video releases. You're Not Elected was actually released by Paramount as part of its Great Pumpkin DVD, but Warner has repurposed the special as its own headliner to tie in with the upcoming election. Still, this at least meant that a different special got featured alongside Warner's Great Pumpkin release, with a newer special appearing as a bonus feature on this disc.
You're Not Elected, Charlie Brown came out in 1972, during the original cycle of great Peanuts specials while they were still being directed by veteran animator Bill Melendez, and had original music by Vince Guaraldi. The inspiration for this one came from a series of Peanuts comic strips that were published in October of 1964, though the special's story goes past that of the strip, which ended before the actual election and its outcome. Of course, politics in the Nixon era were no less volatile than they were during the 1960s, though the TV special does more to ridicule the political process in general than it does to offer any more timely criticisms, which naturally makes this special charmingly timeless.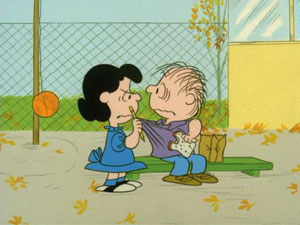 The title of the special was originally going to be You're Elected, Charlie Brown, and this is how it was advertised—- until someone realized that the title made no sense in the context of the show, since ol' Chuck not only did not win, he didn't even run! A change was made at the last minute in the special's title card, which soon made even the TV Guide listing out of date.
Most of the episode takes place at Birchwood School, with an early focus on Sally Brown. After taking her brother Charlie for show and tell, a small group of kids gathers in the hall to discuss the upcoming school election. Linus thinks that Charlie Brown would make a great student body president, but Charlie voices the obvious problem that no one would vote for him, a fact that Lucy quickly proves by taking a poll. One has to wonder about her polling methods, however, when one sees how she polls while asking about her brother Linus's chance of winning the election. The mixture of intimidation and threats proves effective enough to bring a very positive polling result, which convinces Linus to run.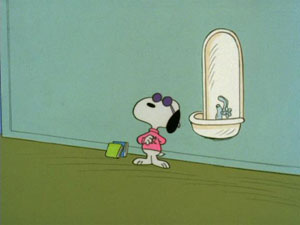 Almost every great Peanuts special has a surreal Snoopy sequence, and this special has Snoopy appearing as "Joe Cool," the most happening guy at school. It's one of those things that makes almost no sense in the context of a story taking place at an elementary school for human children, but Charles Schulz's character was so accepted by this point that nothing he did would surprise fans of the strip. (And Joe Cool is way less weird than Snoopy's "WWI Flying Ace" routine, which saw him get shot down behind enemy lines in the middle of the Great Pumpkin special.)
Linus forges ahead with his campaign, with Schroeder giving a nomination speech in which he compares Linus (oddly enough) to Beethoven. The gang, even Snoopy and Woodstock, make signs for Linus. Lucy hosts a radio talk show with Linus as special guest. (This was at a time when the radio talk show was just gaining popularity, and the show makes fun of callers who really don't seem to know how to ask a question. Imagine Lucy's frustration!) We meet Linus's opposition, Russell Anderson, who fails to give a speech anywhere near as impressive as Linus's speech. And we see Linus seemingly doom himself, on the eve of the election, with a speech trumpeting the wonderfulness of The Great Pumpkin, which only serves to remind everyone of what a fool Linus appeared to be on a recent Halloween night.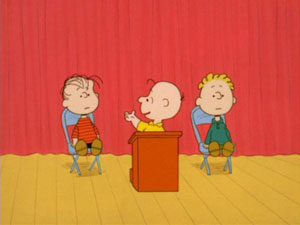 I'm actually surprised that this special isn't better remembered, as it has so many wonderful bits. The commentary on polling, radio shows, speeches, and the ultimate truth about winning public office, is all funny and even pointed. It's also a great sequel in many ways to It's The Great Pumpkin, Charlie Brown, not only for the tie-in with the eponymous pumpkinmeister, but for the emphasis on Sally's feelings about Linus. So, sorry if you thought you could skip this one, folks. You need to get it. It's really good!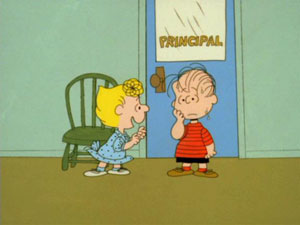 Is This Thing Loaded?
The Polls Don't Lie: The Making Of You're Not Elected, Charlie Brown (12:11) is just what the title implies, yet another neat but short look at the making of a classic Charlie Brown show. Lee Mendelson, Bill Melendez, Jeannie Schulz, Phil Roman, Mark Evanier, and others (including two of the voice actors) comment on the particular charms and intricacies of this TV special. They discuss the special's original title, and how Charles Schulz could relate to kids who had trouble being successful.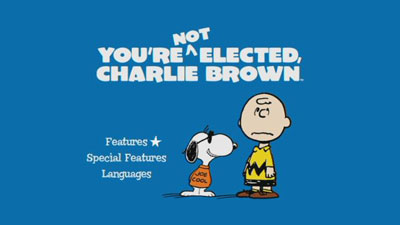 As all of these DVD releases do, this one includes a welcome bonus special (though two or three bonus specials would be better). He's A Bully, Charlie Brown, from 2006, was the last Peanuts special created to date, based on a series of strips from 1995. Charles Schulz had done some development on this story before he died, but he did not complete a script. Instead, the producers proceeded to form a show that was in the spirit of the strip. Unlike some of the other latter-day specials, this one has a strong narrative, telling the story of Charlie Brown coming to the rescue of Rerun, who has lost all of his marbles to a bully at summer camp. Also, the moments of Marcy tormenting Patty, stuck back home at summer school, are priceless. I am not sure that, given the ending, Schulz would have approved, but I find it a delightful coda to the Peanuts specials. I'm so glad to finally get a chance to see it. This one was directed by Bill Melendez and Larry Leichliter.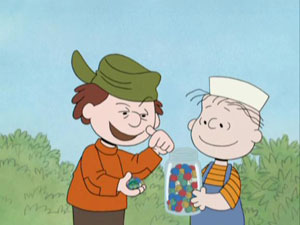 The Trailers on this release include those for the Peanuts Holiday Collection, Scooby-Doo And The Goblin King, Looney Tunes Golden Collection: Volume 6, and The Smurfs: Season One, Volume Two.
Case Study:
Standard keepcase, in a foil embossed slip-sleeve. Some advertising materials appear as inserts.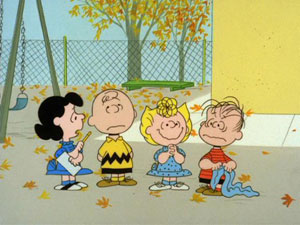 Ink And Paint:
It's a compliment to Warner Home Video that it is hard to tell which of the two specials on the disc is the older one, even though they differ in age by well over thirty years. The more recent one benefits a bit from more modern production methods, but even the older one has very little dust on it. The compression work is as good as ever from Warner as well. You're Not Elected, Charlie Brown does look a tad soft in a couple of scenes, but overall I was impressed.
Scratch Tracks:
No problems here with the mono sound, which comes in some exotic flavors, including Japanese and Portuguese. (The dubs do sound a little echo-like, but that would be due to the original recordings, I would assume.) There are a whole pile of subtitle options, including English, Portuguese, Chinese, Japanese, Korean, and Thai.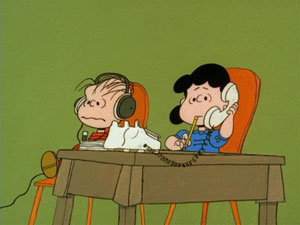 Vince Guaraldi, as mentioned, continued his career making run on the Peanuts specials. His jazzy tunes were supplemented this time by an anthem for Snoopy's "Joe Cool" persona, which helped to elevate Joe Cool to being yet another powerful aspect of the Peanuts' merchandising phenomenon in the 1970s. Guaraldi even supplied his own voice to sing the song, something that Mendelson initially feared, but everyone agreed afterwards that it turned out exceptionally well. Another song of note betrays the special's original title, You're Elected, Charlie Brown.
Final Cut:
I imagine that for many, this DVD will be the least of their purchasing concerns this fall, due to all the other great Peanuts releases coming out. That attitude would betray a lack of knowledge or appreciation for You're Not Elected, Charlie Brown, which was the eighth Peanuts special produced and still carried the magic of the early ones. Schulz's script is full of classic Peanuts touches, with social commentary and wonderful characterizations. Add to this DVD the last Peanuts special, which came out a lot better than many might have expected, and a good featurette, and you get a DVD that is worthy of your vote, as well as your purchase.
Animated Classic or Back To The Drawing Board?