Jim Henson/ITC (1978), Buena Vista Home Entertainment (May 20, 2008), 4 discs, 612 mins plus supplements, 1.33:1 original full frame ratio, Dolby Digital 2.0 Stereo, Rated TV-G, Retail: $39.99
Storyboard:
Cultural icons of the 1970s highlight another great season of Jim Henson's Muppets.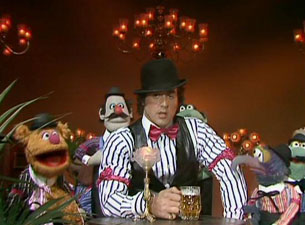 The Sweatbox Review:
The second season may have been the absolute greatest in terms of old-time star power, but the third season was spectacular in its own way. While the Season Two thrived on having many classic comedians, the third season saw a greater number of contemporary stars appearing on the program. While I shall always cherish such second season shows as those featuring Uncle Miltie, Don Knots, and Edgar Bergen, one cannot deny the third season's appeal, featuring as it did the likes of 1970s stars Sylvester Stallone, Alice Cooper, and Cheryl Ladd. Of course, such descriptions of this show, i.e. organizing guests by season, is not fully accurate. The third season, after all, also featured such longstanding stars as Danny Kaye, and Roy Rogers & Dale Evans. Season Two was the breakout year, but there were still plenty of celebrities out there to invite on the show.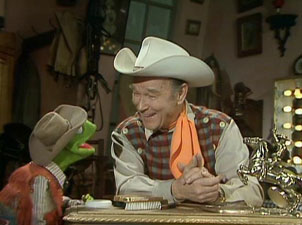 We may remember episodes by their guest stars, and indeed that is the easiest way to identify them, but what makes the show work in every season is still the magic of Jim Henson, Frank Oz, and the other Muppet performers. Season Three was taped in 1978, and by this time the company was a well-oiled, abundantly creative and precisely performing machine. It was a landmark year in many ways, beginning with the addition of Steve Whitmire (today's "Kermit") to the Henson company. It was also the year that Jim Henson (with daughter Cheryl) wrote the story for The Dark Crystal, and of course The Muppet Movie began filming in Los Angeles. It was a fertile time indeed.
Even the shows this season that feature lesser-known (or forgotten) guests are still well worth watching. I had no idea who Leslie Uggams was (she's a Tony-winning performer and apparently recently had a small role in the Alvin And The Chipmunks movie), but aside from her own great songs, the episode also features an appearance by Big Bird (visiting old friend Kermit The Frog), and shows how Gonzo first began courting the chicken Camilla. Now who'd want to miss that? I also blanked on names like Marisa Berenson, while others like Leo Sayer and Elke Sommers rang a bell but I couldn't picture them until seeing them on the show. Then there were many familiar stars that I was familiar with, but not terribly excited to see, like Jean Stapleton, James Coco, and Spike Milligan. But again, every episode proves to be a winner.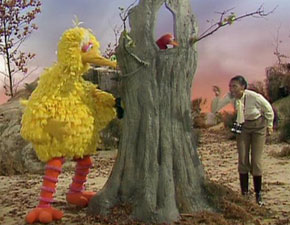 I do admit to watching these out of order, as there were certain ones I was really looking forward to. Alice Cooper was the first one I clicked on, and the episode is about as spooky and demented as one would hope for, reminding me of the earlier Vincent Price horror-fest. In this episode, I also noted an early appearance of the "Bear On Patrol" skit, as well as "Wide World Of Muppet Sports," also seen for the first time this season. I was unfortunately disappointed by the rather routine performance by Danny Kaye in his episode, as he is one of my all-time favorites. His episode is somewhat mediocre, with Danny showing less life than he did years later in his memorable Cosby Show guest appearance. Still, it's a fun one to watch just to catch cranks Statler and Waldorf out of the theater, protesting who they think is on the show that week. Much to Danny's relief, it's a case of mistaken identity. In another case of seeing the Muppets out of the usual setting, the Loretta Lyn episode takes place at a train station, since the regular theater is being fumigated!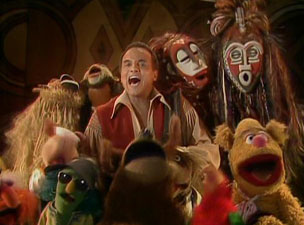 One of Jim Henson's favorite episodes of The Muppet Show was reportedly the third season episode starring Harry Belafonte, and I can see why. Belafonte proves to be a shining example of a guest star, appearing very happy to share star billing with mounds of fur and felt. His performances are dynamic, including his first-ever television singing of his hit Banana Boat song. Every moment of the show, Belafonte is warm, enthusiastic, and all-around great. This episode was so wonderful, it didn't end when the credits rolled. A song about peace and community, aided with striking singing tribal masks, continues right on through to the very end.
Gilda Radner has a precious episode in this set, obviously being a goofy natural to play alongside the Muppets. And who could forget the episode with the ever-flamboyant Liberace? Even aside from his dazzling piano playing, Liberace was the consummate showman, eagerly hamming for the camera and interacting with the audience. The Muppets actually give over the entire last half of the show to Liberace doing a concert. (Liberace, often derided by music critics, actually denied giving concerts, saying that he was always putting on a show.) It was sure fun seeing him perform again. He's been gone now for over twenty years, believe it or not!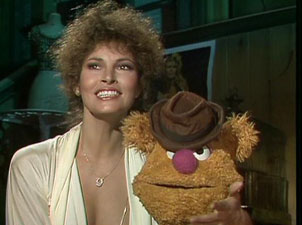 One of my other favorites is the Raquel Welch episode. I've always been impressed by Ms. Welch, who in interviews strikes me as someone with enough intelligence to be successful at whatever she decided to try, but at the same time she enjoys the heck out of her status as a sex icon of the Seventies. Even on The Muppet Show, she turns up the heat and fries the brains of men everywhere. Her interplay with the jealous Miss Piggy is also memorable, especially in the way that Welch keeps chipper throughout.
One could on and on about one's favorite moments, but the bottom line is that The Muppet Show never ran out of steam in its five seasons. So, enjoy the appearances by those above, as well as Kris Kristofferson & Rita Coolidge, Roy Clark, Pearl Bailey, Helen Reddy, Lesley Ann Warren, Roger Miller, Lynn Redgrave, Cheryl Ladd, and Roy Rogers & Dale Evans. If you can't find someone to like in this batch, then I don't know what to think. If nothing else, though, buy this season for plenty of classic Muppet fun.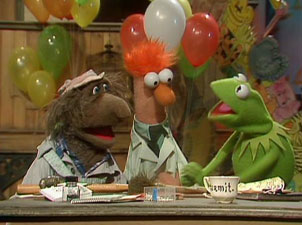 Is This Thing Loaded?
And if you're not yet convinced, then you need to check out The Muppets On Puppets, an hour-long public television special taped in 1968. This is an amazing piece of vintage footage of Jim Henson, Frank Oz, Jerry Juhl, and Muppet-maker Don Sahlin discussing and demonstrating the art (and history) of puppetry. I would buy the set just for this wonderful find, which not only has all these talented men talking about their passion for puppetry, but also skits with Rowlf, Kermit, and other familiar-looking Muppets. There are a few understandable audio dropouts, and the video footage is mildly rough, but I didn't care a bit. This is great stuff for the Muppet enthusiast. We even get to see Sahlin create a Muppet from a Henson drawing! Cool footage, no doubt.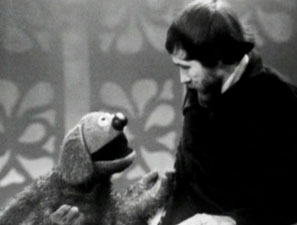 Not quite as outstanding but still pretty good is A Company Of Players (10:20), which has vintage behind-the-scenes footage from The Muppet Show, and comments from various people who were involved with the show. Lastly, several Muppet Commercials are presented, all Purina spots with Rowlf and Baskerville from 1962 and 1963.
(Note: One more promising-sounding featurette, A Frog Is Born, was initially announced as being included on this set. It was to have discussed the birth of Kermit and his relationship with Jim Henson. Unfortunately, that featurette is not in the final release of this DVD set.)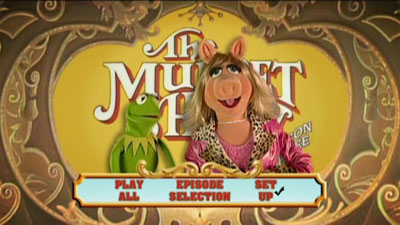 Add in some funny spots with Kermit and Miss Piggy, as well as Rowlf and Fozzie, that play with the menus, and this is a strong DVD effort from Disney.
Case Study:
Fozzie gets the coveted "fuzzy package face" this time out, while late pressings will likely go to more standard cardboard-only. As before, the discs come in a book-type package with overlapping discs on either side, all held by the Fozzie slipcase. A Disney Movie Rewards insert is included, and there is a coupon on the outer shrink-wrap to save $10 if you buy another season of the show.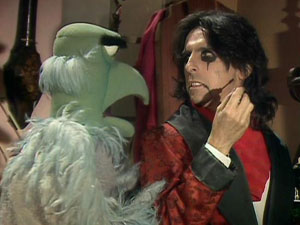 Ink And Paint:
The transfers for this show remain absolutely stellar. I continue to be amazed with how good this show looks on DVD. The detail is remarkable, as you can see every little tuft of felt on Kermit's skin. These episodes look like they were shot yesterday. If it weren't for the fact that the guests look so much younger than they should, one would think this show was much more recent than it is.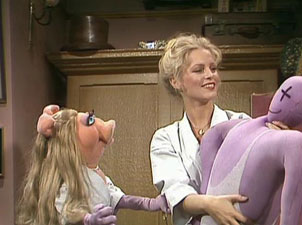 Scratch Tracks:
The stereo sound is just great too. One has to love how the terrific voice acting and music sounds on these discs. This is a stellar DVD effort in every technical area.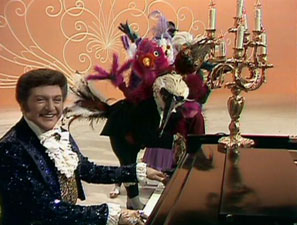 Final Cut:
I can't think of a single reason to skip out on this set, unless you simply want one season, in which case I'd say go for the outstanding guests of Season Two. However, even with slightly less impressive guests, the third season of the show is an even better functioning machine, with Team Muppet firing on all cylinders. The music is dandy, the scripts are consistently funny, and the characters more endearing than ever. With top-notch video and audio, as well as a terrific vintage Henson TV show, this one is an easy recommend.
Animated Classic or Back To The Drawing Board?