Muppets Studio/Disney/NBC (December 17 2008), Buena Vista Home Entertainment (September 29 2009), single disc, 56 mins plus supplements, 1.78:1 anamorphic widescreen, Dolby Digital 5.1 Surround, Not Rated, Retail: $26.99
Storyboard:
When Gonzo misses the last mailing day before Christmas, The Muppets gather around to help him get his post to the North Pole.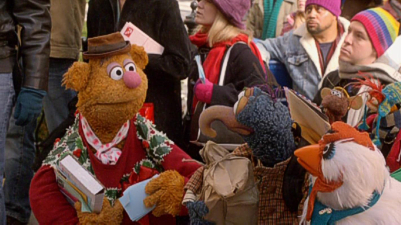 The Sweatbox Review:
It's extremely painful to have to declare, but the old Muppets magic has finally and sadly faded in A Muppet Christmas: Letters To Santa. The Muppets have always been among the most heart-warming characters to spend the festive season with, as their many holiday specials, including the famed television special/album collaboration with John Denver, over the years have established, almost traditionally. Following the sudden, shocking and heartbreaking loss of their creator Jim Henson in 1990, the crazy menagerie of puppets' future was thrown into doubt when a deal between Henson and the Disney Company was blocked by his estate and they instead found themselves owned by a European distributor who didn't really know what to do with them.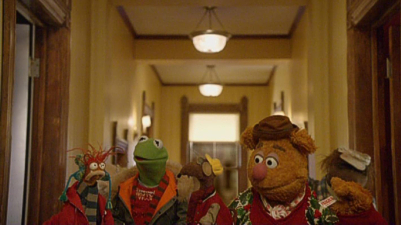 Bouncing back with another seasonal offering, the much-celebrated but wacky take on Charles Dickens' ghost story renamed The Muppet Christmas Carol, the film proved that Henson's spirit lived on, with Muppeteer Steve Whitmire taking on the daunting task of recreating Henson's alter-ego Kermit The Frog's warm vocals and doing a more than credible job. Coming some five years after Henson's passing away, The Muppet Christmas Carol firmly re-established the characters as vital family mainstays, launching them on a second wave of popularity that continued with Muppet Treasure Island and a handful of TV specials.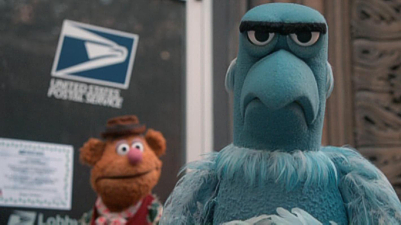 The versatile Frank Oz, Henson's literal right-hand-man when it came to characters such as Fozzie Bear and Rolf The Dog and now a director in his own right, was a noticeable loss from the voice cast of their next, Muppets From Space, though it still sustained some of the old style. More recent television movies (another Christmas special, It's A Very Merry Muppet Christmas Movie and, especially, The Muppet Wizard Of Oz) have further watered the personalities down, not helped by substitute voices coming close to capturing the tones but failing to capture the traditionally warm spirit.
Since then, of course, Disney has stepped in to try and reclaim some of the old glories, purchasing The Muppets and promptly (but slowly) releasing their landmark television series The Muppet Show, and attempting to renew their popularity with new outings. Those fans coming to these productions for the first time will obviously not have any of the old benchmarks, such as the incomparable pairing of Henson and Oz, to measure against, which would explain the generally good ratings A Muppet Christmas: Letters To Santa enjoyed this time last year.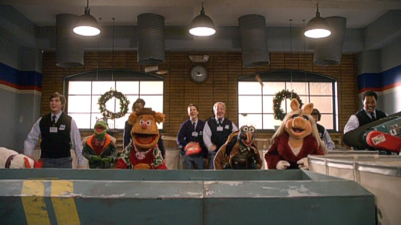 The first one-hour Muppets television Christmas special since the universally-loved A Muppet Family Christmas in 1987, Letters To Santa struggles from the outset – a rather peculiar and over the top paean to the United States Postal Service – to establish itself as a truly classic Muppet endeavor, despite the presence of long-time Henson producer Martin G Baker and the usual line-up of celebrity cameos including Paul Williams, whom dedicated fans will know has been a collaborator since appearing on The Muppet Show and featuring as a piano player (and writing the songs) for The Muppet Movie. He returned to the fold to pen the wonderful songs for The Muppet Christmas Carol, and does the same again here, but gets the short-thrift with skimpy production values and synthesized music.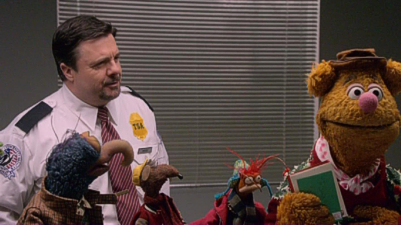 Williams also co-wrote the story for Letters For Santa and briefly appears as one of Santa's elves, but the sheer energy of Muppets past is missing and nothing comes over as being particularly memorable or, indeed, authentically Muppet-like. Of the other guests, it's a rather mishmash selection of faces that must have just said yes in order to add their names to the illustrious list of cameo stars to have made appearances with Muppets over the years. I'm one of the supporters of the actually very authentic feeling Muppets Tonight show (and hope it reaches DVD as the "sixth" season of The Muppet Show that it felt like), but although that show did attract some bona fide a-listers, the Muppets' co-stars since then don't seem to have had the same lustre as their heyday.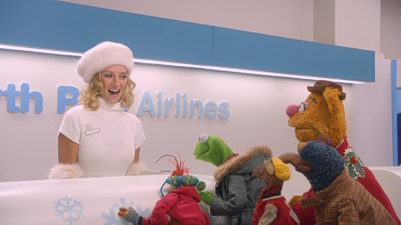 So here we have a returning Whoopi Goldberg as a taxi cab driver, Jane Krakowski as one of the Muppets' neighbours in their building, Petra Nemcova as a wordless and I'm not sure totally appropriate slice of eye-candy for Beaker, the always reliable Nathan Lane as an airport inspector being cancelled out by the variable Bobo The Bear and, showing that her turn in The Producers was a dazzling fluke, Uma Thurman proves that My Super-Ex Girlfriend isn't the only reason she should give up comedy, making a particular spectacle of herself here as Joy, who keeps popping up throughout to surreptitiously help Gonzo and his friends along the way to see Santa (Harry Potter's Uncle Vernon himself, Richard Griffiths, who seems to be the only one having real fun).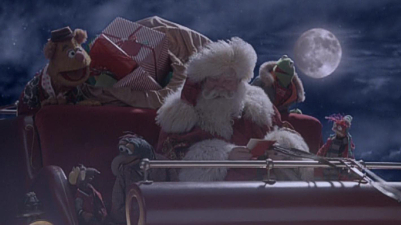 The version presented on this disc is an "extended edition", though the term is a bit of a cheat: instead of extra material or deleted scenes being inserted back into the special, the running time has been upped by creating around ten minutes of space between the proper ending of the program and its end credits, filling it with a montage of fluffs, gaffs and general on-set bloopers. The magic of the Muppet performers is that traditionally, when somebody goofs, they stay in character, and long before the toys and bugs of Pixar's movies started a trend, the Muppets had been doing the exact same thing for years. However, it's lamentable to have to report that the funniest material in this one hour is to be found in this outtake section, and that even here it only produces one or two big guffaws.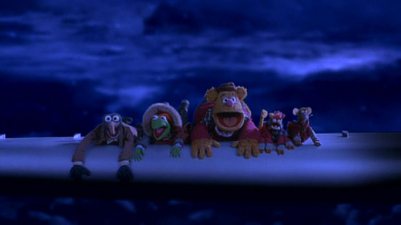 It kills me to say all this, having been a huge fan and dedicated follower of The Muppets since my Dad actually worked with Jim Henson on the original Muppet Show at ATV Elstree and The Great Muppet Caper movie at the Film Studios across the street – both studios located in my home town of Elstree and Borehamwood. To me and my sister, the Muppets were real: we'd visit the sets at the weekend and sit in on The Muppet Show. Gonzo's ambition to depart for live as an actor in Bombay prompted tears from both of us!
So, like family one may have not seen for a long time, to meet the Muppets again and find them not quite as authentic as one remembers feels a bit disconcerting. Letters To Santa does its job of keeping Henson's characters in the public eye and – hopefully – in a special place in their hearts, but my hope is that their rumored return to the big screen in 2012 is handled with great care to try and dig out that old Muppet madness and anarchy, instead of the sweet, but bland, offering here.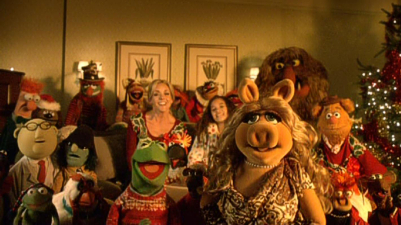 Is This Thing Loaded?
Letters To Santa whirs into activity with the usual selection of Sneak Peeks, some more of which are selectable from their own menu. On the disc we're offered previews for Snow White And The Seven Dwarfs: Diamond Edition, Toy Story 3, Winnie The Pooh: Seasons Of Giving, Mickey Mouse Clubhouse's Choo-Choo Express, Santa Buddies, Up, Ponyo, Tinker Bell And The Lost Treasure, Mickey's Magical Christmas, Blu-ray and Disney Rewards spots and a very funny teaser for Walt Disney Animation Studios' first made for TV Christmas special, the CGI-created Prep & Landing, the only caveat to which seems the appearance of a very Bolt-like dog.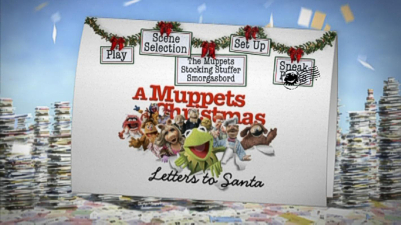 The Muppets Stocking Stuffer Smorgasbord is where the extras can be unwrapped, but the presentation is a bit of a chore, being a warm and cosy fireplace adorned with Christmas stockings, presents and tree ornaments, each of which hold a "gift", from deleted scenes, cast and character interviews and slideshow galleries. It's not so bad with a mouse in a computer drive, but attempting to manoeuvre around on a set-top machine's remote keypad means many of the options are missed. In addition to the artificial running-time extension collection of outtakes already included into the main program, the deleted scenes among this selection don't amount to much, and everything else is so short that it's barely worth running through them. In all, I counted ten of these extra clips, running just over ten minutes' worth of material.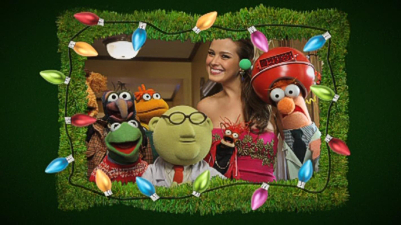 Case Study:
Making a decent attempt to look seasonal is the gift-wrap-like packaging: a shiny and embossed slipcover that replicates some nice artwork to be found on the sleeve underneath. But going by the running times indicated above, goodness knows where the "hours" of holiday fun are to be found: all that's on the disc is the special and a scant few bonus clips. Presented in a snowy white case, the disc art is the kind of bland gray print that just about does the job, and there's a Disney Movie rewards code inside too.
Ink And Paint:
Shot on digital video and presented in standard def 1.78:1 anamorphic here, A Muppets Christmas: Letters To Santa looks suitably sharp, given the controlled studio conditions it was shot in. But one of the reasons I always found the Muppets better suited to the theatrical screen was because having to cut them off half-way down to avoid the puppeteer meant if more than two, three or four characters were on-screen, the only way to frame them all was to include more head space. On a wide cinema screen, Jim Henson understood that this meant he could have more characters on-screen but go wider instead of higher.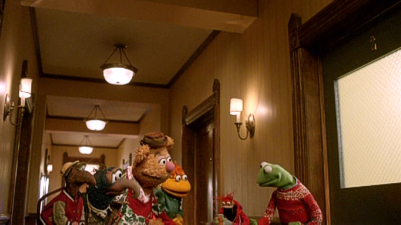 So it was incomprehensible to me to see director Kirk Thatcher framing the characters with so much headroom that one could quite comfortably crop the image in half, on some shots, and not worry about coming anywhere near the top of characters' heads. Kermit, Fozzie, Gonzo and Pepé are also stuck for long periods of time in one location: the passageway in a New York building, making much of the running time visually uninteresting from a design viewpoint too, and the not exactly extravagant splashing out on some of the other sets unhappily means this is perhaps the worse production value I have yet to see the Muppets treated to.
Scratch Tracks:
I've already mentioned my sadness at the not-quite right vocal stand-ins for the characters. Whitmire continues to do as good a job as anyone could for Kermit, but Eric Jacobson, filling in for Frank Oz's Fozzie Bear and immortal Miss Piggy, never hits the mark, especially with Fozzie. This is perhaps why original cast member Dave Goelz' Great Gonzo is given much of the storyline to carry this time around, though even too has entered the kind of phase that Mel Blanc did, performing the same characters but slightly more aged and languid. Goelz' Gonzo is still one of my favorite characters, though, and if there's anything anchoring Letters To Santa to the old Muppets we know and love, it's Gonzo's inherent heart, coming closest during the I Wish I Could Be Santa Claus sequence.
Final Cut:
I guess it's that time when I must admit that the Muppet Performers – like Disney's Nine Old Men – are not immortal, and newcomers must come along to keep the characters going. It was rather magical last year, visiting Disneyland's California Adventure, to finally get to see the Muppet Vision 3D attraction "live" in the Muppet Theater, since it really was one of the last truly genuine Henson-era Muppet projects to be produced. Hearing the "real" Kermit took me right back to being a kid again, just like, it has to be said, The Muppet Christmas Carol was able to. So the new team are more than capable of recreating the magic, and one would have thought that it would have been easier than ever to capture it in a Christmas special. But sadly, despite my looking forward to feeling comfortable with old friends again, there's little genuine Christmas cheer enclosed with these Letters, I'm very sorry to write.
Animated Classic or Back To The Drawing Board?