Rankin/Bass (1964-1970), Classic Media (October 12 2010), 3 Blu-ray plus 1 Compact Disc gift set, 150 mins plus supplement, 1080p high-definition 1.33:1 original ratio, 5.1 Dolby True-HD and Stereo, Not Rated (nothing offensive), Retail: $44.95
Storyboard:
Rankin/Bass' perennial holiday specials Frosty The Snowman, Rudolph The Red-Nosed Reindeer and Santa Claus Is Comin' To Town! are scrubbed up for their hi-def debut, alongside the contemporary sequel Frosty Returns and a bonus CD of sing-along Christmas classics!
The Sweatbox Review:
Wow!? Christmas already, and it's only just October! The Arthur Rankin and Jules Bass produced stop-motion television specials of yesteryear have become staples of holiday viewing around the world, and not only make regular appearances on television each year, but also seem to be routinely reissued on home video whenever a suitable holiday period is ripe (and since Rankin/Bass had a special for pretty much any occasion, from the wintry Jack Frost to The First Easter Rabbit, it's not hard to fill any gaps!
Leading the way in recent remastered editions has been Warners, with their series of Deluxe Editions on DVD, some of which have now made it to HD status on Blu-ray, including those for other stables' work such as Chuck Jones' original Grinch and Horton outings, and Rankin/Bass' own The Easter Bunny Is Comin' To Town. I'm not sure how the copyright has ended up being split over time between Warners and other companies, but it seems Classic Media has stepped in on more than one occasion to present some of the cream of the rest of the crop of Rankin/Bass' mostly cherished output, and now three of the most requested titles have been grouped into a handy single gift set, bringing together three of Christmas' most popular characters and stories.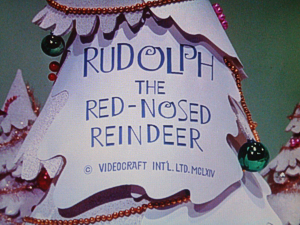 Rudolph The Red-Nosed Reindeer (1964)
Although Max Fleischer had produced a featurette-length adaptation of the Rudolph story in the 1940s, Rankin/Bass' edition, created back in their preferred world of stop-motion, is the one that was based on the classic Johnny Marks song, from which many people believe to have come from this special (the best known version is probably by Gene Autry, from 1949). One of the longest-running annual Christmas shows still to be shown each year, Rudolph sets up the basic Rankin/Bass structure of having an onscreen narrator – in this case Burl Ives' Sam The Snowman – recounting the tale, which (also as in later shows) takes several deviations from the original source.
Thus we have Rudolph, who has his bright red nose covered by Santa's lead reindeer Donner so that he isn't teased until the disguise slips off, running off into the woods, where he meets similarly out of place elf Hermey, who wants to forgo toy-making to be a dentist. Discovering they share a bond, the pair manage to outwit the Abominable Snowman and escape to the Island Of Misfit Toys, before Rudolph becomes a grown up stag and returns home to lead Santa's sleigh through a terrible blizzard, where his bright red nose becomes a helpful beacon to show the way. There are a few extra twists and turns that just those, and even into its otherwise slimline running time, Rudolph sure packs a lot in!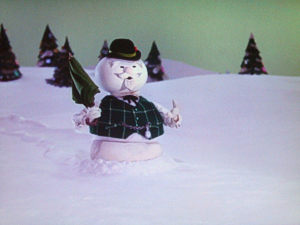 There has been speculation about the various editions of the special over the years, though I am certainly not an authority as to which exact version appears here. After the first airing, audiences were apparently inquisitive as to what happened to the Misfit Toys, and an alternate sequence, where Rudolph returns to have them delivered to welcome homes as gifts, was added the following year. This version also replaced and deleted some other scenes and is the version, as I understand it, that became a Christmas classic on television. Further revisions were introduced in 1998, with the biggest changes surrounding the removal of the We're A Couple Of Misfits song with a new sequence, Fame And Fortune.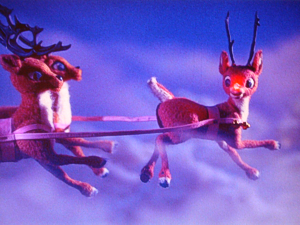 Previous home video releases seem to have included the original 1964 edit with the post-1965 Misfit Toy ending and credits inserted in, creating an extended cut that seems to include most of all the footage from both editions. That appears to be the 52 minute version presented here, which favors We're A Couple Of Misfits instead of the later-added Fame And Fortune. The Rankin/Bass specials weren't always the smoothest or most luxuriously budgeted of productions, but with Rudolph they were obviously out to make a good impression on the American networks who they hoped would pick up future productions. As such, the Japanese animation (where much of the producer's fare, including later traditional animation, would be made) is actually pretty good, with strong staging and direction despite the undoubtedly small screen budget, which goes a long way to suggesting why this charming little film has remained a TV classic.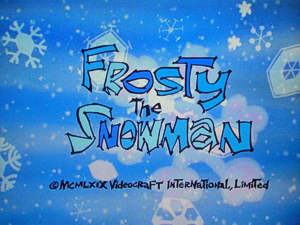 Frosty The Snowman (1969)
As much as I enjoyed the Rankin/Bass specials as a child, I have to admit that it's been a while since I actually really sat down and watched the titles on offer in this set – so much of a while, in fact, that I'd forgotten that Frosty broke from the producing pair's usual stop-motion territory to be created in traditional hand drawn animation (as such, it's a shorter than usual half-hour show). I'd known that a later sequel had been traditionally drawn, but for some reason remembered this particular Frosty as being a puppet-starring outing, which gave my delving into this set a fresh perspective.
Rankin/Bass had always enjoyed strong ties with Japan, relying on stop-motion and traditional animators there for their productions (in fact, after several permutations, many staff from the companies they dealt with – Toei, Mushi and Top Craft among them – would go on to become part of Miyazaki's Studio Ghibli), so the overall quality was always consistent, and here it's again better than expected. By 1969, the company, now name-changed from Videocraft International to Rankin/Bass Productions, had produced several other specials, returning to a Christmas theme with Frosty. Rankin/Bass' specials have always been strong on their vocalists, especially with their guest starring roles, and here it's veteran screen comic Jimmy Durante who becomes our caricatured narrator.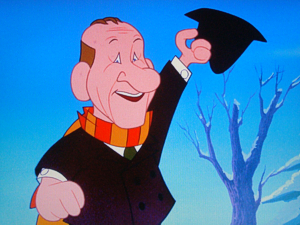 Breaking from stop-motion for the first time to use cel animation, the aim being to depict a Christmas card come to life, Frosty, based on another popular song of the same name (again recorded by Gene Autry, but sung by Durante here, who's great value), tells of a snowman who magically comes to life thanks to magician Professor Hinkle's magic hat. But when Hinkle realizes the hat's power, he seeks to reclaim it, following Frosty to the North Pole where the snowman knows he will never melt. However, Hinkle succeeds in almost melting Frosty, until Santa Claus himself steps in to threaten taking Hinkle off his Christmas list! Despite the change in technique, Frosty retains all the hallmarks of a classic Rankin/Bass production, most notably in the essence of the audio recordings.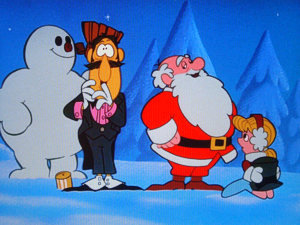 I'm not sure the ambition of creating a Christmas card come to life fully works, but the animation is perfunctory for this budget range and has a sprinkling of real magic here and there. Once more, though, airings following its 1969 debut were altered, adding a yellow scarf to Frosty's design and removing June Foray's vocals. A remastered version in 2005, used here, removed the scarf but failed to restore Foray's vocals (her character now voiced by an anonymous soundalike though her singing and credit remains), which suggests a wrangling over residuals, which wouldn't necessarily affect a singing track. Frosty proved so popular that several follow-ups were produced over the years, and Rankin/Bass themselves would return to the hand-drawn medium for later productions, where they would find popular success with the feature film The Last Unicorn and the franchise series ThunderCats, but this is a chance to catch a delightful earlier example of their use of ink and paint.
Santa Claus Is Comin' To Town! (1970)
Saving the best until last, Rankin/Bass' most unique aspect was always in securing a who's-who of great animation voice talent (including Paul Frees and Keenan Wynn here) and a big-name guest star for each production. Usually, it is fair to say that they caught these names once their stars had started to fade oh-so slightly, but still being able to boast two bona fide legends such as Fred Astaire and Mickey Rooney in your cast is no mean feat, especially when Astaire's caricatured animated persona is also allowed to follow in his footsteps – as a picky professional when it came to his dancing, for his screen alter-ego to hoof around the set is quite a big deal.
Here, and as in the later The Easter Bunny Is Comin' To Town, Astaire provides narrator duties, this time as SD Kluger, a mailman tasked with answering numerous questions about Santa Claus, eventually recounting the tale of how Kris Kringle (an excellently warm and fuzzy Rooney) came to be. Naturally based on another Christmas hit, this time the 1934 Eddie Cantor radio tune that gained huge popularity with a Wall Of Sound approach in the 1960s, Santa Claus has Kluger telling the story in his inimitable style, tried and tested by the Rankin/Bass team in the countless specials before it. The set up is same as always: we're introduced to our animated host, who fills us in on some backstory (usually with a song…yep, check!) before things get rolling, the day is saved and everybody sings yet another song in celebration.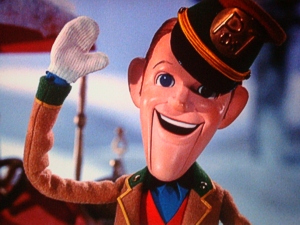 The Rankin/Bass specials were never light on plot – indeed, what can drag some of the less inspired ones down is a reliance on over-stuffing these stories so as they become too dense, and Santa Claus is certainly a special that can't be called light on story! Differing wildly to other takes on the character's origins (especially the more "faithful" 1980s fantasy Santa Claus: The Movie), this approach does run off down many other routes before the great man completes his destiny, even if the basic elements are the same. But where this Santa scores is in the animation, modelling, set design, costumes and effects, more impressively extensive and detailed than before and again remarkable for the assumedly tight conditions the program was made under.
There's a fluidity here that would become rarer in some of Rankin/Bass' later 1970s output and, while not every one was a winner, had they been Eastern European efforts there would no doubt be many more plaudits heaped upon the team than the recognition they received, and Santa Claus Is Comin' To Town! ranks up there with the best of them. Certainly a hit on its original debut, it was followed by another Santa special, The Year Without A Santa Claus, again voiced by Rooney. The 50 minute edition presented here restores any cuts the special has had made over the years to include more commercials, including several songs (including an extravagant cel sequence) and a moment when villain Burgermeister Meisterburger plays pretty rough with fire.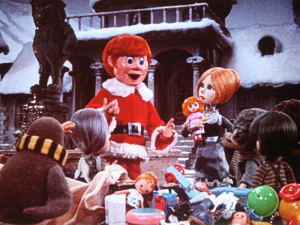 Arthur Rankin and Jules Bass' stop-motion television specials had a magic charm of their own that deservedly sees them brought back each year for annual showings. Recent DVD reissues and this set in particular have managed to make those shows treats again, both for the grown up kids of the late 1960s and 70s on a nostalgia trip, and perhaps for their kids, witnessing the magic for the first time. In this age of whizz-bang CGI, the pacing may now be more attuned to younger children, but for the original viewers this was about as special and high-tech as things got back then, and after enjoying many of these specials myself over the years, their legacy is clearly felt in the inspirations for the likes of Tim Burton's stop-motion features.
Although more recognition for their sometimes quite brilliant and often very charming stop-motion films, such as their best known theatrical outing, the underrated and all-too forgotten Mad Monster Party, wouldn't go amiss, Rankin and Bass certainly carved out a niche for themselves and, whatever else, will manage to make the history books as providers of quality television animation in a unique medium. It's been lovely to revisit some of their more fondly remembered films, in this collection that presents them better than ever.
Is This Thing Loaded?
Presented as a "Limited Keepsake Edition" on its spine, the main niceties on offer regarding the main features are the remastered transfers. I'm not aware of any substantial supplements ever making previous versions of these films on DVD, so there doesn't seem to be anything "missing" here, even if it would have been nice for some kind of extras to have made the cut, such as some of the unseen footage (such as Rudolph's alternate song sequence Fame And Fortune) from the different versions of some of the specials.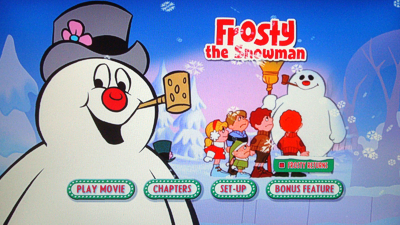 However, this isn't a set totally devoid of any extras, since there's the addition, on the Frosty disc, of its much later television sequel Frosty Returns, again produced in traditional animation. Such was the original film's popularity that a direct sequel, Frosty's Winter Wonderland appeared in 1976, the same year as another Rudolph adventure, and the pair teamed up for the ill-received Rudolph And Frosty's Christmas In July. Despite the switching the animation style to stop-motion and running as a full 90+ minute feature length, the double-act didn't stretch to the format, and it wasn't until 1992 that this film was produced.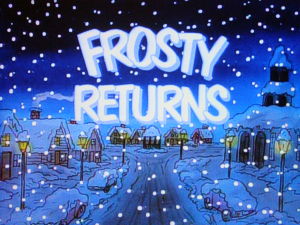 Unfortunately, and despite the ample space on the disc (Frosty lasting a little under 30 minutes, and this Return an average TV episode of just 23 minutes) it's only seen here in a pretty awful standard definition, interlaced and composite transfer, with blurred video fields and color crosstalk making it tough to watch after the cleanliness of the original specials. Despite the thankfully short length, it's hard to sit through for other reasons, too: this isn't actually a Rankin/Bass production, having been produced by the library's new copyright owners, now Classic Media, and it just doesn't capture the same kind of magic, coming over as average as any other cartoon produced at the time.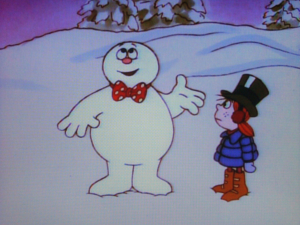 It's been bundled in as an extra on Frosty's previous DVD release, and one can see why, as it wouldn't make good value on release under its own standing. Taking over production duties is Bill Melendez, with Jonathan Winters stepping in as the Narrator and John Goodman providing Frosty's vocals this time around, but the result is a great inconsistency between the animation design and characters themselves. It's also overly politically correct, not actually referring to "Christmas" at all, and attempting to crowbar in an environmental theme, which just feels all wrong. Worse of all, the magic hat that gives Frosty his life hasn't even been thought of, and he wanders around quite happily without it, suggesting a complete lack of care or attention.
Much more enjoyable is the also included The Original Christmas Classics Compact Disc, which features seven classic songs, some from the films in this set, such as Ives' Rudolph The Red-Nosed Reindeer, Santa Claus Is Comin' To Town by the Jackson 5 and Durante's Frosty The Snowman. Classic Media have often bundled CDs with previous DVD editions of these films, but those have usually been single-track offerings. With other tracks including Rockin' Around The Christmas Tree, Jingle Bells and Jingle Bell Rock, it makes for a fun little Christmas album bonus, with nice audio quality that has that authentic vintage feel.
Case Study:
Three minimally designed thin Blu cases house the three discs, all tucked into an outer slip-box along with the song CD. Although the titles and artists are named on the disc itself, it might have been nice to award the CD a bit more status by having it in an extra keepcase with an insert listing its contents, but instead it's just provided in a paper sleeve and loose in the box itself, without any indication that it's in there (which actually made for a nice surprised when it dropped out). The BD sleeves are all themed with a basic title, character shot and rather strange "Do you remember when…" motif that is repeated on each back cover and on the back of the box. The packaging isn't as inviting and festive as previous DVD releases, but as a fresh approach to the collection, it works in a uniformed way that is carried over to the disc art and main menu screens.

Ink And Paint:
The discs themselves are as pretty barren as they come, presenting their respective programs and little else other than main menus that offer the usual chapter indexes (ranging from just five to 30 across the titles). But when the films play, the quality is quite astonishing, offering truly spotless transfers of what presumably is 16mm film in their original 1.33:1 aspect ratios. The images are remarkable, with very fine grain retaining their film origins and only some super-fine speckles that are mostly likely inherent in the original negatives. It's possible that Classic Media have used multiple sources to make up the best elements (Rudolph's alterations can be picked out by the ever so slight additional sliver of side image on footage from the later re-runs). Simply put, for those used to seeing washed out videos, broadcasts or previous DVDs, these transfers make the old new again, with a sharpness, brightness of color and clarity that happily doesn't really spoil the magic of the animation.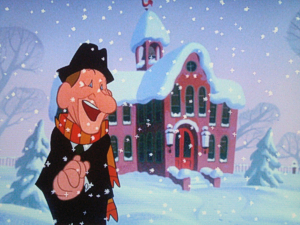 Scratch Tracks:
Another great surprise is the fidelity of the soundtracks, an unmarked option on the packaging being 5.1 Dolby True-HD mixes for each film. These were never going to blow us away, and most of each track remains front-focused, but there's a notable lack of background noise even if some of the recording and mixing of the time means there's no way of getting around the sometimes shrill voices that I remember these shows had. I'm not sure if it's intentional, but the 5.1 option on all three titles seems to place a lot of emphasis on the left channel, something not evident on the stereo mixes, but this isn't a major issue and there aren't any reasons not to think this is the best that can be achieved. If Classic Media hasn't packed the discs with supplements, you can at least be rest assured that each program has received the utmost care and attention to look and sound their best in HD.
Final Cut:
Much better handling and terrific HD transfers make The Original Christmas Classics set a worthy gift for fans of the Rankin/Bass holiday specials. If you have any of the previous versions on DVD, the temptation to upgrade might simply be down to how much you really love these films, and how many times you view them over the year, since going for the box might be costly for only an annual showing unless you can pick it up cheaper online, where an under $30 price point makes it much better value. The added Frosty program is interesting only in its curiosity value to witness and lament the difference in approaches of the same kind of material over 20 years apart, but for those that don't have any of these specials yet, it's really a decent collection that, with the very fine transfers and bundled in CD surprise, would make for a delightfully nostalgic Christmas present.
Animated Classic or Back To The Drawing Board?