Rankin-Bass (July 1, 1979), Warner Home Video (October 5, 2004), single disc, 97 mins plus supplements, 1.33:1 original full frame ratio, Dolby Digital Mono, Not Rated, Retail: $14.98
Storyboard:
Frosty follows Rudolph south to warn him of a plot by an ancient foe.
The Sweatbox Review:
The Rankin-Bass studio is principally known for its animated television specials, but in 1979 they combined two characters from the specials into one big theatrical film, their first since 1967's Mad Monster Party. Regrettably, Rudolph And Frosty's Christmas In July had an unexpectedly short run in theaters that summer. It may be that audiences did not warm up to the notion of a summer Christmas movie, or maybe they just were not excited about paying to see the cute television characters on the big screen. Whatever the reason, disappointing returns meant that there would be no more features forthcoming from the studio. Looking at the film today, however, one finds that it is perhaps one of the stronger R-B efforts.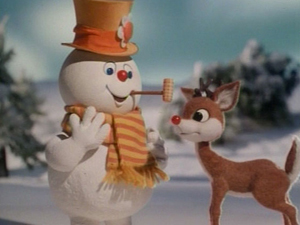 I have a soft spot for "Animagic", the term that Rankin-Bass used for their stop-motion animated films (the actual animation was done by a talented crew in Japan). The name is very apt, as there is an undeniable magic at work when watching those little puppets movie around the screen and imbuing the watcher with holiday cheer. Rudolph, of course, had been animated in this fashion in two TV specials previously, but Rudolph And Frosty's Christmas In July was the first non-cel animated outing for Frosty. His simple design translated very well to the process, and he even benefited from getting a real felt hat.
When the movie begins, Rudolph and Frosty are already friends. Billie Richards in once again Rudolph, and Jackie Vernon again provides Frosty's voice. Frosty is married to Crystal (Shelly Winters), who was introduced in 1976's Frosty's Winter Wonderland. By now they have two little snow-kids, Milly and Chilly, who call Frosty's friend "Uncle Rudolph". While our two heroes and Frosty's kids play in the snow, Rudolph's nose fails to light up, causing a significant amount of concern. This happens in about the first minute of the movie, serving as one of the quickest premise set-ups in film history— a few directors and editors could learn from this efficiency. Fortunately, Rudolph's burnout proves to be temporary, but we soon learn that there was indeed a sinister reason for it.
Just as Rudolph and Frosty get their old voices for this movie, Mickey Rooney returns to voice Santa, having previously played the role in 1970 for Rankin-Bass's Santa Claus Is Comin' To Town. Santa relates the story of Winterbolt (Paul Frees), the former master of the North Pole, who used his ice scepter to rule cruelly over all. He was finally defeated by Lady Boreal, who put him to sleep.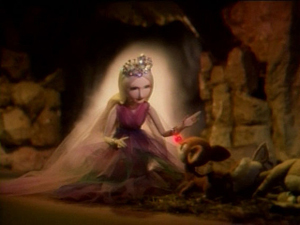 The history lesson continues as we revisit young Santa's arrival at the North Pole years later with Mrs. Claus. His arrival and kind leadership allows Lady Boreal to retire, and she forsakes her human form to return to the skies. Eventually, Winterbolt awakens, and it is his return that provides the conflict in our story. It is a splendid fantasy premise, and makes for a great start for this tale.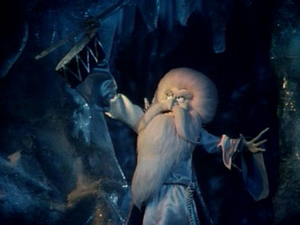 Winterbolt discovers that Santa's power comes from the love of the world's children, and so he schemes to steal that love by sabotaging the next Christmas. We then learn the true "origin" of Rudolph The Red-Nosed Reindeer, who unwittingly foiled Winterbolt's plan. (It proves to be a delightful addition to the mythos that began years ago with a poem written by a man to his daughter, and then distributed by his employer Montgomery Ward.) A few months later, Wintbolt is naturally the one behind Rudolph's nose problems, and he is frustrated by Rudolph's strong magic. A new plan emerges to trick Rudolph into betraying the magic within him, and thereby lose it. It will not be easy, however, and Winterbolt knows that he must get Rudolph away from the North Pole.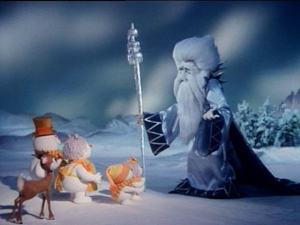 A plan occurs to him when Milton (Red Buttons), an ice cream man who travels by hot air balloon, visits Rudolph and Frosty. Milton tells the reindeer and the snowman that he is at risk for losing his ladylove, whose circus is about to be taken over by the unscrupulous Sam Spangles. Winterbolt takes advantage of Milton's plight to plant the notion in his "empty head" that Rudolph could travel to the United States and help to save the circus. When Frosty and his family express interest in going, Winterbolt even shows up to provide a means for the snow-people to survive in the summer weather. The only hitch is that their magic amulets will expire as the final fireworks fade away on July 4, which is the date of the circus's important performance.
Santa later enters the picture, as he promises to help the Frosty family fly back to the North Pole in time. The final element of the story comes when Winterbolt finds a nasty reindeer named Scratcher to assist him with his evil plan. With all this set up, the rest of the story is allowed to navigate through numerous plot twists as Rudolph and Frosty travel south to help the circus to be saved from Sam Spangles, Scratcher makes contact with Sam, and we meet Lanie Loraine and her mother (Ethel Merman), who owns the circus. By the end of the story, we see Frosty's "origin" retold in stop-motion animation, Rudolph and Frosty both meet unkind fates before ultimately defeating Winterbolt, and two more beloved Rankin-Bass characters pop up to help save the day in a rousing— if long— finale.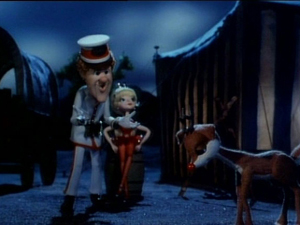 I was utterly enchanted by this movie. I had always wanted to see it, and was pleased to find out that it stands up very well next to the TV specials. The fantasy storytelling is rich and creative, the character designs by Paul Coker are as whimsical as ever, and the songs are of top quality. At 97 minutes, the movie does seem long for an American animated film, and I concede that Romeo Muller's screenplay goes on perhaps two or three too many tangents. The ending especially is drawn out, with multiple climaxes. But it is all so good that I did not really mind. This is classic family entertainment, and makes we wish that Rankin-Bass could have done another feature or two after this one.
Is This Thing Loaded?
There are not really any extras available concerning the movie itself or the Rankin-Bass studio. This is disappointing, as even Anchor Bay managed to throw a couple of trailers onto their DVD's of the R-B films they handled.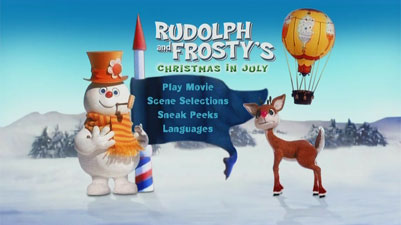 All we get here are Sneak Peeks for Nine Dog Christmas; Aloha Scooby-Doo!; What's, New Scooby-Doo? Volume 4: Merry, Scary Holiday; Kangaroo Jack: G'Day USA!; and Cartoon Network Christmas: Yuletide Follies.
Case Study:
While Warner has finally moved up to keepcases for their bigger releases, anything designated "kiddie fare" still gets the dreaded snappers, as is the case here. I guess they have to use up their stock somehow.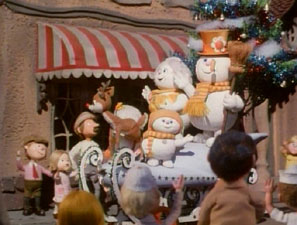 Ink And Paint:
The DVD packaging claims that the movie was done in the 4:3 ratio, and I have no reason to doubt it. Many smaller animated films have been produced in this ratio over the years, perhaps with the suspicion that they would find their biggest audience on TV anyway. The image on the disc is quite soft, but pleasant nonetheless. It may even be that a soft focus was used in order to help the animation effects and add to the fairy tale feel, but that is only conjecture. Nevertheless, the level of detail is still quite nice for the most part, as the textures of the puppets is readily apparent. My main problem with the transfer, though, is that shadow detail is lost in the darker scenes, of which there are surprisingly many. In particular, when Winterbolt finds Scratcher, it is difficult to discern the details in the environment. The print used also suffers from a number of scratches and some dirt, although for a barebones kids' release of an older movie I was not too surprised. Overall, the picture is mediocre.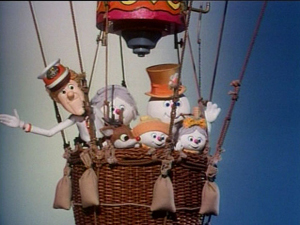 Scratch Tracks:
Mono sound is available in English only. For its age, the soundtrack is just fine. Dialog and music are distinct, and while a fuller sound field would be nice it is not strictly necessary for a charmingly quaint production like this. There are also only English subtitles.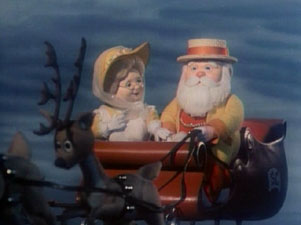 The music of Maury Laws is familiar to anyone who has seen the Rankin-Bass holiday specials, and he is as good as ever for this movie. I See Rainbows When I Look At You is a surprisingly sweet and touching love song sung by Santa to his wife, and out of all the other songs I cannot think of a stinker in the bunch. As good as the Laws songs are, though, my other favorite was the superb rendition of Rockin' Around The Christmas Tree, a song that was originally written by Johnny Marks, who also turned the original Rudolph poem into the song that has since become more famous.
Final Cut:
If one forgives a meandering finale that still manages to be engaging and exciting, there is little else to find fault with this production. Like any musical, one must expect that the story will be slowed in places with songs, but that is totally fine when Maury Laws is in such fine form. For me, this ranks right up there with some of the best animated family films, and it is recommended to all, especially fans of Rankin-Bass.
Animated Classic or Back To The Drawing Board?