Rankin-Bass (1974), Warner Home Video (October 4, 2011), 1 Blu-ray + 1 DVD, 24 mins plus supplements, 1.33:1 ratio, Dolby Digital 1.0, Rated G, Retail: $24.98
Storyboard:
Santa decides to boycott a whole town after a letter appears in the local newspaper criticizing the very belief in Santa Claus. When a young clock-maker tries to help, the same writer of the notorious letter stymies his plans… And now in HD!!!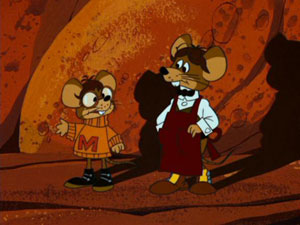 The Sweatbox Review:
(Parts of this review first appeared in our review of the DVD version.)
Rankin-Bass made its reputation largely on its holiday specials done for television in the 1960s and 1970s, with their stop-motion animated productions generally getting the most attention, in particular the all-time classic Rudolph The Red-Nosed Reindeer. They also did do a number of hand-drawn animated favorites, including (among many others) Frosty the Snowman and 'Twas The Night Before Christmas. 'Twas was produced in 1974, and was based on the well-known poem most often associated with Clement Moore, which was first published in 1823.
Of course, the poem is only a very bare outline for a half-hour teleplay, and so writer Jerome Coopersmith (likely with input from producers/directors Arthur Rankin, Jr. and Jules Bass) concocted a story about a town that was being boycotted by Santa Claus. The reason for the snub? Santa read a letter in the local paper, The Junctionville Register, which protested the "myth" of Santa. Worst of all, the crank signed his letter "from all of us." One can see why Santa was a little put off, though one does wonder what he really had to gain by essentially providing evidence to the little guttersnipe who wrote the letter, by not showing up at all on Christmas Eve.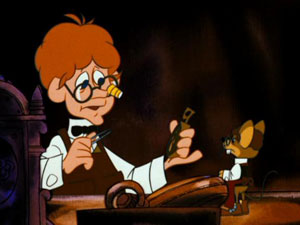 The story follows two families, one made up of mice, and one human family. The two families are tied together by the friendship of the two fathers, and the fact that they all live in the same house. In fact, Father Mouse is an assistant to Joshua Trundle, a clockmaker. It becomes known early on to the Mouse family that it was Mr. Mouse's son Albert who wrote the infamous letter. Albert sticks by his political views, though his father chastises him for thinking he knows more than he does. Meanwhile, Mr. Trundle makes a proposal to the town council that he be allowed to construct a giant clock that will play a song designed to convince Santa to come back on Christmas Eve.
Unfortunately, something horrible goes wrong with the clock, making Mr. Trundle the town pariah. Albert knows something about it, but will he make amends in time to save Christmas for Junctionville?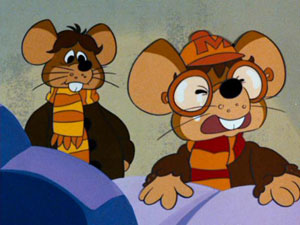 The story is as slight as can be, but it is undeniably charming. The plot is somewhat original, and the story's sentiments are worthwhile (even if I've long been wary of the idea that we need to convince kids of Santa Claus's existence). The designs by Paul Coker, Jr. are very pleasant, especially for the mice. (I tend to feel that his human designs worked best in the stop-motion productions.) I only felt that his Santa, though accurate to the poem's description of being elf-like himself, was given far too deep a voice.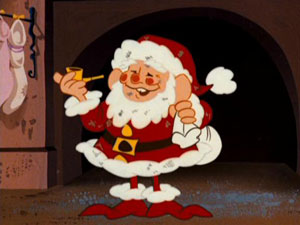 And, of course there is the Rankin-Bass signature music, written by Maury Laws, with lyrics by Jules Bass. All the songs are cheery and nicely arranged, with xylophones and bells being prominent. The lyrics may be a little syrupy, but I think them sincere. Rankin-Bass always put a lot of positive values into their productions, and I won't criticize them for it. In today's cynical and sarcastic age, I find these older specials oddly refreshing.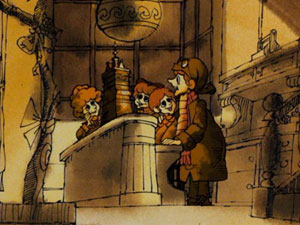 Is This Thing Loaded?
The Blu-ray begins with ads for How The Grinch Stole Christmas, the Peanuts Holiday Collection Blu-ray, and Happiness Is Peanuts… Snow Day. The menu system also offers another ad, this one for Santa's Magical Stories.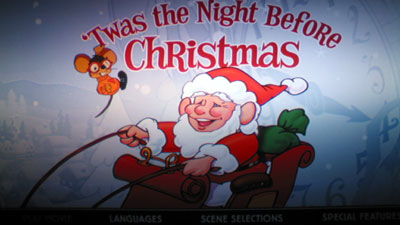 Otherwise this is a direct port of the DVD version, a rather anaemic selection of bonus content for a so-called "deluxe" edition.. One wouldn't mind the lack of bonus material if the disc's labelling did not create certain expectations, but in fact there are exactly NO special features that pertain to the disc's main feature.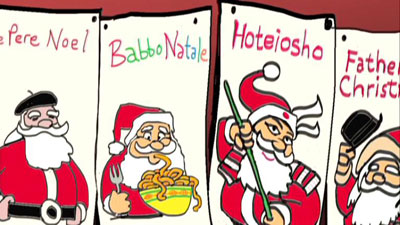 The headline featurette is Christmas: A Global Holiday (8:50). This cheaply produced selection of still images with lamely written narration given by an elf (and with intermittent animated snow in the foreground) examines how other countries celebrate Christmas. This is somewhat educational, especially for kids, and it would have been fine to include as an extra alongside more pertinent bonus material; but as the only real bonus on the disc, it's a big slap in the face to Rankin-Bass fans. How this ever qualified as a "Deluxe Edition," remains a mystery.
Case Study:
The bonus features don't impress, but there is an embossed foil cover slip that works hard to make this release seem special. The Blu-ray case inside has a disc on either side, and no insert. Though the cover doesn't advertise it, the second disc is an exact copy of last year's DVD release. There is no insert. I still have the same complaints as last year in regards to the unappealing cover art, and questionable use of the "Deluxe Edition" moniker.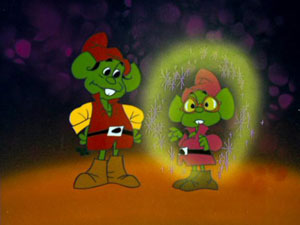 Ink And Paint:
The only really "deluxe" thing about the DVD (aside from the price) was the remastered video, and it does look slightly better now on Blu-ray. Aliasing was minimal before, and is pretty much non-existent on Blu. The colors are also a tad richer and brighter than the DVD allowed. As before, the image is uniformly lovely, with bright, non-bleeding colors amidst a minimum of dust or grain. The odd speckle only serves to remind the viewer of the handcrafted quality of the production, which was animated in Japan by Top Craft. Our DVD review has more commentary about the remastering effort.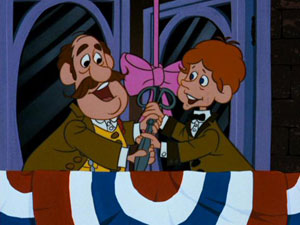 Scratch Tracks:
There is no upgrade here for the audio, which is simply a lossy English Dolby Digital 1.0 track, which plays clearly and pleasantly, with no hiss or distortion. It suited the material just fine on the DVD, and is quite adequate for the Blu-ray, really, though the lack of a lossless track makes one wonder why Warner bothered with a Blu-ray release at all. On the plus, side a Spanish track has actually been added, which is nice for some.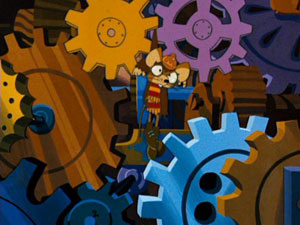 English and French subtitles are also available, as on the DVD, but again we see the addition of a Spanish track.
Final Cut:
It's far from my favorite Christmas special, but it's worth bringing out every couple of Christmases. The charm and positive feelings in this Rankin-Bass production is a testament for their enduring reputation for quality animated specials. The slight story is nevertheless engaging, and the music is guaranteed to give you a warm feeling inside.
The new Blu-ray version offers the same nice transfer as before, with ever-so-slight improvement in color and stability, but the same lossy audio track. Bonus features are no better this time around, but Spanish fans do benefit from the addition of Spanish audio and subtitles. For those, this could be a nice upgrade. Anyone else who already has the DVD will have no compelling reason to upgrade, but naturally this is the version of choice if you haven't seen the remastered video yet.
Animated Classic or Back To The Drawing Board?