Cartoon Network Studios (2015-2016), Warner Home Video (July 18, 2017), 2 Discs, 440 minutes, 16:9 ratio, Dolby Digital 2.0, Rated TV-PG, Retail: $24.98
Storyboard:
Marceline and Bubblegum get more of the spotlight in this season, which has many weird and wonderful adventures in the land of Oo. The highlight is the Stakes miniseries, which focuses on Marceline's past and examines whether she will stay a vampire.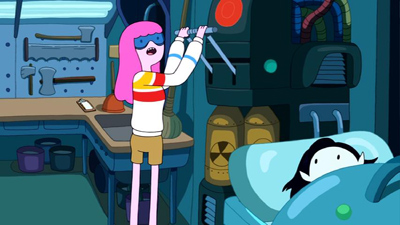 The Sweatbox Review:
The sixth season ended with Princess Bubblegum essentially vacating her royal post and turning to civilian life. In the opening of the seventh season, which had only limited involvement from creator Pendleton Ward, we find her in a homey shack, still being served by her loyal Peppermint Butler. The somewhat wacky and vain King of Oo, who has now christened himself a princess(!), shows daily why he is an unfit ruler. Jake and Finn now wear armor in their service of their new "princess," but there is no doubt that this situation cannot stand for long. This is all too evident in Bonnie & Neddy, which sees the King of Oo trying to shamelessly exploit a newly discovered candy dragon who lives beneath the kingdom.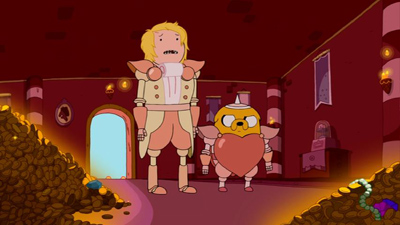 This season's focus on Bubblegum, as well as Marceline the Vampire Queen, is further seen second story, Varmints. Here, Marcy discovers that Bubblegum has forsaken her crown, and the two battle varmints who are threatening Bubblegum's garden. The next episode catches up with Cherry Cream Soda, her new husband, and her dead husband Root Bear Guy; then the King of Oo sends Finn and Jake on another ridiculous quest; and BMO switches worlds with his reflection in the mirror, Football, who quickly becomes a menace.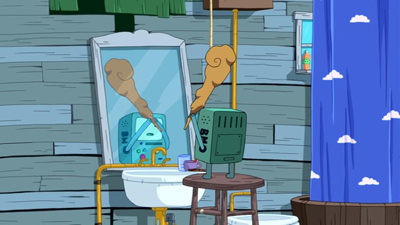 Then the show did something it had not done before: it entered into miniseries territory, with an 8-episode arc known as Stakes. Over the course of these episodes, Marceline has Bubblegum cure her of being a vampire, only to have to fight off resurrected vampires that she had slain years earlier. This set of stories, which feature a unique title sequence, continue with the same quirky storytelling the show is known for, as they delve more into Marceline's history, her relationship with Simon (Ice King), and her conflicted feelings about herself. That it covers such areas as depression, mental illness, identity crisis, existentialism, and vampirism – and has some pretty epic battles besides – is a testament to just what the show can achieve.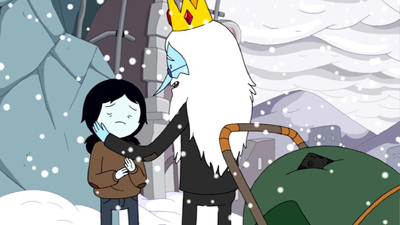 Entering into the second half of the season, the series did not quite revert to form, making the next story double the usual length, and presented without a break on the DVD. The More You Moe, The Moe You Know brings back Moe, the aged creator of the mechanical Mos. He apparently has become mechanical himself, and sends BMO on a mission to the factory, but not is all as it seems!
The show then settles back to its more familiar formula of 12-minute stories, focusing on various members of the cast. Finn's daughter Viola gets a spotlight episode, as does Ice King (with the return of his old flame, Betty). Finn and Jake have a few adventures, and revisit Farmworld. New characters such as Blank-Eyed Girl and Huntess Wizard are introduced, and we get to know one of the Banana guards better. It's a solid season of whimsy, mixed with lots of actiop and a touch of poignancy.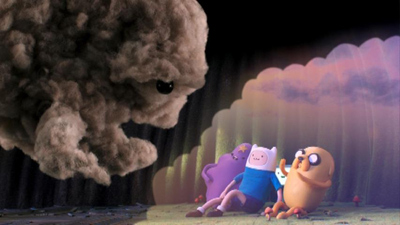 Special mention must be made of Bad Jubies, a stop-motion episode guest-directed (and written and storyboarded) by Kirsten Lepore. The visual style of this episode was already enough to set it apart, but it was so well received that it won both an Annie Award and an Emmy. It is the class of a season that is very strong throughout.
Is This Thing Loaded?
There is a handsome assortment of extras on these discs.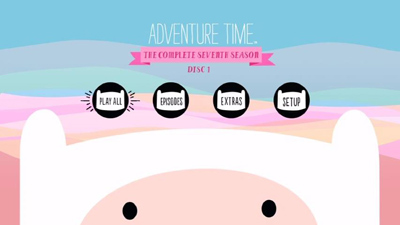 The first disc has an Animatic for the Football episode, five Song Demos, three Art Galleries (Stakes, Background Art, and Model Design), a time-lapse featurette showing the creation of a title card in Behind The Title Card: The Dark Cloud (2:21), and nine Minisodes (21:51 total). The minisodes offer smaller adventures, with the usual assortment of weird plots and inspired musings. And lots of frogs.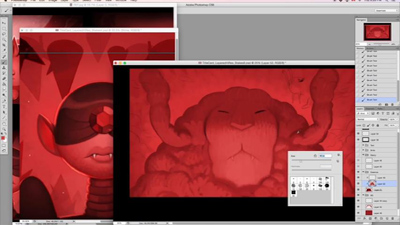 Disc Two has two featurettes on the making of the special stop motion episode. Good Jubies: The Making Of Bad Jubies (12:37) runs about the same length as the episode, with lots of cool shots of the animators, sculptors and set builders at work, plus an interview with the episode's creator. Bad Jubies: Time Lapse (2:45) further shows what went into the building of the sets.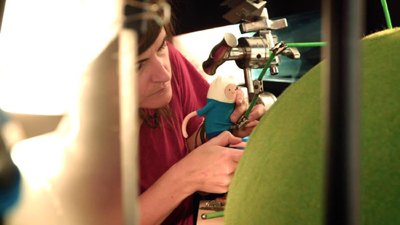 Then, there are two more Animatics (for King's Ransom and Hall Of Egress), one more Song Demo, and four more Behind The Title Card segments, running between 90 seconds and 3 minutes or so.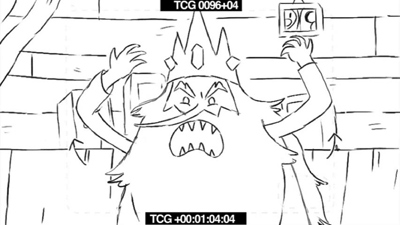 Case Study:
Unfortunately, Warner Home video has apparently decided that the show no longer warrants a Blu-ray release, and has only made this season available on DVD. The 26 quarter-hour episodes come on two discs, packaged in a white DVD case, with a die-cut cover slip depicting Bubblegum. There is an insert with an episode listing, with tiny type.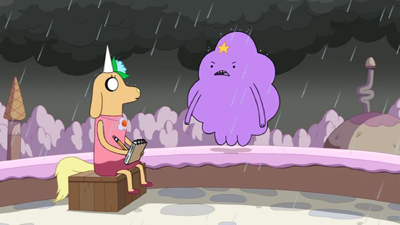 Ink And Paint:
As these episodes are only in standard definition, a small drop-off in quality is noted. Honestly, the image is still pretty good overall, but the colors do seem more muted, and the picture naturally just a hair less sharp on DVD than it looked on Blu-ray. As it is still a direct digital-to-digital transfer, the image is entirely clean and free of physical artefacts. Outlines are often jagged on freeze frames, but look fine in-motion.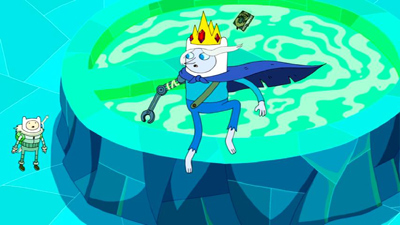 Scratch Tracks:
Blu-rays of previous seasons of Adventure Time only ever used Dolby Digital 2.0 tracks anyhow, so it is no different on this DVD set. There is actually a rich, broad sound field at work here, even if it is limited to the front, and I really appreciated the sound design on this season. Of course, giving the discs the 5.1 sound heard on broadcast, preferably in a lossless format, would be even better, but one cannot complain too much. For an animated TV show, this sounds really quite good.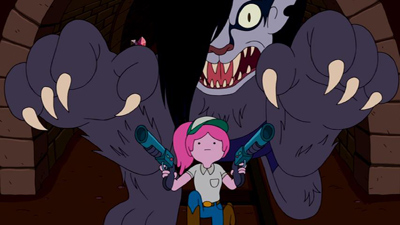 There are no other language options, and only English subtitles for the hearing impaired.
Final Cut:
I found this season quite satisfying. It has a nice balance of coherent world-building, strange but controlled plotting, and even some poignant characterization, not to mention a number of nice songs. There's even a really cool stop-motion animated episode! It is a shame that such a strong season was denied a Blu-ray release, which knocks down at least the video score, but these DVDs are given plenty of interesting extras, which helps cement a purchase. Despite the unfortunate lack of a high-def release, fans really should not skip this season.
Animated Classic or Back To The Drawing Board?