Cartoon Network Studios (2012-2014), Warner Home Video (July 14, 2014), 2 Discs, 561 minutes, 16:9 ratio, Dolby Stereo 2.0, Rated TV-PG, Retail: $32.18
Storyboard:
Just what fans wanted— more Marceline and Ice King, further developments with Flame Princess, a bit more history of the Land Of Ooo, and general inspired nuttiness.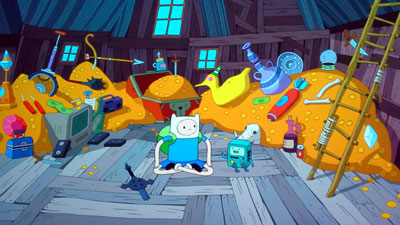 The Sweatbox Review:
The term "season" certainly does not mean what it used to mean. Back in the old days, shows began their seasons in September, ended in the spring, and ran reruns over the summer. For cartoon shows, seasons were shorter, so the reruns came up a lot quicker. These days, "season" seems to have lost its meaning, though I do understand that this now can refer to a production cycle. In the case of the fifth season of Adventure Time, episodes were spread out between November 2012 and March 2014, comprising 52 quarter-hour episodes, making it twice as long as previous seasons. Fortunately for fans, the quality did not dip at all. The bizarre show with strange appeal not only kept its ratings higher than ever, it also won Emmy awards for Outstanding Individual Achievement In Animation in both 2013 and 2014. So, it won the same award twice for what was really the same season. For a show so unconventional, I guess that seems about right.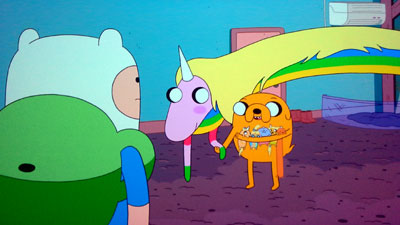 This was also the season in which creator Pendleton Ward quit as the series' showrunner. In an interview with Rolling Stone, the native of San Antonio described how the series was eating up all his time and wearing him out, with the situation becoming more dire as the show increased in popularity and spawned countless merchandised products that also required some level of his input. For a proclaimed introvert, it all became too much. Ward wanted to reclaim his life, and just be creative, without the pressures of running a show and an empire. He stayed with the series, however, still contributing as writer and storyboard artist. Ward's pal from CalArts, Adam Muto, took his place as showrunner. Given their long-standing friendship, and Ward's ongoing involvement in the show, fans could rest easy, knowing Adventure Time was still in good hands.
When Season Four ended, our heroes were chasing The Lich, when they entered a dimensional portal and were transported to an alternate reality. The season finale was notable for switching art styles at the very end, with Jake and Finn living on a farm, and Jake apparently existing as a normal dog. This situation is rectified in the two-part opener for Season Five, Finn The Human and Jake The Dog, effectively resetting everything to be back as it was.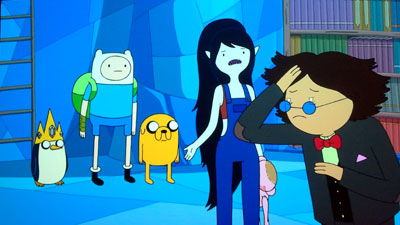 There are far too many episodes in this two-disc set to go over each one, even briefly. Many stories stand out, however, for various reasons. I liked the concept of miniature versions of Finn's friends in All The Little People, and the very title of Jake The Dad reveals the importance of that episode, where we see what the offspring of Jake and his magical rainbow unicorn wife look like. Practically every episode boasts a high concept, like Davey, where Finn develops a split personality after creating a new identity for himself; and Little Dude, where Finn's hat itself becomes evil!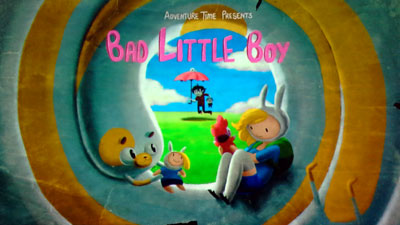 We hear more from the gender-bent Fiona and Cake in Bad Little Boy, wherein Marceline's male counterpart Marshall Lee plays a role. Flame Princess stories are always welcome, and in Vault Of Bones we see her come to terms with her apparent evilness; later, she is tricked by Finn, in the status quo-changing Frost & Fire, then goes up against her father in Earth & Water, and battles him again in The Red Throne, none of which goes particularly well for Finn. There's also the epic Simon & Marcy, which reveals more of the poignant history between Ice King and Marceline, examining their time together after the Mushroom War. Ice King becomes Simon again and fights for his former fiancée in the touching Betty. Romance continues as Tree Trunks and Mr. Pig attempt to get married in Apple Wedding. The season concludes with the two-parter Lemonhope, and the finale Billy's Bucket List, where Finn's tribute to his hero leads him to a revelation about his family.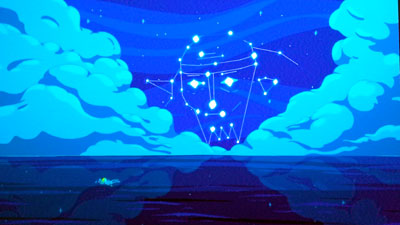 And that doesn't even touch on evil goblin kings, The Ice King's penguin henchman Gunter as a princess, a sentient female island, Jake's old gang, BMO's backstory, another Marceline and Princess Bubblegum adventure, the return of The Green Lady from Season Three, Slime Princess' quest for a husband, Banana Man, and Ice King moving in with Finn and Jake. And so much more craziness.
The fifth season was notable for bringing on guest collaborators to produce animation, which was normally done in South Korea. David O'Reilly directed A Glitch Is A Glitch in his inimitable 3D style, telling a tale of The Ice King's destructive computer virus. Additionally, famed animator James Baxter (he did Belle in Beauty And The Beast, among many other characters for Disney and DreamWorks), agreed to animate the horse in James Baxter The Horse, an idea borne out of a CalArts lecture he had given years earlier.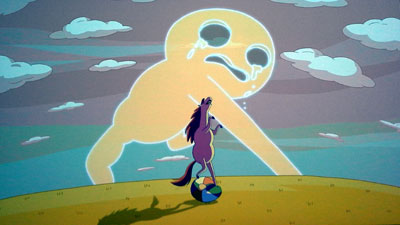 Some fans have called this the best season yet. I'm not sure about that. The series has always been loopy and creative, with deeper elements sneaking in periodically. But this sure isn't a step down. Adventure Time remains one of the most interesting and strangest shows on television, able to captivate all ages in a genius blend of humour, melancholy, and triumph.
Is This Thing Loaded?
The three previous seasons on disc had audio commentaries on every episode (Season One had only four), but this time around there are none at all. The set's one substantial feature is Adventure Time Forever (15:33), featuring numerous people from the Adventure Time team reflecting on the history of the show. Many recollect how astonished they were with the initial pilot when they saw it, and many are still incredulous (but ecstatic) that it was ever greenlit by Cartoon Network. Though mention is made that the show mystifies some people, everyone claims to have known the show could be a huge hit if it clicked with the audience. Many are still pinching themselves over its success, and all seem thrilled to be a part of it. This is basically a "talking heads" piece, but it is nicely put together with numerous graphics running behind the speakers to help maintain interest.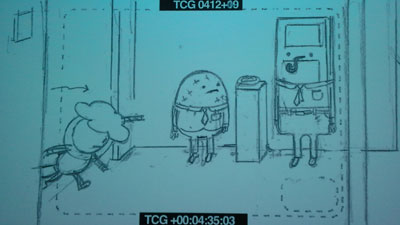 In place of commentaries, there are animatics (filmed storyboards, with soundtrack) for each episode. These are not complete episodes, only scenes from them, running about a minute or less.
The first disc runs a couple of DVD ads, including those for Uncle Grandpa: Good Morning, and Clarence: Mystery Pinata.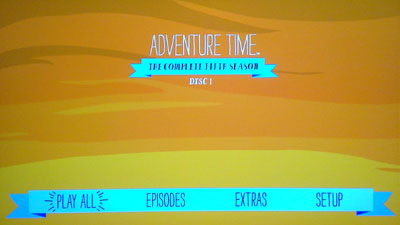 Case Study:
Warner Home Video continues with the motif of big heads with die-cut cover slips, featuring Jake this time. (The actual case cover shows Jake eating a sandwich.) The case has a disc on each side, with an insert with an UltraViolet code, and another insert that helpfully has a list of episodes.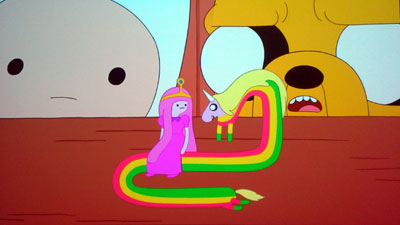 Ink And Paint:
There would be no excuse for this digitally painted show not to look fantastic on Blu-ray, and fortunately, it doesn't need any. Character designs may be odd and simple on this show. But the colors are beautiful to look at on a big screen. Oh, there is minor banding on rare occasions, but this is certainly better than many of you get on broadcast.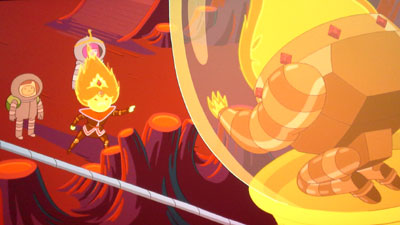 Scratch Tracks:
Warner sticks with plain 'ol Dolby Stereo with this release, just as they offered on previous seasons. However, while it could be argued that the audio lacks the "oomph" that a lossless track could offer, there is nothing particularly wrong with what we get either. If anything, I'd prefer to get a full 5.1 track instead (sorry to be repeating myself, but broadcast gets 5.1, and Blu-ray purchasers expect the same). Subtitles are available in English for the hearing impaired.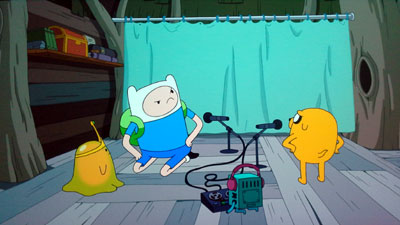 Final Cut:
The Cartoon Network smash keeps chugging along with another gleefully surreal season of quirky characters, strange romance, weird ideas, a bit of history, and— of course— adventures. Specs are the same as before, for better or worse, but this time we get twice as many episodes, over nine hours of mathematical storytelling. The bonus material comes up short this time, but the extended run time makes up for it. At this point, the creators seem a long ways off from running out of steam, assuring that my kids and I will be following Finn and Jake for a while.
Animated Classic or Back To The Drawing Board?