Rankin/Bass (April 6 1977), Warner Home Video (February 19 2008), single disc, 50 mins plus supplements, 1.33:1 original full frame ratio, Dolby Digital Mono, Not Rated (nothing offensive), Retail: $14.98
Storyboard:
In imaginary Kidsville, Sunny the Bunny's job is to make the annual drop off of Easter treats to a dreary old village, Town, where live a population of old cronies and meanies. But this year is going to be different: this year, Sunny and his pals are going to brighten up Town for good!
The Sweatbox Review:
For Christmas 2006, Warner Bros. replaced their long in circulation edition of How The Grinch Stole Christmas with a new "Deluxe Edition", seemingly a replacement, unofficial series that's seen various titles reissued, including the Peanuts specials, with a small but welcome amount of supplements and sometimes new transfers to boot. Latest in this line-up is the 1977 Rankin/Bass sequel of sorts to their perennial classic Santa Claus Is Comin' To Town.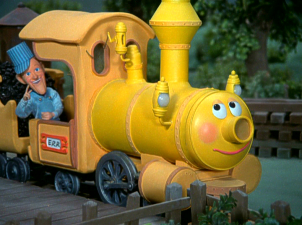 Once again narrated by legendary song and dance man Fred Astaire, the stop-motion specials created by the Rankin/Bass studio remain staples of holiday viewing around the world. They weren't the smoothest or most luxuriously budgeted of productions, but they're filled with a joyous spirit and lots of fun, and more than a few musical numbers! For kids in the 1960s and 70s, this was classic television animated fare, and for those who remembered the Santa Claus special, it was a little bit of extra magic. Both films share similar crossovers, including Astaire's mailman narrator SD Kluger, a newsreel opening and various comparable character personalities, not to mention the fact this is basically an Easter Bunny version of the earlier special!
As such, there's really little to say about The Easter Bunny Is Comin' To Town. Easter itself has seemingly grown as a holiday since I was a child – it certainly didn't seem to be the "Christmas II" that it appears to be treated as nowadays, and any gifts other than the traditional eggs weren't forthcoming. The kids of today have it real good, it seems! Edging out of the many annual Christmas specials the Rankin/Bass team were deservedly known for must have been an attractive proposition for them to break away from the constant ho-ho-ho-ing that was their stock-in trade, though Easter just isn't that big a deal, at least for me. So, at times, the special struggles to come up with anything fresh or new – there's nothing disappointing about it at all, and it's as fun as anyone could have had with coming up with any kind of "story of Easter", but the holiday itself just doesn't have that Christmas cachet, or any real magic of its own.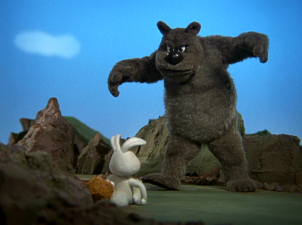 Rankin/Bass' special is as well made as one would expect from the company, though there is a gnawing feeling at the back of one's mind that there's an awful lot of stretching going on. The story itself, which has nothing to do with the real reasons we may celebrate at this time of year, of course, is as convoluted as they come: set in the child-populated Kidsville, a rescued bunny comes to prominence, leading the kids forward in franchise thinking by announcing plans to sell their specially decorated eggs (are there rightful claims of child labor to be found here!?) over the mountains. Unfortunately, Sunny loses the eggs to a threatening bear, Gadzooks, but finds his way to Town, a miserable place run by Lilly Longtooth, who has banished kids from the city, even though the rightful ruler is her young nephew, Bruce The Frail. Naturally, a turn of events brings the requisite light and laughter into Town, and by the special's wrap-up, several Easter traditions have been introduced.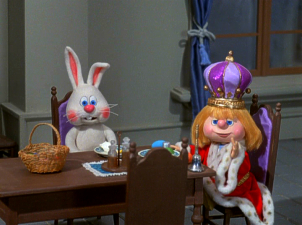 After enjoying many of these specials myself over the years, it's clear where such inspiration can be found for the likes of Tim Burton's The Nightmare Before Christmas, both in that film's multiple doorways to other holiday worlds, and the reason that Burton insisted his film be created in the stop-motion medium. But The Easter Bunny Is Comin' To Town sadly doesn't measure up to Burton's classic, nor even the majority of Rankin/Bass' other favorites. It borrows too heavily from their past successes: apart from the basic plotting, Bunny follows Santa Claus too closely in terms of characters: Gadzooks, especially feels like a retread of the Winter Warlock, while Longtooth is a female version of Burgermeister Meisterburger, and Town may just as well be Sombertown from the earlier special.
Even the always reliable Astaire fails to keep things feeling anything less than a slight of hand trick, as if the special is so busy trying to keep us entertained that we'd see the tricks if it paused for anything longer than a second. But while Santa Claus memorably boasted the likes of Mickey Rooney, and Disney favorites Keenan Wynn and Paul Frees alongside Astaire, here he's all we have in the way of recognisable names. As such his character seems to be more integrated than he was in Santa Claus Is Comin' To Town, from what I remember, but it's not a character really worth spending the extra time with. In fact, the Easter Bunny himself isn't the most appealing of designs, though Skip Hinnant does create an earnestly enough personality through his vocals.
At its heart, The Easter Bunny Is Comin' To Town is a pleasant TV special that's probably going to appeal more to younger kids catching it on television, or for baby boomers that see the DVD cover and remember the special more fondly than they might do nowadays. While the earlier Santa Claus variation is deservedly wheeled out every year, there's a reason why this one doesn't get as much attention. For its part, I do think that's because Easter itself just isn't a blockbuster commercial holiday (yet, but it's getting there, sadly), but some of the blame must rest on the recycled plot, personalities and borrowed elements from Rankin/Bass own work – not least another Easter Bunny story, Here Comes Peter Cottontail. Coming from a different time and place, this special may have been charming enough in its day, but it comes far removed from the 60s Mad Monster Party heyday of the producing team. You could almost call it quaint, but essential it ain't.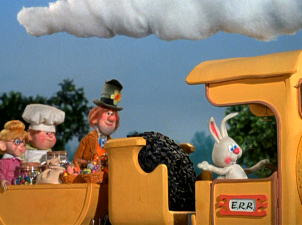 Is This Thing Loaded?
Upgrading the title from a bare bones release – barely – is The Magic Of Stop Motion – A Gallery Of Shorts, three "family-friendly" selections that run just over six minutes as a Play All option. Hosted by Charlie Kyoto as an introduction to stop-motion animation, the three shorts are just that…short! There isn't much discussion on how stop-motion is actually achieved, but then this is a quick little DVD bonus simply aimed at giving younger audiences a bit of extra fun. Breakfast Of Magicians has some mini-wheat biscuits trying to break out of their breakfast bowl, while Floating Through Daydream Garden is more of a pixellation clip. Finally, The Easter Express only barely brings the main feature's theme back into play, as a miniature railroad comes to life to deliver jellybeans. Shot on video, at an extremely low frame rate that's too slow at least by half, there's something of an amateur charm to these three short shorts, but otherwise there's not much of interest here to buffs, and certainly not as much nourishment as their placing on the back of the cover suggests.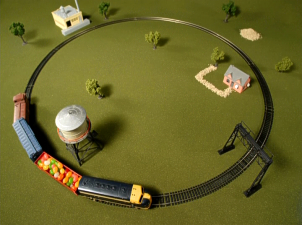 This being a WB disc, previews for other similar titles are bundled in, selectable from their own menu option. Dr Seuss' Horton Hears A Who: Deluxe Edition, The Smurfs: Season One, Tom & Jerry Tales 4, Peanuts' Valentines and Easter Deluxe Editions, and A Pup Named Scooby-Doo: Season One are all advertised, adding up to six minutes of material in their Play All run-through.
Case Study:
As befitting any Deluxe Edition, The Easter Bunny Is Comin' To Town comes with a bright new cover design, replicated with an embossed slipcase. As with The Grinch's special makeover, which had a front coated in "frosted snow", the Easter Bunny cover comes with a fluffy bunny feel – a nice touch to stand out from the crowd and make the title feel special.
Ink And Paint:
Offered in its correct 1.33:1 television ratio, the special actually looks much better than it might for TV of this age and budget. Shot on to film, the cover promises a remaster, and while I can't compare it to the earlier release, there's certainly little to complain about the progressive video. Although Rankin/Bass always filled their work with color, their palette remained distinctly pastel shaded, and there thankfully hasn't been any attempt to push and oversaturate the colors here. A little light grain aside (understandable given the film stock), this looks good as new.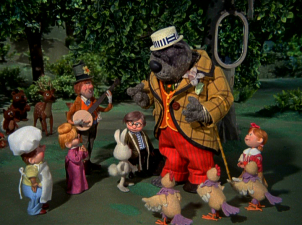 Scratch Tracks:
Armed with a basic mono mix, this isn't a disc that's going to blow your bass woofer away, but it was never intended to. Everything sounds good, from Astaire's crystal clear vocals to the somewhat peppy, if unremarkable, songs. English subtitles are included for the hearing impaired.
Final Cut:
There seems to have been a resurgence in appreciation for some of these more classic Rankin/Bass specials recently, with some of the more popular ones making their way to disc in the forum of multi-disc sets. The Easter Bunny Is Comin' To Town isn't an essential addition to this line-up, but it's a bit of harmless holiday cheer that may appeal to those who make something out of the Easter celebrations and who have run Peter Cottontail one too many times. At just over $10 online, it's good value for a classic TV special, and those who have been collecting the Rankin/Bass library will want to add it to their shelves. Friendly, old-school and more than a little old-fashioned, this will ultimately appeal more to older audiences looking for a bit of warm childhood nostalgia.
Animated Classic or Back To The Drawing Board?