Walt Disney Productions (January 29 1959), Walt Disney Home Entertainment (October 7 2008), 2 disc set, 75 mins plus supplements, 2.55:1 anamorphic widescreen, Dolby Digital 5.1 Surround, Rated G, Retail: $29.99 (DVD), $35.99 (Blu-ray Disc)
Storyboard:
Tchaikovsky's ballet score is the inspiration for this Disney take on Charles Perrault's classic fairytale, about a beautiful princess destined to be put under a wicked spell by an evil witch. Though hidden and protected by three good fairies, the curse is fulfilled, leaving the kingdom on the verge of devastation. With help from the fairies, a dashing prince, who has fallen in love with the young girl, sets out to confront the witch Maleficent and save his sleeping beauty…

The Sweatbox Review:
With the battle for high-definition disc in the home won by the inevitable champion Blu-ray Disc, it's this holiday season, when investing in one sure-fire format makes more sense and player prices have begun to drop not only thanks to wider spread acceptance of the format but also pushed down by the economic climate, that the real test comes. Are people interested? There's been a lot said to be riding on the success of Blu-ray this year, and it's make or break time for the format. Surely it's a winner and, yes, now all of the major Studios are on board to provide content, but so far hi-def screens have been missing that vital ingredient: a killer application that will appeal to all members of the family. We've had a terrific selection of classic and cotemporary movies already served up to us, but it's with Disney's latest release that the format is truly set to kick into high gear and entice the last few hold-outs into dropping at least a couple of hundred bucks to go Blu.

While some may question the choice of Sleeping Beauty as the first of the Studio's purely classic animated features – not so successful on its original release (more due to the fact that it cost so much to make rather than not pulling in the crowds; there just weren't enough of them) – to premiere in hi-def, it's actually a very logical choice. Truth be told, it's never really been seen as one of Disney's crown jewels, following that less than stellar theatrical debut (though, to be fair, 1959 wasn't a terribly record-making year at the box-office for anyone, including Ben Hur), and a string of only so-so reissues. As such, it's often found itself being looked at as a title that carries a little "prestige" (the story recognition, the good-looking design of the artwork, the broad widescreen canvas) and classic status – the quintessential Disney fairytale if you will – while not being the robust perennial money maker that would lose future theatrical earnings if it was chosen to lead an assault on the home video market.

Which it was, being the first "Disney Classic" to make its way to collectible VHS after years of the Studio's dabbling in the rental market, though a take-home price of around $80 meant that no-one took it home! Sleeping Beauty remained the best looking bachelorette on the Disney princess block: continually praised, but always second fiddle to your Snow Whites, Cinderellas and the new breed of Ariel, Belle and the rest. Again and again Sleeping Beauty has been trotted out as the test case for forays into new formats…it was one of the first Disney films to debut on the LaserDisc format, and again on low-priced collectible VHS, which is where a shift began to emerge. Given the chance to see it again, attitudes toward the film began to change: animation had again become mainstream, and Sleeping Beauty offered a mixture of what looked like new, modern animation, but with a genuine Golden Age feel.

Could it be that, simply, the film was ahead of its time? There's certainly an argument for that, and a final 1990s theatrical reissue was one of the more successful returns to theaters for the film, before a lavish LaserDisc collection really emphasized how important and overlooked Sleeping Beauty had really been. Very encouraging sales saw the film finally raised to the status of Platinum level – the films the Disney Studio sees as being their true crown jewels – and following a rather confusing DVD Special Edition release only a couple of years ago, which puzzled because it was not clear enough if that release was intended to be the Platinum version or not, Sleeping Beauty has once again found itself the half-failure, half-masterpiece guinea pig for classic Disney's entry into a new format. And, true to traditional form, Pinocchio is soon to be on its heels, which means fans of Dumbo and Alice In Wonderland shouldn't have long to wait either!

In many respects, the film's own beauty is both Sleeping Beauty's blessing and its curse. For all the intricate artwork, its the very angular vertical and horizontal aspects in celebrated artist Eyvind Earle's layouts that create a rather sterile and cold approach, arguably the meticulous detail distances the audience somewhat from engaging in proceedings. It's interesting that the film did come bang in the middle of the rather staid Hollywood epics, as it does resemble that kind of filmmaking. As much as it remains timeless, it's also very much a product of its time, but it's also very contemporary – extremely fine line work, clean ups and effects, from the elaborate magic dust to something as simple as the handling of a prop such as a door opening, which might even pass for CGI to less knowledgeable eyes.

It's truly a case of art over story: Perrault's original, as with many of these stories, is fairly flimsy anyway, allowing the Disney storymen to embellish the plots with their own elements, in turn practically making these the default versions. In Sleeping Beauty's case, a pretty fair chunk is left alone, and although there are allusions to the famous one hundred years of slumber in having the vision of a much-aged prince continuing his quest, the sleeping spell that the fairies bestow upon the kingdom is vastly cut back, almost being included as it had to feature somewhere! Of course, Walt's artists include enough romance, action and spectacle along the way, and in many ways Sleeping Beauty plays as the definitive Disney princess movie. Maleficent, brought to life by Marc Davis, is a spectacular villain, pure evil and even inciting "all the powers of hell" in a classic line that really shows she means business.

As Maleficent, Eleanor Audley reprises and plusses her cool and calm demeanor from Cinderella's wicked stepmother Lady Tremain, and manages to make her soliloquies work by playing against a just as black raven, who becomes not a comedy sidekick, but very much an extension of her wickedness. The other voices represent a further mixture of old and new: returning to the Studio are the vocalists behind the three fairies, Flora (Verna Felton, Alice In Wonderland's Queen Of Hearts and, in a bit of typecasting, Cinderella's Fairy Godmother), Fauna (Barbara Jo Allen, later of The Sword In The Stone) and Merryweather (Barbara Luddy, Lady herself in Lady And The Tramp and Kanga in the original Winnie The Pooh stories), while the legendary Bill Thompson pops up as one of the kings. Mary Costa, as Aurora/Briar Rose, perhaps still can't shake the deep southern accent that Walt insisted on, but comes off as a suitable "country girl" and obviously has the kind of voice that really sings. As the Prince, Bill Shirley makes more impact than previous versions of this character, both through enthusing a little more life into his role and by way of the script actually giving him something to do: although he's ably assisted by the fairies, it's down to him to bring Maleficent's plans to an end.

And what an ending that is! A triumphant mix of staging and color timing, I'm wondering if the climax to Sleeping Beauty isn't the most purely black and white, good versus evil, exciting and affective of all the Disney conclusions…playing with that wonderful Tchaikovsky music (later jokily referenced in The Sword In The Stone) just knocks it all home. Walt went all out to make sure the music was heard as intended: when Hollywood recording techniques were not up to scratch, he sent his team to a state of the art multi-track recording studio in Germany to capture the music. He was very aware of repeating himself, and Walt intended Sleeping Beauty be different in every way to his previous films, including the use of the widescreen Technirama format. Although Walt was a popular face on television, he knew his films needed to have an extra-added appeal, and as with many Hollywood producers, found the answer in the wide screen, spending millions of dollars on this aspect of the film itself.

Sleeping Beauty closed Walt's original trilogy of "Disney Princess" movies, and whatever else might be levelled at the films one can't complain that each resembled each other. Snow White still retains a slight naivety, while Cinderella finds the artists much more confident, but Sleeping Beauty represents the absolute apex of what the Disney artists could do given the time and money and what Disney animation could be. The sheer costs and apparent failure of the film meant Disney animation would never the same again, the opulence on grand display here replaced by the cost saving Xerox process that informed the look of the following films as much as their stories.
One Hundred And One Dalmatians, Winnie The Pooh and The Jungle Book arguably benefited from that new, rougher edginess, but from Sleeping Beauty onwards the ability to make the Studio's films was reliant on technological advances: first through Ub Iwerks' Xerography and then the computer coloring systems of today. Without these steps it might very well be possible that traditional hand drawn animation may now have been a thing of the past if not for the cost cutting. Certainly Walt believed he may have had to shut the unit down but for the success of Dalmatians. Undoubtedly ahead of its time, now the world seems to have caught up with a true Disney masterpiece – so called for once, with all the correct connotations.

Is This Thing Loaded?
Sleeping Beauty was somewhat controversially released just a few short years ago in a deluxe two-disc set even though it had already been designated for Platinum Edition status, leaving many to ponder if that release wasn't a Platinum in all but name. So, the question is…new restoration and hi-def aside, what's the big deal here? Well, those who own the previous deluxe LaserDisc and Special Edition DVDs might get a slight sense of déjà vu, but to its credit there's a lot of newly produced features on offer too. The menus are surprisingly boring affairs: static, though animated, screens that simply play some score in the background…nothing groundbreaking, though the feature is given a fairly generous 30 chapter indexes. The usual Disney promo and previews play via FastPlay, including a spot for Blu-ray Discs, Pinocchio's Platinum Edition, a teaser for next year's The Princess And The Frog and upcoming DVDs Tinker Bell, Space Buddies (seemingly Disney's new unstoppable Earnest… series, when will these end? How about "Go To Heck Buddies"!?) and a Movie Rewards push. Additional Sneak Peeks from an additional menu feature Chronicles Of Narnia: Prince Caspian, The Little Mermaid II, Disney Channel's Wizards Of Waverly Place, an invite to Disney Parks, and Pixar's WALL-E.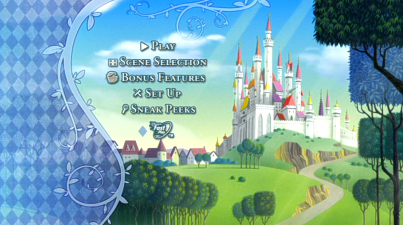 Of Sleeping Beauty's supplements, the first stop must be an Audio Commentary with Andreas Deja, Leonard Maltin and John Lasseter – not only as one of the best things in the set, but also as it places many of the extras in context, something that is sometimes painfully missing throughout the set. Lasseter is obviously a very competent director, even if at Pixar his sometimes cornball approach is easily beaten by the maturity of Andrew Stanton or Brad Bird's work, but I often have a hard time warming to the guy himself. As head of Disney and Pixar Animation he can often come off as being too slick, too friendly; the all too smooth salesman, and he doesn't break away from that here. Indeed, after a rather awkward video introduction, sometimes I wondered why he was present, since although the intent seems for him to be the casual viewer's entry level guide, he's outpaced and outclassed by Deja and Maltin, both of whom sound much more knowledgeable and enthusiastic, even going as far as to contradict and put Lasseter right on some of his statements.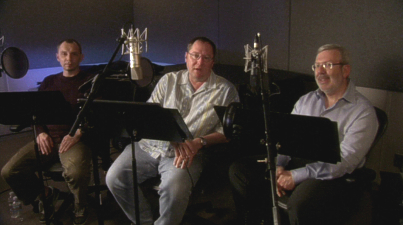 It's clear how much Deja and Maltin care about and appreciate the film, and their remarks are solid stuff, packing in a tremendous amount of personal reflection and information on its making. Through archival recordings, we also hear from the cream of the filmmakers themselves, including Walt, Eyvind Earle, Ken Anderson, Ollie Johnston, Marc Davis and Frank Thomas. Lasseter warms up throughout, too, and with the actual participants in the film now mostly long gone, this conversation is perhaps as best as we could hope for. With all of its supplements, the LaserDisc did not contain a commentary, but the previous SE DVD did – however, knowing Sleeping Beauty was due a re-issue sooner rather than later I missed out on that edition, and one would have thought it would have been carried over here. That it hasn't been is a shame since it was reportedly a great track, packed with archival material, but we should perhaps not feel left out: it would be hard to think of anything not covered by the discussion included this time around. A nice touch is that many of the supplements, including this track, have been subtitled in English, French and Spanish.
Disney Princess Film Facts is a basic trivia track, available again in English, French and Spanish. A mixture of the banal ("A Disney Princess is always kind to animals") and the informative (revealing the original names for the three fairies), some information understandably overlaps with other supplements, but a handy option is being able to switch this subtitle track on while listening to the commentary, so there's no harm in running both at the same time. Additionally, the Blu-ray adds a similar but better device, allowing for concept art and other visuals to accompany Lasseter, Deja and Maltin's comments, though they're both the same audio tracks.
As mentioned above, one of the major things that mars this set is a total lack of context, so first timers will not know that the Grand Canyon featurette played with Sleeping Beauty in its premier engagements, hence its regular inclusion with the film in previous LaserDisc and DVD editions. Very much in keeping with the visual accompaniment to symphonic audio started with Fantasia and continued with the use of Tchaikovsky's score in Sleeping Beauty, Grand Canyon is described as "a pictorial interpretation of Ferde Grofé's Grand Canyon Suite", playing out the music to stunningly shot scenics of the Grand Canyon itself, synchronised through on-camera movement and editing to the music.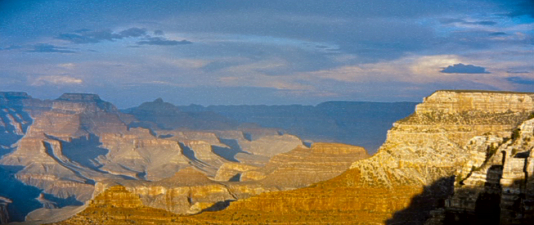 Director James Algar's 29 minute film may be a tough slog for some, but the CinemaScope photography, presented here in a beautifully restored 2.35:1 version that's 16:9 enhanced for the first time and in hi-def on the Blu-ray Disc, captures the Canyon as some kind of other-worldly location – indeed the stately manner and sharp cutting predates the moods set by Robert Wise in his openings to West Side Story and The Sound Of Music and Stanley Kubrick's Stargate and Europa scenes in 2001: A Space Odyssey. Strangely haunting and very cleverly matching up its visual perspective with the different moods and movements of the music, there's a hint of the True Life Adventures as the various indigenous wildlife is given a story of its own, reflecting the weather of the seasons, birth, life, death and renewal. These fascinating elements mean Grand Canyon's half hour is over in a flash, and no wonder that it went on the Academy Award for Best Live-Action Short of 1959 (a fact not even touched on here).
Broadcast on the day of Sleeping Beauty's release, and presented with the film in some international markets, The Peter Tchaikovsky Story, an episode of Walt's weekly TV show, is a dramatic recreation of the composer's life. This was a large segment of a program that presented a peek at the Sleeping Beauty film, the link being of course that the music to the film was adapted from Tchaikovsky's original music for his Sleeping Beauty ballet), which was later re-packaged as a theatrical short. Previous LaserDisc and DVD editions have only offered this European featurette version, but here we get quite a treat: the full 49 minute episode that includes Walt's introduction and the preview of Sleeping Beauty's two major scenes: Once Upon A Dream and Phillip's climatic battle with Maleficient. Forget the first eight minutes of a film on the internet of today – Disney was brave enough to give his major moments an airing, and in widescreen to boot, no less: this episode marked another Studio first, the presentation of letterboxed footage on television!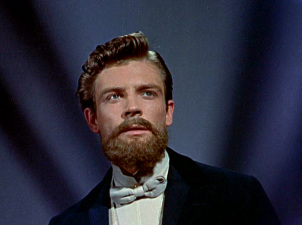 Presented in its original full-frame 1.33:1, the half-hour biography segment is fairly limited in budget and scope, but is very tightly paced, showing that the Studio was just as adept at quality live-action filmmaking as well as animation. Even in a potted history form, powered by narrated highlights from Tchaikovsky's life, Disney's commitment to quality is evident and it looks as good as any of the 1950s live-action films. In fact, with some room to breathe, and missing the narration needed to rush the story from sequence to sequence, The Peter Tchaikovsky Story would have made a very engrossing live-action feature in its own right. Available in hi-def on the Blu-ray Disc, the remastering for that format is even apparent here, revealing Grant Williams' questionable beard and the limitations of some of the stock footage.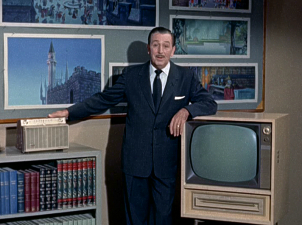 The program's second half of lengthy Sleeping Beauty scenes are perhaps more redundant here (especially in black and white), but the early widescreen framing is interesting to see and we even get two versions of the episode's opening: the programme was also the first to be broadcast in stereo, by way of assistance from select radio stations. In Version 1, Walt explains the rather complicated instructions to how viewers could set up their systems appropriately, but because this process couldn't be arranged across the country, Version 2 replaces the set up with a look back at other Disney firsts. Up until Walt starts speaking about the Technirama 70 format, nothing is repeated: each introduction is unique, just highlighting again Walt's commitment to providing the best for his audiences.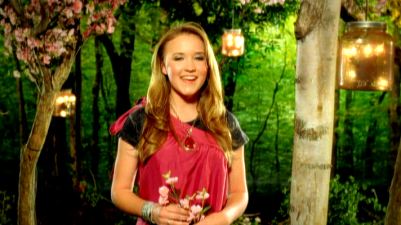 In Music & More, we're offered the obligatory new Once Upon A Dream music video, here performed by Disney Channel moppet Emily Osment. It's a typically over produced version that goes MOR with the classic song, integrating some new material to pad things out to three and a half minutes, and while it takes liberties with the melody – and the film's much ballyhooed widescreen ratio – it's actually pretty harmless and almost interchangeable with Happy Ever After from Enchanted's end credits. A Disney Song Selection plays the songs with lyrics on screen, in English, French and Spanish, and does nothing more than that!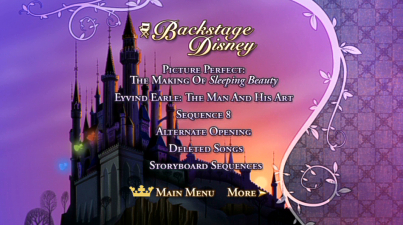 On to Disc Two and getting the kids stuff out of the way we head to the Cottage for Games & Activities. Briar Rose's Enchanted Dance Game offers a dance with the woodland animals or a lesson on how to dance the waltz, as Briar Rose or Prince Phillip. Neither are really "games" and neither makes for a very clear explanation – forget the waltz just skip this instead. The Sleeping Beauty Fun With Language game (in English, French and Spanish) follows on from another such activity on a recent Disney DVD that is not only aimed at very small children, but apparently those with learning difficulties, going by the slooooow motion voiceover, which is so frustrating that I didn't even make it past the introduction. Ho-hum…it's obviously not for me anyway.
Much more like it is heading to the Castle for a wealth of Backstage Disney material; first and most impressive is the 43 minute documentary Picture Perfect: The Making Of Sleeping Beauty. Forgoing any one host and the kind of breaking up into segments that recent Platinum documentaries have done, this is an exemplary piece that harks back to the solid days of LaserDisc's often lengthy such supplements. Presented in 16:9, a number of chapter markings allow access to talk on a particular topic but the single, non-interrupted approach means this flows better than any Platinum Edition supplement in years. Absolutely everyone connected to, or importantly influenced by, the film is soundbitten, either by way of new interviews or archive material (Mary Costa, for instance, appears as she did on the 1990s LaserDisc interviews).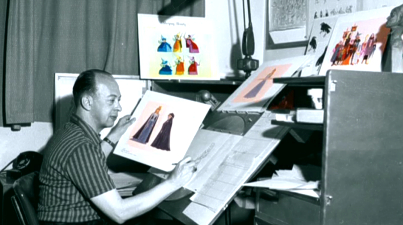 As extensive as the participants (including Costa, Deja, John Canemaker, Charles Solomon, Pocahontas' Michael Giaimo, Will Finn, Walt Peregoy, Russell Schroeder, Roy Disney, Brian Sibley, Pete Docter, Floyd Norman, John Culhane, Eyvind Earle, Michael Sporn, Tony Baxter, Ollie Johnston, Frank Thomas, Burny Mattinson, Marc Davis, Alice Davis, Woolie Reitherman, Bob Thomas, Ralph Eggleston – even Don Bluth gets decent screentime, among others), the topics covered are exhaustive. This is a vastly entertaining look at the production with each speaker providing several important nuggets of information. Two other visual elements stand out too: a very nice inserting of colored background imagery into the otherwise black and white photographs adds a unique dimension, and a glimpse at what must be snippets from the newly restored Snow White and Pinocchio are a mouth-watering hint at high definition to come!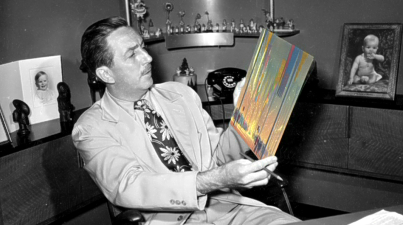 Eyvind Earle: The Man And His Art runs as a deeper exploration of the film's art director as touched on in the main documentary and speaks to many of the same participants. At seven and a half minutes, this is a very frank and intimate portrait of the artist, being unafraid to mention Earle's troubled childhood, and provides a very decent profile of perhaps the most often referenced name in Sleeping Beauty's crew listing. Sequence 8 focuses on the film's most lengthy in production scene, when Briar Rose meets the Prince for the first time. As the first sequence of the film to enter production, a lot of Sleeping Beauty's aspects were still being ironed out – including character design changes – meaning it was also one of the last sequences to be completed in final color! This five and a half minute featurette explore the making of this infamous and challenging moment, that went on to be one of the film's signature scenes.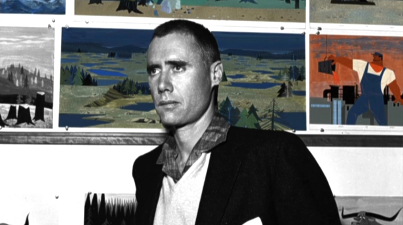 An Alternate Opening, featuring the deleted song Holiday, comes next, though there's no context to the scene – a glaring oversight. Originally from an earlier, regular Disney musical version of the film, the three and a half minute song was cut, among others, when the Tchaikovsky score was selected as the basis for the music. Three further Deleted Songs, again only with limited context, are presented: It Happens I Have A Picture would have seen Kings Stefan and Hubert conversing about their children. Two versions are on hand, a newly recorded (as with Holiday) demo, and a spoken version, both using audition dialog provided at the time by regular Disney voices Hans Conried (who didn't go on to get the job) and Bill Thompson. It's somewhat odd to hear such modern styled Broadway influenced songs being intended for a classic Disney picture, especially Sleeping Beauty, which is so indelibly linked to its classical score that it is often remarked upon as being Walt's stealth-like way to continue the association between classical music and animation that had started with Fantasia. But it's clear the film was intended to elevate the art form higher than before, even at this early stage: there's a maturity to these songs that wouldn't feel out of place on the musical stage today.
Riddle Riddle would have given Flora, Fauna and Merryweather a song moment in the scene in which they make Briar Rose's dress and cake in anticipation of her reintroduction as the Princess Aurora. Interesting is that Tchaikovsky's music plays a major part here too, and although the lack of context means we can't date it, it must have come somewhat midway into production, as the three fairies' voices are provided by their eventual vocalists: Felton, Allen and Luddy. Go To Sleep, as you can probably guess, places a song at the point where the fairies put the kingdom to sleep. Using footage from the completed film, it's therefore super-clear how this might have played out, and the use of an authentic vintage recording almost makes this an alternate version of the scene as opposed to a true deleted moment. There's no Play All option, but run together these songs add up to a total of around 12 minutes.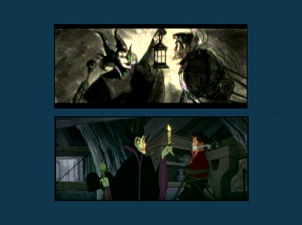 The kingdom's slumber crops up again in a slim selection of a couple of Storyboard Sequences, both of which are self-explanatory, The Fairies Put The Castle To Sleep and The Capture Of The Prince. Andreas Deja guides us through the principles of storyboarding before playing both scenes out, though disappointingly the first doesn't run its full length, unexpectedly fading out after a few seconds. The same Deja into plays at the top of both clips, making it redundant the second time out, and misleading: he says to look at how closely the final film matches the boards but he's obviously only referring to the first section, as the Prince being captured is played very differently, its twist being revealed early on. Discounting Deja's second intro, these screen to screen comparisons play for just over three minutes.
Live Action Reference presents several fragments, this time with a Play All option that runs them all for a couple of minutes. Again there's no context, nothing to tell us that we're seeing Helene Stanley as Briar Rose Dances in a staged clip from the Disney TV show, and nothing to explain that we're seeing still photostats as Prince Phillip Fights The Dragon and to look out for the animators' embellishments. A final clip of the The Queen And A Good Fairy rounds things up, but the lack of context for many of the supplements is a very unfortunate oversight throughout and for which the set loses marks.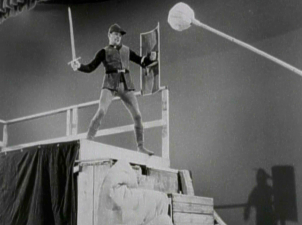 The Sleeping Beauty Art Galleries presents one of the most extensive selections on a Disney DVD in quite some time, covering a number of topics: Visual Development (159 images), Character Design (157), Storyboard Art (80), Live Action Reference (70), The Sleeping Beauty Storybook (25), Layouts And Backgrounds (55), Production Photos (51) and Publicity, a range of 34 promotional shots and posters. While generously extensive, and featuring a few images that were new to me over previous editions, some other stills have certainly been dropped, and the other LaserDisc galleries have not made it over either. Another gripe must be the ridiculous need to make everything 4:3 safe, meaning that even in the 16:9 format here the wider images are not shown as large as they might be – to their detriment – just to make the old full screen viewers happy – bah!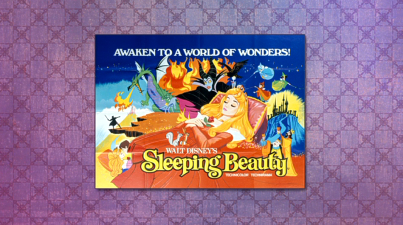 The Original Disneyland Sleeping Beauty Castle Walkthrough Attraction offers up three very fun options: though it's placed last I would suggest jumping for History Of The Attraction first, for some much needed context in this set. Over its almost ten minutes, we're told the story of how the elaborate walkthrough was constructed, its effect on the park's visitors and why, in the 1970s, it was swapped for something less magical before being closed in 2001. The attraction has now, for this release, been re-created and re-instated to its original specifications, story differences to the film (which opened some four years after the walkthrough was designed) intact. In Auto Mode, those who can't make it to Disney land can still experience it by way of this stunning CGI recreation. It's all here, including the audio bleed where one walks through the various sections and can hear the previous one repeating on its loop – a very nicely done extra that's one of the set's true highlights, and the "handheld" camera is very effective, providing a true sense of space and a good look around the various environments.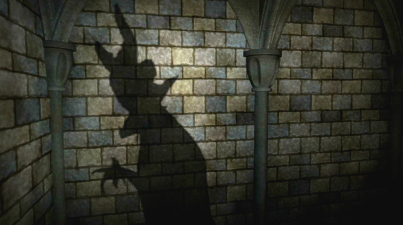 A further exploration of the attraction, with Guided Tour By Walt Disney Imagineer Tony Baxter features a voiceover that gives us a little more information and allows for a longer look at the scenes, as well as a peek at how some of them were created. Only slightly disappointingly, the CGI recreation is again used, instead of what I was hoping for and seeing Baxter walking the actual halls of the real castle to get an even better representation of what it feels like to be actually there in person. But this is still very cool – particularly the behind the scenes clips that reveal the secrets of the translucent effects: simply astounding…but did they just give away how The Haunted Mansion works!? One thing to be aware of is the change in volume between the various elements – Baxter booms in voiceover whereas the environments and behind the scenes clips are much quieter. Watching all the options and making all the stops, there's easily between a half hour and an hour's worth of material to explore here…Beauty-ful.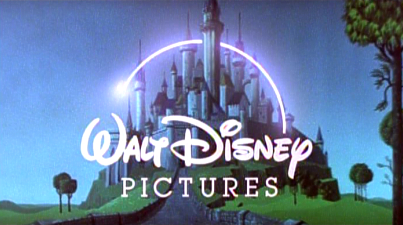 Publicity retains the three most important previews the film has enjoyed over the years: an Original Teaser (in original full-frame), a 1959 Theatrical Trailer (in widescreen), and the film's contemporary 1995 Re-Issue (in 1.85:1 letterbox), which really presents Sleeping Beauty as a modern film and is one of the best re-release trailers I have ever seen. What's fun is seeing how previewing a film has changed: the teaser is very pompous in its sweeping statements, while the re-issue is all about the action and comedy, drawing on the impish and playful nature of the film, and using a variant on Danny Elfman's BeetleJuice theme, this is one of those clips that one could watch again and again. It's delightfully composed and edited with a great sense of respect for the original, but playing to a whole new audience, and combined with Sleeping Beauty's advanced animation, it really dresses the movie up as a major animation event, almost pushing it as a new film – fantastic!
Finally, and as close to a vintage "making of" as was produced on the film, 4 Artists Paint 1 Tree – again presented without any context – looks fantastic for a short of its age and 16mm production. Again included in previous LD and DVD special editions, this 16 minute Technicolor short from the 1958 TV episode An Adventure In Art, narrated by Walt himself and using score from the still-to-be-completed Sleeping Beauty, finds artists Marc Davis, Eyvind Earle, Josh Meador and Walt Peregoy on a trip in the woods to see the individual creative approaches they take in painting the same tree; a fascinating look at the varying styles each artist feels comfortable with, and the different ways four people can see the same object. Presented in 4:3 open matte (so composed for both theatrical and television screenings) it's again clear that the hi-def transfer for the Blu-ray Disc is responsible for the cleaned up version being seen here too. Directly tied to the making of Sleeping Beauty, this film was made during its production and features a few clips and comparisons to the background style as seen in the final film, also revealing the amazing and somewhat unbelievable way that the effects artists achieved Flora, Fauna and Merryweather's sparkling fairy dust – simple in this CG day and age, but an amazing achievement back in the 1950s!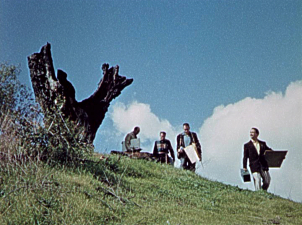 While at first glance there seems to be a lot on offer in this Sleeping Beauty Platinum Edition in the way of supplements, there's a lot of repeating from previous deluxe releases, and to be honest some of the options here lead to somewhat only so-so clips that don't last very long or really explore their subjects. There's so much talk, for instance, about the visual niceties of the film that Tchaikovsky's score is almost overlooked. That's not to say it isn't mentioned at all – it is, for a brief moment in the documentary – but a dedicated featurette on this unique aspect wouldn't have gone amiss, especially touching on the film's one and only original song, Once Upon A Dream.
WHAT'S MISSING? The Platinums have been, let's face it, a bit of a hit and miss affair when it comes to providing the definitive edition of a Disney classic on digital disc, and while the list of extras is mightily impressive and perhaps the most exhaustive since Snow White's DVD debut, there are still a number of previous supplements found in the two most notable home video releases of Sleeping Beauty – the late 1990s Deluxe LaserDisc Edition and the previous Special Edition DVD – that haven't made this otherwise comprehensive set, not least the previous Audio Commentary, produced by long-time Disney supplement creator Jeff Kurtti and featuring many more first hand accounts from archival interviews of those involved in the production. The new track offered here covers a lot of ground, but there's surely some information that's been lost and what harm would there have been in replicating the track – important for its vintage recordings – here too?
The original Sleeping Beauty LD box set came right at the end of the Disney SE boon for laser animation fans. Although several more releases would feature limited extras, Sleeping Beauty went all out, including an entire bonus disc dedicated to the supplemental material, a slim amount of it ported over here, but much of it unfortunately falling between the cracks. Once Upon A Dream: The Making Of Sleeping Beauty featured then-new and archival footage with cast and crew, among which was one of the last interviews with animator Marc Davis. Running a good 15 minutes, the documentary provided a great deal of information, as well as some insights from the next generation of Disney artists on how the film has influenced them (Eric Goldberg, for instance, cites it as an important element in the production design for Pocahontas), otherwise untouched here. A featurette on Concept Art ran like a mini-extension to the documentary, with designer Earle explaining his approach to the look of Sleeping Beauty, and more comments from Goldberg and Pocahontas co-director Mike Gabriel, the LD "step" function utilized to view an extensive collection of sketch and finished concept art which really do show their inspiration in both Pocahontas and Beauty And The Beast.
Character Design and Miscellaneous Storyboards sections show a little more artwork than is offered in the Platinum, with Layouts And Backgrounds offering more concept and layout art, showing various scenes in their initial design stages. An additional short clip, with designer Earle himself, described how a background would be created, from new interview and archival footage, with a series of Miscellaneous Backgrounds allowing us to step through a selection of completed images, some with their final character composites included – none of that appears repeated here. And if we're being picky, while we're at it, for all the interest this set has in offering different versions of The Peter Tchaikovsky Story, it would have been neat to have included the theatrical version as before…surely just another element of the branching already in use to present Walt's separate introductions?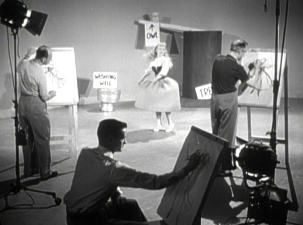 Additional video clips created for the LD, and again running as extensions from the Once Upon A Dream documentary, featured much better context for the Live Action References shown in this new set, explaining that Helene Stanley, dancing as Aurora, came from the beginning of production, originally airing on the Disneyland TV show as far back as 1954. I've mentioned that this Platinum Edition could well have done with something on the unique score, and The Music Of Sleeping Beauty is not only exactly what it sounds like but just what this set needs – a featurette on the use of Tchaikovsky's ballet as the film's musical soundtrack, with Mary Costa describing her feelings in working on the film and performing along to Tchaikovsky's music.
Less needed here, but actually making a good argument for the film's ratio, was a Widescreen To Pan-And-Scan Comparison, presenting the entire Once Upon A Dream sequence in a spilt screen between the widescreen image and the cropped fullscreen ratio showing the dramatic loss of picture in the original video transfer. The actual scene was perhaps not the best to illustrate this, as only rarely do the characters escape either left or right of frame, but the clip is an important little addition that shows just how much would have been lost had Sleeping Beauty's transfer to disc been compromised. Perhaps even more redundant is a then-look at The Restoration Of Sleeping Beauty – superseded of course by this new effort, but equally pointing up an aspect of this Platinum release that isn't explored.
During production, in January 1956, Helene Stanley appeared on the Mickey Mouse Club, on "Guest Star Day", and much missed on the Platinum set is this full sequence, with Helene interacting with the Mouseketeers in a re-enactment of the Once Upon A Dream sequence. She's all dressed up in Aurora's Briar Rose outfit, and picks one of the kids to be her Prince Charming – this would have been awesome to see as a child back in 1956, a full three years before the film was due to hit theaters. Apart from the novelty value in a clip like this, of most interest to fans will be the original piano demo version of the song that plays during the cast's "ballet" interpretation of the music…but it's not been included here!
Pretty much all of this content did make it to the previous Special Edition DVD, which added to the experience with a 3D representation of the stills galleries (with a few extra images) as well as a couple of new set-top games, an alternative Once Upon A Dream music video by No Secrets and an earlier 1951 story treatment. There isn't a lot that isn't covered in some way, shape of form in this new edition, but there's still a great deal enough missing here that will make those with the deluxe LD or DVD hold on to their sets.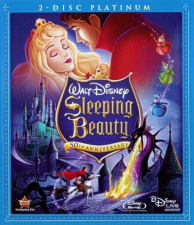 MAKE IT BLU! Additionally, the new Blu-ray Disc release packs in a few more bells and whistles exclusive to the capabilities of the format. While it would be churlish to suggest their inclusion here, it's another reason many people may want to hike for the BD option, which as mentioned features HD transfers of Grand Canyon, The Peter Tchaikovsky Story and 4 Artists Paint 1 Tree, though quite why the documentary or Walkthrough Attraction at the very least couldn't have also been included this way is perplexing. The Cine-Explore option adds full motion picture-in-picture material to the same Lasseter, Deja and Maltin commentary track as on the DVD, and while there still isn't anything on the score itself, there is something on the Restoration Of The Sound Track. Exclusive to the 7.1 mix on the BD, this would have perhaps equally made an additional argument for those regular DVD owners to upgrade; all too often the onus is on the superior picture so what better way than to promote the niceties of the improved sound too?
The rest of the stuff sounds more like filler: Maleficent's Challenge pits the participant "head to head with one of Disney's most infamous villains" as Maleficent "reads your mind", and the Dragon Encounter offers an exploration of Maleficent's dungeon, in a "fully-immersive 7.1 audio sensory adventure like you've never experienced before", where a run in with the dragon awaits… Finally, Disney's BD-Live Network include Chat, Mail, a trivia Challenge and Rewards features, though quite why you'd want to clutter the screen while the movie plays is beyond me, and as far as I have read, mostly no one has any interest in these kind of bolt-ons anyway. More cleverly, Disney has also included the standard definition first disc from this set – yes, the very same DVD as included here – in the Blu-ray package, allowing, as they say, viewers to enjoy the movie now but remain future-proofed for when they are able to upgrade to high definition. Very, very smart marketing on the part of the Mouse House…with all this kind of backing, they surely must be in line for a cut from Sony!?
Case Study:
The hilarious consistency – or rather lack of! – in the Platinum Edition packaging continues with this standard definition DVD, which announces a 50th Anniversary several months before the fact! This time embossed and glossy, but not opening up like the "books" of Beauty And The Beast, Bambi and some others, it's the back of the slipcase that may confuse some, promising a "Never Before Seen Expanded Version Of The Film". What!? Talk about trade descriptions! This suggests extra scenes, or an alternate edition, not just the addition of extra image information left and right of the wide screen ratio. Adding insult to injury, the "then" and "now" images vastly play hard and fast with the facts: a fullscreen frame shown for previous releases (perhaps, on VHS!?) and a slightly squished widescreen image shown to indicate how much more the audience gets this time…fake, misleading and frankly irresponsible.
Replicated on the sleeve underneath the slipcase, the cover art is otherwise quite pleasing, going the route of a hundred Sleeping Beauty releases before, while inside a DVD Guide, as usual for the Platinums, provides a disc map of all the content, the chapter indexes and the bonus features. A Disney Movie Rewards Sleeping Beauty Royal Sweepstakes booklet provides the chance to enter for a trip to Disneyland, while a smaller brochure offers up the plusses of the Blu-ray edition, a rebate for those upgrading from SD to HD, and some other savings and promotions. Pinocchio is promised for Spring 2009, while Snow White And The Seven Dwarfs is set to return next Fall. The Blu-ray Disc [pictured above right] follows suit almost exactly, switching out the slipcover for a predictably Blu-tinged "Elite" outer sleeve that essentially repeats the same artwork save for swapping the Disney DVD logo for the Studio's own fairly ugly ones for Blu-ray and BD-Live, or BD-isney Live, as it actually looks here.
Ink And Paint:

Despite all the Blu-ray talk in this review, it's the regular standard definition DVD we're looking at here, and the results of the hi-def tinkering really do filter down for the presentation here. Detail is incredible for an animated film on disc, with super-sharp lines that frankly make some other offerings look soft by comparison. It's as good as a digitally created film – the result of an extensive restoration unlike anything undertaken by Disney before. On Blu-ray, the results are sure to pop off the screen…here they're simply stunning as well, providing the opportunity to freeze-frame and examine Eyvind Earle's background work scene by scene. If anything, the new enhancement places the sometimes derided flatter characters into those backgrounds much more convincingly than ever before, while it is now clear their block coloring, revealing truer shades than before, is perfectly complimentary.
The choice of aspect ratio again comes under debate for a Disney Platinum Edition, with a new frame size proclaimed as the "original theatrical ratio", this time 2.55:1. What this really translates to is that, for the first time, we're seeing the true negative ratio, which even theaters would have had a hard time matching in 1959. Previously released in a "theatrical aspect ratio" of 2.35:1 on LaserDisc and the recent Special Edition DVD, the objective here has clearly been to present a more impressive (read: important and worthy) experience, not only to show off the hi-def format more readily, but also to offer something new for those SE owners to have to upgrade for. You might even call it pin sharp!

While it is great to finally see the entire canvas of artwork created for the film onscreen, purists might grumble and say that the film might have been photographed at this ratio, but was intended to be clipped slightly in theaters (and as in the previous home video releases). As someone who's been solidly behind such arguments in the past, I say phooey to that: the screen shape is, to all intents and purposes, not comprised in the least, and while everything may feel a little smaller in the frame, the compositions are actually even more artful, which was surely the intention of the design. Different to the Sleeping Beauty you've seen before, now the entire Technirama 70 frame, and Earle's stunning design, can be appreciated. This DVD presents an effective new benchmark for classic animation on disc – it's just jaw-dropping and even in standard definition you can pick out the dust on the (live-action) pedestal the storybook rests on in the opening shot – but there's equally never been a better reason to look at Blu-ray.
Scratch Tracks:
Matching the new picture restoration is a new Disney Enhanced Home Theater Mix which is every bit as eye opening – or ear opening – as the image. The reworking, from the original separation masters, truly opens up the sound like never before, making things not only sound better than ever, but hard pressing even die-hards to distinguish the mix from that for a brand new film. There's nothing to say other than it sounds "fuller", without the compressed dynamics that have plagued previous LaserDisc, DVD and CD soundtrack releases. Here, all of Walt's hard work and expense in having the score recorded at the UFA Studios' multi-track facility in Germany has finally paid off, modern technology at long last catching up to reproduce the music, dialog and sound effects as they were intended.

From the opening Buena Vista logo (which the new Disney castle thankfully hasn't replaced), you'll notice the striking difference and clarity, with even individual instrumentation able to be picked out. Available in English, French and Spanish – all in 5.1 – the Original Restored Soundtrack (as heard in those previous releases) is also an option, but for once you'll never listen to it. On Blu-ray, it'll sound even more enveloping, thanks to a lossless 7.1 mix that may even closer replicate Walt's original six-track intentions, though be aware that the BD, for whatever reason, drops the foreign dubs. Bass woofers get a punch, too, especially in the finale, in a restoration that sounds every bit as good as the image looks – easily a new benchmark in such work. On the DVD, English, French and Spanish dubs and/or subs are available for the film and many of the supplements.
Final Cut:
It's been a few years of slim-pickings when it comes to Disney's Platinum Editions, but one can honestly say that they've truly pulled magic out of Mickey's sorcerer's hat with this release. From the genuine and unarguable quality of the restoration and transfer – gosh it's refreshing to finally be able to say that about a Platinum! – to the wealth of extras, a mix of old and new which essentially fill in enough gaps, this is what the Platinum series used to be all about. It's not quite an ultimate edition, however, with some otherwise logical and important supplements gone missing in action, and those with previous LD or DVD editions will want to keep them for the plentiful extras not ported over here.
You might want to note my Supplements score heavily wavered between a 6 and a 7, and it only nudged to a 7 because of the repeated extras here at least they come presented from newly remastered elements, while the sheer fact that so much is repeated had me considering an Overall DVD score of 7 instead of the 8 I've finally gone for. It is a good set, for those who haven't seen this stuff before, but first timers may also be lost: the lack of all-inclusive context that used to be a highlight of these packages is also damaging overall. But the Platinums at least look to be back on track, and here's hoping that the line will continue in its renewed Blu-ray led recovery with Pinocchio. In the meantime, Disney fans, and those of Sleeping Beauty in particular, can rest assured that the film can finally take its place alongside the true classics, and while the Blu-ray really is the way to go, those choosing this stunning DVD set (going for less than $15 on Amazon!) surely won't feel disappointed either.
Animated Classic or Back To The Drawing Board?