Réunion des Musées Nationaux/The Walt Disney Company (September 14 2006), single disc, 48 mins plus 64 min supplement, 1.78:1 anamorphic widescreen, Dolby Stereo, Rated for "All Ages", Mid-2008 US Import: $50
[NOTE: For a tour of the original exhibition that inspired
this program, please read our extensive article here]
Storyboard:
The Il était une fois, Walt Disney: aux sources de l'art des studios Disney (Once Upon A Time…Walt Disney: Artistic Sources Of The Disney Studios) exhibition ran at The Galeries nationales du Grand Palais in Paris, France, from September 14 2006 until 15 January 2007 before transferring to the Musée des Beaux-Arts in Montréal, Canada, from 8 March to 24 June 2007. This companion program, now available via North American importers Organa, provides both a supplement and a further exploration of the themes and artwork exhibited as well as an opportunity for those who could not attend the galleries to view many of the pieces presented in this unique show.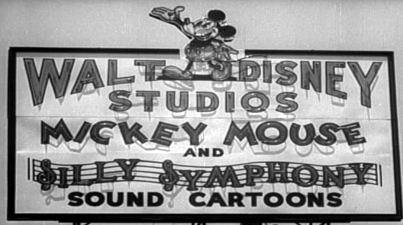 The Sweatbox Review:
The Il était une fois, Walt Disney: aux sources de l'art des studios Disney exhibition really was something to see: a vast collection of the various books, paintings, films and other artworks that the original Disney artists used as artistic sources during the heydays of the Mickey Mouse and Silly Symphonies shorts and the early features Snow White And The Seven Dwarfs, Pinocchio, Fantasia and Bambi.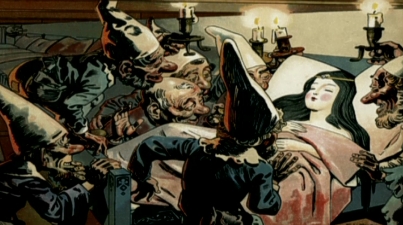 Although there was a wealth of related merchandise readily available (a handful of it strongly recommended and still accessible online for those who care to dig deep), there are two especially notable reminders of this major undertaking. The exhaustive coffee table Exhibition Catalog tome is an absolute treasure trove of imagery, most of it full of exclusive stills of the art on show, from both the Disney Studios and the enormous collection of the sources of inspiration, with effectively every piece on view in the exhibition reproduced within its pages. Although such a book, and it is quite a volume, weighing in at over 350 full color pages, is "all about the pictures", an alternative English translation (from Prestel Publishing) means that everyone can enjoy and be informed by the several essays spread throughout, including writings by the show's curator Bruno Girveau, Disney archivist Pierre Lambert, European source expert Robin Allan and American animation historian Charles Solomon. Even for those who may have the previous French edition, the book is a worthy upgrade, with a slightly different arrangement and the artwork mostly reproduced full page and each captioned for easy reference. It's a seriously recommended guide that remains absolutely relevant long after the show has closed.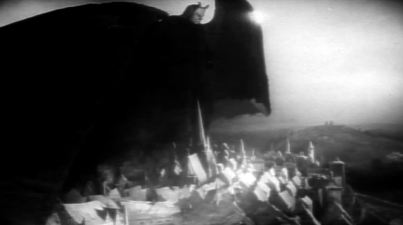 Secondly, the Il était une fois, Walt Disney: aux sources de l'art des studios Disney DVD should be an instant, must-have, definite buy for anyone with a passing interest in the work of Walt Disney and this exhibition. A nearly one-hour documentary, the program is presented in both French and English, and has been formatted in the NTSC system for all regions, so it is instantly playable all over the world, including America and Canada. Co-produced by the Réunion des Musées Nationaux, Paris, French television and the Disney Company, Once Upon A Time…Walt Disney looks at the history of Walt-produced Disney films and their artistic sources of inspiration. It's a brisk piece, highly detailed and keen to keep moving, with some clever video effects, detailed live-action inserts and some evocative new animation that uses limited techniques to convey information warmly.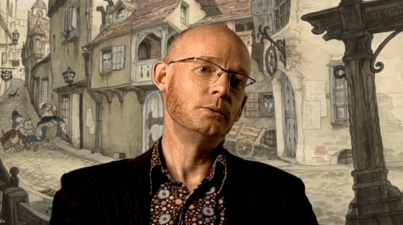 The documentary would be perfect if but for a slightly sharp ending, where it loses its way a little before simply coming to a close, and a not-so-minor technical fault: presented in 16:9 anamorphic, someone in quality control wasn't paying attention, and all the Disney film clips, which should have been windowboxed within the widescreen frame, remain uncorrected, meaning that these images look fat and stretched out horizontally on a 16:9 display (apart from the naturally widescreen Sleeping Beauty). In the end, I made the uneasy choice of going with the 16:9 majority of the presented footage (the interviews, art selections and new graphics) and settled at watching the Disney clips in the wrong ratio, which provided probably the best balance overall.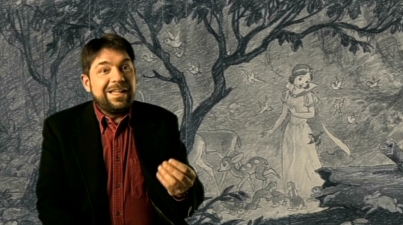 Added to this is the more negligible fact that, since the documentary was produced in PAL-native France, all of the clips have been transferred from NTSC-to-PAL for editing and then converted back for mastering to this NTSC disc, which does introduce a softness into the image not helped by multiple merged interlaced video fields every few frames or so. It's no real drama, but for something aimed directly at collectors and created with an eye to showcasing the imagery, it's certainly a case of dropping the ball, and the aspect ratio issue is a major complaint. As an editor myself, and since this obviously wasn't put together by dum-dums, I found it particularly frustrating: the first rule of editing is to knock your ratios into shape!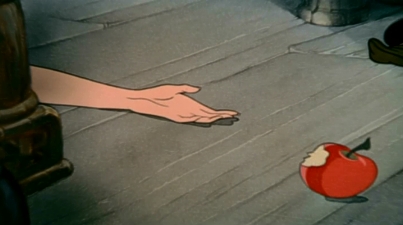 However, as a moving pictorial memorial of the exhibition and its aims, Once Upon A Time…Walt Disney is a very nice little slice of documentary filmmaking. It has a feel of its own and communicates its information clearly, while lending suitable screen time to the likes of Girvaeu, film expert Serge Bromberg and Lambert to make their points and express their knowledge and enthusiasm for the subject. At a time when general Disney DVD documentaries seem all too pleased to settle for talking heads glossing over what made the greats so great, it's very rewarding (whether one agrees with the arguments or not) to find Disney animation being taken genuinely seriously and as a basis for sincere artistic discussion.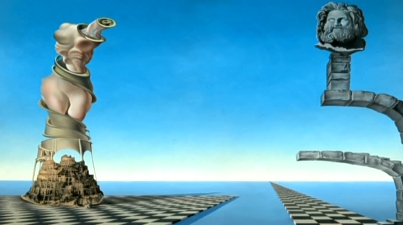 Is This Thing Loaded?
Although Once Upon A Time…Walt Disney isn't a generally commercial Disney disc release, it still surprises by packing in something special! Nope, we unfortunately don't get the much-referenced Destino (that will still have to wait for its own release, though this documentary makes a fitting companion), but making up for the ratio oversights in the main program immensely is this disc's one and only bonus feature, but what an extra it is – the complete, full-length, 64-minute silent Paramount feature film version of J. Searle Dawley's Snow White And The Seven Dwarfs that Walt Disney saw as a teenager in 1916 and remembered all those years later when he came to make his own historic version. Often cited as an influence on the 1937 classic, I was blown away by the decision and fortune in being able to include this entire, rarely seen film in this release.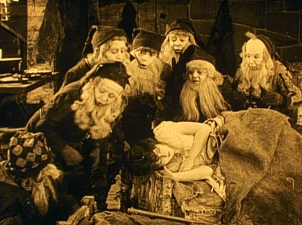 The clean, remastered print (furnished by the renowned George Eastman House) shows its age, but this time is a native-frame transfer, aiming for crystal clarity and delivering on the whole. The image, correctly framed at 1.37:1, is sharp and surprisingly stable, with its original English intertitles present and correct (French subtitles are ready and waiting to be switched on if need be) and color tints restored. The lack of any musical sound might not help but drag out the experience for some of today's audiences, but I was personally mesmerised and completely drawn in to this version of the story, which as well as highlighting several fascinating similarities, takes several completely different directions to Walt's eventual adaptation, not least the sizeable cast!
Case Study: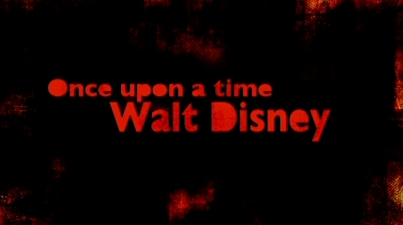 Once Upon A Time…Walt Disney follows the exhibition's formatting style by using the show's chosen Snow White image on its front cover, with a potentially heavy red block and black text branding that differs slightly from what appeared on much of the other merchandise, but surprisingly works well. The cover is handily bilingual between English and French (don't go looking for an English only version, this is intentionally a dual language release) but has been so nicely laid out as not to damage any design aesthetics. The US, UK and French flags mark up the selection of languages clearly and efficiently. There is no insert, but the back cover reproduces a couple of the kinds of comparisons between Disney images and their possible sources of inspiration that are commonplace in the documentary.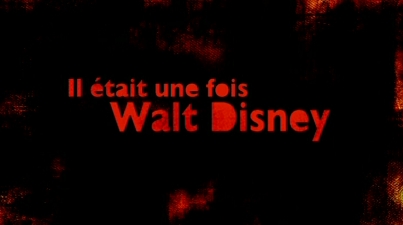 Ink And Paint:
Aspect ratio shenanigans aside, the image here is as pleasing as one would expect from a PAL generated master that's been converted back to an NTSC interlaced tape format. At the end of the day this isn't a bigger budgeted theatrical documentary, even though it's an elaborately and professionally produced museum piece that has a great deal of entertainment and factual value, so looking for feature film quality is beside the point to begin with. Compression is at a minimum thanks to each program getting its own layer on the DVD-9 disc, with the result that the Snow White extra is given the room to breathe that a film of its age needs.
Scratch Tracks:
Naturally, both English and French tracks are provided, the English offering up dubbed versions of the narration and various interview participants where appropriate, while the French version adds subtitles for the English-speaking sequences. The Snow White feature is presented literally silent, without any soundtrack bells and whistles in the form of music or effects, but this only serves to rivet one's eyes to the screen with even more interest.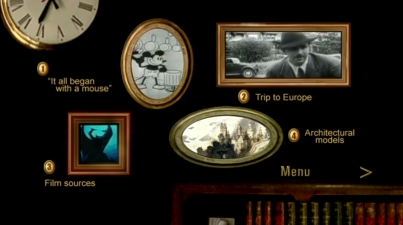 A very nice touch is that even the menus have been designed with both languages in mind: a choice when loading the disc leads to English or French text, with chapter index and the correct version of the program playing, complete with English or French on-screen titles, as a result. Swapping between the languages is easy (no need to reload the disc), with even the usually boring copyright notices being embedded in the framing context of the menu.
Final Cut:
A finely crafted and somewhat eye-opening documentary, whatever its own fairly minor shortcomings, coupled with a no-frills but delightfully decent presentation of an original feature film Walt saw as a young boy, this DVD does deserve to find itself in any self-respecting Disney aficionado's library, if only at the very least for the Paramount curio. That it also contains a sincere study of the art and influences behind many of the truly classic Walt Disney images, cartoons and feature films only adds to that value. A genuinely valid addition to the otherwise small selection of such serious examining documentaries, the steep US importer's price tag may be off-putting to some (more than I paid for it at the exhibition, the disc may well be found going cheaper in Europe), but Once Upon A Time…Walt Disney is certainly worth tracking down. Order it!
Animated Classic or Back To The Drawing Board?