Walt Disney Productions (1939-1961), Walt Disney Home Entertainment (December 3, 2002), 2 disc set, 326 mins plus supplements, 1.33:1 original full frame ratio, Dolby Digital 2.0 Mono, Rated G, Retail: $32.99
Storyboard:
Goofy, one of Disney's most entertaining and popular cartoon stars finally gets the royal treatment with a complete collection of his greatest misadventures in one set.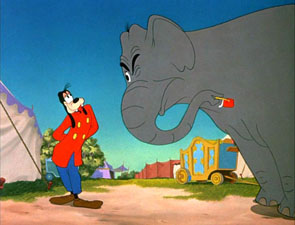 The Sweatbox Review:
Goofy has been one of my absolute favorite cartoon characters of all time. It is hard to say what it is about him that keeps me craving more and more of his cartoons. I think it is a combination of his innocence, blind persistence, and warm heart. Or, it could just be that we all feel a bit like Goofy every now and then. Goofy, like most great cartoon characters, exemplifies an area of our lives on the screen. Donald represented our frustrations, Mickey our kindness, and Goofy our carelessness. It's also great that we have seen Goofy come a long way over the years. He went from being an extra on the Mickey Mouse cartoon Mickey's Revue (1932) to being a star character in his first short Goofy and Wilbur (1939). A complete collection of all of his 46 uncut theatrically distributed shorts is found in the excellent Walt Disney Treasures set, The Complete Goofy.
Goofy became famous in Mickey's Revue with his now famous laugh, provided by Disney's own Pinto Colvig. Pinto Colvig had been working at Disney for some time in the story department. Coming from a circus background, he knew what would make the audience laugh. After doing some great impressions during the story department meetings, he became a regular doing voices such as the panting for Pluto, the Grasshopper in The Grasshopper and the Ants, and the voices of Grumpy and Sleepy in Snow White and the Seven Dwarfs. Goofy was first known as "Dippy Dawg", although those at the studios simply referred to him as "The Goof." As Goofy, he participated in a series of Mickey Mouse cartoons with Mickey and Donald. They became a trio, and finally Goofy graduated into a starring character in 1939 with Goofy and Wilbur.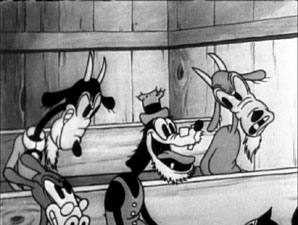 Soon after Goofy proved to be a star for Disney, Pinto Colvig moved to Miami to work for the Fleischer studio (as the voice of Gabby in Gulliver's Travels). The Disney studio then had a problem since no one could recreate the voice of Goofy, but they attempted to live on with previously recorded tracks. Another problem facing the studio was how to make Goofy funny and a hero at the same time. They came up with a solution with a series of "how-to" shorts where Goofy would learn how to play a sport, or something similar, from a narrator. This became the basic formula over the years, even when Colvig returned in 1941. Walt Disney veteran director Jack Kinney directs most of the shorts with great results. Over the years, Goofy's character developed and changed as the times changed. In the 50's Goofy was featured living in an apartment and later in a suburban home. He became Mr. George G. Geef, a hardworking everyman living in the suburbs with a wife, child, and dog.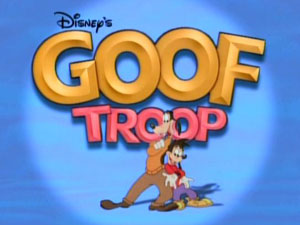 The last Goofy short was Aquamania in 1961 (two educational cartoons with Goofy as a character were later released in 1965 – Freewayphobia and Goofy's Freeway Troubles), but Goofy continued to remain a popular Disney figure. After years of appearances in other Disney cartoons and on television, he got his first starring cartoon series in the early 1990's. The comic television show Goof Troop debuted in 1992 and featured Goofy living with his son, Max, and their crazy adventures. Three years later the same characters appeared in the movie A Goofy Movie which became a surprise hit. A direct-to-video sequel, An Extremely Goofy Movie, was released just a few years later. These cartoons continued to prove that Goofy was still a star character in his own right.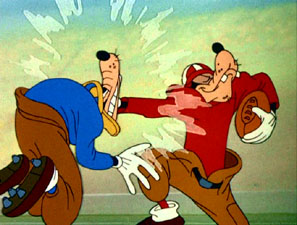 The cartoons featured in this collection are in chronological order and divided into two discs as follows:
Disc One
1939 – Goofy and Wilbur
1940 – Goofy's Glider
1941 – Baggage Buster, The Art of Skiing, The Art of Self Defense
1942 – How to Play Baseball, The Olympic Champ, How to Swim, How to Fish
1943 – Victory Vehicles
1944 – How to Be a Sailor, How to Play Golf, How to Play Football
1945 – Tiger Trouble, African Diary, Californy 'er Bust, Hockey Homicide
1946 – Knight For a Day, Double Dribble
1947 – Foul Hunting
1948 – They're Off, The Big Wash
Disc Two
1949 – Tennis Racquet, Goofy Gymnastics
1950 – Motor Mania, Hold That Pose
1951 – Lion Down, Home Made Home, Cold War, Tomorrow We Diet, Get Rich Quick, Fathers Are People, No Smoking
1952 – Father's Lion, Hello, Aloha, Man's Best Friend, Two-Gun Goofy, Teachers Are People, Two Weeks Vacation, How to Be a Detective
1953 – Father's Day Off, For Whom the Bulls Toil, Father's Week End, How to Dance, How to Sleep
1961 – Aquamania
Disc One includes 22 shorts from 1939 to 1948. These cartoons have the classic Goofy humor, but they range in style. These span the early Disney years that came after Snow White throughout World War II and beyond. Because we live in a politically correct time, Leonard Maltin provides commentary for the more sensitive cartoons by placing viewers in the correct time and context for the cartoons. Here are some highlights: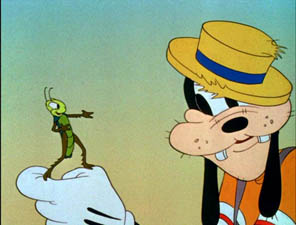 Goofy and Wilbur (1939) – This is the first Goofy cartoon and it features Goofy going fishing with his pet grasshopper named Wilbur. Wilbur lures the fish towards Goofy who catches them with his net. This cartoon showcases one of Goofy's most endearing qualities, which is his kind heart. He loves Wilbur and will do anything to protect his small friend. It is a funny short, but the humor is mainly provided by Wilbur. This probably is a good example of the problem that Disney's story men had run across. Without a new format, Goofy would not be able to be a comic hero without a funny sidekick.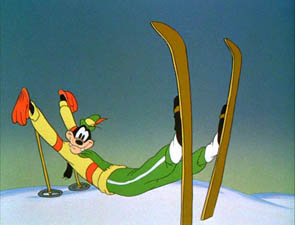 The Art of Skiing (1941) – The fourth Goofy short, The Art of Skiing (for some reason the narrator insists it is pronounced Shee-ing) is one of the first shorts using the "how-to" format. Ralph Wright came up with this new format and introduced it in the How to Ride a Horse segment that can be found in the feature The Reluctant Dragon. In this popular short, Goofy stands in for an experienced skier as the narrator tells the audience how to ski. Of course, Goofy is not the best skier and the results are hilarious. This is one of the funniest Goofy cartoons in my opinion and it is always funny to see Goofy try to keep up with the narrator as he continues to mess up. This is also where the famous Goofy "yell" came from.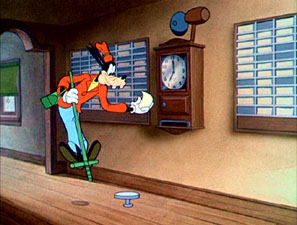 Victory Vehicles (1943) – This is one of the few wartime-themed cartoons that appear in this collection (How to Be a Sailor also provides some wartime themes). Maltin provides an intro where he explains the origin of the short reminding everyone that Japan and Germany were enemies at the time. The short is about the gas rations when the government was regulating how much each person could use for their own consumption. In the short, Goofy demonstrates the different inventions people had come up with as alternatives to gas. There is a funny segment that even features Pluto chasing a cat on a treadmill that propels a car. In the end, this short fully endorses the use of pogo sticks by the population and there is even a song that goes with the short. It is one of the highlights of the disc and the different inventions are hilarious.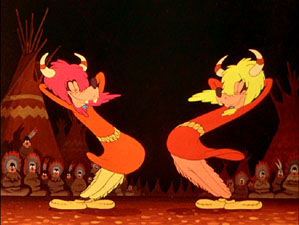 Californy 'er Bust (1945) – Leonard Maltin once again introduces this short that talks about the migration of Americans west. The portrayal of American Indians is what is sensitive in this case. In this case, Maltin explains that the Indians in this short are caricatures of Indian caricatures commonly seen in westerns. It is not much different from the portrayal of Indians in, say, Peter Pan, and the short is very funny. It features a segment where the settlers are being attacked by a number of Indians (humorously including the Cleveland Indians). Of course, everyone looks like Goofy and this is one of the best in this set.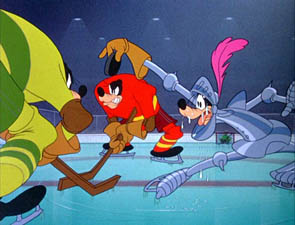 Hockey Homicide (1945) – I was actually surprised that Maltin provided no introduction for this cartoon since he claims in the introduction that it is his favorite. The story is about a hockey game (Looseleafs vs. Anteaters) where a narrator talks about the great sport. There are several humorous gags including the referee's many pucks, and the two casual friends who become bitter enemies during the game. The short comes to a very funny conclusion and goes crazy towards the end.
The second disc begins in the 50's, when Goofy changed into an everyman character, and his lifestyle improves with the other Disney characters. Even the theme song for Goofy becomes more contemporary. In the very first shorts, he already lives in an apartment, and later Goofy becomes George G. Geef, a hardworking man living in the suburbs with his wife (we never see her face). In the many shorts during this new era, Goofy becomes the average man of the 50s dealing with his job, wife, son, and dog. The disc features the remaining 24 shorts, and here are the highlights:
Motor Mania (1950) – This is probably one of the most memorable Goofy cartoons and one of my favorites. In it, Goofy is Mr. Walker, a friendly man who would not hurt an ant. However, when Mr. Walker steps into his car, he becomes Mr. Wheeler, an aggressive driver who thinks he owns the road. What makes this cartoon so funny is how it approaches the reality of people and their cars. With its Jekyll and Hyde approach, Goofy keeps changing character as he steps in and out of his car.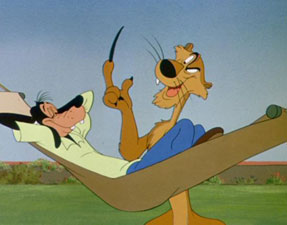 Lion Down (1951) – I remember watching this cartoon a long time ago on television, and to me is one of the most memorable. The lion character in this short has appeared as other cats in other shorts (such as in Tiger Trouble) and he is a funny character. In the short, Goofy is trying to hang a hammock at the top of his apartment building but there is only one tree. He goes into the woods and uproots a tree where the lion is sleeping. This becomes a fight between the two characters for the tree, and the hammock, and it is very funny.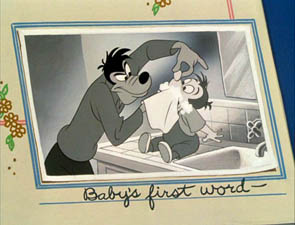 Fathers Are People (1951) – There are many shorts that deal with Goofy (As George) and his son, Junior. This is the first one and it ranks among the best Goofy cartoons. In this cartoon, Goofy becomes a father and has to deal with helping his wife with the chores, such as washing the diapers. His son quickly grows up and continues to be mischievous, but ultimately loving child. Goofy shines in this cartoon and the manner in which he handles the situations is very humorous. Keep an eye out for some Mickey Mouse merchandise in the baby's room.
For Whom the Bulls Toil (1953) – What stands out the most from this cartoon is the artistic backgrounds that are made by famous artist Eyvind Earle. The movie features Goofy driving through Mexico when he encounters a bull in the middle of the road. Goofy faces the bull, not knowing that he is a prized bull. When he defeats the bull, the townspeople spread the word and he is taken to the big city to be a bullfighter. Maltin once again introduces the cartoon talking about the Mexican stereotypes, but explains how Mexican culture was portrayed prominently in the cartoon.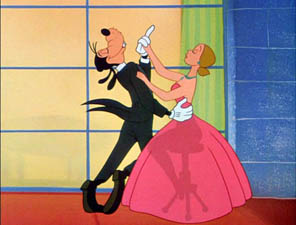 How to Dance (1953) – Towards the end of the Goofy shorts era, animators went back to the "how-to" formula so popular in Goofy's beginning. This and the next short, How to Sleep, applies the old formula with success. They become two of the funniest "how-to" shorts. In the story, Mr. Geef keeps finding himself giving excuses not to dance with the others because he can't dance. He then decides to learn, and begins taking lessons from the narrator. The narrator teaches him everything from picking a partner, behavior, and the different styles.
These are just a few of the many great cartoons in the disc set. Many others are funny and a complete list can be found at the end of this review. You can play the different shorts individually and there are two listing for the shorts: Chronological and Alphabetical. I personally recommend watching the shorts chronologically since it is the best way to see how Goofy evolved over the years. Also, you can see how Goofy's design changes and how many of the later cartoons feature segments from previous shorts. Maltin's introductions to the sensitive shorts really help place the cartoons in the proper setting. These cartoons rank among the best cartoons ever, and some were even nominated for Academy Awards including How to Play Football and Aquamania.
Is This Thing Loaded?
In disc one, Leonard Maltin provides an introduction (2:17) that welcomes the viewer to the world of Goofy and he provides background information about Goofy. It is a short and fitting introduction to an amazing set. There are also two other featurettes in the first disc including The Essential Goof (6:31) and "Pinto" Colvig: The Man Behind the Goof (5:33).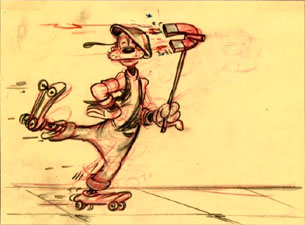 The Essential Goof, covers the character and design of Goofy. It includes a part of the lecture that animator Art Babbitt provided about Goofy and how he must be portrayed in cartoons. He did this because he felt that Goofy had been a weak character defined by a voice. In fact, it was only after Babbitt completed his analysis of Goofy as a character with a personality, mannerisms, and mental attitude, that he became a star. For those that have read Maltin's Of Mice and Magic, this is the same lecture that is also partially discussed in the book. It is a very entertaining lecture that is heard while several clips are shown featuring Goofy doing what Babbitt (I think voiced by an actor) is saying.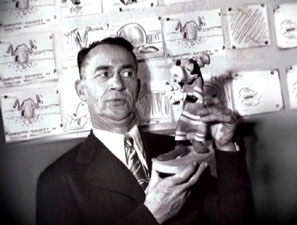 The second featurette is "Pinto" Colvig: The Man Behind the Goof talks about the life of the Disney legend. It begins with his childhood in Oregon (his name was Vance Dubar Colvig) and how he first got started in the circus. He moved to LA in the 1920's where he began to work for Disney in the story department. It discusses his move to Miami (although not in great detail) and his rise as a star as Bozo the Clown. It is a very interesting and entertaining featurette that should satisfy the curiosity of many Goofy fans.
The second disc is where most of the special features are stored. These include one featurette, as well three different galleries. This disc also begins with an introduction by Leonard Maltin (1:59) where he discusses Goofy's transformation from barnyard animal, to happy fellow, to sportsman, and finally to an everyman. He also discusses how Walt Disney tried to maintain the theatrical shorts for as long as he could, and about the transition to television. He shows short segments (after all this is a 2 minute intro) from Freewayphobia, Goof Troop and A Goofy Movie, discussing why it became a success.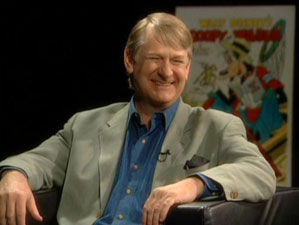 A Conversation With Bill Farmer (13:54), where Maltin interviews Bill Farmer, is the most extensive featurette in the set. Bill Farmer is the current voice for Goofy, and has been so since 1984. It is very interesting to see Farmer he says that his voice has been featured in over 3000 different Disney projects, including albums, telephones, commercials, and cartoons. In the interview Farmer talks about his origins and how he became the voice for Goofy. He talks about why people can relate to Goofy and what his favorite Goofy cartoons are. One of the most interesting discussions is towards the end, when he talks about how children respond when they find out he's the voice of Goofy. He says that the two general reactions are that they cry (if he's in front of them) or they are very excited (if he's on the phone as Goofy). Bill Farmer is a very funny man and is very charismatic. Maltin handles the interview very well and you can tell that he is just as excited as we are.
There are three galleries included in the second disc including a Poster Gallery, a Memorabilia Gallery, and a Goofy Through the Years Gallery. The Poster Gallery features the theatrical posters for many of the Goofy shorts and Goofy provides the occasional exclamation/commentary. He also provides comments in the Goof Through the Years Gallery where many backgrounds and character sketches are provided. The commentaries can get annoying after a while, specially if one has just watched the Bill Farmer featurette (his image stays in your head), but sometimes they are funny. Leonard Maltin provides the commentary for the Memorabilia Gallery where album covers, posters, and other Goofy memorabilia are shown.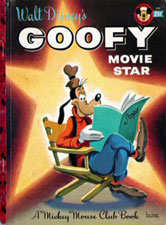 Case Study:
The case for this release is similar to the last few cases and the black two-disc case is featured in a limited tin case. The tin case features the serial number for the case out of a total of 125,000 copies being released. The case is surrounded by a cardboard band signed by Roy Disney and Leonard Maltin. On the back of the tin case is painted with the same information as the DVD case. Inside the DVD case is a small booklet highlighting Goofy's career and it includes a full list of shorts found in the set. There is also a lithograph poster of Goofy's The Olympic Champ.
Ink And Paint:
The cleanup job for this set is incredible. The backgrounds are stunningly beautiful, and this can be most seen in the Goof Through the Years Gallery. Goofy looks great, the backgrounds are colorful and bright, and the frames are free from most grains and dust particles. It is evident that either Disney has done a great cleanup of these films, or that they have kept these locked up in some vacuum. The cartoons are shown in their original aspect ratio of approximately 1.33:1.
Scratch Tracks:
The entire set is provided with an English Dolby Digital 2.0 track. It's not a 5.1, but really, these shorts do not need such a track. The 2.0 track suits it just fine. The sound quality is actually very good for cartoons that have been around for over sixty years. The sound quality is very impressive and shows no noticeable problems in any of the tracks. Goofy sounds great, and probably sounds better than ever before. There is also an English Closed Caption option available.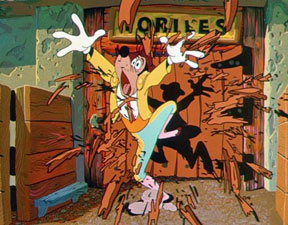 Final Cut:
Maltin must be applauded for spearheading and hosting such an incredible project. Goofy is one of my favorite characters, and I have been anxiously waiting for this set ever since I first heard about it. The disc set comes enclosed in a tin case that features a picture of Goofy from Goofy and Wilbur. I think it was a good idea to have Maltin introduce the most sensitive cartoons since he really does put them into perspective. I think the heads at Disney were afraid of releasing their footage uncut, and this is a great way to do it. This also gives me hope for the rumored Wartime set. I was a bit disappointed to not have found Freewayphobia No. 1 and 2 on this set, at least as Easter Eggs, but the other cartoons made up for it. The cartoons found here are some of the funniest ever made, and this set does give justice to Goofy as a star cartoon character.
Animated Classic or Back To The Drawing Board?