Walt Disney Pictures (1930-1947), Walt Disney Home Entertainment (December 7 2004), 2 disc set, 266 mins plus supplements, 1.33:1 original full frame ratio, Dolby Digital Mono, Not Rated, Retail: $32.99
Storyboard:
Mickey Mouse's faithful canine companion becomes the last of Walt Disney's "original fantastic four" (Mickey, Donald, Goofy, Pluto) to get a Disney Treasures compendium of his cartoon shorts. In truth, and with just a couple more cartoons in the bag than Goofy, this could well have been a one-off, two-disc set (as the packaging, with an otherwise very tiny "Volume One", notes), but series host Leonard Maltin and the powers that be at Disney have decreed that Pluto's career be split into two releases, so the tag The "Complete" Pluto isn't as justified as one might think (so, what was wrong with "The Chronological Pluto"?).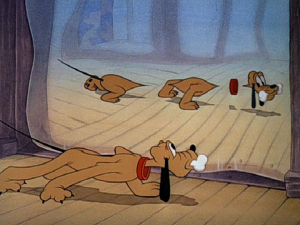 The Sweatbox Review:
I never really worked out whether Pluto was man or mouse's best friend, since he's roughly the size of a real dog to a three-foot mouse! As a character, however, Pluto makes for great support. In starring roles, his sense of playfulness is always present, of course, but these cartoons do more than often show off the limitations of the character. Without resorting to Tex Avery-type gags and comical set-ups, the Pluto cartoons can be among the more slower of the Disney theatrical output, which themselves are often mostly discussed as "animated shorts" rather than the plain and simple "cartoon" moniker that the lunacy of the Warner Brothers' Looney Tunes series tends to describe.
Pluto often found himself in pictures that featured him as a real dog, seemingly switching owners from Mickey to Minnie, and acquiring girlfriends, adversaries and even siblings on various occasions. This collection doesn't feature the "best" of Pluto, but it's a good place to start, and even as someone who isn't as much of a fan as the character as I am of Mickey, Donald, or especially Goofy, I was won over and charmed by most of the films on show, all of which I had seen before, but not in some years. It's also important to realize that Pluto was always intended as sidekick to Mickey, and his early appearances were in Mickey shorts – even when Pluto was the real star of the cartoons and took up most of the screen time.
Eventually Mickey would be relegated to the sidelines, making the same kind of book-ended set-up and pay-off showings in his own series as he does in these cartoons, while the other stars, particularly Pluto, carried more of the films themselves. For a comprehensive look at the birth of Mickey's pet, I suggest checking out another release in this new wave of Disney Treasures, Mickey Mouse In Black And White Volume Two. Not only is that set a delight in itself, but it makes for very interesting viewing in seeing Pluto come out into the spotlight, while Mickey becomes a safe, company figurehead. The Complete Pluto (Volume One) picks up after that stage in their careers, when the Pup was handed his own series.
Essentially, these play as a continuation of the Mickey shorts, though without having to be reliant on actually featuring the Mouse anywhere IN the cartoons. As with the Mickey series, where Pluto was a major scene-stealer (even in the later cartoons), some of these cartoons are labelled as Mickey entries, though that is mostly down to Studio cataloguing, and Mickey rarely, or at least briefly, makes an appearance in these films. Though the set kicks off with the inclusion of the first appearance of a Pluto-like bloodhound from a 1930 Mickey short, the series proper features cartoons produced between 1935 and 1947.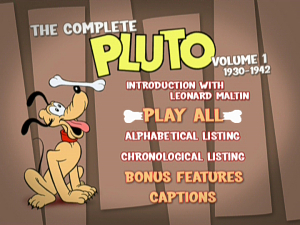 Disc One opens with a two-minute introduction to the character by Maltin, followed by the aforementioned The Chain Gang (presented with later, re-issue title card art), which served as Pluto's debut, even though he only appears for a few seconds and would not be named until 1931's The Moose Hunt. This proto-Pluto turned up in several shorts of the time, among them The Picnic (where he is referred to as Minnie's dog Rover), which appears on the new Mickey set. Its classic of-the-time plot, a popular one with Chaplin, Keaton, Laurel And Hardy and other comedians, is a prison breakout chase, this time with Mickey on the run and the early Pluto one of two bloodhounds on the job.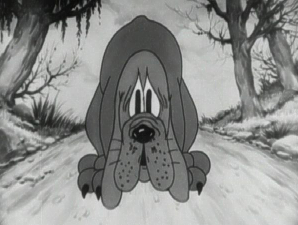 Though Pluto's "true" debut, The Moose Hunt, and the career-defining Playful Pluto (with Norm Ferguson's masterfully animated flypaper sequence) aren't present and correct on this set (they're available in Mickey In Black And White 2), the next short clearly demonstrate how Pluto's roles were expanding in the Mickey cartoons as he became a more popular character. On Ice, from 1935, has the whole gang out on a skating trip, with equal screen time given to all, but most of the action centered around Donald's playing tricks on Pluto. A bit of an odd inclusion, since I would have thought that having the totally Pluto-starring Pluto's Judgment Day, from earlier the same year, would have been a better inclusion as one of the first times audiences saw Pluto in color.
Bypassing another Donald collaboration, Donald And Pluto (1936) and Mother Pluto, another cartoon from the same year which is curiously marked as a Silly Symphony in the Disney lists, the selection here moves on to Pluto's first series cartoon proper: Pluto's Quin-Puplets. An on-off sweetheart of the playful pooch was Fifi, who was always counted on to display her flip-floppy nature. When she leaves Pluto with their pups, he vows to look after them, but some alcohol-spiked drink leaves him hilariously all drunk and the pups covered with paint. When Fifi returns, she is so dismayed that she makes Pluto and the pups sleep it off out in a barrel! The cartoon – one of my favorites in the series – features some surprisingly "non-Disney" gags, as well as some very clever repeated animation on the pups themselves, typically strong character work, and a heck of a paint job from the inking department!
Beach Picnic, the next short, is actually a Donald cartoon (what gives with these selections?), though Pluto holds the lion's share of the on-screen chores and it's mostly notable for featuring a complete re-animating of the flypaper gag from Playful Pluto, here expanded to include Donald in the short's climax. Next up is the second cartoon in the official Pluto series, and seen as one of, if not the best, whoever you speak to. It's certainly one of mine, and is, of course, Bone Trouble, an absolute classic that sees Pluto chased by Butch the bulldog in a carnival hall of mirrors. The visual look of the short – not to mention the multiple, hilarious gags played on Pluto's frame inside the mirror room – always impresses me, and I could never tire of this short. The pacing, direction (by Jack Kinney) and music are all played out wonderfully here, and with the 1950 cartoon Wonder Dog missing here, this has to be the highlight of the set for me (I'll even forgive the none-too correct final pose in the mirrors when Pluto turns away to watch Butch run off)! Presented from a Buena Vista re-issue print, this version looks a lot better than the print that was included in the Vault Disney release of Old Yeller, and worth just one more viewing, even if you've seen it a hundred times before.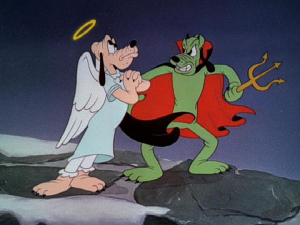 Pluto's Playmate sees Pluto under the direction of his old animator friend Norm Ferguson, and features some typically good character staging, while it's the return of Mickey Mouse for Canine Caddy, a 1941 cartoon which has a Mickey title card but is counted in the Pluto series list. Another Mickey-labelled cartoon is next, even though it features the Pluto theme over the main titles! The Academy Award-winning Lend A Paw was a remake of the black and white short Mickey's Pal Pluto (also now available in the new black and white set), and marked one of the few occasions when Pluto's good and bad consciences got together to fight over what the pup should do (in this case to save or let a poor little kitty drown).
Disc One rounds up with cartoons from 1942. Pluto, Junior brings back one of the co-stars from Pluto's Quin-Puplets for some more backyard play, while The Army Mascot sees Pluto eager to get drafted so he can sample the delights of the US Army cuisine, and The Sleepwalker is a variation on that old chestnut of when a character wanders about in a sleepy daze, with Pluto's friendly and caring attitude coming through in the end. Finally, T-Bone For Two and Pluto At The Zoo are continuations of the Bone Trouble theme, with Pluto first of all tricking Butch into giving up his food, and then having to contend with a bunch of animals while he tries to hold on to the huge bone his has "acquired"! They're both pretty standard shorts, though both are livened up by the inclusion of some obviously Avery-inspired gags.
Disc Two opens with another intro from Leonard Maltin, who explains the rationale behind including some of Pluto's cartoons from other series (though not why they then go and omit some of the more important ones). The first cartoon on the set is Pluto And The Armadillo, originally intended as a Mickey 'n' Pluto segment for Saludos Amigos (1943). As such, the quality of the artwork is as good as a Disney "Package Feature" of the time, and it is a mystery as to why this Brazil-set sequence was cut from the film and issued as a stand-alone short (ironically enough, with Saludos Amigos itself in theaters), since both still use the same narrator and this cartoon obviously opens as a continuing piece. A number of additional segments for Saludos Amigos were in the making, and it's never been explained why Walt cut them to make a shorter film (his shortest feature, at just 42 minutes). Someday, that movie deserves its own Special Edition, with these ancillary cartoons presented as part of the program.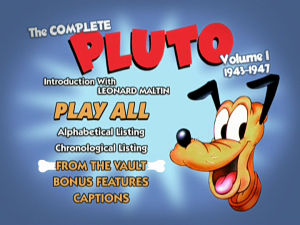 Although they would later become synonymous with creating havoc for Donald Duck, Chip 'n' Dale actually made their (unnamed) debut in a Pluto cartoon, the next one featured here, Private Pluto. As the title suggests, it's another wartime effort, though one that just plays as an "army picture" today, concentrating on Pluto's attempts to protect a pillbox he is supposed to be watching from the cheeky chipmunks' plans to use it as a nut store. Springtime For Pluto is an elaborate cartoon which has Pan, a flute player from Fantasia, return to the screen to herald the new season, whereupon Pluto must awake and get on with the creatures who come out of hibernation. Feeling quite "epic" in scope, the short has a very funny ending and has been a favorite of mine for a number of years now.
Figaro The Cat, from Pinocchio, starred in his own series of three shorts, but never really took off as a feline addition to the gang. Here he puts an appearance in with Minnie Mouse (Figaro's nominal owner) in First Aiders, a deceptively simple cartoon that's loads of fun. Dog Watch finds Pluto enlisted in the Navy and having to keep an eye on the captain's dinner when a wharf rat (a decidedly Warners' Looney Tunes-esque looking character) stumbles on board the vessel, while Canine Casanova has the return of a female partner for Pluto, now a cute dachshund named Dinah. A likeable match for Pluto, Dinah came back in a number of shorts around this time, often to be chased after by both Pluto and bulldog Butch. The suspenseful staging in this cartoon when Pluto attempts to rescue Dinah from a pound is what makes it chiefly memorable for, though.
While the Looney Tunes' Wile E Coyote will forever go down in history as the pre-eminent cartoon coyote, the Disney Studio also had a hunger crazed, slightly lunatic coyote character that popped up here and there, and often in Pluto shorts. Named Bent-Tail, the coyote in The Legend Of Coyote Rock is after the flock of sheep that Pluto is watching, coming up with some pretty ingenious gags to try and trick old Pluto. The cartoon has some pretty elaborate staging, and an exciting climax that is actually quite harsh in the way it deals with the way the "villain" gets his comeuppance. Canine Patrol finds Pluto a member of the US Coast Guards, but apart from a very sweet turtle character, this is essentially a routine, beach-set picture.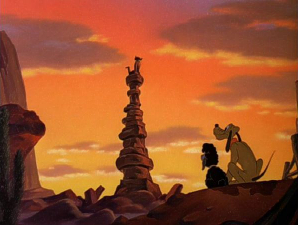 Interestingly, though it uses the same title design as Pluto, Junior, the next cartoon, Pluto's Kid Brother doesn't revert to using the same Quin-Puplet look. Here we get a truly "younger" Pluto, named KB, who causes his big brother some chaos until a mangy tabby cat comes along and sets of a chain of adventures that sees them pair up and get along. Possibly because of Walt's extensive touring of Europe around this time, the next short finds Pluto and Dinah In Dutch, another high production-value outing which has the pooches saving a town from a burst dyke. Squatter's Rights is a classic Disney short, regardless of which series it's in. Another Mickey short that plays in with Pluto's theme on the main titles, this one has the still-as-yet-unnamed Chip 'n' Dale living in the stove at Mickey's "Hydout". When Mickey and Pluto arrive for a getaway and want to start cooking, the chipmunks put up their usual fight to keep their place. The final sequence, with Mickey mistaking a ketchup-covered Pluto as having been shot, is great, and Pluto's own face at believing the trick is priceless, going down in the Disney shorts as a true highlight!
Ronnie The Pup made one of his few appearances in Purloined Pup, in which Pluto plays detective and rescues the youngun' who has been "dognapped" by Butch. This somewhat incomplete Complete Pluto finishes off in 1947, with Pluto's Housewarming. In a short that kind of picks up where Pluto's Dreamhouse left off, it seems Pluto now has the kennel of his dreams, though Butch and the little turtle from Canine Patrol return to mess up Pluto's carefully organised bone storing scheme. A pair-up to face Butch ensues, of course, and Pluto is suitably appreciative to the little turtle by the picture's end.
The set adds a couple of From The Vault cartoons to end the collection. A one-minute Maltin explanation emphasises the stereotypical nature of some elements in these shorts, and while one is plainly obvious, the other is a simple throwaway gag that's over before any real harm could be done. The cartoons are Pantry Pirate (1940), quite rightly placed here due to the appearance of a "Mammy Two Shoes" type, and A Gentleman's Gentleman, a wonderfully Pluto-led Mickey cartoon from 1941, in which the pup is sent to buy Mr Mouse a morning paper. I'm especially glad that these shorts hadn't been overlooked, as first impressions had made me think that the series was missing a short (Pantry Pirate), and the lack of A Gentleman's Gentleman would have been a real shame, given some of the other strange pickings, such as Canine Caddy, that had been included. For a Chinese gag in First Aiders, I found it odd that that cartoon had not been put into this sub-section as well.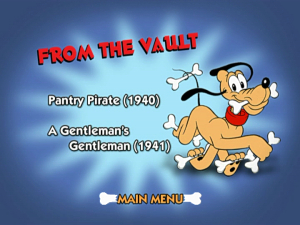 This earlier selection from Pluto's career yields some odd choices. While the Treasures have been good so far in holding off on repeating material between sets, The Complete Pluto seems happy to duplicate certain cartoons from previous editions. Therefore, and with this in mind, it's a real shame that some of Pluto's more important works (and certainly those that should be included in a set dedicated to his output) are missing. The Chain Gang and Beach Picnic are here, but why no The Moose Hunt, Playful Pluto, Pluto's Judgment Day, Donald And Pluto or Mother Pluto (the five most important appearances before he was awarded his own series, marking the first time he was named, a legendary character building moment, the first time we saw the pup in color, his first appearance with a co-star outside of a Mickey short, and his one non-series cartoon, respectively)?
It certainly seems that, as well as being skimpy with the number of shorts in the box, the selections have missed the boat on filling out the numbers a bit, even if that meant recurring titles. I know I'd have been more happy to have the same cartoons appear again here if it provided a more rounded look at Pluto's career. As such, the earlier Mickey and the Donald-series cartoons could have been dropped and Pluto's real filmography (the complete Pluto-only series) could have easily been included, Goofy style, in the one set. Despite these misgivings, however, at least the Pluto series itself isn't missing any titles from when it began in 1937, and this first edition does its job of covering the pup's first ten years well enough. If you're a fan, I'd say you'll lap it up!
Is This Thing Loaded?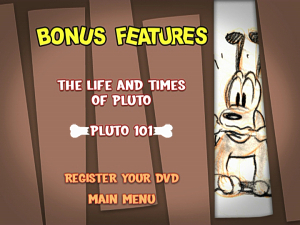 For a couple of discs that only feature around less than two-hours of main material apiece, you'd expect the bonus features to be beefed up a bit. While I have pointed out what could be added (and dropped) to the somewhat strange selection of cartoons above, I still feel that Pluto's true chronological series output could have been covered in the one set and still have space left over for the bonuses we are offered here.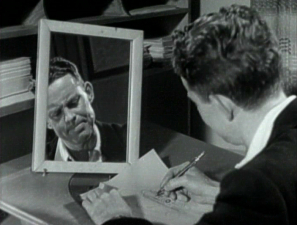 As well as Leonard Maltin's introduction, the centerpiece on Disc One is the nine-minute The Life And Times Of Pluto, a nice enough segment that looks at the oft-told history of the character. Especially poignant to see Frank Thomas (as usual with Ollie Johnston) in the interview clips, which must have been among the last he recorded before his recent passing away, and we also hear from John Canemaker and Andreas Deja on what they feel brings the character to life. The restoration work on the cartoons is obvious when one catches the glimpses of the same titles here, some of which look like they have been taken from VHS dubs. Fergy's Playful Pluto flypaper scene is touched on again here, making it even more frustrating that the cartoon itself is missing!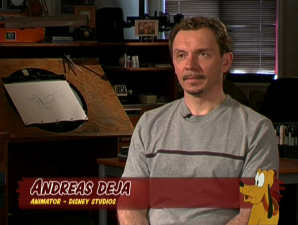 Pluto 101 expands on Maltin's chat with Andreas Deja, concentrating on the animator's perspective on Pluto. Interesting that Deja pops up so much in these interview clips, but I guess Disney have to find him something to do now that they've shut down production on the types of traditional, hand drawn features that he would work on. Word is that Deja has been consulting on the upcoming assault on fans' taste, Bambi II, for DisneyToon Studios, the direct-to-video arm, with a view to at least try and make a film worthy of its name (his name also appeared in the recent atrocity Twice Upon A Christmas, though how much the animators listened to him is unclear as the title itself certainly did feature much character expression).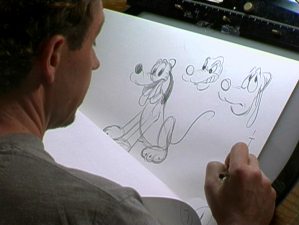 However, here he is his usual, knowledgeable self, revealing how the animators would have approached acting with Pluto, and ending with him drawing the pup in typical pose. One could see this 12-minute piece as simply being extended fluff and not very substantial, but I found it interesting filler, especially my personal realization that, when seen before his body is filled in, Pluto shares an awful close similarity with another Disney dawg, The Goof!
Disc Two's big piece is an archival segment from the 1954 DisneyLand TV episode A Story Of Dogs: Pluto's Picture Book. Originally put together to promote the Christmas release of Lady And The Tramp, it's a little bit of a shame that we don't get the complete program here, but understandable, given than this set deals with Pluto and there's plenty of room on the upcoming Platinum Edition of that feature to fill when the time is right! The half-hour clip has had the edition's main titles and introduction expertly spliced on, creating the illusion of a complete, if shorter than usual, program.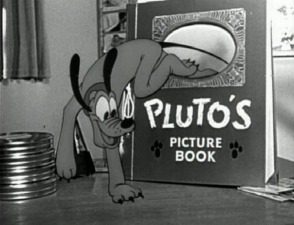 Another nice touch is the inclusion, where possible, of color sequences, and in the case of On Ice, it seems to be from the newly restored short itself (though quite why Beach Picnic, which is almost shown in its entirety remains in black and white is a mystery). Hosted by Walt, and featuring some new animation of Pluto created for the show, it does end up replicating a good deal of material already found on this set alone (as with Beach Picnic, we also catch Lend A Paw and The Legend Of Coyote Rock, though this time in pre-restored color, again).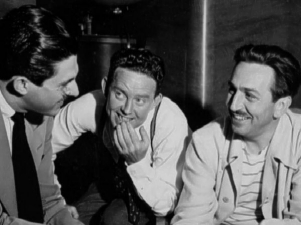 Pluto's Pal Fergy is a much more substantial look at the animator chiefly responsible for expanding the mutt's character and personality. Taken from the same interview sessions as those found on Disc One, participants who reminisce about Norman Ferguson's work include Frank Thomas, John Canemaker and Andreas Deja. The piece takes in Fergy's stint at Paul Terry's studio, his career at Disney's, plus of course his immense contribution to Pluto and animation in general. A ten-minute tribute that makes a very worthwhile and highly appropriate addition to the set.
Finally wrapping things up is an art Gallery selection, divided into four sections: Pluto On Paper (a collection of a comic strips for Mother Pluto – but not the cartoon itself! – and various magazines and books), Pluto's Posters (not all, but a healthy selection of the shorts in the set), Background Paintings, and Animation Drawings (a combination of story sketch, storyboard and pencil test art). All told, there are just over one hundred images here, with the background layouts especially worth taking a peek at. As with other titles in this new wave, I found no additional hidden "Easter Egg" features.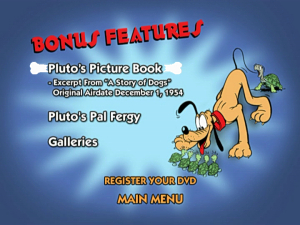 Case Study:
As well as the standard information and cartoon listing booklet, this edition of The Complete Pluto comes, as with the other Disney Treasures, with a reprinted lithograph of one of the character's major movie release posters. Packaged with the set in this case is the poster for Bone Trouble, perhaps Pluto's most famous and popular cartoon short (I know it's mine).
As for the rest of the packaging, well, here's where we must start being tough on the new wave of Disney Treasures. It's understandable that Roy Disney's resignation from the company should mean that his signature not feature on any of the packaging, but this has extended to the new titles not having any sort of cardboard wraparound at all. This not only gives the feeling of an "incomplete" set, but also looks a little bare design-wise, and means that they sit on a shelf without any indication of their titles on the side, looking quite plain next to previous entries in the series. Added to this is the fact that the set's contents, usually printed directly on to the back of the tins, is now represented on cardboard slips, which have been gummed on and come off all too easily. In fact, one of mine slipped off while I was removing the shrink-wrap. I'm in two minds on whether to glue them permanently to the tins, but for now I have tucked it away inside for safekeeping.
Changes initiated last wave also remain: instead of numbered tins, we get the certificates as before. This time around, Roy's name has been removed and only Leonard Maltin's signature is in place. I have no real problem with them doing this, but the lack of the wraparound marks a series inconsistency, and is annoying, especially on a serious collectors' package like this – exactly how hard would it have been to design a new wraparound at least? It's the quality of the films that counts, but the nice thing about the tins was that they always felt special. Functional, and still nicer than a lot of packages out there, but not quite up to the standard we expect and usually associate from Disney on these releases.
Ink And Paint:
All the cartoons here are presented in their correct 1.33:1 aspect ratio, with no windowbox formatting. The images are consistent with the other short subject releases in the Treasures series: nicely restored, with eye-popping color, but not cleaned up so clinically that they lose the essence of their original theatrical film origins. The later cartoons, understandably, are even more pleasing, but I did notice some color registration problems in a couple of the earlier three-strip Technicolor shorts, where red and green were not aligned as well as they might have been, though this did hop about from shot to shot and wasn't always as noticeable, even in different sections if the same cartoon. On the plus side, the images are a stable as can be, fairly speckle free, and with absolutely no compression artefacts going on at all. Top barks…whoops – I meant top marks!
Scratch Tracks:
Presented in original mono, the toons here sound as fresh and lively as anything shown on TV today. Quality was outstanding given the nature of the material, and there were no issues to be taken with the sound at all, on any level. Free of hiss, and showing some considerable bass action in some of the more rambunctious chases and thumping sound effects, the mixes here reproduce the original soundtracks as well as could be. The wide sound of the music is very much a key part in these tracks holding up well today – something that is true of practically all of the Disney output from this time. Very warm, very clear, and very well done.
Final Cut:
Not only does this set feel light on the number of cartoons, but it also has the cheek to include a fair amount of material from other titles in the Treasures line. That's as fine as it goes, since it could be argued that it's nice to have all of one character's output in the one place, but it then drops the ball by missing out some pretty important Pluto milestones along the way and having extras that feel very light, and themselves repeating entire shorts already seen in the main selection. If I was a cynic, I'd venture to say that the extras we've been given here have been included just to make us fans happy ("shove in some Deja talking and drawing Pluto, and an old Walt show too…they'll love that"), even if the tribute to Norm Ferguson is a welcome high spot.
If you're a Pluto fan, or a collector of the Treasures, you owe it to yourselves to pick up this set. There's nothing fundamentally "wrong" with it; it undeniably contains a fair amount of animated entertainment, and the restorations really bring out the vibrancy in the artistry. If they were going to split any of the characters' series up, I wish it had been Goofy, who starred in a number of TV spin-offs and educational shorts that would have made for a great two-volume edition. Going in, we all knew that this set was light, but hopefully a second will not only finish up Pluto's series, but also include several additional series cartoons that should have been included here, as well as some meatier bonuses. It's not bare bones, but for a Walt Disney Treasure, my bowl certainly feels a little empty.
Animated Classic or Back To The Drawing Board?