Disney (1958-1959), Walt Disney Home Entertainment (November 3, 2009), 6 discs, 975 mins plus supplements, 1.33:1 original full frame ratio, Dolby Digital Mono, Not Rated, Retail: $59.99
Storyboard:
Don Diego de la Vega continues his quest for justice in Spanish California, in the second season of Walt Disney's all-time classic TV show.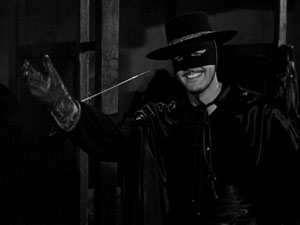 The Sweatbox Review:
The first season of Disney's Zorro was a huge success, garnering terrific ratings and spawning oodles of merchandise. Every kid in America was brandishing his desk with a "Z", and it was not uncommon to see children battling it out on the playground with sword-like sticks in their hands, while singing the famous theme song. Zorro had conquered America. Guy Williams had proven himself to be ideal in the role, and Disney looked like a genius (again) for crafting such a slick and successful production. The second season would be no less exciting, nor any less popular.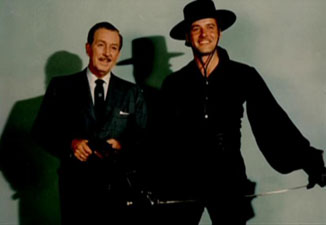 The show was mostly the same as in the first season, with a similar mix of action and humor, but the second season did add a hint more of romance. One of the few criticisms of the first season had been Don Diego's apparent lack of interest in the opposite sex, preferring to spend his time chasing baddies on his horse. The second season remedied that to an extent, giving Diego a more relatable interest in women (even if his Zorro activities still came first). The second season also kept to shorter stories. The plots were still serialized over multiple episodes, but did not necessarily run for as long. Fans could then jump into a new story more easily if they happened to miss an episode, unlike the first season's structure of three, thirteen-part stories (though the second season can still be broken up into three "acts".). This way, stories could also be kept tighter; though the first season was paced well, fans of certain modern shows know that it can be difficult to sustain an overly long narrative for long.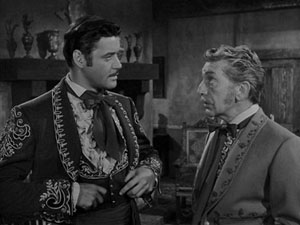 Having vanquished a corrupt commandante and a conspiratorial plot to rule California in Season One, Zorro begins his second season with a trip to Monterey, which was the Californian capital from 1777 to 1849. The first few episodes involve thwarting banditos who are stealing money coming into Monterey to support bringing supplies into California. Zorro also gets a real love interest! Once that initial plot is over with, Don Diego and his mute aide Bernardo stay in Monterey to deal with a mean-spirited acting Governor and his gang of army thugs. Diego's friend, and Zorro's sometimes nemesis, the lovable Sgt. Garcia, also stays in Monterey for the duration of this storyline, after entering the previous one part-way through. Don Diego's romance with Anna Maria is also challenged by rivals— chiefly Zorro!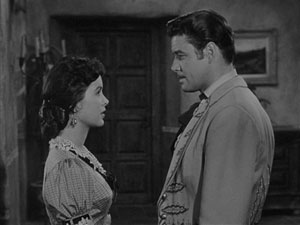 Suffice it to say that Diego, his alter ego, Bernardo, and Garcia all find themselves back in Los Angeles after this… without Anna Maria. The next thirteen episodes concern such plot points as Diego's uncle (Cesar Romero) arriving in Los Angeles, with various schemes that give Zorro headaches; then a girl (popular Mouseketeer Annette Funicello) arrives, insisting that her missing father is in Los Angeles; and a mountain man's conflict with a landowner (Jonathan Harris, appearing with Guy Williams years before Lost In Space). Funicello's appearance on the show in three episodes came as a sixteenth birthday gift from Walt Disney, who knew that she had a crush on Guy Williams. She would make a further appearance later on as well.
In the third suite of second season episodes, Zorro deals with a Spanish emissary (Everett Sloane, Mr. Bernstein in Citizen Kane) who preys on Californian wealth while taking on the pretence that he believes that Californians are not concerned for Spain; and then he must foil a plot to kill the governor of California.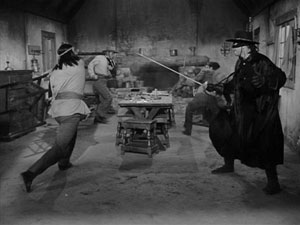 I watched these shows with my wife, and it was the first time either of us had experienced the series. We absolutely loved it. This was obviously Walt-the-producer at his very best. The sets and costumes are impressive (half-hour episodes of Zorro cost a few times as much as most hour-long dramas at the time), the cast is superb (starting with the dashing guy Williams, but with props to talented pantomimic Gene Sheldon as Bernardo, and the endearing Henry Calvin as Sergeant Garcia), and the balance between action and humor is sublime. Somehow the show continuously hits every right note, totally engaging the viewer with its marvellous charm. It's easy to see why the show was so popular. It is simply the perfect TV show.
Unfortunately, Zorro fell victim to a rights battle between Disney and ABC. While the two parties attempted to settle their dispute, Disney pulled the plug on new Zorro episodes at the apex of the series' popularity. He held onto the rights, though, and did four one-hour specials of Zorro, which were broadcast as part of Walt Disney Presents. Disney and ABC eventually settled their differences, but by that time Disney sensed that the moment for Zorro had been lost, and he decided to move on to other projects. In retrospect, this might have been just as well, with Zorro going out while on top, rather than withering away in decline. As is, the current legacy of 78 consistently wonderful episodes of Zorro stands as yet another of Disney's great achievements.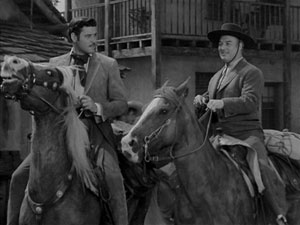 Is This Thing Loaded?
The first disc contains the standard Introduction By Leonard Maltin (3:29), in which he describes the nuances of Season Two, and shows us clips of future Disney projects that featured the stars of Zorro, before discussing the set's special features.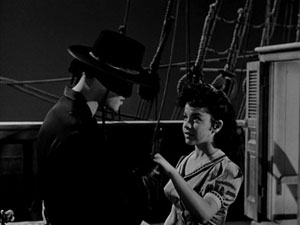 These special features are showcased on their own disc, the sixth in the set. This disc begins with the final two hour-long Zorro specials from the 1960-1961 season of Walt Disney Presents. The Postponed Wedding has special guest star Annette Funicello returning to the show, this time as a "niece" of one of the characters (she affectionately calls both Alejandro and Sergeant Garcia "Uncle," but the exact nature of her relationship is not spelled out). Though she is a darling young lady, Diego can see that something fishy is going on, concerning an "old friend" of hers that conveniently shows up. When an elopement plot is uncovered, everyone must pretend to not know about it, and let Zorro take care of business with the supposed fiancé.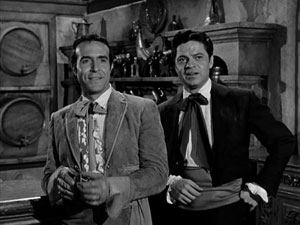 The next special has two distinguished guest stars, Ricardo Montalban (Fantasy Island, Star Trek's Khan) and Ross Martin (The Wild Wild West). In Auld Acquaintance, Montalban is an old rival of Don Diego from his days as a fencing champion in Spain. The rival still badly wishes to beat Diego, and his hatred for Diego interferes with his plans to rob Garcia of the latest payroll shipment. With the rival noticing that Diego now mysteriously pretends to not know swordplay, suspicions are aroused, and more so yet when he fights Zorro, who becomes the only person aside from Diego to ever disarm him. Zorro's greatest secret is now in jeopardy. Incidentally, while music was often a part of the Zorro series, these one-hour specials further benefited from original songs by the Sherman Brothers.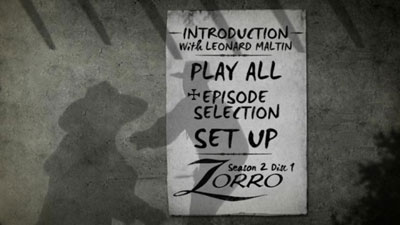 Behind The Mask (7:55) looks at the life and career of Guy Williams. While such a feature is essential, it is sadly short. It's just a studio-sanctioned bio with little meat to it. Look elsewhere if you want to find out Williams' real name, his early life, or anything about non-Disney projects. Even Lost In Space gets barely a mention. Still, the home movies of his family and behind-the-scenes on the set are nice.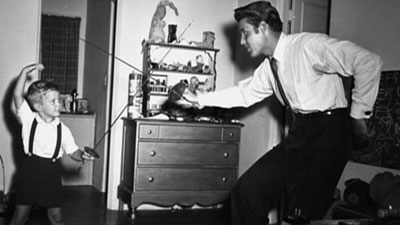 A Trip To The Archives (10:55) runs three minutes longer. Does it say something that its focus is on merchandise? Leonard Maltin and Guy Williams, Jr. look at artifacts from the Disney Archives that show some of the breadth of Zorro''s marketing. They also take a close look at some of the surviving costumes. Pretty neat, and like the previous featurette it was nice to see Guy's son included in the remembrances.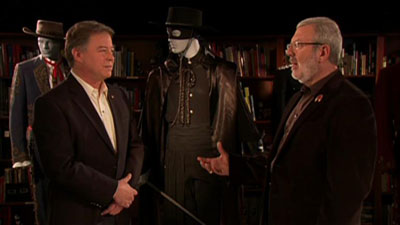 Case Study:
The choice of continuing the Walt Disney Treasures series with season sets of Zorro is a curious one, but one I've come to accept as reasonable. With most of the cartoon short subjects covered, and the prospect of trying to market these DVDs mainly to Disney collectors, pressing ahead with the Treasures seems like a reasonable choice. Walt Disney Home Entertainment seems to acknowledge the unconventional addition to the Treasures series by placing these sets into black metal tins, eschewing previous sets' silver. They do, however, go retro and return to having a paper strip wrap around the bottom of the case, featuring Roy E. Disney's signature on one side, and Leonard Maltin's on the other. The back of the package has a paper sheet describing the contents, glued to the back and easily removed to place inside the case for safe keeping. Inside the tin is a standard-sized DVD case, with two double-sided trays that enable the case to hold a total of six discs.
Inside the case is also a postcard-sized photo of Guy Williams as Zorro, a numbered Certificate Of Authenticity, an eight-page booklet that includes a listing of the disc contents and background on the show, and a four-page insert with information on Disney Blu-ray, Disney Movie Rewards, and the D23 Disney fan club. The tin also one additional piece of swag— a sharp-looking Zorro pin.
Ink And Paint:
The video is not absolutely perfect, but far better than one might reasonably expect. The prints used for these transfers were in very good shape, with very few instances of dirt or scratches. Thankfully, this set doesn't use the colorized versions seen on the previous Disney Movie Club DVDs. The black and white cinematography is often stunning, with a nice level of detail showing off the expense of these fine productions. Everything from the ornate costumes to the lively sets comes alive. Blacks are appropriately deep, though here detail can be lost. For a series that has as many nighttime scenes (or at least scenes shot "day for night") as this one, a great transfer is essential, and this DVD set largely comes off well.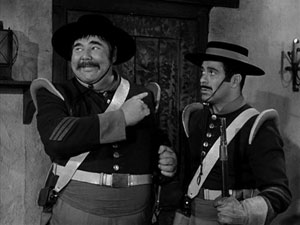 Scratch Tracks:
The mono sound is impressive mainly for the fact that it is not at all bad. One might expect that a 1950s TV show might not come off so well on a modern DVD, but these episodes are pleasantly free from echo or hiss, and proudly show off the wonderful character performances, not to mention the frequent music.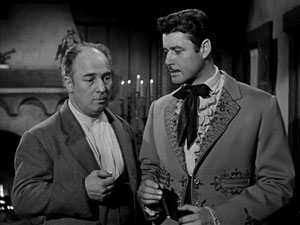 Final Cut:
This may be the perfect television show. It is hard to imagine it being any better, with ideal casting throughout, exciting and funny scripts, and extremely high production values. I wasn't a kid in 1958, having arrived on the scene quite a bit later, but watching these episodes made me wish I was born years earlier, in order to fully embrace the joy these shows must have brought back in the day. Even as a grown-up seeing these for the first time, I was absolutely enchanted and delighted. With surprisingly good video and audio, the only way this set could have been better would have been to have had a better biography of its star. That's a paltry criticism, though, as this set still comes highly recommended!
Animated Classic or Back To The Drawing Board?