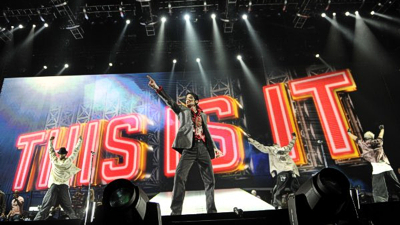 Michael Jackson rehearses the opening
to his destined to be last spectacle
As I took my seat and the movie theater began to fill up for the fourth big Michael Jackson event of the year (after the announcement of the
This Is It
London shows, the news of his untimely death, and the globally televised memorial funeral service), it struck me just how big a deal this filmed record of Jackson's rehearsals for those shows could be. This actually could be
it
, I thought, as I watched people of all ages and nationalities find their seats: the biggest film of the year.
I certainly hadn't seen such a varied assortment of faces, from babes in arms to grandparents, from young guys to ladies of a certain age, since the furore surrounding Mel Gibson's The Passion Of The Christ a few years ago. Possibly appropriate, given Jackson's self-appointed standing in the multi-cultural musical community, and as the man himself said, it don't matter if you're black or white.
I am not fundamentally a Jackson fan. Sure, his music has touched various parts of my life at various times, but like so many people, he was an icon in my teenage years but the lustre wore off in the early 1990s when, after the smash success of Black Or White and the Dangerous album, his personal life was more in the headlines than the music. But Sony's "for two weeks only" marketing seems to have worked: certainly the primary reason for my making the trip to the theater was a curiosity factor, not only to see Jackson's last performances, but to see how director Kenny Ortega, he of the Disney musical factory (Newsies, all three High School Musicals) had fashioned a coherent movie from over 120 hours of footage taken during the rehearsal run for the This Is It concerts.
The answer is that this is a very slick package, as one might expect given the Michael Jackson organisation's connection, though not one prone to keep elaborating how great a performer he was, and what magic he had. It doesn't need to: the proof is right there on the screen. Jackson is magnetic, and one can't take their eyes off him when he's doing his thing, from being powerfully energetic during Billie Jean, Bad and Black Or White to playful in I Just Can't Stop Loving You. Highlights include a typically mischievous Hollywood tough guys montage, where Jackson is inserted into classic movies to shoot off a few rounds opposite the likes of Bogart and Robinson, and a deliciously imagined version of Thriller that seems to have undergone a fun Haunted Mansion makeover.
There's no denying who's always in control, and it's either an honesty on Ortega's part to include footage that doesn't show the director off in the best light, or a complete personal unawareness. More than once it is clear the co-performers have been given a specific direction only for Jackson to counteract it, leaving Ortega to jump in with a level of sycophancy that could be all too indicative of the kind that led Jackson to his unfortunate demise. One often feels that the many shots of Ortega chumming around with Jackson are an effort to prove "hey, we were great buddies; we really were on the same level", but they don't always achieve this aim: a couple of times, Jackson noticeably moves away to find his own space, which is quite telling.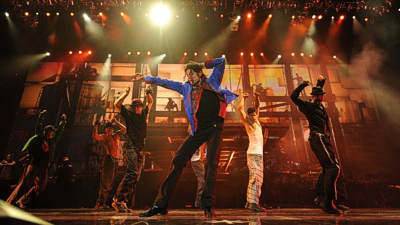 Though questions about his health remain, the energy
Jackson displays is on par with his 1980s height of popularity
It's these moments that really make
This Is It
fascinating, though I wish there had been a lot more of them. The first 40 minutes or so flash by, without much pomp or circumstance, just a well edited run through of the show captured from various cameras and different rehearsals, split screened to show variations in routines and some of the video screen footage that had been shot to accompany the stage spectacle. Jackson is in good shape; he looks a little thin, but is not gaunt or frail, and routinely puts the other dancers half his age to shame. But after this halfway mark, and a couple of slower numbers, there's a feeling that despite the poster's promise of discovering the man we could never know, what we're seeing really is going to be it, and nothing more.
To its credit, however, the film sticks to what it was made to do, and doesn't dwell on Jackson's phenomenal success pre-This Is It or post the stage rehearsals: it doesn't ever flash up the dates of his years on this planet, and isn't even dedicated to him, choosing instead his three children. Ultimately, This Is It is a film "for the fans" as an opening scroll reads. And to the ones in the audience with me, it certainly served a purpose, perhaps one of closure for them. I can't say I was ever the biggest one in that kind of group, but in This Is It the raw talent of a perfectionist and a performer that, whatever else, was a one of a kind, is clear for even non-believers to feel.
Though after a while the basic setting starts to feel overly familiar and one might hope for a bit of freshness, upping the interest are the audio and video aspects, which are surprisingly and incredibly rich. This isn't just some "home movie" footage dressed up, but almost a dry run for the cameramen as well, in order for them to be ready to capture the show on the road in a mixture of both high definition and some well treated standard def footage. And, since the songs were either pre-recorded or mixed direct from the live sound desk, their studio quality rocks the theater with an amazing clarity from the radio-mic'd Jackson and a solid groundshaking bass that puts you in the audience of a concert that never was.
Perhaps unsurprisingly there's a natural melancholic feel to the film: there can be no-one, after all, who isn't aware that Jackson is no longer with us, and so watching him in his element is a paradoxical experience. It is undoubtedly unfortunate that his recent trials and tribulations have come to overshadow his early work, and there will be some that protest this film is nothing but a whitewash to provide a much more favorable swan song of sorts. Cynics might even suggest this is the final opportunity for the vultures that fed off the Michael Jackson factory to scrape what they can from the bottom of the last barrels. But I went in, as so many others are doing, as someone mildly interested in seeing the footage or perhaps with a morbid curiosity, and came out having to admit, if nothing else, that those London concerts would have been quite the comeback.
Could Jackson have pulled off 50 of those shows night after night? We will never know, but This Is It provides a glimpse at what might have been, and a final performance from a unique entertainer. Though the Jackson circus will inevitably continue along its traditionally oddball path, this is the moment that inevitably and appropriately lowers the curtain. That was it.



Michael Jackson's This Is It
Columbia Pictures/Sony/MJJ Productions
2009
112 minutes
Rated PG
directed by Kenny Ortega




---