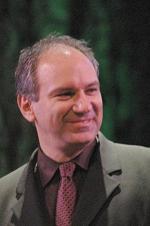 In 1982, a brand-new musical was hitting the road at the WPA Theater. At a (down) time when it was pretty hard to find fresh musical air on Broadway, Howard Ashman's and Alan Menken's Little Shop of Horrors distinguished itself by being a true, complete theatrical score but based on pop music idioms from the good old time of rock 'n' roll. In doing so, they proved it was possible to make oldie-rock dramatic and tell a solid and meaningful story with it.
27 years later, at a time when Madonna's hits featured samples from Abba and producers tried – again – to bring fresh air to Broadway in resurrecting the same old Abba hits, it was time to have somebody really create something in that vein. And Alan Menken was certainly the man. With his dream team – lyricist Glenn Slater and musical director Michael Kosarin – he managed to use idioms of the late 70s/early 80s taken from disco, funk or soul music really speak and tell stories.
Indeed Sister Act – A Divine Musical Comedy, that's presently a hit at the London Palladium – is not only filled with tons of emotion and energy, but stands out at the same time as a parable about redemption and change.
When disco diva Deloris Van Cartier witnesses a murder, she is put in protective custody in the one place cops are sure she won't be found – a convent! Disguised as a nun, she finds herself at odds with both the rigid lifestyle and an uptight Mother Superior. Using her unique disco moves and singing talent to inspire the choir, Deloris breathes new life into the church and community, but in doing so blows her cover. Soon the gang are giving chase, only to find themselves up against Deloris and the power of her new found Sister Hood.
Based on the Touchstone Pictures movie of the same name, Sister Act – A Divine Musical Comedy is unique in that it is not a Disney Theatricals production. It is also different on more than one account, and that's precisely what we talked about with its musical supervisor, longtime collaborator of Alan Menken's and Broadway highly-appreciated musical director Michael Kosarin.
---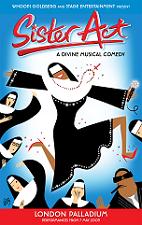 Animated Views: How did Sister Act – The Musical start?
Michael Kosarin: It goes back to a number of years, actually. Glenn Slater and Alan Menken were approached a while ago about doing it. I think at the time, they were already working on another show called Leap of Faith which had a gospel theme. We're going to do Leap of Faith next year and it's supposed to be directed by Rob Ashford. We're supposed to try that show out of town and hopefully bring it to New York soon thereafter. But that's a gospel score, a very exciting gospel score. And so, the original film of Sister Act was a gospel-inflected score – the songs they did were gospel. So, they wanted to find a different way in. So, what they came upon was making it a disco-inflected score instead. So, they set it in the 70s. In the film, it was Reno and they moved it to Philadelphia for our show.
AV: Strangely enough, Disney is not the producer of the show.
MK: Disney actually owns the rights. So, they are a silent partner. But it is not a Disney production at all. It is currently being produced by Stage Entertainment which you might know is a huge production company in Europe.
AV: What is your role as the music supervisor of the show?
MK: My role, really, is similar to what I always do with Alan's music which is: I take it from him and then I make an arrangement both for the accompaniment and for the vocals. In this case, it was really a lot of fun because it's all women, which is kind of a challenge. There are very few arrangements that I did that are for men in this. They're just two or three, really. There's the big finale and there are a couple of numbers for the men but, by and large, it's really an all-women chorus, which is both challenging and very, very exciting because it makes you stretch a lot your arranging chops to write for just one type of voice. So, I write all of the vocal arrangements and write all of the accompaniment and prepare it to give it to the orchestrator. I write the underscore as well. So, I will very often write the intro that you hear going into the song out of the dialogue, and then the interstitial music in the middle of a dialogue, and then the outro, very often is mine as well.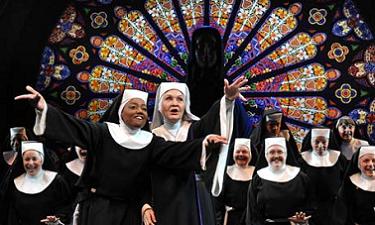 AV: Little Shop of Horrors (whose latest version you supervised, too) and Sister Act were based on the challenge of writing a complete, theatrical score using pop music idioms. Can you tell me about that critical aspect of both shows?
MK: Obviously, you'll have certain styles that were created for radio listening. In Sister Act, for example, we have disco, funk, Motown and standard musical sounds. In this case, we had to make that into a score, make it sound like they're all living in the same place, on the same plane. Doug Besterman was our brilliant orchestrator on Sister Act and I worked with him in order to make sure that our 16 players were put together in a way so that everything did sound like it was from the same palette, and that all of those songs spoke to each other style-wise. Obviously also, you have all of these styles created for radio play and sometimes you want to have them set more dramatically for the stage than you would for radio play. The radio versions might be busier and dramatic versions might try to get out of the way of the vocal a little more and still be very, very exciting. So, the challenges really are making the style adapted for the stage, doing it a way that suits what's going on on stage well.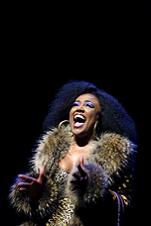 AV: From the influence of 70's music, what references did you turn to?
MK: We listened to a lot of Donna Summer. We also listened to The Pointer Sisters, the O'Jays, the Spinners, Wild Cherry, the Village People, and we then listened to stuff like Barry White and the Floaters because the men's songs appeal to that sound. And then, by the time we get the finale, we're kind of in a Kool & the Gang sort of flavor. So, we did a lot of listening, apart and together all of us, to get our heads into that sound.
AV: Whereas Little Shop seemed to lean toward parody, Sister Act seems to rather lean toward pastiche.
MK: Yes. I don't think we go into parody in Sister Act. I think there are times when there's a knowing wink. It's meant to make you know exactly where you are, exactly what the area is and exactly what they're dancing up there. We go a little bit to the Shaft sound also, but it's not a parody. It's a knowing wink.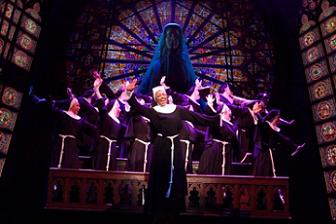 AV: That said, as you mentioned it, Sister Act is not all-disco at all. There are other references that come from traditional Broadway musical, just like the style of Sister Mary Robert's songs.
MK: The disco music is largely presentational. It's used when the nuns are learning how to sing but it's also largely presentational. When you have the so-called "book songs", very often there would be different styles. So, when Mary Robert sings from the heart this book song, we'd go to the more standard musical theater sound there, because her heart is just her heart, so we're not putting any particular style around it.
AV: How did you select the style of each song?
MK: That was really more of Alan's choice than mine. I was presented with the score already in progress, of course. He and Glenn sat down, and the writers of the show sat down and figured out for each song what the right theme would be and then we discussed it later on. But that's mainly Alan's choice. Certain choices are more character-oriented like Mary Robert's song. But the choices can be made according to the situation, too. There are three chases in the show, and that's where we have a little bit of the Shaft sound, that's based on the situation. So, I think there's an equal measure of both situational and character-driven styles.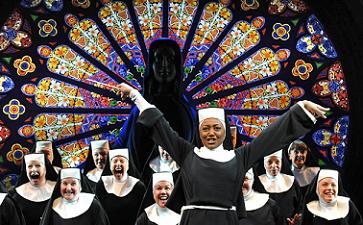 AV: What is your favorite song in the show?
MK: Truly, it changes again and again. Usually, whatever song I'm working on is my current favorite. When I'm sitting and watching the show, I just enjoy watching the audience enjoy it. So, whatever the audience is loving at the moment is my favorite. The best thing for me is seeing the audience's enjoyment.
AV: To you, what made your experience on Sister Act different?
MK: The two things that made it really exciting and made me stretch my chops were, first of all, its type of music that I don't get to work on very often. It's the first time I've every worked on disco music, and I don't get to work a lot on funk, which is a great opportunity. So, being able to stretch and listen and learn those styles to the point where I could write big, impressive arrangements was really exciting and definitely unique. And the other part of the equation is: a large part of the score is just women, which was also unique and made it interesting and a fun project for me.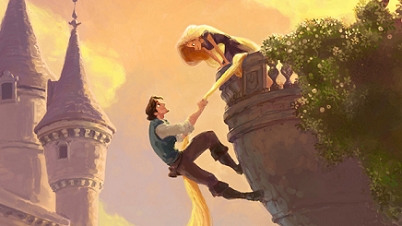 AV: What are you presently working on?
MK: Right now, I'm working most heavily on Rapunzel for Walt Disney Pictures. It's also Alan Menken and Glenn Slater, and it's a 3D-digital animation project that's gonna come out a little over a year from now. It's on a very, very fast track. We're just starting now getting the songs done. Mandy Moore is gonna star as Rapunzel. It's kind of a different score for Alan. It's sort of singer-songwriter pop guitar sound. Alan is doing some very, very beautiful writing for it. What we did on Enchanted was more pastiche. This is kind of a very fresh sound for Alan, with a different sort of palette from Beauty and the Beast and The Little Mermaid. So, it's a lot of fun to get started on that. That's kind of the major project for me right now.
We also have Leap of Faith coming up next summer. So, we are gearing up for that as well. And then, I've also worked on a lot of things. I'm accompanying Barbara Cook around the world for a number of concerts: Belfast, London, here in New York, and I'm putting together a show for Jane Krakowski which we're gonna do for the Barbara Cook Broadway Series at the Kennedy Center, two weeks from now, followed by two weeks at Feinstein's. I also have a couple of projects for Alan Menken, most of which I can't talk about yet, but there's a lot of things going on. Hopefully, we'll get Hunchback of Notre Dame back up soon, because that deserves to be seen here in the States. It was an incredible project. I'm working on Newsies as well and when you see the people who are working on it, you'll be excited as well…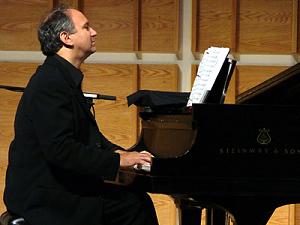 ---
---
With all our thanks to Michael Kosarin.
Sister Act photos © Catherine Ashmore