Walt Disney Productions (1956-1965), Walt Disney Home Entertainment (December 19 2006), 2 disc set, 383 mins plus supplements, 1.33:1 original full frame ratio, Dolby Digital Mono, Not Rated, Retail: $32.99
Storyboard:
The old Mousetro, Walt himself, guides us through some illuminating episodes of the DisneyLand television series in which he doesn't just bookend the shows, but sticks around to present a fair chunk of them! Topics explored include the sources of the studio's stories, celebrations of the theme park, and hopping behind the scenes on one of his most enjoyable early motion pictures.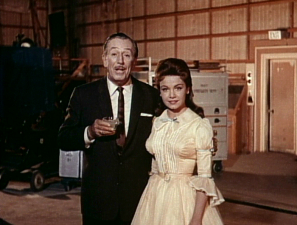 The Sweatbox Review:
As anyone who remotely knows me is aware, I am a Walt nut, and adore "spending time with him" by way of his multiple presentations in various movie and television outings, particularly his weekly TV anthology program which remains to this day to have taught me more about life, the world, animation and movies than any other kind of education.
For anyone who lapped up the previous releases in the Walt Disney Treasures line that dealt with Walt as a screen personality – think Behind The Scenes At The Walt Disney Studios or Disneyland USA – this new collection of episodes, in which Mr Disney maintains presenting duties throughout instead of his usual introductions only, is another must see. Walt was always a charismatic presence and he has an ever so easy nature about him on screen. As the head of a multi-faceted corporation, and surely as busy as someone like him was prone to be, he yet never seems to have not had time to address studio workers directly or remain indebted to his fans, by way of personal letters, appearances and, of course, the DisneyLand program.
Originally dreamed up as a way to generate support and sponsorship for the planned DisneyLand theme park, the show evolved into various formats: either serving as the platform to re-run older Disney classics such as Dumbo or Alice In Wonderland, the stage for brand new, made for TV adventures (Davy Crockett being the prime example among many) or as something of an advertising gimmick to promote the Studio's latest productions. Of course, back in the day, there had never been anything like that before: a chance to see behind the scenes or hang out with cast members on major movies such as 20,000 Leagues Under The Sea, and even now we can forgive Walt for going the salesman route as these such programs were unknowingly providing archival supplemental material for later LaserDisc and DVD releases far beyond the scope of what the other studios have to draw on.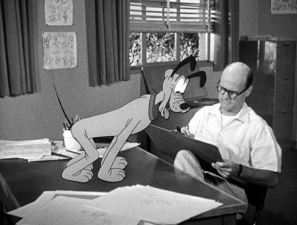 Where Do The Stories Come From? is the first featured episode in this collection, with its original airing on April 4 1956 dating it as the oldest material here. Answering the questions of how the Disney artists are able to keep coming up with their various ideas for gags, shorts and features, the 52-minute program allows us into a story session with regular studio composer Oliver Wallace, followed by artists Al Bertino and Dave Detiege, as they come up with a song and draft out the 1950 cartoon Crazy Over Daisy, which we're then shown. Of course, all the coming up with these concepts are staged, often for films long since made and released, but it's no less fun seeing these guys at play. The spotlight is then thrown on the True Life Adventures series, creating a bit of early company synergy by having some live-action racoon footage inspire storyman Milt Banta to create a foil for Pluto in R'Coon Dawg, from 1951. An especially fun touch is having Pluto "consulted" on the plans for the short, and he bounds up to the Movieola to watch the nature material, excited that he'll shortly be chasing one in the next presented cartoon. The draw of history was always of a particular interest to Walt, and in the Donald Duck cartoons Donald Gets Drafted and Fall In, Fall Out, it's the World War II setting that proves influential in explaining how such exercises as physical examinations and military marching can be mined for comic effect.
Just after this halfway point, the show switches to the inspiration found in the artists' hobbies – not least Walt's own model railroad craze, for which you can see the enthusiasm rush into his face as he begins to reveal all about this Studio-shared obsession. In footage that I recall seeing somewhere else before (and in color if memory serves), we're invited to join such names as Ollie Johnston, Ward Kimball and Walt himself, on their respective home-based tracks, including Kimball's legendary full-sized Grizzly Flats set-up! Greatly fascinating is Walt's impressive railroad, which we see being built in his backyard and operated by a very special "guest engineer", a certain Kirk Douglas! All this training adds up to another Donald short, Out Of Scale, in which the Duck's own model steamer is pitted up against Chip 'n' Dale in a rare cartoon that ends happily for them all, before a lengthy preview presents clips from the following week's program, The Story Of The Silly Symphony. Unlike some previous releases where color footage has been available and inserted – most usually in the cartoon sequences – the entire program remains in authentic black and white, just as it was broadcast all those years ago.
The Fourth Anniversary Show aired on my birthday, 16 years before I was born, on September 11 1957, and charmingly begins with Walt attempting to tap out Prokofieff's Peter And The Wolf theme on a piano. He's soon reminiscing about its making, and this proves to be an unusual show in that Walt permits himself to be shown in a reconstructed flashbacks of meetings for this particular sequence from Make Mine Music, from almost twenty years before. Gone is the conservative grey suit that he took to wearing in the 1950s and back is the jaunty sweater and dandy necktie that were all the rage in 1938. "Prokofiev" arrives as the studio, plays his masterpiece for Disney, and convinces him to make a movie from his musical themes. With the intervention of the War, Peter And The Wolf didn't make it to the screen until Make Mine Music in 1946, though naturally we're show the resulting cartoon (inserted from its color original). Though once again the majority here is either re-enactment or staged moments, there's still a healthy dose of Studio history being imparted and, even if it's not totally accurate, is still informative and highly entertaining. Just as Walt attempts to disclose which other composers he found instrumental in choosing music for films such as Fantasia, there's a knock on the door from Mouseketeer Cubby, who leads the rest of the gang in for a rare appearance of the Mickey Mouse Club's cast on a show other than their own.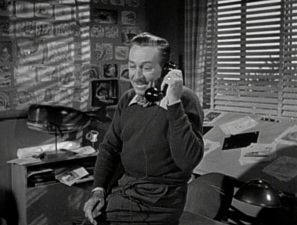 It's here where the "Anniversary" aspect of the show comes in, as the kids engage in some playful banter with Walt before dragging him off to their stage to throw a surprise party for the show's fourth birthday (odd, since even though this was the fourth season's premiere, DisneyLand had only been running three years previous). As part of the celebrations, the Mouseketeers recap the first three seasons in song, and Davy Crockett himself, Fess Parker, turns up to stealth-promote the upcoming show Andy Burnett (which failed to capture the Crockett lightning a second time). Despite the intention to show the "everyday nature" of work at the Studio, this episode is ultimately just in danger of becoming nothing more than an epic Disney advertisement – including a push for the Zorro series – when we're presented with something quite special. Though it was no doubt intended to whet the appetite for an intended feature, the final sequence of the show serves up a preview of the planned Rainbow Road To Oz film that would have seen the Mouseketeers make the leap to their own big screen movie. At some point, this project became the musical comedy Babes In Toyland instead, so this remains the closest we would ever get to seeing Walt himself taking on Oz material, complete with two song sequences and some delightful concept art that might have been recalled in several later projects (most notably the Lion design, for Bedknobs And Broomsticks). The 52-minute show ends with a look at American Folk Lore: Four Fabulous Characters, for the following week's episode.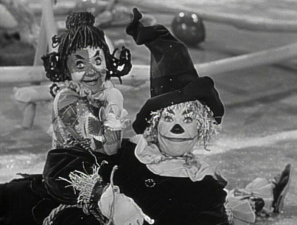 Kodak Presents DisneyLand '59 is a live, 90-minute special, survived here via a kinescope recording from June 15 1959 – 18 years to the date before my sister's birthday! One of the nice offshoots of the Disney corporation's purchasing of the ABC network is that we now get to see this station's initials intact on classic Disney programming such as this, rather than being removed so as not to promote a competitor. This "ABC television network presentation" brings together many of the players from the DisneyLand theme park's opening day four years earlier, to introduce three significant new attractions: the Nautilus Submarine Voyage (five years after it debuted in 20,000 Leagues Under The Sea), the Matterhorn bobsled and, of course, DisneyLand's famous Monorail.
Presenting the show just as he'd done for the park's first day is Walt's friend Art Linkletter, while notable VIPs comprise a mixture of guests, Hollywood names and Disney contract players, including (in order of appearance) Ed Sullivan, Vice President Richard Nixon (whose daughters amusingly have a sticky time trying to cut the Monorail's declaration ribbon), the Firehouse Five Plus Two, Wally Boag, Robert Loggia, Clint Eastwood, Guy Williams as Zorro, Tommy Kirk, Dennis Hopper (perhaps now seen as trying too hard to look super cool), and even Meredith Willson's 76 trombones (well, it is a big parade)! For many it's a case of "blink and you'll miss 'em", but for epic live broadcasting this is very slick and all quite an achievement.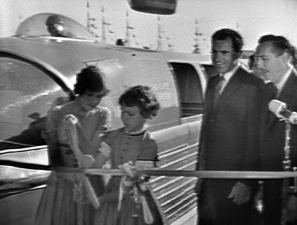 Annette Funicello, a regular Disney face who had become something of a major Studio star, cements her reputation by simply appearing without the need of an introduction or any kind of billing at the center of a Matterhorn song and dance. Long thought to be a lost television broadcast, we're lucky that the entire program was captured via the kinescope process of shooting a television monitor feed directly onto motion picture film. While this has the odd appearance of exhibiting both film and early video defects for those unfamiliar with the technique, most will have seen material like this – not least that DisneyLand opening program – before, and the sheer fortune of the system means that we at least have a full record of such events. It's lengthy though, and slow in many parts even as live programming still is today, with much of the first half absorbed by a never-ending Main Street Parade that focuses on the rather quaint entertainment of the day, saved only by Linkletter's informative narration and Willson's joy at seeing his 76 trombones for real.
Great fun are the many pushes of the Kodak brand…totally dated of their time and holding a unique charm of their own. Rather wonderfully, the pre-shot film segments that were peppered throughout the show – including a nice potted history of the park's building that feels more archive documentary than sales tactic – have been located and inserted where they belong in the program, providing better quality than the kinescope in these sections. It's not until the three new rides are previewed that the interest factor shoots up dramatically other than for the nostalgic fascination of the parade, and though Walt doesn't feature too prominently, it does make sense for this recently discovered curio to make a showing here.
Back Stage Party opens up Disc Two, originally shown on December 17 1961 as part of the Walt Disney Presents The Wonderful World Of Color, and true to form the entire program is shown as such. Almost picking up as a totally unofficial "sequel" to the Fourth Anniversary Show, this is another tour of the studio, from which much of the later vintage footage seen in countless documentaries has been picked from, primarily concerning the wrap party for Walt's latest feature Babes In Toyland, the Mouseketeer movie project that the earlier-previewed Oz picture eventually became. Once again the festivities are largely – and more obviously – scripted, and Walt cheats a little here by being matted in on some shots (probably down to pressures on his schedule, though it's cleverly done and he is charm personified) and handing over to Babes babe Annette Funicello herself for the second half of the episode.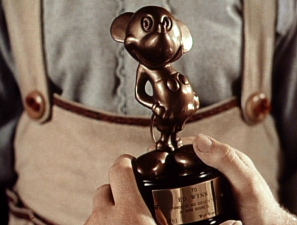 This second half is more for the promotion of the new release than anything else, though it does contain some unique material and performances from the Toyland cast, including Funicello, of course, Ray Bolger, Tommy Sands, Ed Wynn, and Tommy Kirk, who all do their bit in making sure the movie would be something to go and see for families of the time. Especially nice is a accolade to Disney favorite (and Keenan's dad) Wynn's 60 years in showbiz, the smooth jazz rendition of Jeepers Creepers and comical tribute to the movie's director Jack Donohue. Best is that this is fairly light on inserted material, being all-new footage shot specifically for this show (and doubtless for archival purposes). Though a cut down featurette edition of this program (without the wrap party segments) appeared in the Behind The Scenes Of The Walt Disney Studio Treasures tin, and might well have been the perfect companion to Babes In Toyland had that not been a vanilla release, that we get it in full here makes it all the more welcome. The 52-minute show ends with a lengthy look at the following week's program, a celebration of Disney's cartoon cats.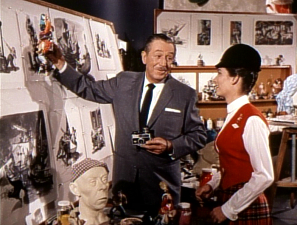 The 10th Anniversary Show, dating from January 3 1965, has Walt showing off the work of his theme park Imagineers, at the time they were creating a flurry of legendary attractions such as Pirates Of The Caribbean, The Haunted Mansion and the permanent exhibit version of It's A Small World. Teeing up the forthcoming tenth birthday of DisneyLand, this is perhaps the most geek-worthy of all the programs here. The pretext to show us around the department and preview the new rides is to fill in Miss Anniversary Julie Reihm in on her duties as the park's ambassador during this celebrational year, but its excuse enough to catch up with artists Mary Blair, John Hench and Marc Davis as they discuss concept models of the upcoming park additions. We're soon off to the park itself, for a parade of characters and the joining to the family of Mary Poppins and her chimney sweep friends, who perform that movie's Oscar-winning song Chim, Chim, Cher-ee.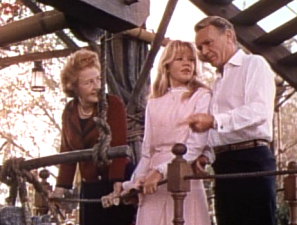 Around the half-way mark, we're transported back to the beginnings of the park, seeing fresh, color footage of its construction, including Walt playfully mucking in, as well as milestones along the way, such as the Nixon family's opening of the Monorail, here shown in alternate angle color which reveals how Walt was actually able to move things on! There's also a visit to the Swiss Family Treehouse with the movie's star John Mills' own family: wife Mary and daughter Hayley, a behind-the-scenes look at the incredible complexities of The Enchanted Tiki Room, a night time spectacular and preview of next week's show, The Boston Tea Party, the first part of the Johnny Tremain story. If this all sounds vaguely familiar it's because the entire 45-minute 10th Anniversary Show was previously included in the Treasures tin DisneyLand USA, where it perhaps more happily belongs, and heavily excerpted in the DVD for Pirates Of The Caribbean: The Curse Of The Black Pearl, so while having Walt leisurely guide us around the park's new ideas is a great privilege, this is sure to be a return trip for many, and one of a few too many instances of repeating material within the same series.
I Captured The King Of The Leprechauns is possibly the most debated inclusion in this collection, seeing that it was the major extra on the DVD release of Darby O'Gill And The Little People, which it promotes (and was a major reason I personally picked up that disc). Perhaps because of fan reaction to the "double dipping" of this material between two discs that most die-hard collectors would likely own, it's been presented here as a "bonus episode" with an explanation by series presenter Leonard Maltin that attempts to stress the importance of the show in a set dealing with Walt as host. Originally airing on May 29 1959, it's true that Walt prominently features in this black and white show, in fact the only program that he appears in throughout.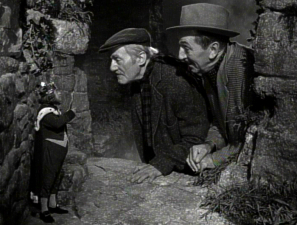 The premise is that he's out in Ireland trying to find a lead for his planned movie, coming across King Brian of the Leprechauns and attempting to persuade him to join his cast. It's an elaborate show, to be sure, and is filled with the same kind of split screen/false perspective effects shots that were so valuable in creating the illusion of opposite size in that memorable feature. Walt is especially on form, delighting in taking time out of his day job to return to his secret love of hamming it up, along side cast from the movie and actor Pat O'Brien. There are plenty of scenes from the finished movie incorporated to pad out the 49-minute episode, and for those without the Darby O'Gill disc it's sure to work its magic just as it did back when it was used to promote the theatrical release. The only issue there, of course, is that you'll end up owning this vintage special twice, even if fortunately both Darby O'Gill and I Captured The King Of The Leprechauns are top-notch entertainment.
DisneyLand USA At The Radio City Music Hall, also hidden in the bonus features, isn't to be confused with the previously released Treasures tin, despite the overlapping content. Originally a sneaky entry into Walt's People And Places series of theatrical location profiles, this 1962 short was only ever screened exclusively at New York's Radio City. A unique CinemaScope presentation, the original show featured Walt onscreen interacting with the theme park costumed Mickey Mouse, who was on hand live on stage, much as how Winsor McCay had performed with his animated Gertie The Dinosaur back at the dawn of animation. The six-minute show is reproduced here by way of a letterboxed transfer of the widescreen film from the original 35mm show print, coupled with picture-in-picture 16mm footage of Mickey on stage that was only recently discovered.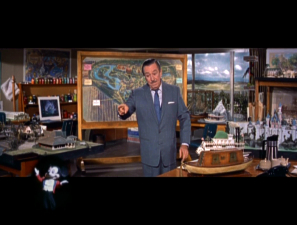 Long thought to be lost, this is a unique way of being able to reconstruct the intention of the original performance, with the pre-recorded dialogue coming from studio masters meaning that we get a nice, clean representation of the event. Walt is both featured as screen host and returns to voice his ol' pal Mickey, though the years and years of his boss' unhealthy smoking habit have clearly taken their toll on Mr. Mouse's falsetto! The content is straight-forward and simple: after some shenanigans as New York is connected to Walt's office, we're treated to another potted history of the park, repeating much of the footage – and some of the narrated gags – already seen in the previous shows. However, being sourced from a pristine CinemaScope print works wonders with the vintage material and everything looks vibrant and sharp enough to almost step into, and the final reading of the DisneyLand dedication, by Walt himself, is a truly touching and appropriate way to bring this collection to a close.
Is This Thing Loaded?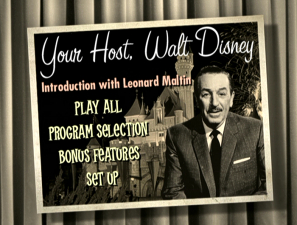 Regular Treasures host Leonard Maltin – a man to be well congratulated on being responsible for getting much of this type of material out of the vaults and into collectors' hands – sets up each disc with an Introduction for both sets of programs. He's as genial as always, perhaps especially enthusiastic about this particular collection, which he states as being "near and dead to my heart". These intros serve as the set's supplemental overview, running 4:15 and 3:58 on Discs One and Two respectively, and convey authoritative background on the Disney television shows, placing these episodes in appropriate context in expert fashion.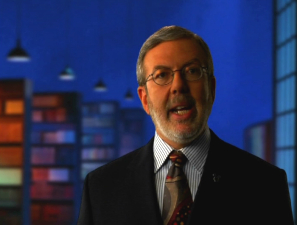 The important extra on Disc One is a 21-minute My Dad, Walt Disney interview with Diane Disney Miller. Forgoing any usual Treasures-branding, the piece begins immediately with a brief introduction before Diane starts to relate her memories of living with her dad to Maltin. As usual, both personalities revel in their appreciation for Walt, and there's the intercutting of generous amounts of home movie footage, shots from his early days, and behind the scenes clips from the shows themselves as Diane speaks about her home life, husband Ron Miller's joining the family business, and, most appropriately, the introductions to the weekly programs and building of the park. Though anyone who saw the feature documentary Walt: The Man Behind The Myth will have seen much of this before, and Diane's recollections will be familiar to aficionados, it's still magical to hear first person accounts of Walt's time. One issue, however, was with the sound mix, which kept rising and dipping throughout, with some of the background music overbearing and unfortunately irritating.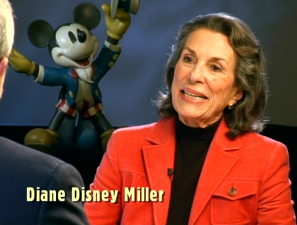 Secondary, but no less welcome, is a comprehensive Stills Gallery split into three sections spanning Walt's life: the early Hyperion Days, with over 50 images recounting the Disney Bros. Studio and life up to Pinocchio's publicity, Walt At Work, featuring over 75 images featuring behind the scenes photos of Disney in and around the studio working on the DisneyLand show and various features including 20,000 Leagues, and Walt's Playground, where the onus is once again on DisneyLand the theme park for over 60 stills that bring us up to his final months. Several of these shots will have been seen my die-hard enthusiasts, but there are a great many that will be new even to this crowd, and having a selection like this in one grouping is a real treat.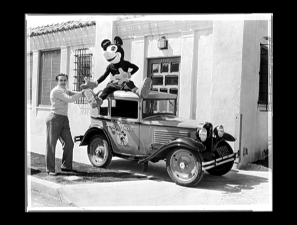 With the additional programs I Captured The King Of The Leprechauns and DisneyLand USA covered above, we're only left with one true supplement on Disc Two, but it's a winner. Working With Walt recollects the thoughts and memories of a host of Disney performers, from Snow White's live-action reference Marge Champion and Mousketeers Tommy Cole, Cheryl Holdridge, Don Grady, and Bobby Burgess, to Babes In Toyland's Tommy Sands and The Hardy Boys themselves, Tim Considine and Tommy Kirk. The 8:43 piece doesn't really allow for much more than soundbites from each participant, but there's enough commenting here to get their points across without things sounding too good to be true or false in tone. There's brief discussion about working with Annette Funicello, and another plundering of footage from throughout the programs we have seen here, though highlights are brief glimpses of Walt recording his matted in intros without the backgrounds!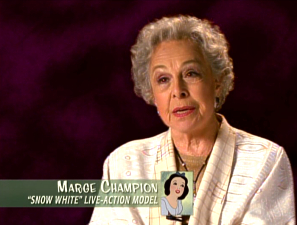 Case Study:
Your Host, Walt Disney comes housed just like the three other titles in the December 2006 wave of Treasures, in a double-width keepcase inside an embossed tin. The information sheet featuring the set's contents is once again a cardboard slip gummed onto the back of the tin, allowing for non-rip removal and safekeeping inside the case. A certificate replicates Roy Disney and Leonard Maltin's signature and confirms a print run of 65,000 copies, consistent with the numbers found on the other titles from this season. The customary eight-page booklet reaffirms Maltin's words of praise for Walt on TV, while a similarly always included lithograph reprints a 1956 studio portrait.
Ink And Paint:
For anyone who has dipped into the Walt Disney Treasures line in the past – and there can't be many that haven't come across some of the vintage material sampled here in excerpts over the years – you'll know what to expect. Though the Disney Studio was more than adept at cataloguing there productions and processes like no other, the simple archive nature of the material – much of it kept more for reference than for public presentation and thus not maintained or restored to the luminance of a major animated feature – has to be taken into account. All things considered this is as pleasing a presentation of this mixture of black and white and color footage as we're ever likely to see, and even the kinescope material is impressive in its detail.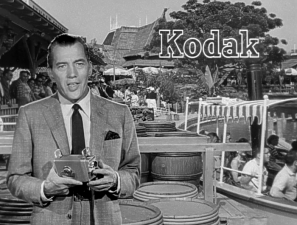 Scratch Tracks:
The soundtracks, so easily kept in safer conditions than filmed images, have naturally survived much more intact, providing a sterling reproduction that we're able to hear more clearly on disc than was even possible on TV back at the time. Where the digital technology of today is more than capable of exposing audio pops and other audio anomalies almost as a mistake of being too proficient, the tracks here have clearly undergone some sweetening to make them more accessible for our ears in this dynamic, surround-led home entertainment world. Though the tracks remain simple mono, Disney soundtracks were always high in fidelity, and as such they never strain the ears in these solid reproductions.
Final Cut:
As I've said so often when summing up collections like these, this is pure magic. Walt holds the camera not so much with slick professionalism, but with a magnetism that almost feels like he's making this up as he goes; that he's experiencing the adventure for the first time, learning as we do, and enjoying each step of the way just as much as we at home. His seemingly off the cuff remarks and friendly, warm comments never fail to win an audience over and it's clear why his public persona at least remained so popular.
It's unfortunate, then, that this set recycles large chunks of programming. I can understand that those collecting the Treasures now might have missed out when some of these programs were previously made available, but surely that is was re-releases are for and what is meant by the term "limited edition"? Repacking material from no less than three titles (Behind The Scenes, DisneyLand USA and the stand-alone Darby O'Gill) feels like we're being more than a little short-changed here, with only one full disc's worth of content unique to this set. As such, the overall score must come down a notch, even though that, for first timers to these shows, this collection is otherwise a hearty and warm recommend.
ANIMATED VIEWS EXTRA! Read our own interview with Diane Disney Miller, where she talks about life at the studio and living with The Dad Behind The Myth, her father Walt!
Animated Classic or Back To The Drawing Board?