Filmation Associates (September 12 1970), BCI Eclipse (October 24 2006), 3 disc set, 352 mins plus supplements, 1.33:1 original full frame ratio, Dolby Digital 2.0 Stereo, Not Rated, Retail: $29.98
Storyboard:
Sabrina the teenage witch teams up with a spookily hilarious band of creatures for some mad monster comedy and variety show fun at their ghostly castle haunt.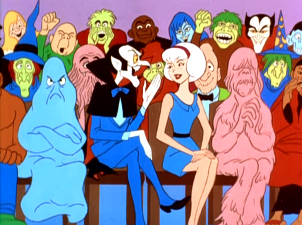 The Sweatbox Review:
When I was young(er!), a company in the UK – I believe it was called Alpha Video – issued a great many number of VHS titles which were culled from the archives of, primarily, the Filmation library. This is where I caught my first glimpses of the "best" episodes of such shows as New Adventures Of Superman, Tarzan: Lord Of The Apes and Flash Gordon, plus many shows built around popular comics characters The Archies, Sabrina The Teenage Witch and Lassie's Rescue Rangers.
On the front of those tapes was a generic preview of other titles, many of which I could never find in our rather limited local tape library, and one of them was for a show that looked, to my little eyes, like it mixed the characters from the Rankin/Bass stop-motion feature Mad Monster Party with the classic stable of Warner Brothers' Looney Tunes gang. I distinctly remember Daffy Duck popping up on the same screen as the animated Dracula, clearly based on the Monster Party movie, and was excited to find out that the show, called Groovie Goolies, would soon start running again on TV. The versions of the episodes we got in the mid-1980s were mixed and chopped up for syndication, so I wasn't able to pinpoint if this was the show that had featured Daffy Duck (even back then I had realised that copyright existed and there must have been some deal made that would have allowed Daffy to be animated by another company).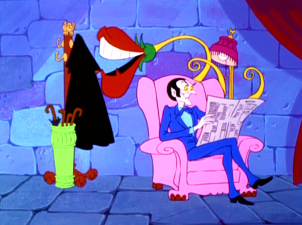 Years later, and following the great, great work that BCI Eclipse has been doing in taking those old Filmation shows and revitalising them for exceptional DVD box set releases, I was again eager to check out the Groovie Goolies to again try and track down what were fast becoming what I thought must have been figments of my imagination. The short end to this tale is that I'm still searching…the series presented on these discs is absent any involvement from Daffy and company, though on digging up info for this review I finally found out that I'm not crazy: Daffy Duck And Porky Pig Meet The Groovie Goolies does indeed exist as a one-hour special made at the end of this series' run in 1972, but sadly not included here.
What we do have are all 16 unedited episodes of the show, also known as Sabrina And The Groovie Goolies. The Archie universe was especially kind to Filmation, who cranked out show after show based on those characters. Long before Melissa Joan Hart ended up running around in the popular live-action comedy show of today, teenage witch Sabrina was starring in those early mid-60s Archie shows, eventually breaking out into her own program – this one – though strangely the emphasis is squarely more on her mad monster chums, something that seems to have continued through the production of this set, which scarcely mentions her in the packaging or any of the extras.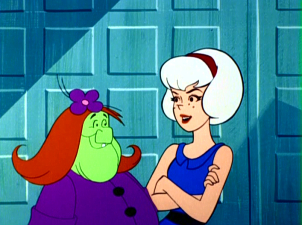 The concept is that Sabrina has left home to trudge about with a band of real misfits, the Goolies, who hit the road with a trunk full of comedy skits and play their songs in the light of the full moon. It's often been described as a kid-friendly, animated monster version of Laugh In, the biggest comedy review of the time (both share a writer or two!), with Sabrina's friends consisting of a plethora of caricatures based on the classic, mainly Universal Old Dark House monsters of the 1930s. Thus we have Drac, the Count with a mean talent for playing keyboards and even meaner one-liners, Frankie the creature with the Boris Karloff voice, beatnik werewolf surfer dude Wolfie, Witch Hazel-clone Hagatha, the Ed Wynn-sounding Mummy, a skeleton who can't pull himself together, Boneapart, and Bella LaGhostley, clearly modelled on the Vampira/Morticia Addams look that became popular again with the Elvira spoofs.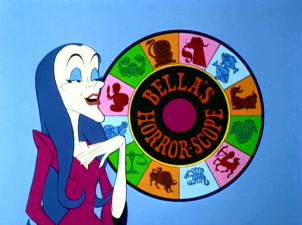 Sabrina herself, despite being named checked in the original title (before syndication switched it to The Groovie Goolies And Friends (or should that have been "Fiends"!?), hardly shows up throughout the series, so things are mostly left to the inhabitants of Horrible Hall, who come up with the rapid-fire puns and fadeout gags reminiscent of Tex Avery's classic cartoons. This all seems perfectly in tune with the time, during which silent film comedy and the Universal monsters had been enjoying something of a renaissance as those films had become available and replayed on television. The Groovie Goolies mixed all that together and came up with a show that still works today without feeling dated other than in the musical segments which, while toe-tapping, are certainly of their time.
Staying with the sound, and the cast boasts a number of prolific vocalists too: long time television face Larry Storch (himself a guest on Laugh In among many other projects as diverse as The Phil Silvers Show and The Aristocrats) is Drac, while Howie Morris plays several characters, something he was more than adept at after speaking in hundreds of Filmation and Hanna-Barbera roles and continuing to work before his death as recently as on the Cow And Chicken show. Another name familiar to TV animation fans will be Don Messick, perhaps more strongly associated with Hanna-Barbera, and who started with Bill and Joe on Ruff And Reddy and often provided voices for many primary characters, including being in the unique position to have voiced Dr Quest in the original 1960s Jonny Quest (a show I always felt was more suited and perhaps suggested Filmation's process) and its mid-1980s update.
The Groovie Goolies shows themselves, which have often been derided by Filmation fans, are actually often fun and perhaps it's because this isn't strictly comic book, action or superhero fare, and that the series plays fast and funny with the established character personas that Groovie Goolies gets its odd reputation. But after not having seen the show in quite some years, I had a pretty fun time with the band, and found it to be one of those shows for which I could quite simply let them get on with it and leave my mind at the door of my home theater. The gags come thick and fast, the puns would be enough to make the real Dracula spin in his grave, and the songs – including Chik-A-Boom (Don't Ya Jes' Love It), which later became something of a minor hit for one-hit wonders Daddy Dewdrop – are otherwise of the toe-tapping variety that filled many a Monkees or later Muppet Show episode.
Since all the episodes follow the same format, contain many of the same kinds of gags, and can only be differentiated by their slim story threads and the choice of music, they all run into each other after a while, so I won't needlessly address a complete run down of all the shows. The episodes take their names from one of the two songs featured in that particular show, and not based on any plot points, with the first disc starting out with When I Grow Up which features a bonkers retelling of Little Red Riding Hood amongst its skits. The title track is actually pretty catchy (I wonder if there's a chance of a Groovy Goolies soundtrack album?), as are most of the songs. These are actually the only moments the show takes a break from the relentless barrage of jokes, and are sure to go down well with anyone who remembers the fantastic Bonzo Dog Doo Dah band, who themselves had a hit with a cover of The Monster Mash, non-related but extremely close in spirit.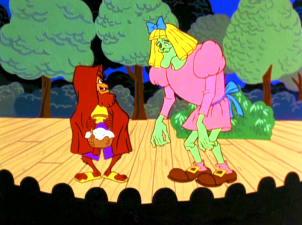 The other episodes on Disc One are: Population Party, Lights Out (with the comical novelty song Cling Clang), Goolie Garden (the Goolies play a round of crazy golf), Monster Trio (featuring a super hero spoof – "more powerful than a loco-monster!") and Feed The Ghost Some Garlic (with another fairytale skit, this time of The Three Bears). Disc Two continues with another six: Frankie, What's In The Bag? (exploring the in-human body), Goolie Picnic (including a monstrous version of The Shoemaker And The Elves tale), Where You Going Little Ghoul (with Hansel And Gretel as the bedtime story and a King Kong skit set on the Vampire State Building, natch), Gool School (with Frankie's childhood movie memories) and Save Your Good Lovin' For Me (a batty football game, and featuring the hit Chick-A-Boom song). Disc Three completes the show's run with four episodes: Darlin' Darlin' (Frankie launches an Easter Egg hunt), Shadows (a cranky Drac has trouble sleeping), Witches Brew (Frankie again reveals his "super" alter ego) and Goolie Swing (the Goolies try their hands at sport, there's more from "Super Gool" and we get a full-length, series-closing rendition of the Groovie Goolies theme, Goolie Get Together), plus supplements.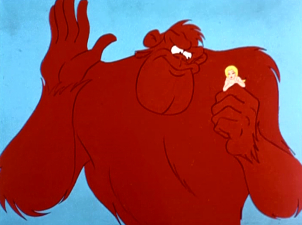 As produced by Filmation stalwarts Lou Scheimer and Norm Prescott, the show's animation is on par with other shows of the time, and benefits from being created during the Filmation boom, so values are good, despite some endlessly recycled shots. The artists have a good foundation from which to work from, in that they're using classic movie monsters and all the trappings as a launch pad, and they have fun with the furniture and fixings too. One result of the Studio's tight budgets is that all the artists get their due credit…mainly because, in a bid to fill out the required episode length, the entire opening title sequence is replayed in full, with the production crew names featured for much longer that they normally would be. While this is an often-regular "feature" of the Filmation shows, hearing that same theme over and over in a set like this can literally drive you batty!
The writing on The Groovie Goolies is as hammy and pun-filled as you might expect from a program that's an animated variety show based on the Laugh In format, and that even extends to replicating that show's Weird Window Time with its scarily bad jokes. As such, none of the shows have an episode-length storyline, so it can feel a little disjointed. As previously mentioned, the songs offer a respite (and the most new animation each week) from the zaniness, though continue the puns in their lyrics. At times, it's hard to not feel that we're witnessing some kind of rip-off from the Mad Monster Movie feature combined with other derivative works, but the whole thing just about hangs together and in places is certainly visually inventive. The show does have its blood-sucking fans, of course (including, it seems, the creators of Disney's The Hunchback Of Notre Dame), so they can finally rejoice…this set is everything it needs to be and more.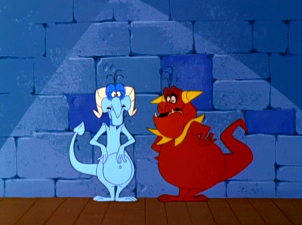 Is This Thing Loaded?
Showing once again that a show needn't be a cult classic to get the deluxe treatment, BCI's Ink & Paint label continue their sterling work with their Filmation catalog titles, putting bigger Studios with deeper pockets and more mainstream titles to shame. As such, it seems even The Groovie Goolies warrants some special attention, with a terrific array of features that are as surprising as they are welcome and unexpected.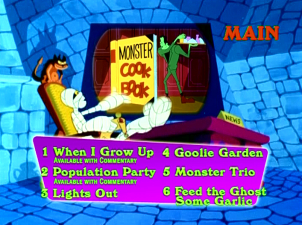 The menus are decent, video intro and still-frame affairs that do the job suitably, with a selection from the background music incessantly used throughout the show. Disc One's features are limited to a couple of audio commentaries for the first two episodes, but they are packed tracks, with producer Lou Scheimer, writer Jack Mendelsohn, Filmation staffer and author Darrell McNeil and Family Guy voice artist/Goolies fan Wally Wingert all vying for space. McNeil drops out for the second episode, with monster guru Bob Burns filling in. Both tracks are high energy, thanks to Wingert's enthusiasm and the fine recollections from his commentary mates, particularly non-stop Scheimer's many stories, but they're all full of beans and sound especially pleased to have been asked to talk about a show that obviously means quite a lot to them.
Disc Two is a ghostly haunt vacant of any "bone-us" material, but Disc Three more than makes up for it with a crypt-full of extras. The extremely likeable and talkative Scheimer fills us in on The Creation Of Filmation, an audio-only outtake from the commentary sessions that has Lou recounting the crazy but true story (needlessly chopped up into over 50 chapters!) of how Filmation came to be. Accompanied by a handful of various photographs from the recording, the story is as filled with laughs as only Lou can tell it, as he explains how he, Hal Sutherland and Norm Prescott landed their first project in The New Adventures Of Superman. After eight minutes, Scheimer ends his eventful tale and the rest, as they say, is history!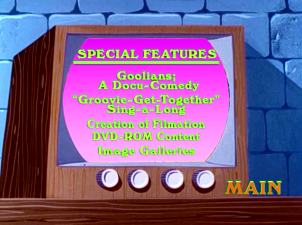 The Groovie Goolie Get Together sing-along is the same series-closing extended version of the main theme from the end of the final show in the set, but with onscreen lyrics to scream along to. For some reason, this three-minute segment sports the softest looking image in the whole set, both here and within its original show. The included Image Galleries feature a wealth of scanned in pictures, from over 25 images covering Model Sheets,
going as far back as when the show was also known as The Kookie Spookies and Googlie Goolies, a Cel Gallery with almost 20 instances of production art and background set ups, and some script pages and storyboards for what looks to be a unproduced PSA spots. The galleries are great, marred only by the one big mark against the set: each image retains the title header (Model Sheets, Cel Gallery or PSA) across the top of the picture, thus losing some of the image under the text and making some images reduced in size to fit. Really, those words should have been spooked off here, and the art blown up in size.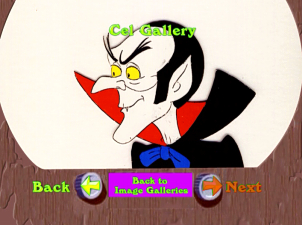 A very welcome bonus to most if not all of the BCI Filmation sets have been a generous amount of DVD-ROM materials, and we're well served here too. Open up the "Rom Contents" folder on the disc and you'll find nothing less than full scripts for all 16 episodes, plus the series creative Bible for when it was in development as The Kookie Spookies. The scripts, presented in PDF format, have been scanned in from the original typed documents, and some include the song lyrics which reveal at least a couple of the songs ended up in different shows in the final run. The Kookie Bible, scanned from writer Jack Mendelsohn's personal copy, is great, as it runs down all the characters, the full names of the guest groups and the show's wacky format. Proving the Filmation shows were not as thrown together as some might think, the document also highlights all of the various "departments" we'd stop off at along the way (including some that didn't make it, as indicated by Mendelsohn's pencil question marks), and even explanations of the relationships between the characters…a fascinating read!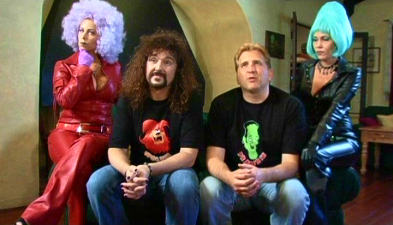 Best of all is the all-new 46-minute "docu-comedy" Gooligans, which bends the standard DVD documentary format into the style of a sitcom, not unlike an episode of The Groovie Goolies itself! Wally Wingert pops up again here to produce and co-host with actor Daniel Roebuck, and what's pleasing is that this one doesn't skimp in the slightest, tracking down Gooligan fans as diverse as Alice Cooper (a highlight) and monster aficionado Forrest J. Ackerman (of the infamous Famous Monsters Of Filmland magazine), as well as Goolies writer Mendelsohn and, of course, Scheimer, among others.
It's quickly cut, fast-paced and packed with info on the show and its fans, all conveyed in a narrative comedy arrangement. At a Mon-Anon meeting, self-confessed "Gooligans" Wally and Dan are sent out on a mission to satisfy their monster fix. They jump in Wingert's souped up Kar-goyle to track down the creators and uncover the background stories on the show's development. Some of the pace slows when separately taped interviews are cut in with Wingert and Roebuck's zippy style, but this is really much more than anyone could have expected, and its down to their personal enthusiasm that this piece exists at all. True to style, we get a couple of songs thrown into the mix, here courtesy of Sacramento punk outfit "The Groovie Ghoulies" (actually what I always thought the show was called, as "Goolies in England is slang for, well…I'll let you look it up)! Though the new material has all been shot in 1.78:1, it's presented letterboxed in 4:3 to accommodate the clips from the original show and even features a canned laughter track! Frightfully fun!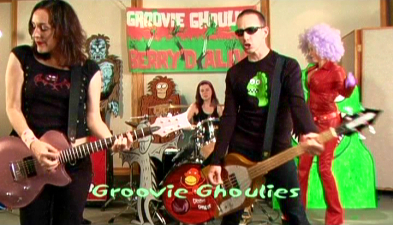 Case Study:
Following the trend that's becoming more and more standard, the three discs are housed in individual thin-pak plastic cases within a sturdy outer sleeve card slipcase. The art across the three discs highlight different characters, and best of all is a four-page booklet that features liner notes from Filmation historian Shawn Sheridan. Full marks across the board to BCI for consistency in handling all their titles with the same care and attention, and an especially amusing touch are the various puns dotted on the covers: "digitally re-monstered", "special creatures", etc, and cool are the design sheets reprinted on the inside of the individual jackets. Classy.
Ink And Paint:
Wow! I haven't seen this show in years and, going by the old tape masters that many companies (ahem, Disney, ahem) use on their TV output discs, I wasn't expecting much – heck, anything here. BCI have sprung for new transfers and the results are spookily cool, but I did notice some odd sort of video-generated artefact in the very bottom right of the screen on some episodes. It won't show on overscan screens, but it's irritating on a computer monitor and could have been clipped out. Also, Entertainment Rights is a UK company, so it's possible that we're seeing PAL-to-NTSC conversions, but since the image isn't progressive it could well just be some interlacing I'm spotting. Though not free of specs and dirt (inherent in the original cels), the sheer rock steadiness of the image is sure to please those who have only ever seen the show from off air TV or old tapes. The sometimes garish colors fight some compression mosquito noise around the artwork lines (I most noticed issues around Frankie's green coloring), but at least the 16 shows have been spread over three discs when other companies try and squeeze in three times that many in the same disc space. The very best has been achieved with the material on hand, and that's what Counts!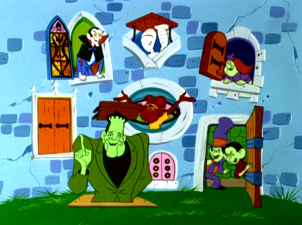 Scratch Tracks:
Going with the original mono mixes, the soundtrack sounds good as new too. It's not the most bass-affected track you'll ever hear, but it never was meant to be, though the songs within the episodes seem to be in better shape dynamically than the oft-repeated theme tune. Groovie Goolies was one of the more famed cartoons to feature a forced laugh track, so I was surprised when the episodes played without this. While the laughs were faked and sounded desperate anyway, it would have been nice to have the option of laughs on or off here, though oddly a handful of shows do have them. The tracks don't really sound empty without them, since everything is so nuts and the show is one that throws a million jokes at the audience in the hope that a thousand will hit. But I did miss those laughs on occasion, so the option would have been welcomed. Otherwise, the tracks are a very good representation of how the show was always supposed to sound.
Final Cut:
While I'd have loved to see that Daffy Duck special in full, if only as a extra, there is perhaps hope that it may see the light of day eventually and indeed could be held up due to rights belonging to Warner Brothers (their ownership of the Filmation-animated Superman and Batman shows being an example). What we're presented with here are 16 fun episodes of a show that doesn't get that much of a good reputation even though, despite its repetitive nature, it's better than a lot of the other dross being produced at that time, and contains some howlingly awful gags that are so bad they're good! It's not exactly a classic, but you can't go wrong with BCI's treatment and a good couple of hours of supplements. The Groovie Goolies provides an amusing twist on an old genre and more than the occasional shriek of laughter. "I needed that!"
Animated Classic or Back To The Drawing Board?