Warner Bros. (1991), CLV/CAV, 2 sides, 81 mins, 1.33:1 original full-frame ratio, Dolby Surround, Rated G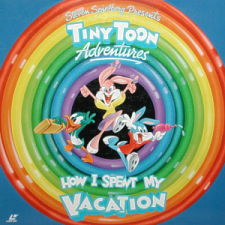 With the release of the Looney Tunes shorts and the later Looney-inspired Animaniacs shows to DVD, some fans have been left wondering what has happened to the series that was somewhat sandwiched between the old and new, Tiny Toons Adventures, which saw exec producer Steven Spielberg "updating" the classic characters and reinventing them as the "next generation".
To be honest, against the earlier, wackier Looney Tunes and the later, even more wackier Animaniacs, Pinky And The Brain, Taz-Mania and Freakazoid, Tiny Toons was a pretty tame show and is probably remembered now for its nostalgic charm rather than the handful of decent episodes it produced. But there was one "special" that fans have continued to clamber for over the years, a great direct-to-video release that was put out in the early 90s, both on VHS and LD. Featuring the new versions of ostensibly the younger Bugs, Daffy, Pepe Le Pew et al, Tiny Toons Adventures: How I Spent My Vacation is a favorite among Tiny Toons fans, with its story threads running across each other to include all the Toons as they embark on various holidays that take them to the far corners of America. Having worn out my tape, I decided to look it up a few years back on eBay, which is still a laser fan's best way to get great bargains on older LD titles.
Tiny Toons' Vacation was originally produced for both TV and video, intentionally as a single feature but cut down to several episodes later, and the extra budget awarded the project due to expected additional revenue lifts the animation up and above what was being achieved in the standard Tiny Toons show. The TV version also had minor cuts along the way, to fit the correct length of a commercial half-hour time slot, and this broken up presentation of such a special only played up the episodic nature of the script even more. As a feature (running 81 minutes) it works surprisingly well. The animation is a notch above the average TV episode, which was already a pretty good attempt to get back to Looney Tunes basics. This LaserDisc edition, currently the only way to officially see Tiny Toons on a videodisc format, features a crisp, sharp image transfer and a digital Dolby Surround track that is absolutely alive with activity.
Following the Tiny Toons as they begin their summer vacation, we find Buster Bunny and his on-off girlfriend Babs stuck up a river without a paddle (so to speak), Plucky Duck and Hampton (a pig, naturally) on the ultimate family-drive across country to a demented theme park, and Elmyra (did somebody say "Fudd"?) lost on a safari adventure. It all leads to a rousing climax, and is filled to the brim with ludicrous references from popular culture, including animation gags (Beneath The Ocean is a standout), DisneyLand, songs and celebrity. Best of all is the Lucas spoof T.H.U.D. sound system demo, as played when Fifi and Foulmouth visit the supermultiplex theater, literally blowing away the audience!
I guess it ultimately plays on whether you liked the Tiny Toons concept, but this Vacation works on several levels, as all the best animation does. It's a treat for fans young and old, and a great introduction to those who may have missed this first series from the combined resources of Warner Bros and Steven Spielberg's Amblin Entertainment. As an intended-for-TV and video special, this was originally framed for 1.33:1 and the disc correctly reflects this aspect ratio. It's a packed frame, not because of any pan-and-scanning, but simply as the gags fly thick and fast and the looney, looney, looney toons hop about all over the place. Taken from a film print, the disc has good colors and an overall cinematic quality, and is not softened by the CLV processing on side one. The animation has some nice light and shadow effects, especially in the later chase scenes, and these are well worth checking out with side two's CAV capabilities.
Long time animation composer Bruce Broughton's big-movie-scale score delights and, apart from the occasional moment when CGI backgrounds might have helped out, one never feels they are watching anything of a lower budget nature. The writing is superb, the razor sharp wit more akin to those later Spielberg shows than the earlier Tiny Toons episodes, and the overall program is a fair tribute to the Looney Tunes of old, remaining much better than subsequent attempts such as the misfire Baby Looney Tunes and dire internet shorts. The disc I found was in pristine condition, and with no news on this hitting DVD soon, you could do a lot worse than hunt down this edition!