Warner Bros. Animation/Amblin Entertainment (March 1992), Warner Home Video (August 21 2012), single disc, 80 mins, 1.33:1 original full frame ratio, Dolby Digital Stereo, Not Rated (nothing offensive, other than the video transfer!), Retail: $19.97
Storyboard:
Those tiny, toony, all completely looney residents of Acme Acres leave their Looniversity and split up for a summer vacation full of various wild and comical adventures, in the kind of video premiere that gives direct-to-video a good name, but that this lamentable transfer does its best to sabotage.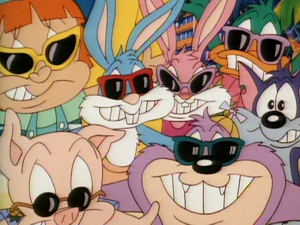 The Sweatbox Review:
The home entertainment history books may well note Disney's success (notorious or otherwise) with its animated direct-to-video spin-offs for around a decade starting in the mid-1990s, but long before Jeffrey Katzenberg had the idea of linking the first five episodes of the Aladdin television series together to release the home "video premiere" The Return Of Jafar his later DreamWorks partner Steven Spielberg would executive produce a feature-length outing for the characters of his wildly popular Tiny Toon Adventures program.
Video premieres (the fancy name making some of them sound much more worthy than they deserved!) were nothing particularly new, of course, even in the early 1990s. Movie history is strewn with films that underperformed at the American box office (and some of which were deemed on completion not even to be worthy of release!), only to find themselves "dumped" into the home video market around the world rather than their distributors throwing more money after bad in staging a fully fledged theatrical release. Some of these films eventually went on to become sizable hits in their own rights, but there was always a slight stigma attached to the phrase "direct-to-video".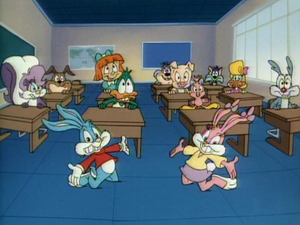 Mostly this was because many of these so called "movies" were also compilations of various television episodes, strung together to create a feature-length release. Walt Disney himself pioneered this trend with his move into television in the 1950s, combining the three one-hour episodes of his Davy Crockett miniseries into a phenomenally successful feature film, where the audience of the day could relive Davy's adventures in lifelike widescreen color instead of on their tiny black and white TVs. The Disney name was such a pull that Walt repeated the trick even with black and white fare: Zorro was another show that got the feature treatment, and it was a trick that soon caught on.
Throughout the 1960s, many other producers caught on, most notably those of The Man From UNCLE, whose multiple one-hour episodes were often doubled up to produce no less than eight feature film versions. Disney continued to splice together two-part episodes of its television programs to release a continuing slew of features in Europe and, with the advent of the VHS format, saw this as an opportunity to issue even more of its library. Cartoon compilations became a mainstay, drawing on the Studio's vast catalog of similarly themed shorts (something that The Wonderful World Of Disney already often did) to put out very episodically structured "movies", for instance a collection of Donald Duck's wartime exploits linked together as An Officer And A Duck.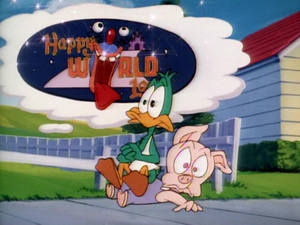 The amount of these releases, and their popularity, wasn't lost on other distributors, especially during the toy-toon boom of the early 1980s when video tapes became just another of the many ways characters could be exploited. But none of these tapes featured content made directly for the home video market: they were either huge toy commercials that were or had been intended for theatrical release, or the aforementioned kind of television episode compilations. Disney again continued to string TV series together, particularly with a couple of TV movies based on its DuckTales show, but it was the bona fide theatrical release of DuckTales: The Movie – Treasure Of The Lost Lamp, that drew the interest of Spielberg.
Feature film spin-offs from popular television properties had found varying degrees of success in theaters: there were the episode compilations that were cheap and quick to churn out, but then there was the genuine article, such as the 1966 Batman movie with Adam West and Burt Ward reprising their characters with a much higher budgeted adventure than TV could ever hope for. During the 1970s, especially in Britain, a number of popular TV shows made the transition (one of the most successful, On The Buses, outgrossed both The Godfather and Diamonds Are Forever in 1971), but with the advent of home video these kinds of films perhaps found a more natural fit.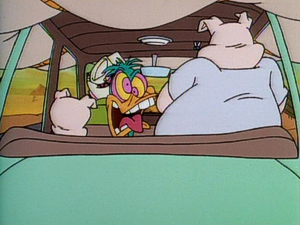 By 1992, and with Tiny Toon Adventures' 65-episode syndicated run already in full swing to appreciative ratings, it seemed logical for the teeny, looney characters to make their mark in the movies. Premiering in 1990, Spielberg had wanted to continue the Looney Tunes effect of Who Framed Roger Rabbit's phenomenal success on television, but the budgets involved in maintaining that quality level as well as Disney's aim to keep the rabbit appearing in theatrical shorts and a feature sequel put off Roger's transition to the small screen (in a series planned as Adventures In ToonTown). Spielberg approached Warner Bros. Animation with a proposal to bring their stable of Looney Tunes characters to the small screen when Roger's star began to fade thanks to drawn out copyright wrangles and, after just three shorts, Roger's career seemed to have fizzled out.
At Warners, the animation unit had simply kept ticking over since the 1970s after a set of newly-produced Chuck Jones specials featuring Bugs and the gang, a long series of patched together television specials and a bunch of compilation feature films. The unit had been trying to push new Looney Tunes cartoons to theaters during the 1980s with little support from the head office, even though the young team in charge of these projects had the enthusiasm and knowledge of tradition to infuse the cartoons with the kind of reckless abandon the Warners' shorts were famously known for, but was otherwise stuck without the product being able to go out and make some waves.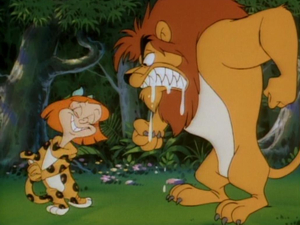 Perhaps tired of Bugs and company, and with Spielberg mindful of securing a copyright stake in any new show too, a new set of characters was devised, still Looney Tunes based but with slightly updated personalities aimed at a younger audience. They would be younger themselves, too: essentially junior versions of the characters from the golden age shorts. But Tiny Toons is no simple Baby Looney Tunes, since the clever spin on the show is that the original gang turn up on occasion to teach their younger counterparts the tricks of the cartoon trade at Acme Looniversity, where "the teaching staff's been getting laughs since 1933".
Thus, while these guys are actually little more than alternate versions of their more esteemed predecessors, we have Buster Bunny (otherwise a boisterous young Bugs) and his female counterpart, the girly Babs Bunny – no relation – while Plucky steps in for Daffy, Porky is naturally Hamton (geddit?), Yosemite Sam downgrades to Montana Max, Elmyra proves to be related to Elmer in some way, and there's young Tasmanian Dizzy Devil, among others. Bringing them to life is a host of recognisable voice artists: Charlie Adler, Tress MacNeille, Joe Alaskey, Don Messick, Kathy Souci, Frank Welker, Maurice LaMarche, Rob Paulson…all of them joining a production team that would create the first landmark program Warners' recent and acclaimed history.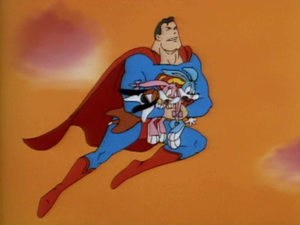 When Tony Toon Adventures originally debuted, the Steven Spielberg Presents banner meant it did so with a huge amount of fanfare, and the importance of the program to the future of Warner Bros. Animation can not be underestimated. Apart from the schooling of the cartoon characters themselves, this was where the future big names of WBTV mixed with the veterans – Paul Dini, Sherri Stoner, Tim Sarnoff, Bruce Timm, Art Vitello – not to mention Bruce Broughton's Emmy award-winning title song, paving the way for the even crazier Animaniacs and Freakazoid to follow, as well as Timm's more seriously toned DC superhero animated series that continue to this day.
In fact, Tiny Toons was a bit of a trendsetter in more ways than one, becoming not only the first animated series in quite a while to have its merchandise be character based as opposed to using the characters as a way to sell toys (although that happened too, the show even having its own magazine), but also in how quickly the program became home to a variety of spoofs – just the second episode was an elaborate Star Wars take off, the likes which Robot Chicken and Family Guy have only recently caught up with. It's true that against the earlier, wackier Looney Tunes and the later, even more wackier Animaniacs, Pinky And The Brain, Taz-Mania and Freakazoid, Tiny Toons was a pretty tame show in these respects, but then it was much more of an innocent time, when such caricatures and skits didn't seem to need a committee and a copyright clearance as it was all done in good fun.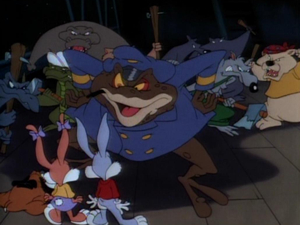 Arguably, the more daring and amped-up attitude began when Tiny Toon Adventures unwittingly kick-started the DTV craze with How I Spent My Vacation, never intentioned for the big screen but released to video and LaserDisc at the insistence of Spielberg, who felt such an animated film would play better in the home where it could be repeated (and was, ad infinitum, by many!). Since its debut, How I Spent My Vacation has remained a favorite among Tiny Toons fans, with its story threads criss-crossing around each other to include all the Toons as they embark on various holidays that take them to the far corners of America.
Tiny Toons' Vacation, in a reverse of usual practices, did later turn up as four episodes of the later TV episodes, but the higher budgeted animation (awarded due to the expected additional revenue streams from both home video and television) raises the filmmakers' overall game up and above what was being achieved in the regular show. The TV version also had minor cuts made along the way to fit the correct length of a commercial half-hour time slot, and the broken up presentation only played up the episodic nature of the script even more. As a feature it works surprisingly well, and it probably comes as no surprise to learn that it was an enormous hit on video where it stayed in the top 40 selling titles for 16 weeks and in the dedicated children's charts for almost a full year.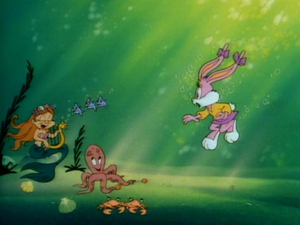 Following the Tiny Toons and what they get up to as they begin their summer vacation, we find Buster and his on-off girlfriend Babs stuck up a river without a paddle (so to speak), Plucky Duck and Hamton on the ultimate interminable family-drive across country to a demented theme park, and Elmyra (did somebody say "Fudd"?) lost on a safari adventure. It all leads to a rousing climax, and is filled to the brim with ludicrous references from popular culture, including animation gags (a little mermaid's Beneath The Ocean is a standout), Disneyland, songs and, in typical Warners caricature fashion, celebrity (a reaction to "Jay Leno" getting the biggest laugh).
Best of all is the LucasFilm sound system spoof T.H.U.D. sound system demo, as played when Fifi and Foulmouth visit the supermultiplex theater, literally blowing away the audience with its proclamation that "the audience is now…deaf" and playing far funnier than the later, similar Simpsons promo that actually made it to true THX status. It's jokes like these that will keep the adults happy while the kids laugh along too: youngsters will sympathise with the agonising stretching out of waiting for the school bell to ring in vacation time and have fun with the characters' various adventures, but it's the parents that are going to get the most out of a terrific bigamy line and a running gag lifted from Deliverance, making Tiny Toons' Vacation work on several levels, as all the best animation does.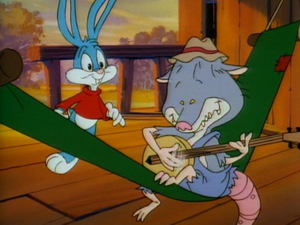 It's a treat for fans young and old, and a great introduction to those who may have missed Tiny Toons first time around or on DVD so far. Long time animation composer Broughton (supervising among other composers) provides a big-movie-scale score and, apart from the occasional moment when CGI backgrounds might have helped out, one never feels they are watching anything of a lower budget nature. The writing is superb, the razor sharp wit more akin to those later Spielberg shows than the earlier Tiny Toons episodes, and the overall program is a fair tribute to the Looney Tunes of old, remaining much better than subsequent attempts such as the misfire Baby Looney Tunes and some of the more recent shorts (although the I Tawt I Taw A Puddy Tat short that turned up on the Happy Feet Two release was a welcome surprise).
What's also still notable after all these years is the animation itself, which for the television episodes was drawn on twos for the most part – more frames than was usual in television animation at the time. Disney had upped the quality level on their Duck Tales adventure program in 1987, and it seems it was felt that a Spielberg production, especially post-Roger Rabbit, should at least reach those values. This isn't to say the cartooning here is of that film's level by any means, but it's easily more focused than the regular show, the animation sporting some nice light and shadow effects, especially in the later chase scenes, that remain impressive on a tight budget however generous it may be.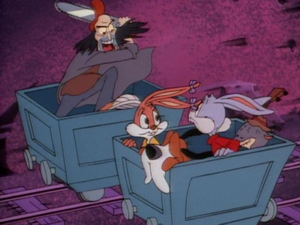 Certainly within the broader confines of how fast and loose the artists play, Tiny Toon Adventures: How I Spent My Vacation visually remains more fluid and theatrical than many of the shows being produced with the computer assisted systems of today. When effects are needed, they're sufficiently striking, coupled with what may well be a happy accident in the art department of having several units producing their own sequences individually, resulting in each set of characters' adventures each having their own unique look and color approaches – pretty cool stuff.
Showing the flipside to Spielberg's animation ethos after the more dramatic An American Tail and the opening of his own Amblimation Studio in London from where Fievel Goes West and Balto would emerge before melding into the DreamWorks partnership with a Disney-departed Katzenberg, it's interesting to note that the 1990s would feature such a varied amount of animation from the producer: the likes of Tiny Toons would eventually be replaced with the seriousness of The Prince Of Egypt (and its own DTV, Joseph: King Of Dreams) within a decade.
So here's Spielberg at an earlier, funnier time, when animation was enjoying a renaissance in general and everyone just wanted to be reminded of what it was like to be a little loonier. If the heat in the summer of 2012 hasn't done that to you already, why not book a trip with our pals from the Looniversity? Whatever else, you're sure to be in for a vacation of a toon-time!
Is This Thing Loaded?
Can you believe that it was way back in 2003 that we first reviewed the LaserDisc edition of How I Spent My Vacation, and that even at that point the film had been out on VHS and LD for over a decade!? Just how long has it taken to reach DVD when it has been repeatedly requested year after year? Well, the answer is here in its 21st anniversary year as the film finally makes it to DVD, hopefully as a way to measure Warners' interest in releasing the concluding episodes of the original Tiny Toons series (after an initial two volumes) to the format.
What's nice in some respects is that How I Spent My Vacation hasn't been shunted, as so many new releases from WB are nowadays, to the DVD-R Archive Collection series: I have no problem personally with that program (even if I do make sure to back up my discs just in case), but maybe the Spielberg name was enough to make sure the title was issued as a more widely available disc. Hopefully, good sales will mean we will finally get the rest of the Tiny Toons episodes (there are thirty-three to come), perhaps opening the floodgates for the last remaining volume of Animaniacs as well as the debuts of Histeria! and Taz Mania too.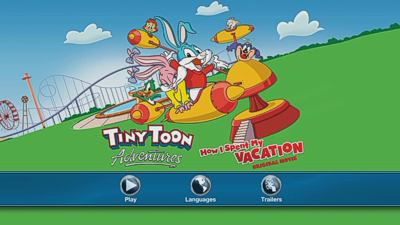 So…what do we get in terms of extras after waiting for so long to own this title on DVD? How about a zippy retrospective on the surprise success of Vacation and the perennial charm that still sees it fondly pop up on many a nostalgic fan's best list? Or, scrubbing that, maybe the two follow-up specials Tiny Toons Spring Break Special (1994) and Night Ghoulery (1995)? Uh, okay, there doesn't seem to be any room on the disc for those, or maybe they're being held back for later release. Well then, maybe a token offering of the very first episode or even the It's A Wonderful Tiny Toon Christmas Special episode from the still unreleased third season?
No, you're out of luck. All we get is one of WB's now-standard amateur-level menus (with sub-Danny Elfman Pee Wee music) complete with hideously simplistic and sometimes nonsensical icons and trailers for a bunch of Scooby-Doo, Tom & Jerry and Dr Seuss titles. Well, at least you won't waste your summer vacation watching those over and over, but the real shame here is that Warners couldn't even be bothered to remaster the main feature at all – maybe it should have ended up in the Archive Collection after all…
Case Study:
Going with the bottom of the barrel presentation, a basic sleeve features generic Tony Toons imagery only: none of Buster and Babs on a theme park ride, or Hamton and Dizzy on the beach ever happens in the movie. What is nice is a couple of screen-printed characters on the disc's face as opposed to leaving it blank or with the title only, but then this token gesture's good points are detracted by a pointless slapping of an "Original Movie" designation on both the sleeve and the disc. The movie's 21st anniversary goes unmentioned, and the best hyperbole the back of the cover can come up with is "spend your vacation with Tiny Toons!", while the Dolby Digital info denotes Mono, which is incorrect! Lame…very lame…
Ink And Paint:
Well, wha…what happened!? You'd think with 21 years on the shelf and a lot of fan anticipation behind this release that WB would pull out all the stops and gives us a nice and bright presentation, right? Wrong! I don't have my VHS copy to hand, but I genuinely remember it looking a whole bunch better than this! Video crosstalk is noisy up front, which doesn't help the disc's compression encoding ratio to be filled with mosquito noise and a few hints of macro-blocking: I had to check this was indeed a DVD and not a bootleg VCD!
Color bleeds all over the place, and there's a continuous smudging across the heavily interlaced image for the entire movie akin to how some badly pressed LaserDiscs appeared in CLV format. But checking my LD against this new DVD doesn't show up these same flaws, suggesting that Warners have simply used whatever master they had lying around on a dusty shelf: indeed, where the film switched sides to the CAV format on LD, so does this DVD appear to clean itself up a little, which opens up an interesting line of questioning itself!
In short, if you have an original VHS or LD of Tiny Toons Vacation, or a previous copy backed up to DVD, then you're already looking at an image that's miles better than this one. I can't believe Spielberg or any of the filmmakers, actually, would feel happy with their name going out on a product like this: I did originally question why this wasn't getting a Blu-ray release when it was announced, since I presumed a return to the original film elements for a remaster, but now we can see why. WB should be ashamed: this is embarrassing!
Scratch Tracks:
Surely with such an awful video presentation, WB couldn't screw up the audio as well, huh? Well despite the back of the package actually denoting "Dolby Digital Mono", rest assured that the mix – at least in English (Spanish and Portuguese dubs and subs are optional) – is the movie's original stereophonic track. The creation and inclusion of a Dolby Stereo mix was a big deal at the time for a video premiere, and the brassy score, every bit the modern Carl Stalling equivalent, coupled with the whizz-bang sound effects means the track is alive with activity.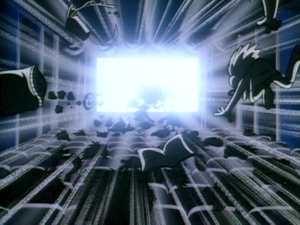 It would have been so sad and pathetic if, in the face of a 2012 DVD release from a major studio, a title's 21-year old VHS soundtrack still beat it out, but it's still not perfect: the volume is overall very low, meaning that you're not going to be able to recreate the T.H.U.D. sound system experience in your own home (other than preparing yourself when returning to the much louder Pee Wee-sounding main menu!). Doesn't look like they got anything right on this release!
Final Cut:
I'd love to recommend How I Spent My Vacation for the movie itself, but this really isn't the way to experience it. I'm not by any means advocating dodgy practices, but this murky, noisy and extras-free edition doesn't represent any kind of official upgrade over the multitude of bootlegs that many probably have already. The $20 list price (and coming at the end of the holidays!) doesn't help either, on a disc that should by rights be priced at a more reasonable $15, and the such disappointingly poor standard of video should mark it down even more to a bargain-bin ten bucks!
After 21 years of waiting for the title to come to disc, fans truly are better off with their original VHS tapes and LaserDisc editions and, if this is a way of testing the waters to find if there still is an audience for the remaining Tiny Toons on DVD then Warners have shot themselves in the foot by not providing an even half-decent effort here, nor any particular incentive for fans. Tiny Toon Adventures: How I Spent My Vacation is a boisterous and eminently re-watchable movie – but sadly not on this pathetic excuse for a DVD.
Animated Classic or Back To The Drawing Board?