Warner Bros./Amblin Entertainment (1990-1991), Warner Home Video (July 29 2008), 4 discs, 646 mins, 1.33:1 original full frame ratio, Dolby Digital Surround, Not Rated, Retail: $44.98
Storyboard:
They're furry, they're funny, they're Babs and Buster Bunny, Montana Max has money, Elmyra is a pain! There's Hamton and Plucky, Dizzy Devil's ducky, Furrball's unlucky, and Go-Go is insane! Their scripts were rejected, expect the unexpected, 'cause this review of Tiny Toons is about to start!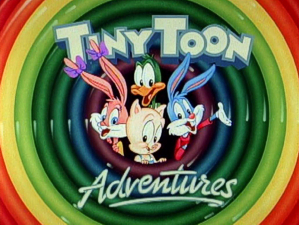 The Sweatbox Review:
An instant smash when it premiered on television in 1990, Tiny Toon Adventures continued the return to Looney Tunes greatness that had been spearheaded by Who Framed Roger Rabbit's phenomenal success. Executive producer Steven Spielberg had approached Warner Bros. Animation originally to bring their stable of characters to the small screen when Roger's star began to fade thanks to drawn out copyright wrangles. Perhaps tired of Bugs and company – the unit had been trying to push new Looney Tunes cartoons to theaters with little support from the head office – and with Spielberg mindful of securing a copyright stake in any new show too, the project developed a new bunch of characters. Still Looney Tunes based, these updated personalities would be aimed at a younger audience and would be younger themselves: essentially junior versions of the characters from the golden age shorts.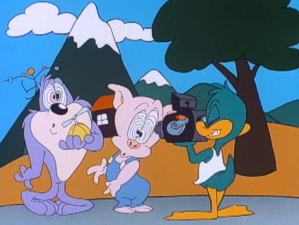 Thus we have Buster Bunny (otherwise a boisterous young Bugs) and his female counterpart, the girly Babs, while Plucky steps in for Daffy, Porky is Hamton, naturally, Yosemite Sam downgrades to Montana Max, Elmyra proves to be related to Elmer in some way, and there's young Tasmanian Dizzy Devil, among others. But this is no Baby Looney Tunes, since the spin on the show has these little guys turning up for school at Acme Looniversity, where "the teaching staff's been getting laughs since 1933", learning the tricks of the cartoon trade from their esteemed predecessors. Debuting as a syndicated series, Tiny Toon Adventures naturally followed the format of such shows and arrived on TV with 65 half-hours ready to roll. A first DVD collection compiled the first half of the series, with this new set finishing off the final 30, with hopefully the shorter second season arriving in a single edition at a future date.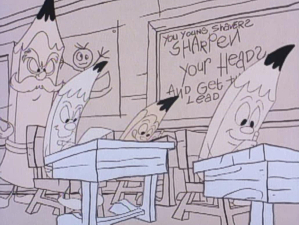 Disc One's assembling of shows (highlighted episodes in bold) begins with Animaniacs! – nope, not a glimpse at the future characters but a crash course in animation production. With the Acme Acres student film festival (to be judged by Bugs, Daffy and Porky) about to take place, young Plucky Duck has to race to finish his masterpiece, but luckily he has a little help from Buster and learns the mechanics of (pre-digital!) cartoon animation in time to submit his movie. There's some lovely stuff here, such as nods to Donald Duck's explaining of how cartoons "work" and a surreal "pencil test" gag that gets me every time.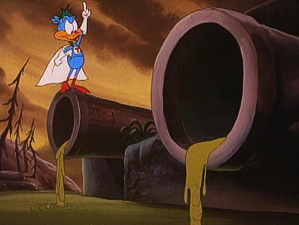 The crew face having to get summer jobs to pay for their cool stuff in Career Oppor-Toon-ities, but my favorite shows have always been the ones that manage to squeeze in a random movie reference or two, and Strange Tales Of Weird Science fits the bill, especially Plucky's Toxic Revenger story. There's more of the screen-grabbing duck in the Fantastic Voyage like Inside Plucky Duck, in which Buster and Babs explore his innermost thoughts and dreams, including fighting crime as a Batman-styled "Dork Knight", also known as Spruce Vain, and pulling the ultimate "wild take"…a couple of very funny shorts that are among the very best on these discs.
Though it's a single episode story, The Acme Bowl is overlong, coming over at times like a football run-through for the later Space Jam movie, while a show I remember from the original airings is Dating, Acme Acres Style, a comical trio of romantic encounters including a screwy take on The Dating Game. The episodes that drawn upon the Looney Tunes of old are always fun, and Looniversity Daze has some nice throwbacks and mirroring of those cartoons and their original characters. Lastly on this first disc, Best O' Plucky Duck Day presents three hysterical duck tales ("don't use that word!") featuring the little green duck. Being such a close comparison to Daffy doesn't help Plucky feel like a "new" character, and his appearances can be either hit or miss, but here the writing and animation lift this one above the norm.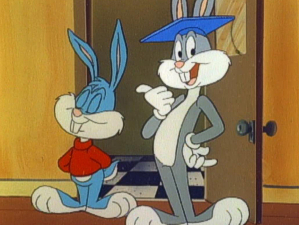 Jumping to Disc Two and Hero Hamton has our little porky friend preparing for a big fight opposite Montana Max, though opportunities to mock the likes of The Champ, Rocky or Raging Bull go missed, while it's high-seas adventure day in Whale's Tales, unusual in that it starts off as a one-shot cartoon featuring an adorable, Disney-esque baby whale before Elmyra decides to take it home, leading to a quite epic story featuring musical numbers, a ninja Babs and a Zsa Zsa Gabor styled villainess, Gotcha Grabmore!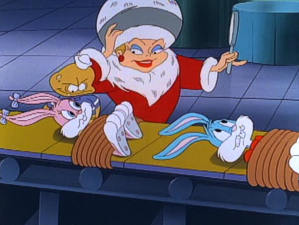 Ask Mr Popular is a wish-fulfilment show in which Dizzy becomes a dapper devil and Hamton has dreams of becoming a beefcake, and surely Son On Looniversity Daze, as it's listed on the sleeve and menu, should be Son Of? At any rate, it's a follow-up episode to the one on the first disc, another three peeks into Acme Looniversity life, including Hamton's encounter with a high-tech school locker from heck – think the HAL-9000 of security – and a classic "silent" cartoon that plays out a archetypal scenario to Liszt's Hungarian Rhapsody in true Looney style.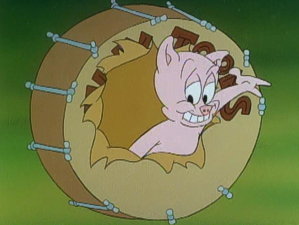 Buster is back in Mr Popular's Rules Of Cool, a fairly routine outing but saved by the very funny TMNT dig Immature Radioactive Samurai Slugs, but missing the chance for a typical Looney Tunes pastiche on all things Disney is Fairy Tales For the '90s in which a couple of stories get modern updates. Much better – and aiming right on target – is Who Bopped Bugs Bunny?, another epic of an episode that really harks back to some Looney Tunes staples, asking who framed Daffy Duck when Bugs goes missing, though it may have been even better had they used a truly long-forgotten character as the perpetrator.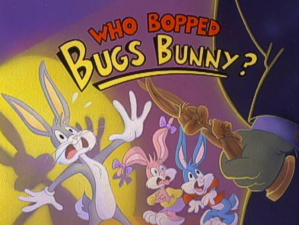 You'll guess from the title what Tiny Toon Music Television comprises of, but I'm still not sure if the episode is genius or a complete mess! Nevertheless it's a bizarre jumble of styles (Elmer Fudd as Madonna!?), and the licensing of original songs – the best utilised of which is Aretha Franklin's Respect – is unusual, as is mixing in Bruce Broughton's quite brilliant Sorcerer's Apprentice lampoon.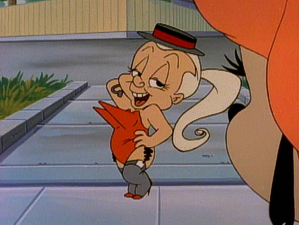 Disc Three continues the fun with a nod back to the first half of the season, The Return To The Acme Acres Zone, a trio of strange stories including Buster as a Blade Runner-like future detective (with Babs doing her best Kathleen Turner as a femme fatale), Plucky and Hampton in a haunted hotel ("I'm sorry, our phone is dead") and the return of none other than Duck Dodgers (and naturally Marvin The Martian), here hampered with Plucky as his junior sidekick.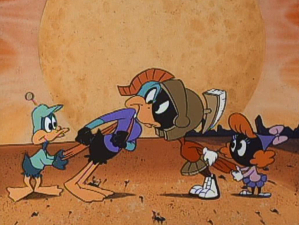 Plucky becomes a darling of the art world in one of the three stories that otherwise have nothing to do with The Acme Home Shopping Show, while Weirdest Story Ever Told riffs on famous tales and unfortunately, in the crediting Bob McKimson for Foghorn Leghorn, spells his name wrong. Viewer Mail Day, Son Of The Wacko World Of Sports, Pollution Solution and You Asked For It Again conclude the disc without any particularly standout moments.
Reaching Disc Four, the show jumps back to its best for Brave Tales Of Real Rabbits, featuring great spoofs on Sherlock Holmes and a Woody Allen-like medieval dragon. Some of the secondary characters come to the fore in How Sweetie It Is, though the only segment of note is a comedy take on The Raven and the reason it gets a bold highlight here is because unbelievably they managed to get none other than Vincent Price himself to lampoon his own persona from the many Edgar Allen Poe movies he made in the 1960s – brilliant.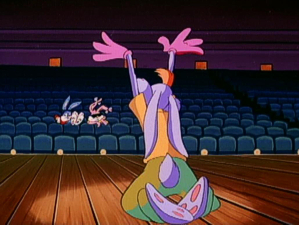 Don't tell Disney, but another big star makes an uncredited appearance in New Character Day, when a certain "white rabbit" shows up to audition for the show. Never shown up close, and only onscreen for less than a minute, this Roger Rabbit clone is obviously Spielberg's swipe at Warners' rivals, whose relationship with them was starting to unravel over how Roger would be used in future. The character's voice is actually credited to Spielberg himself too, though one thinks this was more a get out clause for getting over any wrangles such a scene as this might have raised with the Rabbit's other owners, while Duck Twacy's return is another highlight.
Hamton and Plucky starred in a fantastic take on The Odd Couple earlier this season (and as seen in the first set) and in Here's Hamton the same relationship is put to the test, especially in the second of the three stories here where Plucky is concerned that his porky pal may in fact be a homicidal maniac on the loose! It's a search for buried treasure in No Toon Is An Island when the gang follows a pirate map, though the frantic pace can't quite disguise the stretched out nature of the show. Some well-known shows (Mr Rodgers' Neighborhood becomes Tinker Bunny's Wonderful World Of Make Believe And Learning Fun and you can guess The Blunder Years) are ripped apart when Buster and Babs take over K-ACME TV, which also packs in some amusing commercial parodies (Super Plucky-O Bros.) and the freeze-frame worthy Honey I Shrunk The Clothes.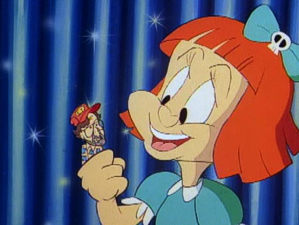 Though K-ACME TV is listed as episode number 65 in its credits, and is clearly the end of the season, heading into the final stretch as far as this DVD is concerned is our final show, High Toon, naturally a wild west adventure for Buster and Babs, who mistake the inhabitants of a real western town for a bunch of "robot dummies", until some coyote desperados come a-callin' and set the tooners into action. It's easy to see the slide toward even more outlandish content in the WB television animation cartoons begin in this last handful of shows: references to Spielberg ("some guy who doesn't do anything but put his name on the picture!") start to creep in and the more flippant nature of the gags clearly coming to the surface. Tiny Toon Adventures proved to be a playground for veterans and future big names alike, with Paul Dini, Sherri Stoner, Bruce Timm, Art Vitello and talented voice artists including Charlie Adler, Tress MacNeille, Don Messick, Frank Welker and Maurice LaMarche, among others, coming together at the right moment in time to create a very important show in recent Warners animation history.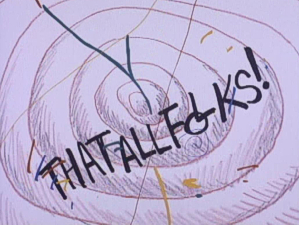 Without Tiny Toons' success, there would be no Animaniacs, Freakazoid! or perhaps even Timm's groundbreaking series that paved the way for the superheroics of today. Though there are a few more misses in this second half of the first season, the strike rate remains effectively high, though even better was to come by the time Tiny Toon Adventures was ready to break for their summer vacation. But that we'll have to save for another review…!
Is This Thing Loaded?
In a word, no.
Keeping the set limited to four disc sides and forgoing any special features, a preview for The Zeta Project is the only extra material on the first disc, while trailers for Batman: The Brave And The Bold and Saturday Morning Cartoons reside on the second.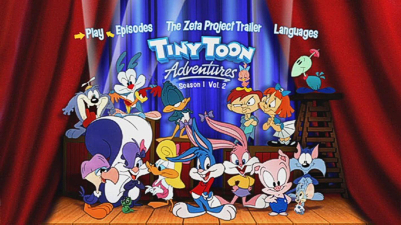 With Tiny Toons Adventures' second season pointing towards at least one more DVD collection release, it could be that Warners is holding back any further material in order to bolster up that eventual set: with only 13 shows in the second season, and 20 in the third and final season (which includes the It's A Wonderful Tiny Toon Christmas Special in its count), fans would still be anticipating the two one hour specials, Tiny Toons Spring Break Special (1994) and Night Ghoulery (1995), as well as the superlative direct-to-video feature How I Spent My Vacation as extras.
All we need is that final, long overdue volume of Animaniacs, naturally to include the Wakko's Wish TV movie, on DVD and our current cravings will be complete! Unless you start counting Histeria! and Taz Mania on your wish lists!
Case Study:
Following suit as with the concurrent release of Freakazoid!'s second season, Tiny Toon Adventures switches from standard "o-sleeve" slipcase that covered the first edition to a box-style slipcover, releasing the disc from the side of the embossed cover. The same artwork is reproduced underneath, with the inside sleeve listing the episode names. I often find that such titling is not always a precise representation of what appears on the episode cards themselves, though one obvious error has to be Son Of Looniversity Daze, here mis-referenced as "Son On Looniversity Daze" on the inside of the sleeve and menu, though don't take my word for it since this particular show doesn't have it's own title card. The disc art continues the slightly subdued lime green approach, with different characters on each platter.
Ink And Paint:
Television animation on disc can be a matter of pot luck: mastered from film even some of the 1950s or 60s shows will look much better than even material from the 1980s and 90s which got finished up on videotape. Thus while such programs as Animaniacs and Freakazoid! may look almost as good as the digitally colored series of today, other shows made only a few years earlier can come off looking less vibrant.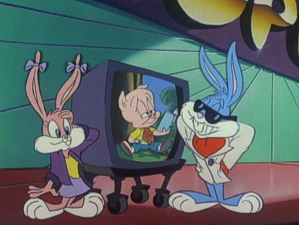 Tiny Toons unfortunately suffers from being completed on composite video, with some quite noticeable (on larger screens) crosstalk and video noise (the reds especially in Son Of The Wacko World Of Sports being well oversaturated). The compression – much improved since the previous season perhaps attempted to squeeze too much in – manages to smooth much of this out, and though the film source is evident in the occasional scuffs, scratches and gate weave, this is still the best we're ever likely to see Tiny Toons Adventures looking.
Scratch Tracks:
Chief among the audio elements is the relentless musical score by Bruce Broughton and Richard Stone, among many gifted others (including a nod to Maurice Noble for the Duck Dodgers references) and I'm happy to say that in the spruced up 5.1 track offered here, they sound very clear. From The Twilight Zone to the classic Carl Stalling sound of old, the score plays a huge part in keeping these cartoons feeling part of the same Looney Tunes universe. Subtitles are also offered in English, plus the slightly less dynamic regular 2.0 stereo tracks, French and Portuguese dubs.
Final Cut:
The lack of any bonus features is regrettable if understandable, though there was a popular Tiny Toons comic out at the time of the show's success and it couldn't be that difficult to present those panels as a still frame gallery, could it? Galleries have never been a Warners strong point however, so here's really hoping that, when we get to seasons two and three, those much requested video supplements (the two specials and the movie) make it intact. Fans of the show will need no prodding to pick up this set, though newcomers would probably be better off to start with the first volume, which packs a little more punch in terms of strike rate. But otherwise never has such big fun come from characters so small!
Animated Classic or Back To The Drawing Board?