Warner Bros./Amblin Entertainment (September 16 1991 – September 17 1992), Warner Home Video (January 3 2013), 2 discs, 369 mins, 1.33:1 original full frame ratio, Dolby Digital Stereo, Not Rated (nothing offensive, although parents may wish to pre-screen selected episodes), Retail: $19.98
Storyboard:
The tiny, toony, looney, furry, funny, TV-invading cartoon critters of Acme Acres are back for a third collection of their show's episodes, in which the students at Acme Looniversity – where the teaching staff of Bugs Bunny, Daffy Duck, et al, have been getting laughs since 1933 – impart their knowledge to the next generation of Buster, Babs, Plucky, Hamton, Elmyra and the rest of the Tiny Toons gang…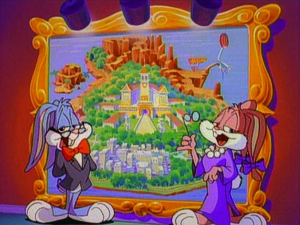 The Sweatbox Review:
After the abysmally half-hearted release of Tiny Toon Adventures: How I Spent My Vacation last summer (a DVD which, honestly, looked and sounded better on its original VHS release in 1992!), it seemed that could be it for Tiny Toons on disc. The immensely popular series had first come to DVD way back in 2008, in a great four-disc compendium of the first 35 episodes of the first season's initial 65-episode syndicated program (hey, it even had extras!), with the final 30 shows finding their way to disc under a year later. And then things went quiet, not just for Tiny Toons but for Warners' animated television shows in general.
The then-current crop of programs and countless new Scooby-Doo! movies came and came, and classic animation was well taken care of with the Looney Tunes Golden Collection releases, but WB's 1990s collaborations with Steven Spielberg – including Tiny Toons, Animaniacs and Freakazoid – found their ongoing DVD releases fewer and farther between. The shorter-lived Freakazoid managed to get its second season episodes out before the drought, but since then Tiny Toons and Animaniacs fans have been playing the (very) long game in waiting for their favorite shows to get wrapped up.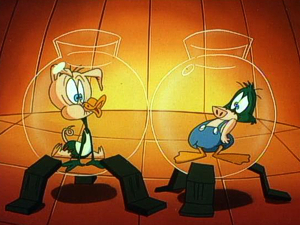 Who knows how the Studios decide on what gets released? In previous insights it seems that shifting many numbers of units is what makes Warners move on preparing similar releases and so one can only guess that the surprise issue of How I Spent My Vacation in 2012 prompted a rush from fans eager to buy up more of this kind of stuff – or at least in numbers high enough for WB to warrant looking at further sets again. Despite the poor, poor standard of quality on that disc (it even made our Worst selection in our picks of 2012), it seems to have paid off: not only does Tiny Toons get another lease of life, but Animaniacs finally sees itself completed with the three-disc Volume 4 in stores now too!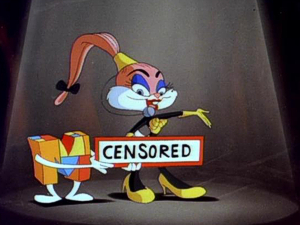 Although surpassed by those later shows, Tiny Toon Adventures was groundbreaking in its day, becoming an instant smash when it premiered in 1990 and continuing the return to Looney Tunes greatness that had been spearheaded by Who Framed Roger Rabbit's phenomenal success a couple of years before. That film's executive producer, Spielberg, had approached Warner Bros. Animation to bring their stable of original characters – Bugs, Daffy, Porky, Foghorn Leghorn and the rest – to the small screen when Roger's star began to fade thanks to drawn out copyright wrangles (a planned series, Adventures In ToonTown didn't pan out; Disney went ahead with its own adaptation, Bonkers).
Perhaps tiring of attempting to live up to the greatness of Chuck Jones, Friz Freleng, Tex Avery, Bob Clampett and Bob McKimson's legendary Termite Terrace output (the WB animation unit had been trying to push new Looney Tunes cartoons to theaters with little support from the head office) and with Spielberg mindful of securing a copyright stake in any new show, the project took another direction and developed a new bunch of characters which could be updated for contemporary audiences. Still Looney Tunes based, these personalities would be aimed at a younger audience – and would be younger themselves – essentially junior versions of the characters from those golden age shorts.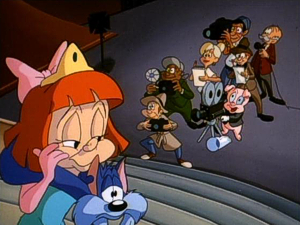 As you'll know the drill by now, Buster Bunny is otherwise a boisterous younger Bugs and has a female counterpart, the girly Babs, while Plucky steps in for Daffy, Porky is Hamton, Yosemite Sam downsizes to Montana Max, Elmyra proves to be related to Elmer in some way, and there's a young Tasmanian Dizzy Devil, too, among others. Ostensibly, an Acme Looniversity framing device is that in all but name: although earlier programs in the first season highlighted the teaching staff of Bugs and company, Tiny Toons Season Two often jettisons it to simply bring us a selection of three "shorts" within a typical half-hour episode (running around 22 minutes each less commercial inserts).
Pledge Day (which could be a mis-title: it's also known as Pledge Week, although Day makes more sense to the episode), from September 1991, starts us off in the first of a planned two volumes dedicated to seasons two and three (the fourth and final volume is set for release this summer). It's a fairly low-key start to the season, a three-segment episode that finds some unexpected sweetness when Hamton's kite attracts a new friend. Going Places, the firehouse section of which has influenced this set's otherwise perplexing front cover art, sees the gang visiting people in their workplaces, leading to the Looniversity being burned down, an excellent Wackyland-like bit with Babs in the Acme Art Museum, and the terrifically titled Slaughterhouse Jive segment.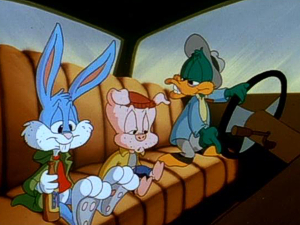 A notable episode is Elephant Issues, a controversial show that doesn't usually turn up in re-runs due to Buster, Hamton and Plucky drinking copious amounts of alcohol and driving their car off a cliff in the One Beer segment. This is a pretty special show in other ways too, tackling issues such as Dizzy Devil's illiteracy and Montana Max's bullying of a robot that one wouldn't immediately think of having its own feelings. The really nicely animated Hog-Wild Hamton is a rare full-length show, in which Hamton throws a huge party to end all parties when his parents are away, while Playtime Toons has fun with the notion of nostalgic toys, but Toon Physics isn't always as funny as the title might suggest, even if it has Maurice LaMarsh as Orson Wales and plays with animation's past.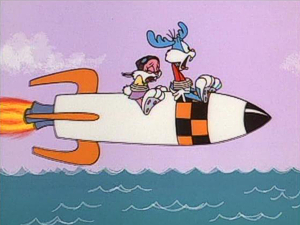 I've always loved Warners' animated pokes at popular movie culture, a tradition begun by the Termite Terrace gang in the 1930s and carried through to these kinds of shows in the 1990s, and Acme Cable TV is one of many episodes to create laughs from their pastiches and caricatures. After catching flu, Buster and Babs recoup in front of the boob tube, channel hopping between such offerings as the Jay Ward-styled "The Babsy And Buswinkle Show", Walt Dizzy's "The Cat Who Thought He Was A Hammer Head Shark" and "Toonywoods Squares", among others. Fun is the animation design of the Ward spoof, as well as the limited animation jokes, which even Babs suggest are too "inside" for general viewers, to which Buster replies, "Well, if you can't be funny, be confusing"!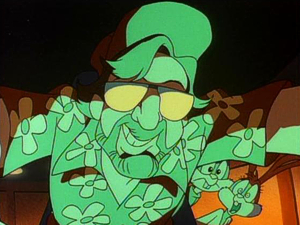 Spielberg himself pops up in animated cameo form in Buster And Babs Go Hawaiian, in which they hilariously hijack Hamton's planned episode and end up, by way of a script written by thirteen year-olds, going to Hawaii, although this doesn't turn out as wonderful as it sounds for the two bunnies. On disc two, the bonkers-titled Henny Youngman Day makes perfect sense when it is revealed that Daffy is absent at the Looniversity and a substitute – legendary comedian Youngman, as a caricatured hen, naturally – is here to teach instead. There's more referencing in Love Disconnection, in which Max and Elmyra share a dinner date and take in the hysterically titled "The Adventures Of Fido And Mewmew" spoof at a movie theater, while Carrie is also amusingly touched upon.
Towards the end of the second season things get a little surreal, even for Tiny Toons! Kon Ducki is pretty strange by any means: an epic movie-within-a-TV-show coupled with a jokey "making of" segment, which depicts the story of Plucky's ancestors, while the full-length Sepulveda Boulevard will bring a smile to cineastes (the series, on the whole, is a movie geek's dream) for its recasting of a Hollywood melodrama in the Tiny Toons mold. If you're wanting to keep tabs on things, the single-story Take Elmyra, Please ends Season Two (originally airing in the February of 1992), revealing that her family name is Duff, a nice play on Elmer's second name, from which she is distantly descended.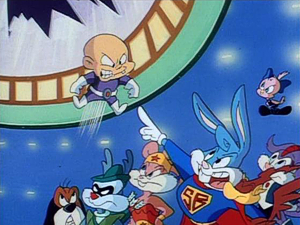 It's here that one would place How I Spent My Vacation in a chronological listing, but this collection continues with the first four programs of Season Three, which perhaps points to a fifteen-episode final volume to include the final three specials (It's A Wonderful Tiny Toon Christmas Special from 1992, 1994's Tiny Toon Spring Break and Tiny Toons Night Ghoulery from 1995). Spoofing the hugely popular drama of the time, September 1992's Thirteensomething, this full-length story might have worked best in shorter form, but things are made up for in New Class Day, during which "The Just-Us League Of Supertoons" introduces us to Batduck and Decoy, Superbun, Pink Canary and others, battling the ruthless Wex Wuthor.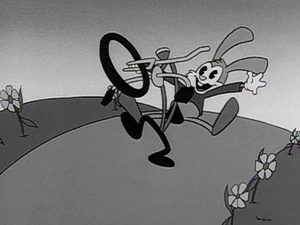 It's a shame this isn't a full-length story, or that the League didn't then return in any future shows, since there's a lot of mileage to be had with these comical alter-egos, but the rest of this three-segment episode doesn't disappoint, from a near-silent, classically 1920s inspired picnic-themed short (in authentic black and white), to a terrific Marx Brothers parody. Fox Trot features another trio, including more laughs at Spielberg's expense, while rounding out this selection is the time-travelling What Makes Toons Tick, which has the already younger characters returning back to a time when even they were babies. A three-segment show, it's not the strongest to end on here (even with some ideas that predate Monsters, Inc.), but is perfectly representative of the series as a whole.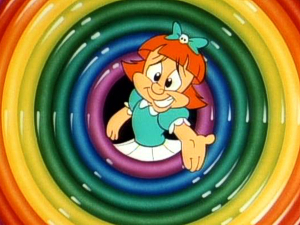 More than anything, Tiny Toons Adventures is still funny even 20 years later, and it's only perhaps of network contractual issues (the first season was a syndicated show whereas three and four aired originally on Fox and may have been subject to a rights delay) that it's taken so long to make these episodes available on home video. It remains an important show: without Tiny Toons' success who knows what the state of WB's television output would be like today? It's good to see Warners return to the property and rightly remember it exists: if you're a fan then this third volume and the announced fourth will continue your collections with more than a few big belly laughs among them!
Is This Thing Loaded?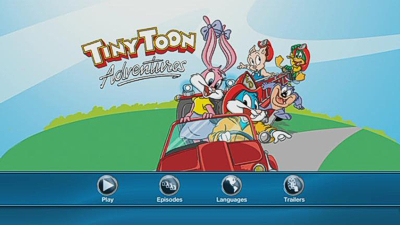 Once again, Warners chooses not to provide anything in the way of extras for a 1990s television title. We can only hope that the fourth and final set finds room to include the three remaining Tiny Toons specials, although going by Animaniacs' fourth volume I wouldn't hold my breath: that concurrent release does not contain the final Wakko's Wish TV movie that many have requested. Perhaps these titles remain on the shelf for a separate unleashing down the line? Without any supplements per se (and a now standard, boring WB menu), the only other material in this two-disc set are a handful of trailers for other WB product, including a good but strangely 4:3-formatted spot for the Studio's 90th Anniversary Collections (albeit ones that include a more than suitable bunch of later-acquired MGM titles!), and a Lego Batman Justice League movie. Seriously.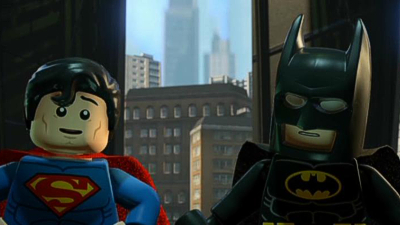 Case Study:
After the o-sleeve slipcase of the first volume and the no-slip release of How I Spent My Vacation last year, at least we can give a nod of thanks to Warners for returning to the embossed box-cover packaging of this series' second volume and so providing some level of consistency between sets. This may be a "half-volume" in terms of just two discs as opposed to the usual four, and the Crazy Crew Rescues titling may indicate a basic "best of" compilation, but rest assured that the Volume 3 (or "3 Vol" as the spine has it!?) means this is a chronological assemblage from where we last left off. Although it's technically not full color art, the red and blue tinged discs are a nice step towards making the package feel loved.
Ink And Paint:
So…we're not missing any episodes and the packaging measures up – how about the image quality, which was sooo lacking in the Vacation release from last year. Well, things are much improved, but don't go expecting a top-level digital transfer from these early '90s elements. The softness of the Vacation movie's image is pleasingly absent, but these are video-mastered, interlaced episodes we're dealing with here, so there is still a little color crosstalk to be spotted. Don't be expecting the crisp outlines of the latest digital transfers and you'll be satisfied, but this is a sure step up from the disastrous Vacation release.
Scratch Tracks:
Produced in stereo at a time when this was still something of a novelty on television, Warners' DVD only just measures up in the audio stakes, with a track that can sound like it's only coming from the center channel at times when, at others, the full orchestral scores – another unique aspect at the time in terms of animation for the small screen – bursts from any speaker set-up. English and Spanish (in Mono) languages are optional, alongside English subtitles.
Final Cut:
The lack of extras is predictable, but hopefully the fourth volume due in the summer will make up for this by including the final couple of specials. Offering up a broadcast year's worth of Tiny Toon Adventures, this third volume of the series' episodes doesn't really boast any specific milestones in its overall run, although Elephant Issues took a brave risk with its depiction of underage drinking and its potential consequences. Kudos to Warners for including it here (after an internet plea resulted in the Studio changing its mind on leaving it out of the line-up), so that our collections can be truly complete, and there's really no quibbling with the less than $20 list price!
Animated Classic or Back To The Drawing Board?