Warner Bros./Amblin Entertainment (1990), Warner Home Video (July 29 2008), 4 discs, 767 mins plus supplements, 1.33:1 original full frame ratio, Dolby Digital Surround, Not Rated, Retail: $44.98
Storyboard:
They're tiny, they're toony, they're all a little looney, and in this cartoony they're invading your TV! They're comic dispensers, they crack up all the censors, on Tiny Toon Adventures get a dose of comedy. At Acme Looniversity they earn their toon degree – the teaching staff's been getting laughs since 1933! They're tiny, they're toony, they're all a little looney, it's Tiny Toon Adventures, come and join the fun. And this review's begun…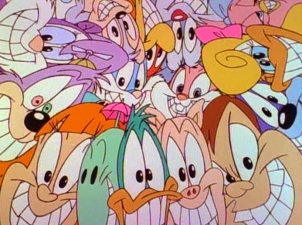 The Sweatbox Review:
It's vaguely strange to recall the effect Tiny Toon Adventures had on audiences when it premiered in 1990. Executive Producer Steven Spielberg had wanted to continue the Roger Rabbit effect on television, but the budgets involved in maintaining the quality level as well as Disney's aim to keep the rabbit appearing in theatrical shorts and a feature sequel put off Roger's transition to the small screen (in a series planned as Adventures In ToonTown). Eventually, the deal between the Mouse House and Spielberg cooled off, and after just three shorts, Roger's screen career seemed to have fizzled out, but not before Spielberg had approached Warner Bros. about securing their famed Looney Tunes stable as a replacement.
The Warners animation unit had simply kept ticking over since the 1970s after a set of newly-produced Chuck Jones specials featuring Bugs and the gang, a long series of patched together television specials and a bunch of compilation feature films, and by the late 1980s were still trying to crank out new Looney Tunes cartoon shorts that the head office really didn't seem to try and promote much. The young team in charge of these projects had the enthusiasm and knowledge of tradition to infuse the cartoons with the kind of reckless abandon the Warners' shorts were famously known for, but the unit was otherwise stuck without the product being able to go out and make some waves.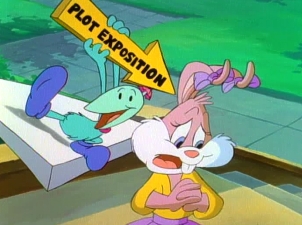 For whatever reasons, though my guess is that either Warners and the team desperately wanted to move on from Looney Tunes or that Spielberg wanted a copyright-owning stake in the project, a new set of characters was devised, still based around the Looney Tunes of old, but with slightly updated personalities aimed at a younger audience. Apart from mice, rabbits work just as well in animation, and thus Bugs is split into two bunnies: the boisterous Buster, and girly Babs ("welcome to the nineties!") – no relation – while Daffy becomes Plucky, Porky is Hamton (geddit?) and so on. While these guys are little more than younger or alternate versions of their more esteemed predecessors, Tiny Toons is no Baby Looney Tunes – the clever spin on the show is that the original gang turn up on occasion to teach their younger counterparts the tricks of the cartoon trade at Acme Looniversity.
When the show originally aired, the Spielberg name meant it did so with a huge amount of fanfare, and the importance of Tiny Toons to the future of Warner Bros. Animation can not be underestimated. Apart from the schooling of the cartoon characters themselves, this was where the future big names of WBTV mixed with the veterans – Paul Dini, Sherri Stoner, Tim Sarnoff, Bruce Timm, Art Vitello – not to mention Bruce Broughton's Emmy award-winning title song and a host of recognisable voice artists (Charlie Adler, Tress MacNeille, Joe Alaskey, Don Messick, Kathy Souci, Frank Welker, Maurice LaMarche, Rob Paulson) would all bunch together and create the first landmark program in the Studio's recent and acclaimed history, paving the way for the even crazier Animaniacs and Freakazoid and Timm's superheroic series that continue to this day.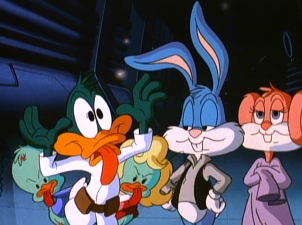 As usual for a syndicated series, Tiny Toons had an initial 65-half hours originally created, meaning that with 35 shows in this set, we should have Season One completed in a second collection, and the series proper finished up by a third volume, hopefully with the couple of specials and the superlative direct-to-video feature How I Spent My Vacation as extras. In fact, Tiny Toons was a bit of a trendsetter in more ways than one: as well as quietly kick-starting the DTV craze with the Vacation movie, the show quickly became home to a variety of spoofs – just the second episode is an elaborate Star Wars take off – which the likes of Robot Chicken and Family Guy are only just now catching up with. It was much more of an innocent time back then, when such caricatures and skits didn't seem to need a committee and a copyright clearance as it was all done in good fun.
We start out (highlighted episodes in bold) with The Looney Beginning, which is so good it could be released as a featurette on its own, with very healthy production values that, even if they don't quite recall the shorts of the 1950s, easily better some of Jones' later TV work in spirit. With a much put upon animator about to lose his job if he can't come up with a hot new show, Buster and Babs are created – and tossed on the rubbish heap. Like the Elves And The Shoemaker the bunnies act like showmakers, discarding their trashed status and building Tiny Toon Adventures around their "adoring" personalities. There are some great lines ("Who are you, Ted Turner?") and more prescience here, with obvious reasons why the later Baby Looney Tunes and Loonatics Unleashed really weren't such great ideas. The show wears its Roger Rabbit influences on its sleeve, with several referenced gags both to that film and the Looney Tunes history of old: the cuckoo Gogo Dodo ends up in Porky Pig's old nightmare haunt, Wackyland ("Home, surreal home!)".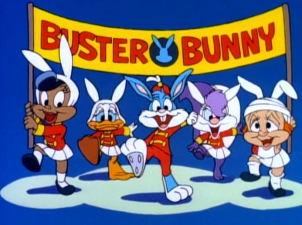 Second up is the space spoof A Quack In The Quarks, in which Plucky is duck-napped by aliens (named Frank and Ollie, natch!), leading to much nodding to past Marvin The Martian and Duck Dodgers cartoons and extra-terrestrial movie excursions, most notably Star Wars, whose villain becomes the feared Duck Vader. The Wheel O'Comedy is the series' first below-par episode, a triple feature of three shorts (Devil Doggie, Optical Intrusion and Win, Lose Or Kerplowie) that are dressed up in wraparound sequences in which even Buster and Babs fail to find the cartoons anything to be excited about, a joke that must prompt the question of if the writers themselves recognised them as filler between the much better episodes. Test Stressed is another cartoon pile up (Never Too Late To Loon, which sees a typically WB take on Dumbo's Pink Elephants, Lil Sneezer and To Bleep Or Not To Bleep), the titles of which are pretty self-explanatory.
But the hit rate is high: The Buster Bunny Bunch includes an absolutely spot on Tiny Toons recreation of The Mickey Mouse Club ("Why? Why not?") in its wraparound sequences for its three cartoons (Buffed Bunny, Squish and Born To Be Riled), and Her Wacky Highness gives Babs a chance to shine when she visits Wackyland to find herself ("The moral of the story: Elmer Fudd is a dolt"). Hollywood Plucky is pure gold, and the best show since the looney opening, with Plucky treading in the footsteps of his hero Daffy to visit Tinseltown in the hopes of selling his dream script, The Plucky Duck Story, or course. There are plenty of opportunities to add modern-day caricatures of film favorites to the Looney Tunes ranks, including Indiana Jones, Meryl Streep, Jack Nicholson, and an early Bruce Timm version of an animated Batman, circa the Michael Keaton era. The rather epic Journey To The Center Of Acme Acres, an earthquake/Three Little Pigs/Gremlin crossover (with acknowledgement to Bob Clampett), ends the first disc.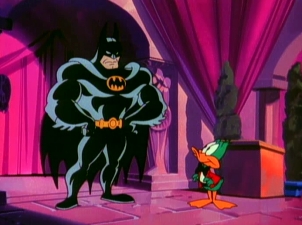 Disc Two's first show is another trio of shorts (Bag That Bunny, Lifestyles Of The Rich And Rotten, The Anvil Chorus), with Howdy Doody styled It's Buster Bunny Time wraparounds, while Stuff That Goes Bump In The Night features a ghostly trio of cartoons (Home Wrecker, Fang You very Much, Easy Biter). Three more shorts (Awful Orphan, The Re-Return Of The Toxic Revenger, Bird-Dog Afternoon) feature in Looking Out For The Little Guy, and the Furball-starring Starting From Scratch plays like a mini-movie, with well observed take offs on Spielberg's own An American Tail in this Fievel-like story of a little flea that finds a home.
I wasn't the biggest Montana Max, the junior upstart derived from Yosemite Sam, fan, but where else but in Citizen Max are you going to find such a fine skewering of Orson Welles? Complete with appropriately black and white sequences, noir-ish lighting and frame setups that reflect Citizen Kane to a tee, the hands of Timm and storyboard collaborator Doug McCarthy are again felt here, as again in Hare-Raising Night, another spooky-toon obsessed with a mad scientist bent, and one that pre-dates Mickey Mouse's Runaway Brain's sinisterly comical tone. Furrball Follies is a collection of three starring cartoons for the character (K-9 Kitty, Aroma Amore, Cross Country Kitty), which all depend on how much you find Furrball's follies funny, and the disc ends with The Acme Acres Zone, a three story anthology (A Walk On The Flip Side, A Bacon Strip and Senserely Yours, Babs) that is sadly only partly as inspired as the other Zone it's borrowing from.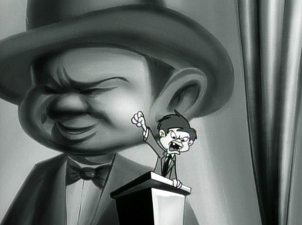 What's still notable after all these years is the animation itself, which is drawn on twos for the most part – more frames than was usual in television animation at the time. Disney had upped the quality level on their Duck Tales adventure program in 1987, and it seems it was felt that a Spielberg production, especially post-Roger Rabbit, should at least reach those values. This isn't to say the cartooning is of that film's level by any means, there's a bit too much amiss with the registration that sees characters float about even when they're supposedly rooted to the spot, but dare I say that within the broader confines of how fast and loose the artists play, the animation remains more fluid and theatrical than many of the shows being produced with computer assisted systems today. When effects are needed, they're sufficiently striking, and now-routine light and shadows appear on the characters remain impressive on a tight television budget, however generous it may be.
Disc Three's episodes feature more triple-bills: Life In The Nineties spotlights several typical lifestyle situations of the time (fancy restaurants in Whining Out, extra pocket money in Paper Trained and the anti-smoking Butt Out). Rock 'n' Roar has Buster playing daddy to a not-so-baby dinosaur, it's Junior Prom time in Prom-ise Her Anything, and Hare Today, Gone Tomorrow has Elmyra's pets turning the tables on her. Cinemaniacs has fun with movie types as only the WB animators know how, with three spoofs (SuperBabs, Duck Trek and the best of the bunch, Pasadena Jones, in which it's just so clear how much Broughton's full orchestral music brings to the show in terms of providing a rich soundtrack as opposed to a synthesized cut-price option. You Asked For It, Part 1 is another triple (Debutante Devil, the magical Sleight Of Hand with a spot-on Hans Conried conjurer named Presto, and the King Kong skit Duck Out Of Luck). The prison break adventure Gang Busters and the three story Wake Up Call Of The Wild (featuring Migrant Mallard, It's A Jungle Out There and Kitty Cat-astrophy) round out the disc.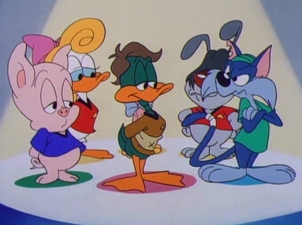 This edition of Tiny Toons Adventures could be called a four and a half-disc set, technically, since the final platter comes fully-loaded and double-sided. Side A of the fourth disc begins with the Peter And The Wolf musical pastiche Buster And The Wolverine, followed by You Asked For It, Part 2, a second chance for "viewers" to request who appears in the three shorts, a Dizzy Devil-Hamton Pig odd paring in The Weird Couple (a taste of what Tiny Toons would sound like with a laugh track), The Return Of The Toxic Revenger and Little Cake Of Horrors ("Eat me, eat me!").
Europe In 30 Minutes is a fitfully furious whistle stop tour of several sights and landmarks, which with its convoluted villain (a guesting Tim Curry) could make for a funny feature of its own, and fair play to Warners for keeping the episode's Princess Diana kidnap plot intact without heavy editing or omitting it completely. The Wacko World Of Sports doesn't introduce a later WBTV animated star as the title might suggest, but does have fun with three activity-filled cartoons: Tennis The Menace, Bleacher Bummer and Miniature Goof. There three more shorts in Rainy Daze (Rent A Friend, Bunny Daze and Fur-Gone Conclusion, whose Madam Gotcha Grabmore is a Cruella-styled dead ringer for Zsa Zsa Gabor).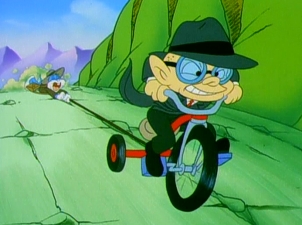 It's always fun when the old-school Looney Tunes turn up in these episodes, or when the Looniversity concept is used to the full and we get both in Fields Of Honey, not only one of the very best shows in this set, but winner of an Emmy for Bill Ross' musical score. This is the classic show where the viewers' own Looney education comes into play, when after complaining all the Tunes stars were boys and hearing voices, Babs sets out to find a female role model. A trip to the vaults ("old cartoons never die, they just get canned!") evokes Warners' very first cartoon star, Bosko, and his girlfriend Honey – Babs' new heroine. Just as Betty Boop proclaims that "work's been kinda slow since cartoons went to color" in Who Framed Roger Rabbit, it seems the years haven't been too kind to Honey and Bosko either. Babs goes on the hunt for the former star, and when she asks Hamton what he knows about "Honey", he replies with possibly the series' most chucklesome line, "Um, it's sweet…er, Winnie The Pooh has a problem with it". This is a simply dazzling episode, not only a delightful nod to the past but a fertile ground for breeding further ideas, and I wouldn't be surprised to learn that the Animaniacs' made up origins had their foundations in this episode; it's certainly not hard to picture the Honey seen here becoming the Warner Sister, Dot.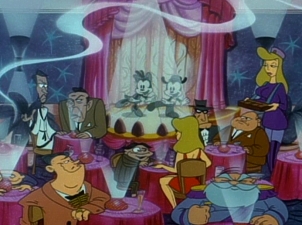 After that show, the remainder in this set have a lot to live up to, but the sinister circus set Sawdust And Toonsil, featuring Gogo, is fun and exciting, while the side ends with the Valentines' themed Spring In Acme Acres trio of stories (Love Among The Toons, Elmyra's Spring Cleaning and That's Incredibly Stupid). The final side of the set, Side B of this fourth disc rounds out this first half of Season One of Tiny Toons Adventures. Psychic Funomenon Day features a triple helping (Piece Of Mind, Class Cut Up, in which Hamton has a rather froggy day, and Rear Window Pain) with guest June Foray as Granny, and there's another trilogy of terror in The Wide World Of Elmyra, as she frightens the fur off another bunch of trapped pets and captured audiences (in Turtle Hurdle, with another appearance from Michigan J. Frog, babysitting Drooley Davey, and Go Fetch. Finally, with the powerhouse talents of Art Vitello, Bruce Timm and Doug McCarthy among the crew of A Ditch In Time, you know we're going to go out with a bang, and this paradox-inducer, with its "expensive ILM effects", is Plucky fun.
Warners animation has always had a tradition of lampooning the hand that feeds it, and the inescapable digs at Hollywood are one of purest elements in Tiny Toons that continues the Bob Clampett, Tex Avery and Chuck Jones feel throughout, even if the tone is more hyper and whacky as opposed to genuinely edgy and randomly insane. Broughton's theme conjures up the memories of The Merry-Go-Round Broke Down – one could almost sing that along in counterpoint – though Buster's "And that's a wrap!" is one of the weaker sign offs that can't compare with the immortal "That's all, folks!" of the older cartoons.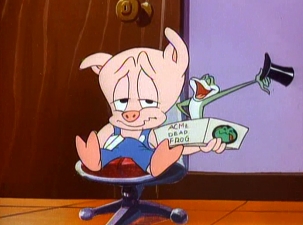 But Tiny Toons is very much its own thing, and if it ever feels derivative of other projects, it's simply because those others have come along since and have fed off from this show. The team would hit their apex with Animaniacs in the next couple of years, a better structured and better animated show, with a wider writing remit which gave it more appeal. As the end credits themselves point out, "not every show is perfect", but as an Emmy winner for Outstanding Animated Program of 1990-91, right here are the building blocks for that turnaround in Warners' animation fortunes, and they are sturdy and often hysterically clever foundations that are heartily recommended to be dug up and enjoyed again.
Is This Thing Loaded?
Warners are rightfully proud of their animated television properties and never fail to include at least one bonus feature, continually placing them above others (cough, Disney) that fail to include even the smallest token supplements. This time around we get the Looney Tunes To Tiny Toons: A Wacky Evolution featurette, on the final side of the final disc.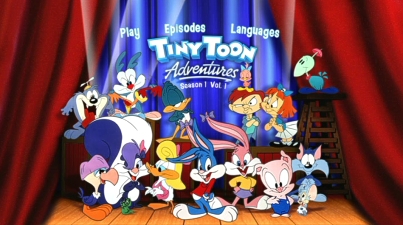 Running an episode-length 23 minutes in 16×9 widescreen video, Looney Tunes To Tiny Toons is a surprisingly laid back but enjoyable and well made retrospective that speaks to all the main players, excepting Spielberg of course, about the development and production of the series. The only notes of criticism to hand out would be on the sound mix: the interviewees speak in fairly hushed tones, meaning the volume of the many clips comes crashing in overly loud, and the title credit theme may sound faintly cartoony, but isn't right for this at all. But it's refreshingly in depth, taking its time to touch on the classics of Clampett, Avery and Jones and how they influenced the later show, allowing its participants (exec Jean MacCurdy, Ruth Clampett, Sherry Stoner, producer Tom Ruegger and writer Paul Dini) to express at length what the intentions with Tiny Toons Adventures were. A highlight is MacCurdy recounting the moment in a meeting with Spielberg when he decided the cartoons would have full use of a full orchestra, which left the budget conscious exec to scratch her head and re-run the figures!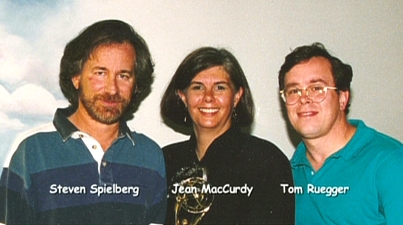 A group of trailers promote other current Warners animation on DVD: Animaniacs Volume 3 (c'mon, kids, buy more of this edition and a final set with the Wakko's Wish feature is a dead cert!), Pinky And The Brain Volume 3, The Richie Rich/Scooby Doo Hour, Popeye And Friends, a Lego Batman videogame, and Popeye The Sailor Volume Two: 1938 – 1940, the original Fleischer shorts. A frankly bizarre Wizard Of Oz anti-piracy spot and a preview for the simultaneous Tiny Toons/Freakazoid releases are also bundled onto the first disc.
Case Study:
For this latest batch of WBTV releases (Buster and Babs come to disc concurrently with the first set for Freakazoid), Tiny Toons ditches the digipacks of Animaniacs for a regular slimline keepcase. A new fold-over disc tray system, which Warners seems to be more in favor of in their newer multi-disc releases, keeps the discs from scratching each other, and it even seems the final double-sided platter should be kept from any harm. The inside of the dual sleeve makes note of the episode titles, while making the set special (and somewhat in keeping with earlier releases) is the reproduction of the outer sleeve art on a shiny, embossed slipcase, replicating the Animaniacs feel. Tiny, toony and shiny – nice.
Ink And Paint:
It's always a little bit of pot-luck when settling down to television material on disc, whatever the vintage. Created in the dark days before headache-inducing brightly colored computer mastering, Tiny Toons was shot on film but completed on video, which is now a blessing and a curse. The show looks as good as can be expected. Compression shows up a little more than usual, at least I felt, for a Warner Bros. title, especially around busy areas of the image, though nowhere near the levels that Disney's television box sets attempt and fail to get away with. The film origins are revealed in occasional scuffs, scratches and gate weave, while the video mastering has kept the image fairly fresh even if an HD edition could never be on the cards.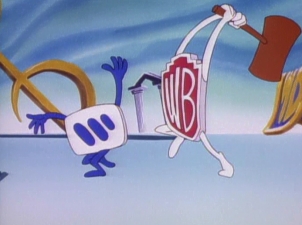 In a way, the occasional film blemishes actually age the material a little better and make them feel more a part of the Looney Tunes spectrum, certainly more than the later Animaniacs and Freakazoid shows. These discs are still packing in around two and a half hours of content, but the sheer energy just about pulls it through.
Scratch Tracks:
Now, here's a surprise! As well as the expected stereo surround track, we're also offered what must be a newly mixed 5.1 Dolby Digital mix. It sounds like a nice idea, and there is a bit more separation going on, but it's not a drastically altered experience and I think I'd prefer a choice of one over the other, allowing the image to use up the much-needed extra space. Both mixes provide the aural equivalent of a sledgehammer, just as they're intended to, with mono backup for French viewers and another mono mix and subtitling in (!?) Portuguese.
Final Cut:
They are tiny, and they are toony. The looney is there in check too, but sometimes hyper might describe it better for pure aficionados of old-school Looney Tunes. But taken as is, Tiny Toons is lots of fun, and actually compliments the original crew as opposed as to trying to reinvent or replace them as later attempts would do without much success. Less expensive than the classic Looney Tunes sets, and even less so online, this edition of Tiny Toon Adventures may be more aimed at the now adult kids who saw them first time around rather than a new audience, but hopefully younger eyes and ears will get exposure via their parents. Kudos to WB for presenting the shows uncut and although the video transfer leaves a little to be desired, this is just what fans have been asking for.
Animated Classic or Back To The Drawing Board?