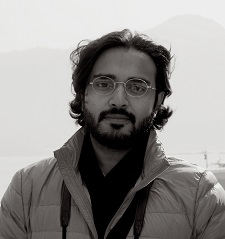 On December 4th, the Academy of Motion Picture Arts and Sciences announced that, among the 63 movies already qualified in the category, 10 animated short films had advanced in the voting process for the 90th Academy Awards®. Among them is Robin Joseph's intriguing Fox & The Whale, which tells the story of a curious fox that goes in search of an elusive whale on a journey of longing and discovery. The short film, already a winner of several awards across the world, is an independent, self-financed project made from Joseph's personal savings.
Robin Joseph was born and brought up in a tiny coastal town in Kerala, India. He then moved to Canada to pursue film & animation. He has worked as a freelance character designer, visual development artist and production designer for animated features & commercials since 2005. Some of his clients include Pixar (Inside Out), DreamWorks (Mr. Peabody And Sherman), Blue Sky (Rio) & Illumination (Despicable Me).
He tells us about his and Fox's journey.
---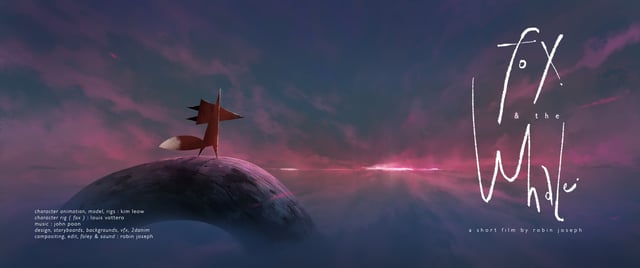 AnimatedViews:
Where does your concept come from?
Robin Joseph: The concept came from wanting to do a film about curiosity. Not so much a primal curiosity behind food, shelter, or even play. Rather, the grey areas and often pursuits that become hard to justify, that break with reason. There is something largely conceptual about that drive. It's a strange compulsion, innately human.
AV: Your approach seems very metaphoric.
RJ: There are definitely visual elements, which incorporate symbolism. I hope the film reads like a fable.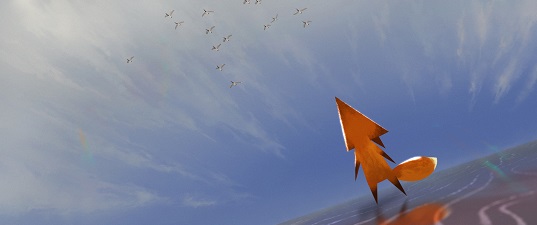 AV: What were your sources of inspiration for the story?
RJ: My personal inspiration was science and exploration (especially space exploration). There is something so admirable and so humbling about that quest to know, to learn. Standing at the edge of the abyss and wondering what lies beyond. A deep sown thread that took us out of the caves, (and had us) climb mountains, cross oceans, and reach for things just past our grasp. The pioneering quests never present any assurances of success, yet we still go past the failures. We carry on. Fox And The Whale was my attempt at capturing this sentiment.
AV: How did you come to have no dialog at all? It is very contemplative. How did you work on the soundtrack to help tell your story?
RJ: It was definitely designed as a sound forward film. I was playing with the soundscape from the time I cut the first reels. The intent was to try and create a strong sense of space, and where possible really expand the scope of the world. I wanted the film itself to be supported and carried by sound design, and reserve music to the very end. Narratively I hope to leave the viewer with a sense of optimism. I wanted the music to help with this, but also wanted to employ a level of restraint. John Poon, the composer I worked with, created a theme that beautifully bookends the short. It has such an elegant simplicity and is so understated. I think it works really well for the film.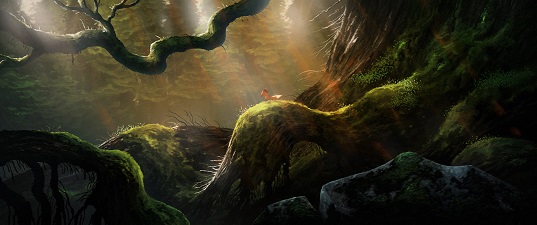 AV: Color is also very important in the narration.
RJ: Design and color was my way into the production. I spent a dedicated amount of time developing the color script. Since I wasn't communicating with a team, the color script wasn't elaborate. It was just the key moments I knew I wanted to hit, similar to keys in an animation scene. The purpose of the script was to have a strict reference point for myself, before getting into the process of painting fuller backgrounds. I also wanted to define each section of the world – the lush forest world, the dreamscape, and the journey beyond. Each of these sections also had a color progression, a buildup. Once I got into the background painting, I stayed as disciplined as I could, adhering to the color script. It was a very important stage of planning for me.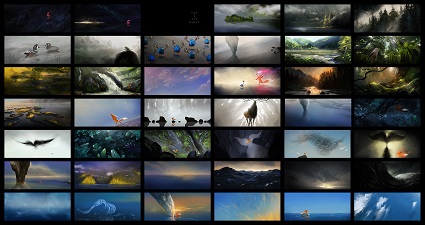 AV: What were your visual sources of inspiration?
RJ: The primary inspiration for the world building was the Pacific rainforest belt. A few years ago, I got to visit Victoria and Salt Spring Island (off the coast of BC, Canada). It was my first time experiencing the Pacific coast. That really stayed with me. Over the years I have watched every documentary I could get my hands on, about the rainforest belt. Even though the world in the film is fictional, I hope it communicates a sense of place, a specificity and believability.
AV: How did you choose to mix 2D and 3D animation?
RJ: Originally, I had planned the film as entirely 2D. [My girlfriend] Kim coming onboard to animate influenced the change to make it a hybrid. She is an incredible CG animator, who really understood on a gut level the kind of performance I was after. Given my background in design and development, painting in the light opposed to building a full CG environment was the best and most direct way for me. I wanted to avoid translations and keep it as straightforward as possible. The hybrid approach was a result of all of this. The other consideration was this approach kept the pipeline, rendering and the entire production, very nimble.
AV: How is it, to work with your girlfriend?
RJ: Kim really understood the aesthetic and sensibilities. Instinctively she had the right call for the kind of performance the designs demanded. Very subtle, nuanced and suggestive. CG also presented more opportunity to iterate. Occasionally I would have small notes and thoughts on pushing these a bit, or refining the graphic silhouettes of the designs to make them read a bit better. The performance was really rooted in pantomime and physicality. Our pet beagle 'Koci' was a big inspiration for the mannerisms of the fox. The workflow was quite straightforward. Kim handled all the CG character animation. Once shots were approved, the deliverables were a rendered .png image sequence I could bring into comp in (Adobe) After Effects.
AV: What challenges did you face during the production?
RJ: There were a lot of challenges in production. Being a self-financed film, it obviously had all the predictable financial strains. There were technical roadblocks as well, simply because I was attempting the different roles for the first time. But a bit of persistence, and you can find a solid footing to solve the problems. There were also parts of it, where I simply got very lucky. One of them, I can relay here, had to do with sound design. I found myself in a situation where I had to do the final sound design. I was at the end of production, with barely any budget to purchase a sound library. Through a mutual friend, Mark Osborne, I was introduced to veteran sound designer Tim Nielsen. He completely surprised me by loaning a massive library of his personal recordings for use in the film. Almost all the final sound design in the film was built from Tim's raw files. He was so supportive and made himself available to me for phone-calls, emails, answering every question I had, helping me pick studio monitors within my budget, to calibrating them. I found myself at the favourable end of chance and luck, moving forward purely due to the goodwill and generosity of others.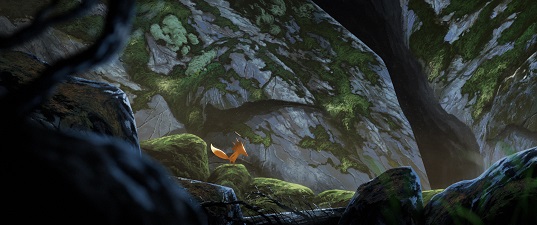 AV: What kind of technology did you use?
RJ: The character animation in the film was CG done using Maya. All the vfx, backgrounds, and lighting was 2D. Storyboards, design, backgrounds, and 2D animation was done in Photoshop. Compositing and vfx was in After Effects with plugins from Red Giant. Edit was in Premiere. Foley and Sound design was using Audition. All rendering was handled by Media Encoder. The film was made using off-the shelf, commercially available software. There were no proprietary tools built.
AV: What is your vision of the relations between art and technology?
RJ: You can achieve a lot with commercial software nowadays. There is definitely easier access to technology. If you can understand what your exact limitations are, really break them down to its absolute basics, you can start building solutions to your custom problem, and push your boundaries. A lot of creativity comes from this problem solving. I think it is a really great time for independent creators.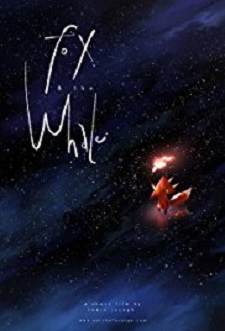 AV: What did you learn from that experience and will you keep from it?
RJ: Making the film was a very fulfilling experience. Part of it was getting to work with my girlfriend, Kim Leow. Her support took me through a lot of the low points of production. Fox & The Whale is my first professional film. The learning curve was very steep, especially because I got to try so many roles in the film. All I can hope for is, to keep improving and keep pushing my craft. At the moment, I am researching and writing a new project. It is a lot more ambitious both in scope and scale. I hope to have more news to share next year.
---
---
---
Be sure to watch Fox & The Whale here. With very special thanks to Robin Joseph and Fumi Kitahara.