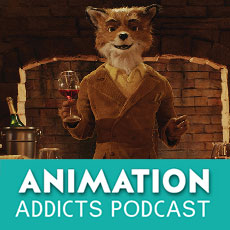 Learn more about The Rotoscopers!
This episode of the Animation Addicts Podcast, we review Wes Anderson's first foray into animation Fantastic Mr. Fox.
Highlights
Main Discussion: Fantastic Mr. Fox (2009)
Critically acclaimed; however, the box-office results are another story.
Wes Anderson's first animated film. Why did he choose this specific Roald Dahl book?
Authentic production design and a "primitive" stop-motion animation style adds charm.
Characters: who did we like most?
Why the "cuss"? – Do you think it'll catch on?
The wolf – what does it represent?
Listener Twitter question
Voicemails
Don't forget to use the hashtags #AnimAddicts and #AnimAddicts103 when talking about this episode on Twitter!