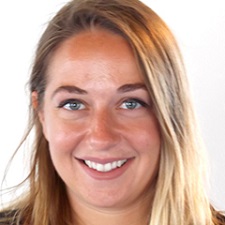 After the great success of the crowdfunding campaign launched on Indiegogo that raised more than $60,000, the production of Mila has regained force, hope, and energy to pursue their goal. They're in full production mode right now with about 60% of animation approved. They should be 100% wrapped with layout by the end of next month, and they're moving forward with lighting and CFX/SFIN (Character Effects and Shot Finalizing).
Following our own path around the world with Mila, we're moving forward interviewing members of the world-wide crew. Here is Art Director Alexandra Kavalova, from Canada. Trained in classical animation at Toronto's Sheridan College, she has been an artist in the animation industry for 10 years now, working as a layout artist, character designer, background painter, production designer and art director. She works presently at Arc Productions, Toronto, as a designer and art director.
She tells us about her experience on Mila.
---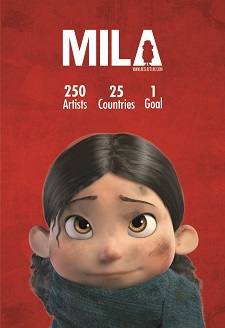 AnimatedViews: How did you discover the Mila project and what made you want to join it?
Alexandra Kavalova: I discovered Mila a couple of years ago. I gave an interview on an animation website and I happened to see Cinzia's story there. I was very intrigued and loved the concept so I offered to help.
AV: Can you tell me about your role as an Art Director and the challenge that position represents to you within the Mila project?
AK: Initially I began as colour script artist and then Cinzia asked me if I would like to take on the art direction of the end credits. Eventually, I took over the overall art direction of the project. It was an incredibly rewarding experience to work with so many talented people across the world and I learned a lot about all aspects of 3D production. The challenges mostly came from my professional life to be quite honest. I had less and less time to devote to Mila as the years progressed because my duties and responsibilities increased dramatically at work and gave me little time to dedicate to Mila. I am happy to say that I am now freelancing and thus have a lot more time again to dedicate to this beautiful film.
My role as art director included color scripts, establishing surfacing look, communicating with all the different volunteers across the world the artistic vision, establishing a look for the end credits, and creating some concept art.
AV: What tools do you use to create your art?
AK:I work strictly with Photoshop because it's what I'm most versatile with.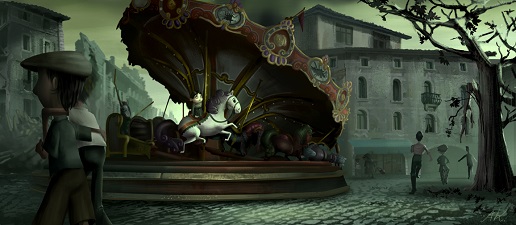 AV: How would you describe the art direction of Mila?
AK:Mila takes place in the 1940's. The art direction has a tame palette that reflects the colours of the time period. We wanted to have a painterly feel to the final look. The designs are cartoony, even though the subject matter is serious, but we wanted to tell the story from a child's perspective and bring it into a happy positive light. The palette has been pivotal to establish the proper mood and communicate the emotional journey that the character undergoes.
AV: What were your sources of inspiration?
AK:I use anything I can get my hands on for Inspiration. From classical paintings to vintage illustration books as well as some of the most current animated films out there. You can find inspiration anywhere if you look.
AV: How do you convey a story through art direction?
AK:The art director has to pay attention to the details and stay true to the vision of the film. We did this by staying in close communication with Cinzia and going through many photos of that time period. Adding such things as dirt and dust on the character's shoes, what type of patterns the clothing used to have. The other main aspect was to create colour keys for the different moments in the story. Those keys were pivotal for how the scenes would be lit later on and what message they would communicate. Lighting has to always support the emotional purpose of the scene. When Mila is dreaming a happy dream, the color keys were bright and sunny. We contrasted that with the bleak reality of war and used a very desaturated and dark palette.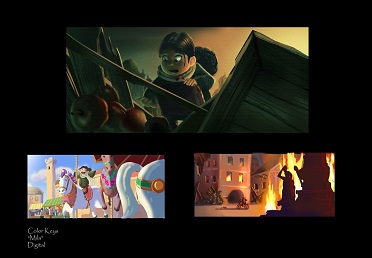 AV: What personal connection do you feel regarding that story?
AK:I have never lived through war myself but I did live in communist Bulgaria as a child. My parents both escaped the country and left me at home with my grandparents. I only got to be re-united with my mom 2 years later when the wall fell. Ultimately, it was a happy ending, just like Mila's life.
AV: The Mila project is a very special collaboration with people from different places. Whom did you work more specifically with?
AK:I worked closely with Cinzia, my Director, and Cesar, who is the surfacing lead. He has an incredible eye and sense of design. I also worked very closely with Andrea Vittozzi, who is the Supervising Animator for the end credits.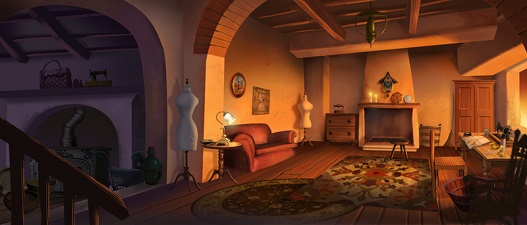 AV: What will you retain from this experience?
AK: I have to say that this experience changed my life in the most positive way. I have now long lasting bonds with some incredible artists all over the world who are always there ready to help me in times of hardship. My volunteer gig as art director helped propel my career in that direction as well. I doubt I would've handled my art director job as well had I not been doing that on Mila already.
---
For more info, please go to:
www.milafilm.com
www.whoismila.com
See the Mila Trailer on YouTube: goo.gl/g9lJtK
For updates on Mila: goo.gl/xD01AD
Or check them out on Facebook: goo.gl/A2BtId
---