Big Idea Entertainment (March 6 2012), single disc, 45 mins, 16:9 and 4:3 ratios, Dolby Digital 5.1, Not Rated, Retail: $14.97
Storyboard:
The greedy prince of Bethlingham starts stealing from the poor. When Robin Good's men retaliate by taking from the rich, he refuses to join them. But when his merry men are captured by the prince, Robin Good must make a choice. Can he save his friends and reclaim the townspeople's hope?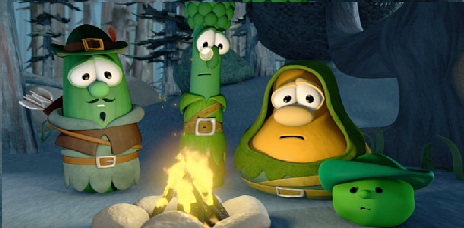 The Sweatbox Review:
Big Idea has made a living off of movies and shorts that promote good behavior and teach Christian lessons to children while adding in pop-culture references and wit, the most famous being the VeggieTales series. The video series follow a basic structure. After the catchy theme song, the main characters Bob the Tomato and Larry the Cucumber answer a question from a viewer, which segues into a short that deals with the question. After that, there is a segment called Silly Songs with Larry, which features a short music video. And finally, there is the main story, which expands on the lesson and takes up the majority of the video.
This episode starts off with Larry the Cucumber, dealing with the grief of his missing hamster, saying how bad of a day he is having. The viewer question also deals with this, and leads into the short Lenny & The Lost Birthday, in which a little boy (or asparagus) spends the whole day sad because everyone has forgotten his birthday. But it's revealed at the end of the short that he was never told about leap years, and his birthday is the next day. The short is fine enough, and kids should enjoy it, but for adults it might be more of a struggle to get through than the main story. Next is Silly Songs with Larry, which features the Bubble Rap. It's a harmless riff on auto tuning and the rap culture, and is fun and enjoyable enough that it won't make anyone want to tear out their hair if a child starts singing it after they watch the video.

Finally the main story starts, and what follows is a pleasant but slight take on the traditional Robin Hood story. It starts with Robin Good and his Merry Men cornering two wanderers in the forest, but instead of robbing them, they offer them lemonade, the proceeds of which go to help the poor. The idea of fundraising from the rich and giving to the poor is a clever spin on the Robin Hood mythology, and the Robin Good story has some fun subverting what the viewer might expect. After the ham Robin Good and his men give to the poor is taken by the king (in a clever twist instead of the traditional monetary gift), the merry men decide to steal the hams from the king. Robin Good disagrees, and they soon part ways. Robin goes to the king to try to convince him to give all of his hams to the poor, and while he is there his old crew sneaks in and steals the king's hams. After being wrongfully accused, Robin escapes and attempts to clear his name, help the poor, and after his friends are captured, save them as well.
The voice cast, largely made up of the production staff, all do solid work here. None of the voices are overly annoying or grating, which is a nice change from the majority of television and movies for kids nowadays. The story isn't that new, but it moves at a brisk pace and should always keep a child's attention. One minor gripe is the songs aren't that clever or memorable, which is a step down from VeggieTales songs of the past, but this isn't as song based as past episodes have been. Overall, an enjoyable but definitely slight video that just might be worth a look.
Is This Thing Loaded?
The disc opens with a trailer for the next VeggieTales release The Penniless Princess. There is a decent amount of bonus features on the disc, although few would actually be of interest to a viewer. Leapin' Leap Year Lesson (2:06) is literally an animated lesson describing what a leap year is. So if you are looking for a chance to not have to teach your child a fact of life yourself and have a video do it instead, this should be of help. Two singalongs, Things Will Get Better (1:44) and Prince Of Ham (2:32), are simply the scenes from the video with lyrics on the bottom of the screen, but if your child is particularly smitten with the songs these might be fun.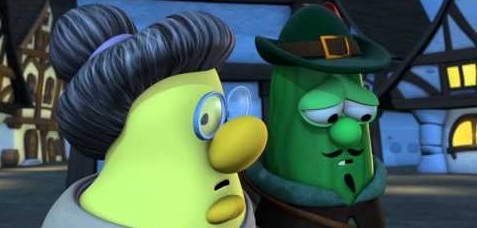 Fun Raising With Larry (2:50) is a video showing a group of kids who helped fund a well in a third world country and made origami boxes full of snacks to fundraise. Robin Good's Guide to Handling Hurt – Discussion Guide is a slideshow featurette that shows tips, such as prayer and talking to someone, that can help handle hurt. The studio commentary is a standard commentary, discussing how the project was planned and accomplished, but it's always interesting to hear how a project came together.
Case Study:
The case is white with a colorful front and back, showing the main cast of characters and the film's lesson. Inside is a Spring Gift Guide, full of VeggieTales gifts you can get for that special VeggieTales-obsessed person in your life.
Ink And Paint:
For a non-theatrical film, Robin Good looks pretty Robin …Good. The film has a vibrant palate, full of bright greens and yellows, and even though it isn't a Blu-ray, it still looks great on screen. The look isn't Toy Story 3 or Kung Fu Panda quality, but it is leagues ahead of something like Delgo. What is Delgo? Exactly.

Scratch Tracks:
The disc is being released here only in English, but also has English or Spanish subtitles. The sound quality is good, but doesn't really have anything in it that requires listening with surround sound. Despite this, it is in Dolby Digital with 5.1 Surround Sound.
Final Cut:
VeggieTales is definitely a Christian series, but besides from the bookends with Bob and Larry, it isn't ham-fisted (no pun intended). It delivers a positive message and adds enough to it that it doesn't come off like a Sunday School lesson. There is goofy humor, silly songs, and a good heart, and kids should enjoy it. Adults should be fine with it, but it might be more of a struggle to get through than something from Pixar or DreamWorks. But it is short and clever enough that it just might be worth a look.
Animated Classic or Back To The Drawing Board?