Strange Magic is a bit of an odd bird for a supposedly major motion picture these days, from its creation, to its announcement, and its eventual release. Star Wars guru George Lucas had been developing the idea for 15 years before work finally began on it. With the sale of LucasFilm to Disney, the almost completed film fell in to their lap. Based on the fact that it was given the January spot on their calendar, only announced three months before it was released, and was put out under the Touchstone banner, it's fairly obvious the Mouse House was not thrilled with the final product and was doing the bare minimum required while keeping the Disney name as far away as possible.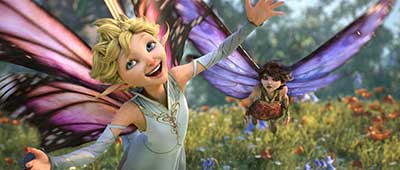 Marianne is a fairy princess about to marry Roland, the handsome and popular man of her dreams. When she sees him kissing another girl she vows to never fall in love again. In another part of the forest the Bog King has squashed love from his realm completely, going so far as to destroy the flowers that can be used to make love potions. Roland tricks an elf who has fallen for Marianne's sister to go to the dark part of the forest to get a love potion to solve both their problems.
You've probably already heard other critics' scathing reviews, or the record-breakingly bad box office results. And they are well deserved! But before I get into that I want to point out that there was the grain of a good story here. This potentially could have been at least a passable movie. Unfortunately, too many shortcuts, cliches, and bad ideas took over and made the whole thing a mess. It's in the details that things fall apart. I don't want to spoil the story (though you'll probably see it coming a mile away), so I'll put it this way. This film reminded me of the Episodes I-III of the 1990s era Star Wars trilogy — an awkwardly written love story with stunted dialogue and forced emotion.
The first thing you'll discover in the first minute of this film, which might not have been completely clear from the trailer, is that it is a jukebox musical of sorts — the characters break out into pop songs… a lot! This was used beautifully in Moulin Rouge over a decade ago. Here it feels corny and embarrassing. The vocalists are fine singers. But some music isn't meant to be acted out. Can't Help Falling in Love is great, but watching two people singing it, not as a song, but as actual dialogue to each other is cringe inducing! And this is repeated throughout the film with songs like I Wanna Dance With Somebody, I Can't Help Myself, Wild Thing, Stronger (What Doesn't Kill You), and Mistreated. Again, great songs, but not as the basis of a script! Why doesn't this work? I think it's because the writers have replaced all displays of emotion with song lyrics. The characters never get to show their feelings. When something happens that would require that, it's song cue time instead. So you get invested in a song you already know rather than characters you're tying to learn about.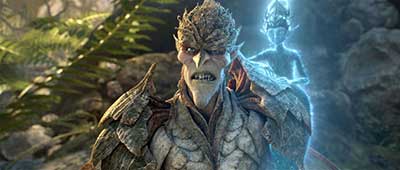 That leads to another problematic shortcut in the film: cookie-cutter characters with no depth. From the first second he is on screen, Marianne's fiancé Roland is obviously going to be a pretentious, full-of-himself, buffoon of a man only using the marriage to get power. Every part of him, from his design, to his mannerisms, to his voice screams this to the audience and it is all borne out in the plot. Marianne's sister is a shallow, boy-chasing, ditz, all evident within a matter of minutes after her introduction. Marianne's father quite literally cares about nothing but marrying off his daughter. Yes, lots of films have these types of characters. But in Strange Magic they appear to have been pulled straight out of central casting and plugged into their assigned spots with no further tweaking for this specific film required.
As you'd hope for from a company like Industrial Light & Magic, the animation is actually quite good, though I wasn't fond of the look of the characters. The music is stuff you already know and probably like, but most of the versions here aren't ones you'll be hoping to hear on the radio anytime soon. The voice actors are a bit of a mixed bag. Evan Rachel Wood as Marianne and Alan Cumming as the Bog King have some nice performances both acting and singing, but some of the dialogue doesn't give them much to work with and some of the song arrangements just wouldn't work for anyone. Elijah Kelley as the elf Sunny and Meredith Anne Bull as Marianne's sister Dawn are completely acceptable but don't really shine either. Sam Palladio's Roland was completely wrong — it sounded like a very poor (and unnecessary) Elvis impersonation. And as she did in Rio 2, Kristin Chenoweth just about stole the show as Sugar Plum Fairy.
For the first time in a very long time, I quite literally almost walked out of the theatre in the first 30 minutes. Though I am glad I didn't. While it was a vapid, embarrassing start to a film, it settled into something just mildly uninteresting. And I don't mean that as an insult. I really hate doing reviews like this because despite its issues, you can tell a lot of people put a lot of hard work into this film. This isn't a movie (like some I could mention) that looks or sounds like it was thrown together by a bunch of people who didn't care about the final result and were just hoping to rake in some quick cash from parents. What this goes to show is you have to start with a solid foundation, and that is a good story. And not the grain of a good story either as this one had. You have to take that and rework it over and over until it is something you can build off of. Then when you let all those people who care about the project put a lot of hard work into it becomes something great. Nothing strange about it — that's how you make real movie magic.
Animated Classic or Back To The Drawing Board?
Strange Magic
LucasFilm Animation / Industrial Light & Magic
January 23, 2015
99 minutes
Rated PG
directed by Gary Rydstrom