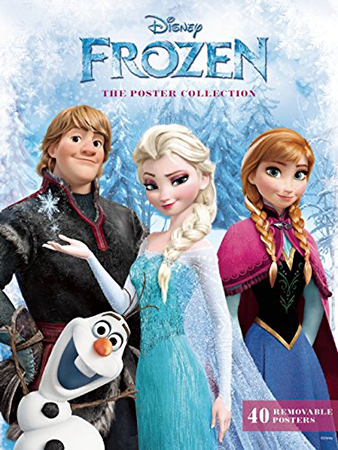 Insight Editions
April 7 2015
$24.99
---
---
Just when you thought Disney couldn't possibly draw out its Frozen phenomenon any further, a new short – Frozen Fever, attached to currently playing Cinderella – comes along and nothing less than a full blown theatrical sequel – only the Studio's third officially (counting The Rescuers Down Under and Fantasia 2000, though of course the Package Features were all "more of the same" back in the day) – gets announced. This is already on top of record-breaking box-office and Oscars for the first film, a hit Billboard-bothering soundtrack, unprecedented demand to meet its stars at Disney's parks and appearances in a recent sub-plot of the company's Once Upon A Time ABC program – plus plans for a Broadway adaptation of the original film!
All of this, of course, is to keep the characters in mind for when the next film arrives in 2018, when Disney hopes to catch lightning in a bottle for a second time, as well as to produce new elements that will keep that must-have merchandise jumping off the shelves and into the arms of its lucrative audience of, primarily, young girls, their older sisters, and their mothers. The latest to come along in the line might initially smack of the Studio starting to reach for ideas to keep the ball rolling, but this poster-book selection of Frozen imagery turns out to be a visual souvenir that could well appeal to the older kind of Disney fan.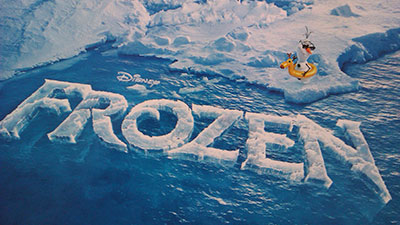 At first glance, Frozen: The Poster Collection isn't at all what one might expect it to be, and instead of a hardbound "Art Of…" styled book that explores the film's marketing and publicity campaign, the initial feeling on holding the actual result might actually be described as, if I may be so bold, less than substantial and, dare I say it, even a little "cheap". This it is certainly most not with a $25 retail cost, and despite my initial reaction that it felt, from the outside, like an overblown calendar minus the dates, I was pleasantly surprised when I eventually pulled the shrinkwrap from its cover.
Promising "40 removable posters", the book is actually printed on thick card stock, and the oversized, approximately A3 layout means that each image has room to shine and is exceptionally well presented by way of top-notch printing. The outer front cover turns to reveal a second, gummed rubber spine inside, which holds the pages together while also offering the chance to remove, quite easily, any desired poster image with the suggestion of framing them…surely aiming at an audience a little older than those that just enjoyed the songs in the movie.
Although a previous Art Of book deals with the production of the film and various concept pieces, the selections here still serve up one or two nice early renderings as well as the poster artwork that is its focus, from the initial Mary Blair-esque shot of Anna and Kristoff wandering through the windy snow, to character portraits, holiday themed ads and such generic art as was used for the soundtrack and home video covers. As such, many of these will have been seen before, although a favorite is one of a frozen landscape broken up to reveal the title within the splintered ice, an image I hadn't come across before and looks visually striking.
The others are, as I say, more generic (a few are frame stills and alternate foreign language variants), though the genuinely excellent print quality and thicker card pages go a long way to justify that price tag. If there's one caveat, it's that the posters come double-sided, meaning that you may have to make a choice between displaying one or another if two preferred images are back to back (one might like to frame the run of three special holiday ads as a series, for instance, or in my case I was quite tempted with that broken ice poster…had it not been on the back of the aforementioned stunning concept image of Anna and Kristoff in the snow!). However, I should imagine most serious collectors will more likely be careful not to jostle the book around too much and keep the pages intact within their cover.
Although perhaps not an essential addition, Frozen: The Poster Collection at least comes well presented and of the typically fine quality associated with the good folks at Insight Editions, who have picked a generous selection of images that do their best not to overlap with each other too much. There's a feeling, what with the soundtrack's release on vinyl and the like, that Disney has been trying to woo more serious collectors to the Frozen brand with some pretty disparate merchandising, and although this offering could be seen as something slightly kitschy with its pull-out aspect, it does ultimately (just about) succeed as something more legitimate, the plus-size pages, alternative images and quality prints making it worth a look.
---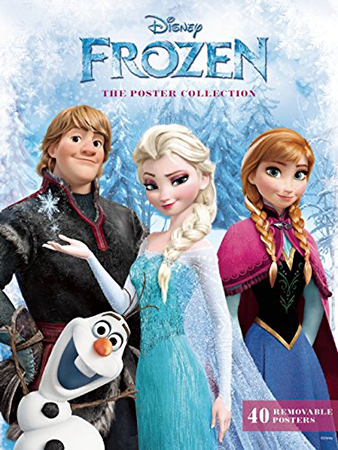 Frozen: The Poster Collection
is available to buy now from Amazon.com