Elsa and Anna are princesses in the kingdom of Arendelle. Elsa has a secret ability: she can create ice and snow. At a young age, Elsa's power accidentally harms Anna. Her parents decide to isolate her until she can get her powers under control. As Elsa's time to ascend to the throne comes, another accident sends her running for the hills (literally!) and leaves Arendelle in a perpetual winter. It's up to Anna to find her sister and save the kingdom.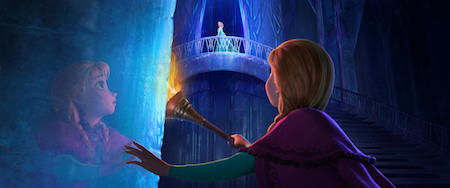 The storytelling style of Frozen is very much in the vein of Tangled, as intended. You could describe it as Disney's version of Shrek — a fractured fairy-tale done in an earnest rather than condescending way. The story itself is a lot of fun and very entertaining, which is its saving grace because the writers took way too many shortcuts. Basic plot information is left out. Unexplained characters are brought in when required and others are disposed of when not needed anymore. And maybe worst of all, a very convenient plot twist comes out of nowhere with no setup and doesn't standup to scrutiny. The lack of a strong emotional hook is another problem for the film. While we can understand the characters' feelings (especially Anna's loneliness and Elsa's anxiety) and motivations, we don't get much time to connect very strongly with them on more than a superficial level. The good news is that, unlike an unentertaining film, it's easy to let most of this slide and just enjoy the ride. Things are nicely paced for the most part, the action scenes don't disappoint, humor abounds, and the story is engrossing. You do want to know what's going to happen next to Elsa and Anna. Things end on a high note. While the climax has that one twist that will leave you groaning, the rest of the unconventional ending is a welcome turn from the Disney norm.
Artistically, Frozen is a big step up for Disney. Where Tangled purposely went for an almost hand drawn feel (beautifully done), Frozen embraces computer animation fully. And counterintuitively, it's so well done the fact that it is computer animated never crosses your mind — a feat maybe only Finding Nemo and Ratatouille can match. Every set is charmingly designed and decorated. Snow and ice effects are stunning. Going with the wider CinemaScope format was a brilliant choice as it makes the scale of the entire world feel so vast. The film's high point, comes during the song Let It Go, in a segment perhaps unrivaled by any other in the Disney vaults — when the story, music, vocal performance, and especially the animation come together in an amazing confluence that will give you goosebumps.
The character animation is hit or miss. Elsa is gorgeous and unique in that she appears and acts more mature than your average Disney princess. Anna is a little more cookie-cutter, and could easily take the place of Rapunzel (not just in looks but personality as well), though she is less expressive than her long-haired counterpart. Their characters couldn't be more different, but the male leads here and in Tangled are just about interchangeable as well — hair color and noses being the only major differences. Olaf has a cool design, and his rearrangable components give him several fun configurations the animators can play with. Despite my issues with some of the characters themselves, the costumes in the film are some of the most interesting and intricate I've seen in any animated film.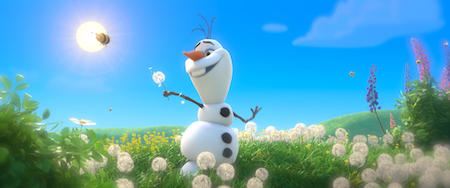 Music is a huge part of Frozen, and like the story it is great overall but with a few annoying quibbles. Equal parts pop and Broadway, the contrast between the modern musical theatre styling and the film's "once upon a time" Nordic setting occasionally creates a jarring juxtaposition as the first notes of a song start to play. This is exacerbated by the fact that some of the transitions from story to song are not well done. We go from a cinematic score to an over-obvious pop song cue that distracts from the scene and dialogue. Tangled did a much better job of blending the score and songs, making the segue seamless. Another issue was it felt like they were too tied down to a Disney musical template and a song count, rather than going with what worked in this film specifically. The "requisite" opening number (à la Fathoms Below, Arabian Nights, The Virginia Company) drags the film down before it even starts. An unnecessary "coupling song" near the end (à la Kiss the Girl, A Guy Like You, I Won't Say I'm In Love) slows the film down just as we're reaching its climax. Lastly, at several points I wondered if maybe it would have been better to not have the characters actually sing the songs in character but in voice-over. Fortunately, the songs are just too good! Once they begin it's impossible for those problems to interfere with the enjoyment of the movie. Not only are they fun, they're well-written — catchy music, clever lyrics, intricate harmonies and counterpoints, with both plot-advancers and showstoppers. This could be most ambitious Disney song score since The Hunchback of Notre Dame.
Idina Menzel steals any show she is in and Frozen is no exception. A lot of the maturity Elsa has comes from her performance. The only nitpick I could make is her singing voice is almost too big for the character. But then she belts out Let It Go and that's a problem you'll take any day! Kristen Bell is wonderful as Anna, bringing an innocence and exuberance to the role that fits the character perfectly. Santino Fontana gives Hans the traditional Disney Prince voice but with a hint of playfulness that makes it easy to see why Anna hits it off with him so well. Kristoff is played solidly, if a little blandly, by Jonathan Groff. And Josh Gad, as Olaf, gives one of the best sidekick performances a Disney film has seen in a long time.
Fair or not, Frozen is going to be compared to it's "sister" film, Tangled. In most respects it meets or exceeds it, but it doesn't quite reach the emotional heights of its predecessor. But, despite some plot holes, the extremely fun storyline along with incredible music, stunning visuals, and an outstanding voice cast make this easily one of Disney's best since the turn of the century. This is definitely a film that will not leave you cold.
Animated Classic or Back To The Drawing Board?
Frozen
Disney
November 27, 2013
108 minutes
Rated PG
directed by Chris Buck & Jennifer Lee