Leibovit Productions (1987), B2MP (November 22, 2013), 2 Discs, 79 mins plus supplements, 4:3 ratio, DTS-HD Master Audio 4.0, Not Rated, Retail: $49.98
Storyboard:
George Pal's incredible animated shorts from the 1930s are celebrated in this feature-length compilation, in addition to copious bonus features including two other feature films and many shorts.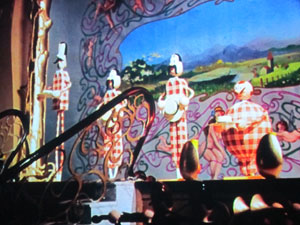 The Sweatbox Review:
For old-time movie buffs, one name is synonymous with quality fantasy and science fiction films. Well before Spielberg and Lucas came to prominence, there was Hungarian-born George Pal, who produced or directed such landmarks as Destination Moon, When Worlds Collide, War Of The Worlds and The Time Machine, not to mention the fondly-remembered tom thumb and the Cinerama film The Wonderful World Of The Brothers Grimm. These and others would have made him a legend, but even before his feature film work he was the creator of a celebrated series of animated films using a "replacement" stop-motion technique that he largely pioneered. It is somewhat amazing that Warner Bros. and Paramount have not yet issued any of his classic films on Blu-ray (Olive Films licensed his minor Houdini film from Paramount for a Blu-ray release a couple of years ago), but we are extremely fortunate that his early Puppetoon shorts have made it to a splendid 2-disc Blu-ray set, put out by a small outfit called B2MP. This is a limited edition available only online, with 3000 copies available.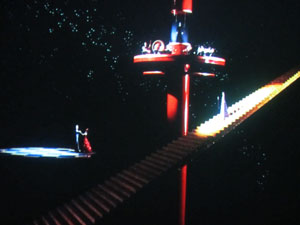 Pal, born György Pál Marczincsak, began to create Puppetoon shorts when he still lived in Europe. He first experimented with the idea for a 1932 cigarette advertisement, in which he animated the cigarettes themselves. The client was thrilled, and Pal was delighted to have found a new mode of expression. He continued with his advertising work in Berlin, Prague, and Paris, for clients in such places as The Netherlands and England. After beginning to make films for Holland's Philips Radio, he relocated to Holland, first setting up a studio in a garage, then later a butcher shop. His dream of moving to the United States finally came within reach when he and his wife were granted a visa by the U.S., leading to Pal guest lecturing at Columbia University in New York City. While Pal was in New York, the president of Paramount Pictures happened to see some of Pal's films at a party, and offered him a contract to continue his Puppetoons for Paramount.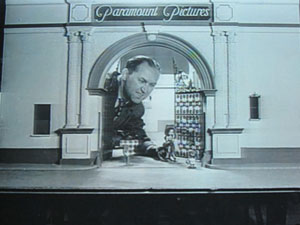 Pal moved permanently to Hollywood from Holland in about 1940, just prior to the Nazi invasion there in May. Pal continued his filmmaking at Paramount, where his shorts became even more celebrated, earning Academy Award nominations in every one of their seven years of production. Paramount insisted on calling the series "Madcap Models," but the Puppetoon name still appeared in the credits. Legends such as Willis O'Brien and Ray Harryhausen worked on Puppetoons at one point or another, but it was a large number of animators that followed Pal's careful instructions in order to produce over thirty films during a seven-year period. The amount of skill and work that went into his puppet animation was at times astounding, and must have been nearly miraculous in the 1940s. Pal's technique utilized carved figures, sometimes with dozens of faces that could be switched out to display different emotions. Even the bodies of the figures would be switched out to simulate movement, often exaggerating the squash and stretch techniques of drawn animation. There was never anything like the Puppetoons, and few have made similar attempts since. The most notable efforts have been by Henry Selick, who has employed similar techniques (and others) in Tim Burton's The Nightmare Before Christmas and subsequent films.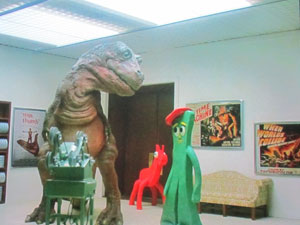 Arnold Leibovit can be credited with keeping the Puppetoons alive in the public consciousness the past few decades. Though they did see some air play in the early days of television, they were withdrawn from syndication in the 1960s and then were largely forgotten by the public, or at best became a distant memory of "those nifty little films they used to make back in the good old days." Fortunately for us, Leibovit befriended Mr. and Mrs. Pal, and after Mr. Pal died Leibovit discovered that Mrs. Pal was in the possession of many 35mm nitrate prints, which were still in suitable shape for exhibition. These included films produced in both Europe and the USA. Leibovit decided to create a feature-length compilation, using Mrs. Pal's prints, and some new bookend animation that featured stop motion icons Gumby and Pokey. He did trim some of the openings and the credits, but otherwise the resulting compilation feature includes many of the treasured masterpieces.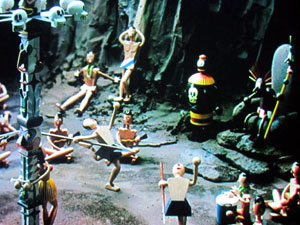 To open the film, Leibovit chose to set it up with a scene between a cute little deer and Arnie the Dinosaur (more than a little reminiscent of Marv Newland's earlier Bambi Vs. Godzilla). Well, it turns out that Arnie has trouble acting ferocious due to his association with George Pal, whose films had such a positive influence on him and made him into a gentle soul. Gumby isn't quite sure what the big deal about George Pal is, even when his horse Pokey reiterates how important the Puppetoons were for many animated characters. Arnie and Pokey decide to offer a history lesson to Gumby, so that both Gumby and the audience can learn more about this "merchant of fantasy," before embarking on a journey through the world of the Puppetoons.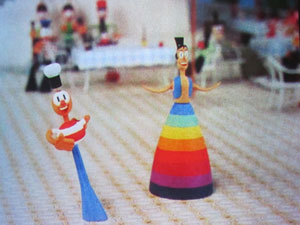 The first short shown after the brief biographical history lesson is actually a double feature pairing of The Little Broadcast (1935) and The Philips Broadcast Of 1938 (1937). Philips was a big sponsor of the European Pal shorts, so they often figure into either the titles, or have mention in the films otherwise. The Little Broadcast introduces us to Mr. Strauss, a recurring character that served as Pal's "spirit of Europe." Mr. Strauss starts off a variety show by playing violin, as a blustering fellow introduces the performers. After a few minutes of musical acts, the film segues into The Philips Broadcast Of 1938, which has a very peppy Latino number, where we see a cheeky sailor start up a dance with a lovely maiden, and then a much more exquisite (but not quite as fun) sequence with a dancing couple at an elegant nightclub, and finally a Harlem-based jazz number.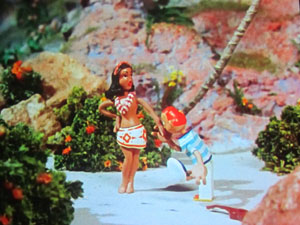 Next up is Hoola Boola (1938), where a shipwrecked sailor makes the most of his circumstances by setting up a pretty little house on a dessert island, then woos a native island girl. Before we see how he makes out, though, the film jumps into South Sea Sweethearts (1938) (the full print of both The Philips Broadcast Of 1938 and Hoola Boola can be found in the bonus features). South Sea Sweethearts features another lad trying his luck with an island girl, before running afoul of a native tribe.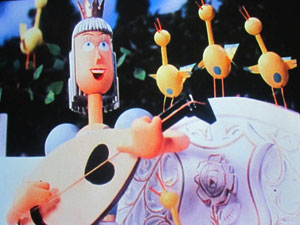 A stronger narrative features in The Sleeping Beauty (1935), a charming telling of the classic fairy tale, that emphasizes the passage of time by ending in the 1930s, with the prince being a slick fellow with a moustache waking the princess with music from his radio.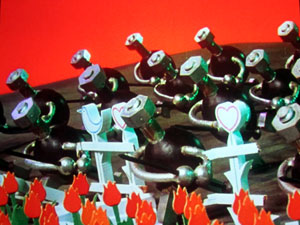 Most Puppetoons are memorable, but none more so than Tulips Shall Grow (1942), an allegory for the Nazi invasion of Holland. This short brings The Puppetoon Movie to the Paramount era in a spectacular way. A young Dutch couple have their romance interrupted by the advance of the Screwball army, literally made up of goose-stepping nuts and bolts (and a goose). The depiction of the invasion is stunning and devastating, but the short ends with a message of hope, assuring us that better days will come.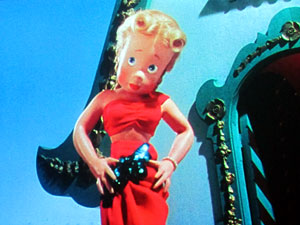 Together In The Weather (1946) offers a delightful tale of a boy and a girl that live in separate residences on a back yard weather clock. This is also perhaps the sexiest cartoon, with Judy dressing more and more alluring in order to get the attention of Punchy. As the folksy narrator tells the tale, further highlighted by a lovely piano score, we are treated to a delightful and romantic resolution to their problem.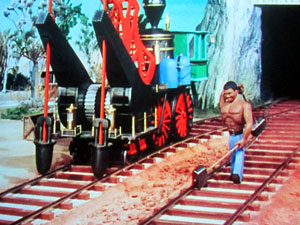 Pal loved American folklore, and was eager to dispel any criticisms of his earlier depiction of blacks when he made John Henry And The Inky Poo (1946). The tale of the hard-working railroad man going up against a mechanical device is dynamic and touching.
Philips Cavalcade (1934) is another early all-music, all-dancing short, offering a wide variety of enchanting characters and silly scenarios. One is so entertained, that you can almost forget just how incredibly impressive the animation really is, with dozens of figures moving in unison to music. The lip-synching isn't quite right, but that's the one flaw in an otherwise dazzling short.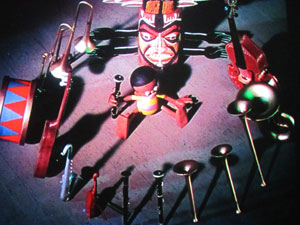 We finally get to see Pal's most popular Puppetoon character in Jasper In A Jam (1946), where the little African American boy finds himself in a spooky old pawnshop. He is joined by the harp from 1945's Jasper And The Beanstalk, voiced by Peggy Lee. Jasper scares his frights away when he picks up a horn and contributes to the groovin' musical track. Jasper does seem woefully underrepresented in this compilation, given that he featured in more than half of the Paramount Puppetoons, though he can be seen more in the bonus features.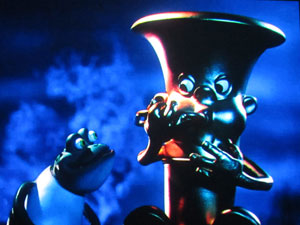 The final Puppetoon is one of Pal's most celebrated, Tubby The Tuba (1947). This is the movie's most personal story, focusing on a tuba's wish to carry the melody for a change. It's a perfect example of how animation can use the unlikeliest subjects to touch our hearts, as Tubby finds his voice and learns that he too has an important contribution to make.
And now, Gumby— and the audience— are fully enthralled by the Puppetoons, and grateful for the artistry of George Pal, his craftsmen, and the many animators. The grand finale features a large array of stop motion animated characters like King Kong, and many from the world of advertising – the Pillsbury Doughboy, Speedy Alka-Seltzer, Mister Peanut, and more. Spielberg even let them finish the film with a cameo by a Gremlin.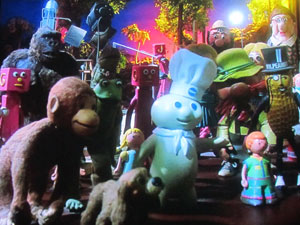 For many animation fans, these wonderful little films will be a revelation. And for those who have loved these films for years, there is still lots of great news in the upcoming sections.
Is This Thing Loaded?
This Blu-ray set reproduces, for the most part, a three-disc DVD set put out by Image Entertainment a few years ago, titled George Pal – Flights Of Fancy. That set had the original (previously released) Puppetoon Movie DVD, plus separate discs for Leibovit's George Pal documentary and his first feature film, The Great Rupert.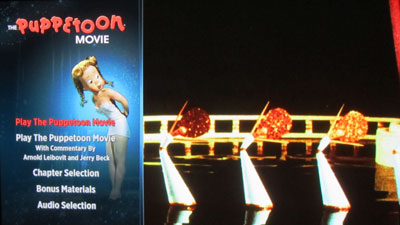 Disc One
The first disc of the Blu-ray set contains The Puppetoon Movie, available with an Audio Commentary with Leibovit and animation historian Jerry Beck. They discuss the origins of the Puppetoons, Leibovit's relationship with the Pals, and the resulting compilation feature. It's a solid track, with some good information, though punctuated by short silences that seem more like edits than lapses. Well worth a listen for those that want to know more about George Pal and his creations.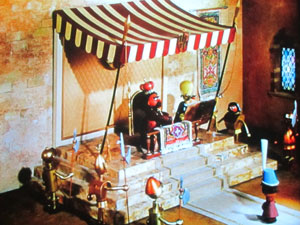 For most, I think, the prize of this new Blu-ray set will be the Bonus Puppetoons in High Definition. Using positive prints from either UCLA or the Academy Of Motion Picture Arts and Sciences, new high definition masters were made, and some restoration was done, for seven Puppetoons never before seen on home video. This is a truly exciting addition to the set. In particular, there are two Puppetoons based on stories by Dr. Seuss (previously only glimpsed in the documentary In Search Of Dr. Seuss). These two shorts, And To Think I Saw It On Mulberry Street and The 500 Hats Of Bartholomew Cubbins, represent the earliest adaptations of Seuss to film (aside from advertising work), making this an extraordinary disc for Seuss fans too. ATTISIOMS is notable mainly for its inventive use of color to show a boy's burgeoning imagination when describing a street scene, though in the end the short is limited by the basically one-location nature of the narrative. Cubbins is much better, telling a delightful tale of a boy whose never-ending supply of hats confounds his king.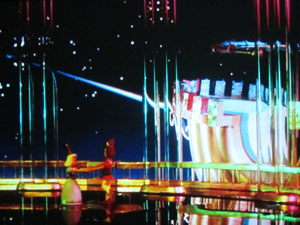 The other shorts in this grouping include the stunning fairy tale The Sky Princess, plus Rhapsody In Wood (with band leader Woody Herman and his orchestra), Date With Duke (guest-starring Duke Ellington), Jasper And The Beanstalk (with the sexiest harp you've ever seen), and Rhythm In The Ranks (with an appearance by the Screwball Army). The greatness of finally seeing these films in their entirety, beautifully restored in high definition no less, cannot be overstated.
The first disc also has the same set of twelve additional Puppetoon shorts from the original DVD, still unfortunately in Standard Definition. The producer of the Blu-ray, Bruce Venezia, has made statements online to the effect that Leibovit no longer had access to the original materials, and other high quality prints could not be found, so a new hi-def transfer was not possible for the Blu-ray. So, this is the best that could be managed at this time. It was not a money issue, but rather an issue of availability of suitable materials. However, Venezia thinks that the transfer to Blu-ray was at least done at a higher bit rate, so small improvements may be seen by some.
The included standard def cartoons are: What Ho She Bumps, Mr. Straus Takes A Walk, Olio For Jasper, Philips Cavalcade, Jasper's Derby, Hoola Boola, Ether Symphony, Aladdin And The Magic Lamp, The Magic Atlas, Jasper And The Haunted House, The Philips Broadcast Of 1938, and The Ship Of The Ether. There are several little masterpieces in there, so do not be put off by them being presented "only" in standard definition. They do at least look a little better here than before, with less compression artifacting.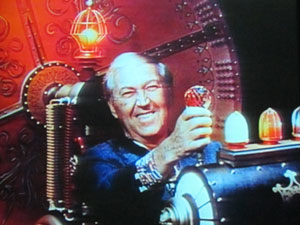 The Fantasy Film Worlds Of George Pal (1:33:30) is Leibovit's feature-length documentary about George Pal and his films. It is a loving, moving tribute that aptly summarizes an amazing man and his career as a filmmaker, filled with interview footage of Pal, his creative associates, and many actors who worked with him, like Tony Randall, Rod Taylor, Barbara Eden, Alan Young, and more. After watching it, you will want to view each and every one of his wonderful films. The only shortcoming of the documentary is that it does not discuss Pal's less successful films, such as The Power and Doc Savage. I know that the latter film in particular was a difficult one for Pal, as the studio took control of it and turned it into something Pal didn't want, but it is actually one of my favorites.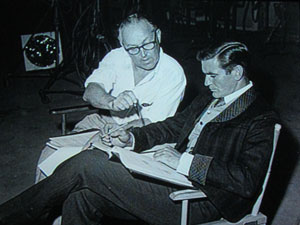 The Production Still Gallery (4:43) (originally from the Puppetoon Movie DVD) includes all manner of photos, from film sets, to movie marquees, to behind-the-scenes shots from the films, to Pal posing with his Oscar, Robert Wise, and Ray Harryhausen.
Reminiscing With Puppetoon Animator Bob Baker (12:53) (also on the old DVD) is a nifty talk by Baker about his time with the Puppetoons, given while he plays with some of the puppet figures in front of him.
Trailers for both The Puppetoon Movie (1:50) and The Fantasy Film Worlds Of George Pal (3:57) round out the first disc.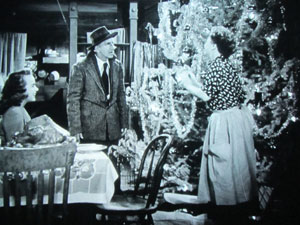 Disc Two
Pal entered into feature filmmaking with The Great Rupert (1:28:14), presented here for the first time in High Definition. The heart-warming tale of a performing (animated) squirrel unknowingly answering the prayers of a struggling vaudevillian family (headed by Jimmy Durante) is a winner, and it's wonderful to see it in HD.
The second disc also has over 9 minutes of Previously Unreleased Interviews with many who knew Pal, including Wah Chang, Roy Disney, Duke Goldstone, Ray Harryhausen, Gene Roddenberry, Ray Bradbury, and Russ Tamblyn.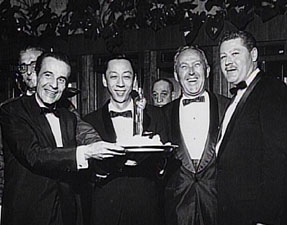 As if that wouldn't be plenty already, there is an additional section labelled "Bonus Materials", which includes the following miscellany, culled from the original DVD for The Fantasy Film Worlds Of George Pal (the only extras missing from that DVD is another featurette with Bob Baker, joined by Phil Kellison; and four and a half minutes of promotional material for Doc Savage, The Man Of Bronze):
Destination Moon Trailer (2:08).
Trailers for both The Puppetoon Movie and The Fantasy Film Worlds Of George Pal are repeated here.
Disney Animator Ward Kimball discuses his relationship with George Pal and Walt Disney (8:35) – It turns out that Pal was a big fan of the Dixieland jazz band The Firehouse Five Plus 2, which featured Kimball and other Disney animators. Kimball talks about his friendship with Pal and compares him favourably to Disney.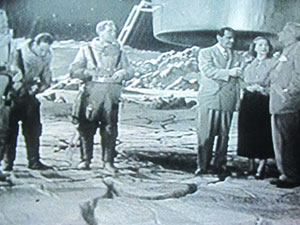 KTLA "City At Night" on the set of Destination Moon (22:30) provides an extensive look at the ship and moon sets, as those involved with the film are interviewed by a television team.
The Wonderful World Of The Brothers Grimm Premiere opening (5:54) has Pal speaking before the picture is shown.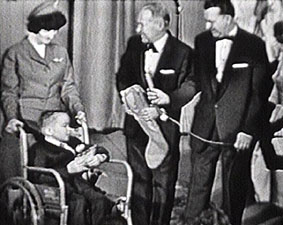 George Pal discusses his film The Power (7:30) – This is a great inclusion, as it helps to address the unfortunate reluctance to discuss the film in the Pal documentary. (Too bad we still have no representation for Doc Savage anywhere.)
The Pal Family in Las Cruses (2:26) shows the Pals on the beach, in silent footage, as they admire some hanging swordfish.
George Pal outside his studio in Eindhoven, Holland (0:36).
The Production Photo and Art Gallery (5:51) is an expansion of the one from the first disc, with many of the same photos.
Wah Chang Hand puppet (0:27) shows Chang demonstrating a puppet used in the production of 7 Faces Of Dr. Lao.
Case Study:
The fetching lass from Together In The Weather adorns the front cover, which barely suggests the true magic found within. The two Blu-ray discs come in a typical Blu-ray case with a disc in each side. A fold-out 6-page pamphlet details some of the history of George Pal and his Puppetoons, with a few stills and a couple of behind-the-scenes shots.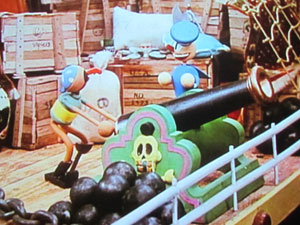 Ink And Paint:
The main feature looks great, but one must keep in mind its limitations. This is not a complete remaster of the Puppetoons included in the compilation film, as those materials were no longer available. So, any imperfections that existed in the Puppetoon Movie negative are still evident. Grain is quite apparent in several of the shorts, particularly the older ones like The Little Broadcast. Hairs that were there before are still there, like the one that takes up a quarter of the frame when looking down the tracks in John Henry. Sleeping Beauty may look the worst, with vertical lines and other defects marring the image. Flowers Will Grow has duller colors than one might like. And Philips Cavalcade certainly lacks sharpness. Also, keep in mind that Pal, though consistently utilizing spectacular lighting, did not shy away from having dark scenes. In these scenes, there is a lack of detail in the black areas of the films, which possibly may even be inherent to the original materials, depending on the film stocks that were used.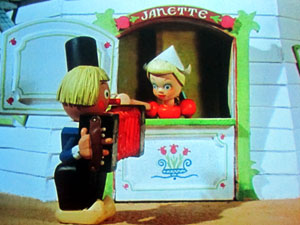 Now, having said all that, it is still a large step up from the previous standard def DVD. Naturally, there is better detail, the image is generally sharper, and colors have the opportunity to be brighter. Best of all, compression artifacts are a thing of the past. This also applies to the bonus shorts, which benefit from improved compression; though they remain in SD, the images are more stable and simply more "solid".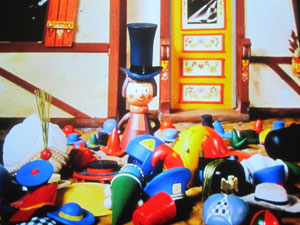 The big question for many shall pertain to the new HD shorts. In a word, they are gorgeous. They look to have had more extensive work done to them, or perhaps were simply in better shape, than the materials that Leibovit had to work with for The Puppetoon Movie. What we get here are taken from positive prints from either UCLA or the Academy Of Motion Picture Arts and Sciences. They still exhibit the black crush issue, but are otherwise sharp and exhibit minimal grain. The colors are spectacular. If I wanted to show off the true majesty of a Puppetoon, I would show someone this new HD transfer of The Sky Princess. Most should be thrilled with the HD shorts.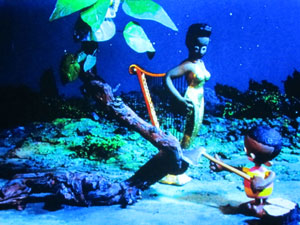 The Great Rupert also appears here in HD for the first time, and generally looks marvellous as well. The materials were in pretty decent shape, with only the odd scene showing more grain or a little print damage. Details are sharp, and the black and grey gradations are very nice indeed.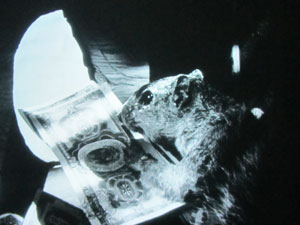 Other bonus features remain in standard definition, looking perhaps a shade better than on the previous DVDs due to better compression.
Scratch Tracks:
Interestingly, The Puppetoon Movie gets a 4.0 DTS-HD Master Audio track. Like the video, one must accept the limitations of the source material. Sound can be a little harsh in the older shorts, but overall one cannot really find much fault. A 2.0 LCPM Stereo track is also available. There are no subtitles on the discs.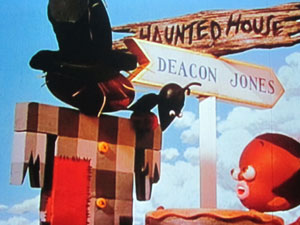 Final Cut:
The major studios do not offer much these days in terms of bringing out classic animation, either on DVD or Blu-ray, and it therefore appears that we must rely on the smaller labels to surprise us. With B2MP's release of The Puppetoon Movie, they have given us the greatest surprise of the year. The feature looks better than ever, but the addition of several more Puppetoons in beautiful HD masters is the greatest reward on the set. With the addition of George Pal's first feature in high definition, plus many previously seen bonus features, this is an amazing set.
The only drawback for many will be the price, which is on the steep side at nearly fifty dollars. However, this is not at all out of line when you consider that you get three feature films and many other shorts. The three-disc George Pal – Flights Of Fancy DVD set that this replaces retailed for a similar amount, and did not have the new-to-video Puppetoons either. This 2-disc Blu-ray set is a limited edition of 3000 copies, and prices for it may only go up on the secondary market once all copies are gone from B2MP, so you may wish to act now. Trust me, you won't make a better purchase of classic animation this year.
Animated Classic or Back To The Drawing Board?