Walt Disney Home Video (1995), CLV, 2 sides, 78 mins, 1.85:1 letterboxed widescreen, Dolby Surround, Rated G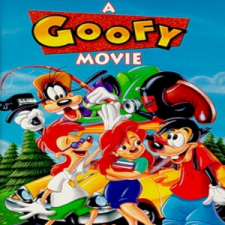 Although available on DVD, the only way to see A Goofy Movie on disc the way director Kevin Lima intended is to track down this LD. Although this edition does not contain any extras (I remember at the time of its release wishing and hoping for the Runaway Brain short that accompanied the film in some theaters to make an appearance on this disc), the transfer is top notch. Presented in 1.85:1, with Dolby Surround sound, A Goofy Movie on LD is quite an experience, namely for the much more active audio track. I've seen this movie on DVD, and the sound is pretty flat.
A lot went in to making A Goofy Movie feel as "epic" as the primary Disney animated features, from the story, artwork, songs and score. The music especially drives the action along here, and Carter Burwell's big score has all the hallmarks of a classic Disney cartoon, with the "major motion picture" ethos thrown in to boot! Helping the large-scale nature of things is that letterboxed presentation, which adds a level of production value just by having a wider image. Compared to the DVD, which looks like a DTV cartoon in full-screen (albeit with its better than average animation), A Goofy Movie's LD lifts the movie into "event" status. I mean, this is one of Disney's biggest stars finally getting his own theatrical feature – let's make something of that!
The film follows The Goof on a road trip across America with his Goof Troop son Max dragged along for the ride. Goofy wants to show Max life on the open road, as his father taught him, and his father before him. Max would rather make it to hit pop act PowerLine's LA concert and rigs the map to lead them in his chosen direction. When Goofy finds out how important the concert is in impressing a young lady back home, he tries to get Max on stage, where he'll be seen on TV…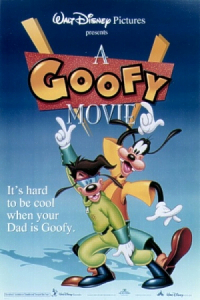 It's a fairly light plot, carried through by the good-natured vocal performances and Lima's direction. Another "backroom boy" at Disney's, Lima has risen from character designer on The Little Mermaid (1989) to director of Tarzan (1999), the live-action sequel 102 Dalmatians (2000) and supervising director on Return To NeverLand (2002), which won kudos for being a better than expected follow-up. Though his Cats And Dogs sequel stalled over at Warner Bros, Lima is now back at Disney, helming the Studio's first foray back into traditional animated films with the live-action/cartoon combo Enchanted.
The current Goofy Movie DVD adds an episode of TV's Goof Troop, Lou Bega's Disney Mambo #5 clip, and a couple of interactive set-top and ROM features. The only really substantial bonus is the compilation A Goofy Success Story (1955), an almost hour long "mockumentary" chronicling The Goof's career in motion pictures that was originally aired on the DisneyLand television program. But if it's just the movie you're after, and you have the hardware to see it in its original aspect ratio, then this LD is the only way to travel the open road!