Paramount Pictures/Walt Disney Productions (December 12 1980), Paramount Home Entertainment (June 24 2003), single disc, 113 mins, 2.20:1 anamorphic widescreen, Dolby Digital, Rated PG, Retail: $9.98
Storyboard:
The spinach-guzzling sailor really comes to life as Robin Williams in director Robert Altman's oddest ever experiment. Popeye arrives in Sweethaven looking for his Poopdeck Pappy, but finds a lot more, including encounters with Wimpy, love with Olive Oyl, family in Swee Pea, and trouble with the grumpy, controlling Bluto, who's out on a quest of his own…to find buried treasure! Can Popeye get over his aversion to spinach? Will he find his pop? And who is the mysterious Commodore, who seems to have the town sewn up?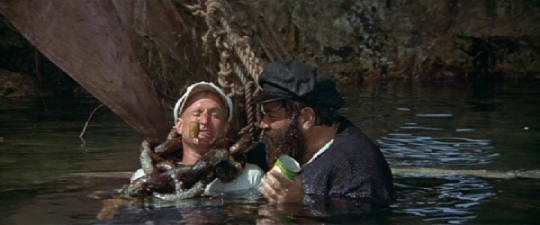 The Sweatbox Review:
Often referred to (wrongly) as Popeye: The Movie (as with Superman, "the movie" was later added as taglines for the posters overseas and the name stuck), this often overlooked entry into Robert Altman's canon is underrated and worthy of another chance on its debut on DVD.
A grand failure, audiences just were not ready to see live-action actors recreating age-old comic book characters back in 1980 (has it really been THAT long?), although there is no denying that the film's look and feel is right at home in the world of creator E. C. Segar, who created the characters for his Thimble Theater comic strip way back in 1929. The strip had run ten years earlier, but when Popeye appeared he was an instant hit, soon catching the eye of cartoon producer Max Fleischer and his director brother Dave, who were looking for a possible replacement for their Betty Boop cartoon series that had become hampered by the new Hays Code, which ordered Betty's risqué routines be toned down. The sailor made his first appearance on celluloid in a 1933 Boop cartoon, also introducing his famous theme I'm Popeye The Sailor Man and his well-known catchphrases "Well, blow me down" and "I am what I am"!
The Fleischer cartoons were a great success, leading to a series of three two-reeler Technicolor featurettes and a renewed deal with Paramount, which spawned the Superman animated film series and two full-length features, Gulliver's Travels (1939) and Hoppity/Mr Bug Goes To Town (1941). The failure of these two Disney wannabe features (despite the excellent Hoppity) ended the Fleischers' contract with Paramount, who dropped Max and Dave, streamlined their facility and changed the name to Famous Studios. The magic of those early cartoons was gone, through both lack of morale and any real artistic merit, though the Popeye series continued, a low point being the TV episodes created in the 50s and 60s, before he found new fame in the Hanna-Barbera produced All New Popeye Show in the late 70s. Paramount, who had held on to the character rights if not the films themselves over the years, thought that the time was ripe for a big live-action retelling of the Popeye story, following the success of another comic book hero, Superman.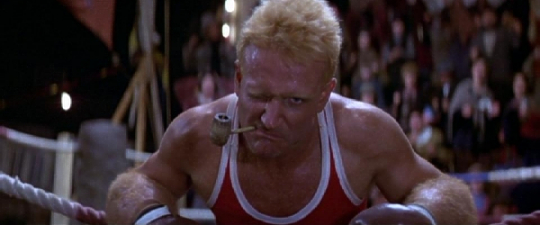 The film was seen by many to be a risk, and a huge financial one at that. Paramount thought that teaming up with another studio would be the answer and a suitable candidate, due to their knowledge of animation, was The Walt Disney Studio. Quite how Max Fleischer (who gets a great acknowledgement in the cartoon opening) would have taken to one of his most popular cartoons becoming a live-action character at his one-time rival's Studio is not known, but Max did allow his son Richard to direct 20,000 Leagues Under The Sea at Disney's, so one must assume there wouldn't have been much grievance. Co-producing was nothing new in the late 1970s. Fox and Warner Bros. had shared costs (and profits) on the mega-budget The Towering Inferno and splitting costs with Disney appeared a good idea at a time when Popeye looked like a sure thing. Paramount and Disney announced co-production on the film, along with one other, Dragonslayer, and the relationship still survives today, with the combination of the two Studios most recently producing the Oscar-nominated The Hours. One must also remember that, before heading up Disney from 1984 onwards, the Paramount chiefs were…Michael Eisner and Jeffrey Katzenberg!
The huge sets needed to recreate Popeye's town of Sweethaven began construction in Malta, and casting began in earnest (with such names as Dustin Hoffman and Lily Tomlin first approached). Robin Williams, then known to millions as Mork the alien from planet Ork on TVs Mork And Mindy, was finally chosen to make his feature film debut as Popeye, while Shelly Duvall, who went on to create and produce MGM's popular Farie Tale Theater series, was the perfect Olive Oyl. The casting in Popeye really is inspired, as is Altman's choice as director. Not known for his family comedies, Altman peppers the film with throwaway gags, comic asides, satirical lines and his trademark "confused cross-talking" technique, which cleverly allows entire conversations to be carried out over one another while still being able to pick out the words that matter to story, character and plot. The cast do a sterling job, and all fit their cartoon personalities perfectly. It is of course Robin Williams' film, and his Popeye is as close to that which could ever appear in real life.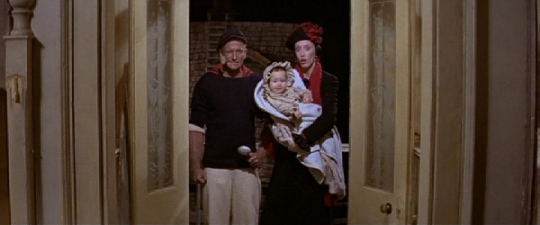 The story itself is fairly straight forward, telling how the characters came together in the first place. Set in the strange sea town of Sweethaven, one stormy night brings a mysterious sailor man to the town in search of his Pappy. Soon, he meets the Oyl family of misfits and moves into their room for rent. Mrs Oyl's daughter Olive is set to marry town mobster Bluto in a few days time, but complications quickly ensue between Olive and Popeye when a baby, Swee Pea, is left for them to take care of. Bluto gets a hold of the wrong end of the stick and plans to kidnap Swee Pea to exact revenge on his sailor man love rival. In looking for Swee Pea, Olive digs a little too deep and also ends up in Bluto's clutches, leaving Popeye with only one choice: to overcome his childhood hatred of spinach and munch on a can of the green stuff that will give him the super strength he needs to fight back at Bluto, save Olive and Swee Pea, and find out who Bluto's boss, the shady "Commodore", really is…
At $20million, the budget was not exactly tiny for those days, but Popeye is hardly the big bust that many believe it to be: the film made over $50million for Paramount in the US alone, not counting its video sales. Perhaps it was Altman's non-mainstream approach to recreating a cartoon ambience (something I think he achieves with panache) that has harmed Popeye's critical reputation over time? Internationally, it was well promoted by Disney, who were rewarded with a healthily profitable return – and this in 1980, with rentals and video sales to be added to the count. There was also a round of some short-lived Popeye mania, with lunchboxes, games and all manner of merchandise available. The enormous sets that had been built to recreate Sweethaven in Malta were left standing, becoming a hugely popular tourist attraction that is still thriving to this day!
As a movie, Popeye swings wildly from being extremely enjoyable to being downright bizarre. For many years I've only been able to see the truncated European version, which loses 16 minutes of footage and leaves one subplot totally in the air. Finally, with this new DVD, I've been able to see how the story really should work, and it's a revelation. This simply has to be the most spot-on conversion of a comic/cartoon series to the live-action screen that has ever been attempted. Others may have come along since, but Popeye retains the atmosphere, the sounds, even the smells (to borrow from Marty DiBergi) of the original source, from the most obvious details like Popeye's arms and the undoubtedly impressive realisation of Sweethaven, to the tiniest of touches, like the state of Wimpy's hamburgers and background touches like the askew painting of the sea in the Oyls' residence.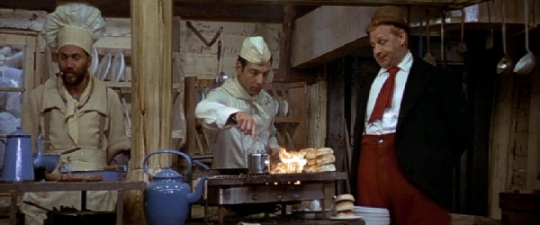 While I was pleased to see the extra footage, I can see why the three songs that were cut in the European version were deleted from the film. Strangely, only one song was actually "cut" (the Popeye/Olive duet they sing to little Swee Pea), while the other two (Bluto's I'm Mean and Pappy's song in the Commodore's boat) had their scenes left in, but merely took out the song elements, leaving dialogue and sound effects. So in a sense, I have seen this footage before, but in a different way. I'm Mean didn't really add anything to the film, although having a villain song is a pre-requisite and fits in as best it can to the scene. Olive and Popeye's duet is a very sweet moment, but the song goes on a little too long and again does not add anything to the story, while Pappy's song only shows up actor Ray Walston's inability to hold a tune, and the sound mix at this point seemed on the verge of cracking under the strain!
Overall, I was essentially thrilled to see the "new" stuff (note: this is not a new cut to American audiences, though alternate and longer than the European version), but have such fond memories of the first version I saw that some of it seemed out of place. Those who have only seen this one version of the film will not mind in the least, and Altman piles on the layers so thick that you really do fall into the world of Popeye, the Oyls and Sweethaven. It's certainly a departure for the director, and remains one of his most intriguing films. It's a real shame that Popeye was not the big hit everyone was expecting, as it would have been great to see such a film revisited now with the state-of-the-art visuals of a real cartoon come to life, like The Mask. Here sound effects have a big part in playing up the cartoon feeling, while a superb cast brings their characters to almost-animated life. It's not a rip-roaring adventure filled ride (Altman plays it too intimate and close to home for any wild moments), but Popeye will entertain those who have an eye for the unusual and interest those who like their mainstream movies a little, um… "different"!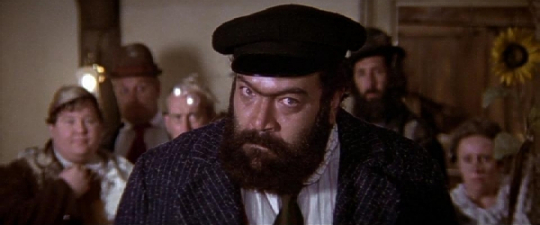 Is This Thing Loaded?
Rumored on and off as a special edition (which surprised many of us who were amazed that this had been announced at all), this eventual disc falls drastically short in the bonus material department. What with the director now passed on and its star wishing to eliminate this one from his CV (Williams will never miss an opportunity to forget the film) the studio undoubtedly found gathering the required players for a documentary or commentary a little difficult, but surely a theatrical trailer could have been dug up?
Personally, and while I would usually feel sorry that such a film did not have these bells and whistles, I don't find this much of an irritation. Popeye is certainly not on most people's wish lists, and will probably be bought by the curious and those who see the Williams name or Popeye on the cover and take it home for the kids. Fans, of course, will have no hesitation in grabbing their copy, and while such features would have been enlightening, they somehow do not come across as missing here. About the only thing that could said to be of benefit are the standard subtitles, which in addition to the scripted dialogue provide the means for revealing the comic subtlety of Williams' improvised, sometimes inaudible, Popeye mutterings.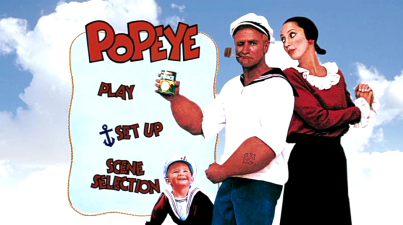 Apart from the footage in the movie that was cut from the European prints, it would have been nice to have the alternate cut or any extra deleted scenes included, or have an isolated music track for the great songs (the vinyl soundtrack release has long since vanished). In the AFI documentary series The Directors, there is footage of the making of the film shown in the Robert Altman edition that could have perhaps been imported onto this disc, but as a whole Popeye doesn't seem to need it: the film speaks for itself, and while a two-disc extravaganza is what we all know we secretly want, this simple affair presents the movie as it should be seen, and one can't really complain about that!
Case Study:
Paramount has issued the film (and its concurrently released Disney cousin Dragonslayer) in a plain black keep-case that omits the "animated" Sweethaven background that the characters previously inhabited on the international posters. The cover art is repeated on the disc and one side of an enclosed insert, which lists twelve chapter stops on the other side.
Ink And Paint:
Popeye, the movie, has not been treated at all well over the years (even Williams and Altman do not have kind words for it) and has never gotten the proper treatment when it comes to home video. Never before available in widescreen (the LD was no better than the pan-and-scan VHS), Paramount has finally given fans of the movie what they deserve: a sparklingly new anamorphic transfer in its original 2.35:1 aspect ratio. What with seeing the whole other side of the image and the deleted from the European version footage, this felt like a whole new film for me, and I am sure others will agree. I was not expecting much from this release, but the image is simply stunning, sharp looking and vibrant. There are very few print marks, but those that are there come and go in small batches very quickly and in all other respects this is a solid transfer. Just as if this was shot last summer, this is a knockout!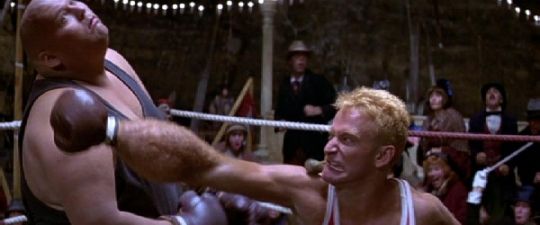 Scratch Tracks:
In an equally nice surprise, the songs and score of Popeye, by Harry Nilsson, can finally be heard in true stereo, rather than the compressed mono mixes of previous tape transfers, as Paramount have given the film a complete 5.1 makeover! While not all-enveloping demo material, the new mix does open up the world of Popeye even more, and the big scenes really do get an extra kick. A Dolby 2.0 mix is included, but the 5.1 has better separation, directional sound and ambience. Again, I was not expecting such a good handling of the film!
Final Cut:
A rarely seen and unfortunately promoted oddity, Popeye finally gets the chance to look and sound its best again for a new generation of fans. It's perhaps not got as many eye-popping effects as a Scooby Doo, or even The Flintstones, but Popeye remains the film that inspired the transferring of classic cartoon stars to the live-action screen (for good or bad)! It's one of those films that, although labelled as suitable for family audiences, falls between the two ends of that spectrum, being too slow and not lively enough for kids, while too surreal and not funny enough for adults. Certainly there are some amazing moments in Popeye, and the recreation of his world and the characters is second to none. Maybe our real world wasn't ready to see toons treated in this way, or perhaps Popeye's popularity wasn't large enough to guarantee big box-office, but this really is a unique gem of a film; a rare one-off moment when all the right creative sparks landed in the right place to produce something truly distinctive. The European cut that I grew up with would warrant a sure score of ten, but I'm not quite as comfortable with this original domestic version, hence the lack of full marks. You'll either love it or hate it, but check Popeye out!
Animated Classic or Back To The Drawing Board?